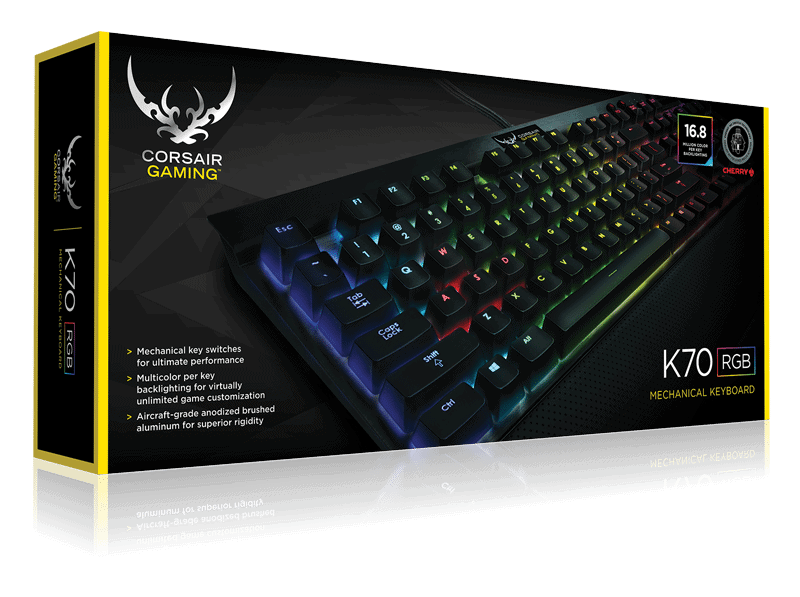 Corsair CEO gives update on K70 & K95 RGB lighting issue
As we previously reported, the Corsair K70/K95 RGB isn't delivering on the promise of 16.8 million colors. This weekend, Corsair CEO and founder Andy Paul dropped a message in the message board, stating a fix for the color backlighting issue is another 8 weeks away.
"I have read several forum comments from RGB keyboard customers asking about 16.8 million color support. I know we have been updating customers on the status and challenges of our 16.8M color software development work on our forums but I wanted to give you a personal update.

When we designed the RGB keyboards, our goal was to give users the ultimate gaming keyboard with the most advanced color customization and lighting effects available. We achieved these goals with unique multi-color per key lighting, layered animation effects, and extensive customization software. We also planned and promised support for 16.8M colors. The keyboard and its lighting controller was designed to support 16.8M colors, and while we have made progress with this we do not yet have a software solution that provides a better overall lighting experience than the current version.

I believe, and hope most of our customers agree, that we've built the most advanced gaming keyboard on the market, but we have more work to do. Based on recent feedback from our QA team and customers in our beta program, our engineering team estimates it will take another 8 weeks before we can release a software update that supports 16.8M colors. We apologize to those that want 16.8M color support. We realize that this is a long time to wait, so we are continuing to offer customers the option of returning their keyboard to us by contacting us at [email protected] For customers that are enjoying the advanced lighting that your keyboard offers today, we thank you and we hope you like the new enhancements we are working on for you."

– Andy Paul
CEO and Founder
While it's reassuring this issue has been taken seriously enough to get the CEO's attention and even a statement, there's still some serious questions here.
First, this means the earliest consumers will get what was advertised – 16.8 million colors (as claimed right on the front of the box) will be more than 7 months after it was released. Corsair has changed their marketing on their website, claiming "multicolor" backlighting now instead of 16.8 million colors. Retailers will still have packaging claiming 16.8 colors and even Amazon's K70 RGB product page still claims the 16.8 million colors. It's unclear if Corsair has plans to fix all of these outstanding claims.
What's missing though is any explanation as to why they shipped the mechanical keyboard knowing the actual functionality didn't match what was advertised. It seems Corsair has taken a page out of the video game industries book of "ship now, fix it later".
Several users have voiced dissatisfaction on being deceived and it sounds like Corsair has done some permanent damage to their brand. MchManfre3 says:
To knowingly provoke the purchase of a product that does not do what has been regarded as one of its biggest selling points, is a giant middle finger in the face of people, like myself, who have been dishing out my hard earned cash, to your company, for many years.
We'll have to wait and see how this shakes out, and if Corsair can deliver on their promises.