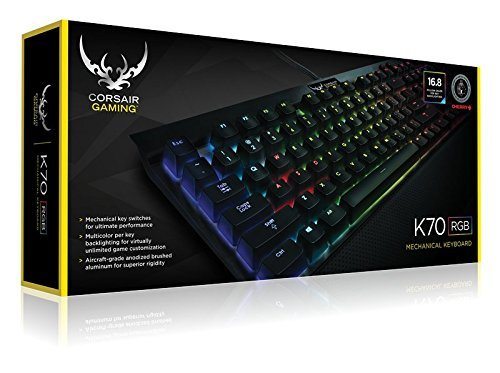 Corsair RGB keyboard backlight issue
If you chose to shell out the extra $40 for the Corsair K70, you may be a little angry to learn that you've been duped, according to some forum sleuths. User tests show that the backlit LEDs can merely produce 512 possible colors, which is a far cry away from the advertised "fast and fluid 16.8M multicolor animation".
Interestingly enough, videos from CES 2014 show a keyboard with a greater color palette, cycling through colors in a way that the production mechanical keyboards can't yet.
If you're looking to compare how some mechanical keyboards stack up against each other, look at some of our best mechanical keyboards list here.
A few days after this issue was reported, a Corsair employee had this explanation, saying it would be fixed with a software update shortly
During development of the keyboard and prior to the release of the RGB keyboard, we came across an issue regarding the possible color combinations. In an effort to get the product out to our customers as committed, we made the tough decision to resolve the issue in a future software release as we believe our customers would enjoy the product as-is.

Here are the specifics that detail the issue:
Due to USB stack size and performance issues, we had to reduce MCU processing overhead in the best and quickest manner. The LED controller gives us greater than 8 bits of color depth but we use the 8 bits that give us what we believe to be the best color granularity. Our controller architecture provides for over 100 million color combinations out of which we select 16.8 million to display. We devised a color palette scheme to encode and compress the RGB color data and the data to select and control the "current sources" that drive the LED array. An unfortunate side effect is that it prevented us from utilizing the full color depth available from the LED controller.

We are in the process of making the necessary improvements so that we can send the uncompressed RGB data to the keyboard. Additionally, we are optimizing the data protocol and LED driver/display algorithms through the display control firmware to handle the uncompressed data, and to more efficiently program the "current sources" that drive the LED array. This should give our most "resourceful" customers an easy way to identify the data and be able to easily send standard RGB 8 bit values.This enhancement had already been planned and will be implemented in a few weeks by the release of a software update, which will be announced and be made available to download here and at Corsair.com.

– Corsair Team
4 months later, users are still awaiting the promised software patch, which at last update is in beta testing. It's a shame Corsair seemingly mislead buyers about the capabilities of this mechanical keyboard, as they typically put out such high-quality products. That being said, the color animation may not be a deal-breaker for you. Of course, if the 16.8M color animation is a buying point for you, then there are definitely alternatives on the market. If on the other hand, you just like the aesthetics and overall functionality of the board, don't let it get to you, software updates can be resolved, unlike hardware issues where you would have to buy a new mechanical board. Stay tuned for more updates as they unfold.
If this backlight issue is truly a deal breaker, check out our review on the Corsair Strafe RGB review.
2/17 – UPDATE – Corsair has released another statement, giving no ETA for a fix. Don't expect a resolution anytime soon.