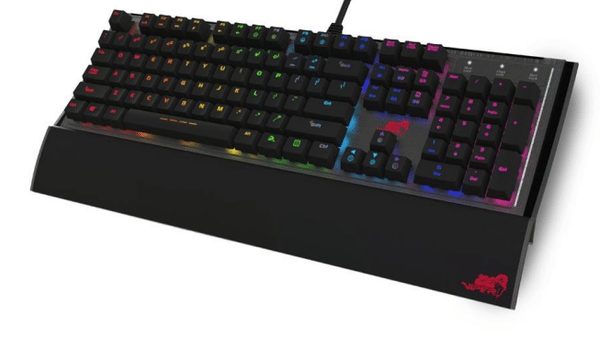 Patriot Viper V760 mechanical keyboard review
The Viper V760 is now available for purchase!
Patriot is a well-known and respected company in the PC memory industry. Up until recently, they've stuck to products like solid state drives, RAM, and USB memory sticks. This past week at Computex, Patriot has announced that they'll venture into the PC peripherals market. Headsets, mice, and a mechanical keyboard are planned. With that being said, they've now released their newest and highly anticipated Viper V760 with full RGB backlight. Let's take a look at our review of the features and functionality the V760 has to offer and see if it's worthwhile.
The V760 Mechanical Keyboard features fully customizable, individually backlit keys allowing 16.8 million different possible colors. The keyboard has 6 programmable macro keys and full anti-ghosting technology. The palm-rest is magnetic and detachable. Other features include USB passthrough, aluminum chassis, and a sweet 2-year warranty on Amazon (it also has great reviews, so go take a look).
With a price lower than $100, the V760 is the perfect mechanical keyboard for those on a budget. Since it's made from aluminum, you can expect this keyboard to be sturdy relative to its low cost. As a bonus, the magnetic hand rest is great for gaming or everyday typing as it increases the ergonomic comfort of using the keyboard. Although Patriot is somewhat new in making mechanical keyboards, they've certainly taken it seriously given the level of functionality and sleek design the keyboard has. Now that more reviews have come out, you can rest assured that this keyboard isn't a joke – Patriot is taking their mechanical keyboards serious with this release. In conclusion – the Viper V760 mechanical keyboard is not to be messed with! If you're seriously looking for a budget mechanical RGB keyboard, check this one out.
Buy on Amazon
Read user reviews