We have some great news! Drop, a company that offers enthusiast keyboards and accessories, teamed up with GoMK to acquire external reviews of featured products. With that in mind, we're going to cover their business model, their site features, and how you should utilize their services.
About Massdrop
At its core, Massdrop is a commercial group buy system. It negotiates lower prices by building relationships with manufacturers, acquiring a large user base, and encouraging that user base to purchase featured products. Bulk purchasing lets Massdrop add a slight mark up (they have to profit somehow) while keeping prices below retail.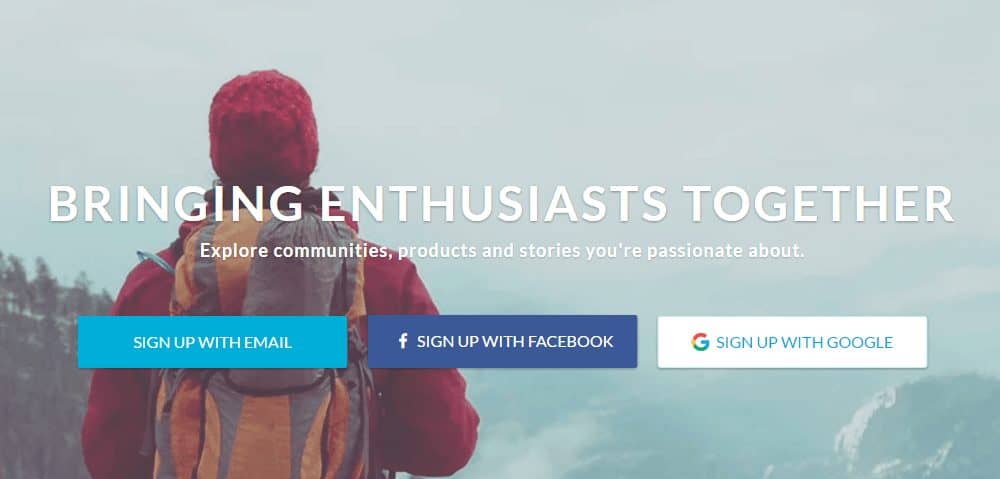 The company is unique in that it caters to multiple communities simultaneously. Audiophiles, keyboard obsessives, pen collectors, and still more groups will find sections catering to their preferences. Massdrop has its own active community to supplement external discussions. Polls and a widespread comment system help users select featured products.
Group buys & keyboards
Keyboard forums like Deskthority and Geekhack have been marketing, launching, and fulfilling group buys for more than a decade. Reddit is a fairly new development. Individual users, usually those who have built up some community trust, connect with manufacturers. Sometimes they design a unique product, such as an artisan keycap molding device, or they alter an existing product with different materials. Keycaps are the best example of the latter relationship, as Signature Plastics (known as Pimp My Keyboard nowadays) lets customers place orders with varying color schemes. Sometimes no alterations are made, and switch group buys are a solid example of that.

The end result is that the users ask for money in advance, make the purchase, and distribute the product. The whole process is based on trust, and sometimes that trust is violated. The high profile disappearance of IvanIvanovich (who won The *Ping* award at Deskthority) with group buy funds hurt the community. Berserkfan, a user who held a "fire sale" of his keyboards, also contributed to the problem. Note that user managed group buys aren't categorically unsafe, as the vast majority have been handled with integrity. Those negative events simply opened dialogue about weaknesses in the system, which functions on the caveat emptor (buyer beware) concept.
Massdrop & keyboards
Massdrop is designed to give the buyer business-grade protection during group buys. It also offers a wider range of products than its forum based counterparts. Forum group buys often team up to deliver custom, short run keyboards. Massdrop, on the other hand, can work with big brands to offer discounts in a way that most forums can't. Instead of producing and negotiating for accessories alone, entire keyboards are made available on a regular basis.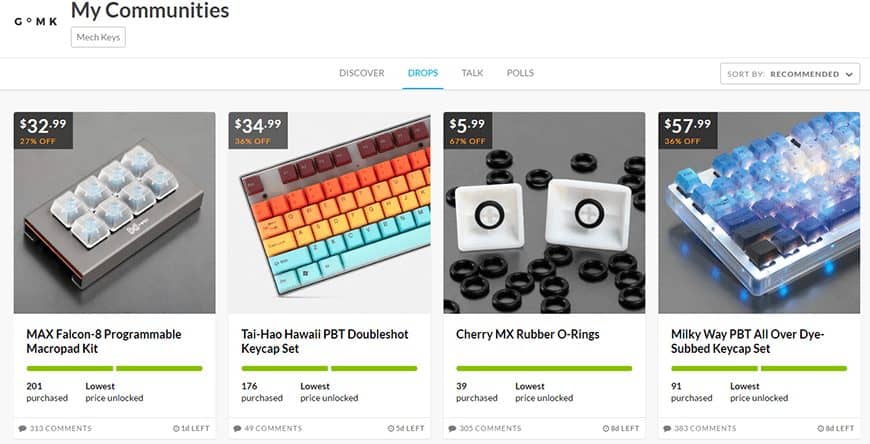 The site also features relatively unknown brands. Some of the models they introduce turn into home runs for everyone involved. The Magicforce 68 is a prime example. The brand and its solid performance went unrecognized until a drop occurred. Finally, the volume and community vetting means that orders from keycap manufacturers like Signature Plastics are practically guaranteed to succeed.
Patience is key
In my opinion, Massdrop is a solid business. Most North American customers are pleased with its support, shipping, and general services. There are occurrences poor customer service, shipping issues, product issues, and packaging issues. Frankly, the ones I have heard about could have happened at any company. International buyers have varying experiences due to customs fees and other hassles. Regardless, the most important trade off Massdrop makes to save money is its time to shipment.

Products typically aren't shipped immediately, as manufacturers need to produce and send the order from whatever corner of the globe that they occupy. Waiting several weeks for an order isn't uncommon, and ship dates can be changed to reflect factory circumstances. If you have patience and a non-immediate interest in a product, great. If you're making a time critical purchase, I wouldn't recommend Massdrop.
Creating an account
Massdrop requires that you create an account before viewing current product offerings, as it preserves their business model. Registration is very easy. Enter your email address, enter a password, and select the communities that you're interested in. Mech Keys is their mechanical keyboard section, which you should definitely join. Once you're in, take a look at some of the products. You'll find a mix of keycaps, keyboards, and other great things.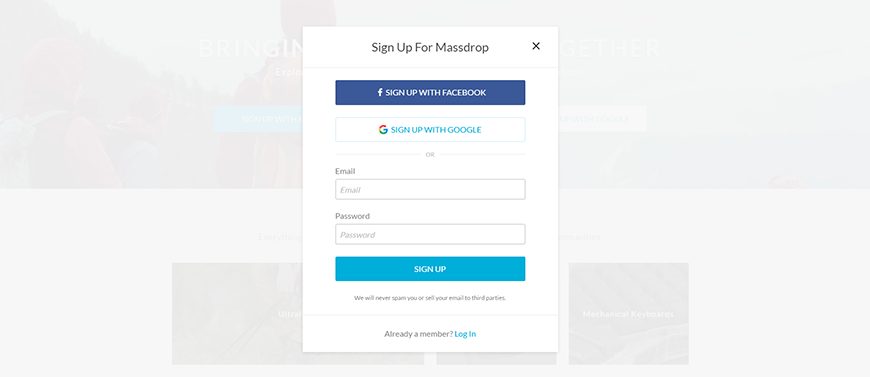 Joining drops
Massdrop has an excellent creative team, which means that much of their marketing is visual. There's plenty of written content, but images are always the main draw to their drop pages. Joining a drop is similar to purchasing a product in a standard e-commerce system, which makes it easy to pick up stuff that you like. You navigate to a product page by clicking an image, select "join drop," and fill out assorted fields. Some products have additional configuration options like switch type or keycap kit type. All of them have credit card requirements and shipping/billing address fields, as expected. Some drops are run more than once. If you miss something cool, there's typically a request button that will notify you if that product is featured again.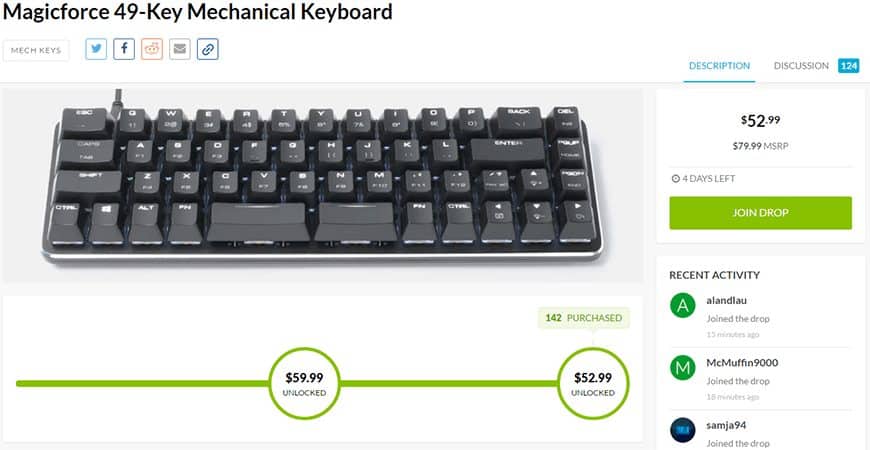 You should keep an eye on the estimated ship date, which is located near the bottom of the drop page. You'll need to make a value judgment: is the discount worth the wait? Is the product unique and cool enough to wait for if it's a Massdrop exclusive? Do some research and make an informed decision.
Pricing & Payment
Some Massdrop buys have standard pricing, but others have tiers. If enough people join, the price can decrease pretty significantly. The best part of this system is that everyone is charged for the lowest price reached — you aren't going to pay more than the rest of the group buy members. There is even an option to commit to buy a product at a given lower price point. You won't be added to the drop until that point is reached.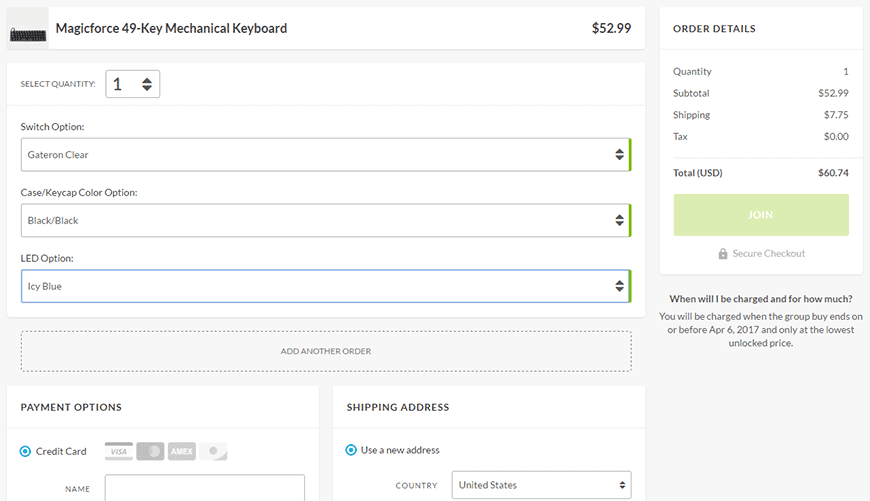 It's worth noting that you won't be charged for a product right away. You're only charged when the drop ends. If the factory order falls through for some reason, you won't need to worry about being charged. Massdrop will nullify the order without any sort of hassle. The same goes for keycap buys that don't meet MOQ (minimum order quantity). It's rare for drops to fall through, though, so you don't need to worry about wasted time.
Discussions & Polls
Frankly, Massdrop's comment system and community need some development. They aren't bad, but they certainly aren't ideal. As it is, all of the comments get dumped into a single thread. There aren't solid organizational divisions between Massdrop official posts, questions about the product itself, and questions about the drop. There's also the fact that the discussion section is carried over from previous drops if the same product is offered a second time. Popular products can have thousands of comments. The K7XX headphone drop, for example, has over 10,000 posts! An FAQ was stickied, but even that only encompasses so much.

With that out of the way, the poll system is quite open and friendly to new users. It's best to wait for a while before attempting to start polls, though. Getting involved in whatever communities you're interested in, particularly by leaving helpful replies to comments, will give you/your username some credibility. If you aren't well known, you might have trouble generating enough interest in your poll to get a product dropped. If you want to vote in an existing poll, just jump in. There's nothing that prevents you from giving an opinion as a brand new user.

Help center
If you have more questions about Massdrop, their help center is a great resource. You don't need an account to access the page. It covers the topics in this article, but it does so in greater detail. It also touches on a few odd circumstances that aren't relevant in a primer article (like this one). If you have a particularly oddball issue or you're unsure about a product, just fire a question at us on Twitter. We'll get back to you with some solid advice.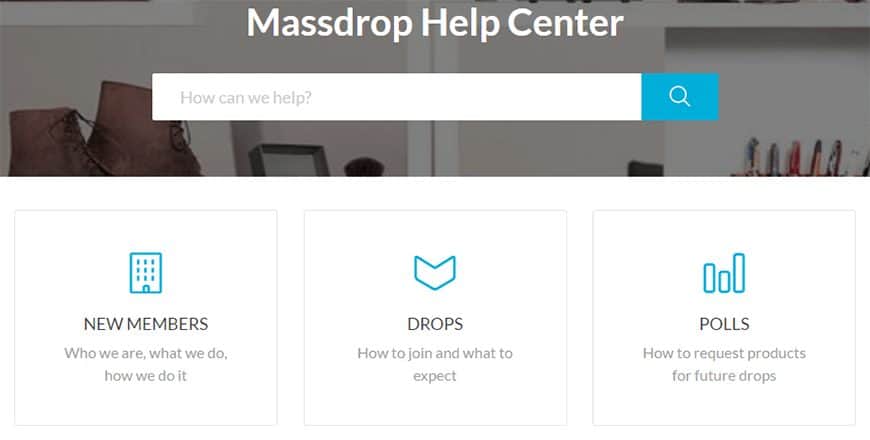 Editor's opinion
I have no serious issues with Massdrop. In fact, I think they fill their niche role in the market with panache. I have purchased products (the K7XX, Magicforce 68, and VE Monk) from Massdrop in the past for personal use, and each arrived within a reasonable time frame. I had no issues with the products, so I can't offer much information about their customer support. My professional interactions with Massdrop staff members, including their Mech Keys purchasing team, have been great. José Soltren, a friend of mine, had a similar experience with the company as a vendor. He designed and refined the XMIT Keyboard, which was well received overall (and might be featured in a review at some point).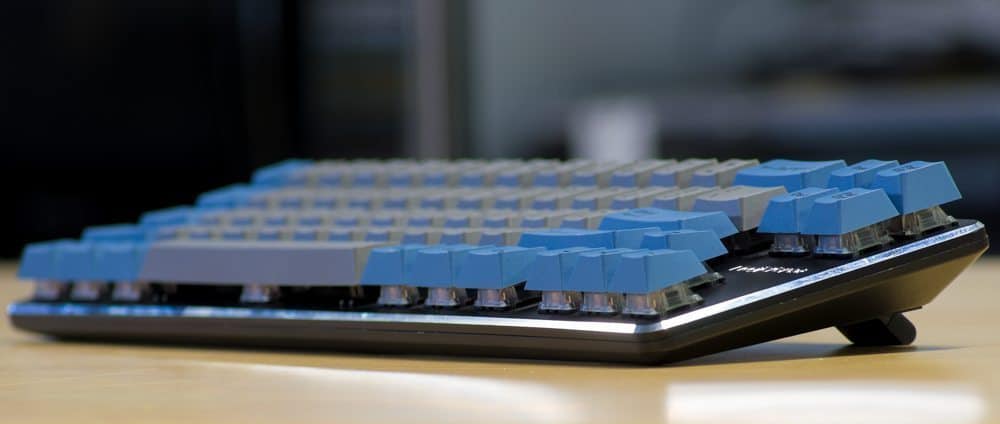 I only have one small complaint. The discount to shipping time ratio is off for some products, but that's a rare occurrence. To sum things up, I recommend Massdrop to North American users without reservation. As with all e-commerce sites, be sure to educate yourself on the products, warranties, and other offered services.
I hope you have a great time with Massdrop, regardless of the product you're looking for. If you purchase a keyboard or keyboard related product from their site, feel free to send us images on social media. We might find a place for them in one of our articles. You're also welcome to discuss your experiences with Massdrop in the comments.
Happy keyboard hunting!