One of the best parts of computer programming is it really doesn't take much to get you started.
A simple computer, mouse, and keyboard are all you need to create extraordinary programs. For most people though, and programmers especially, the bare minimum isn't good enough.
We like to optimize everything to be as efficient as possible. Other than a great keyboard for programming, the biggest upgrade you can give your home office is a set of monitors optimized for programming. In this guide, we'll go through the best monitors for programming and coding and what makes a good programming monitor.
The Best Overall Monitor for Programming: Dell Ultrasharp U2417HJ
The Dell Ultrasharp U2417HJ tops our chart as it has just about everything you could ask for out of a programming monitor.
Built-in stand with height, tilt, pivot, and swivel adjustments or mount to your own stand. Switch from landscape to portrait in a second!
An incredibly wide 178º viewing angle.
23.8″ screen.
Innovative wireless changing pad built into the stand. Simply set your compatible wireless device on the stand to charge it with no additional cables needed!
Built-in USB 3.0 hub. Makes cable management and quickly connecting thumb drives a snap.
The U2417HJ is a superb monitor right out of the box with excellent contrast and color. This is the perfect monitor to buy to set yourself up for years of efficient programming. Dell is widely respected as the industry leader in the computer monitor arena and is positioned to continue to be for the foreseeable future.
The Best 4k Monitor for Programming: ASUS PB287Q
The ASUS PB287Q is our top choice for the best 4k programming monitor for your money today. Here are the features that make it stand above the rest –
Incredible 3840 x 2160 display. With 4 times the pixels as a standard HD monitor, you're going to have so much new real estate on your display you won't know what to do with it at first!
28″ display, perfect for both programming, gaming, and multimedia use.
Easily adjust the tilt, height, swivel, and pivot with the built-in stand or mount it to your own stand.
3-year warranty with 2-way free shipping. If any issues arise, ASUS will stand behind their product.
View two video sources at once. Picture-in-Picture (PiP) and Picture-by-Picture (PbP) modes let you view content from two different sources simultaneously, with the ability to switch video between sources easily. PiP mode places the second input source window in one corner of the display, while PbP mode splits the screen down the middle.
Though a 4k monitor is more expensive, it's an investment in the future of HD displays that will still be a relevant resolution even 5+ years from now. The benefit of having 4 times the pixels of your old monitor will make your coding much more productive as well.
Best Cheap Monitor for Programming Under $100: AOC E2228SWDN
If you're on a tight budget and are looking for a monitor for programming under $100, look no further than the AOC E2228SWDN. It's 22″ with a 1920 x 1080 resolution and can't be beaten at the price! The viewing angle is great at 170º, and though it doesn't come with a great stand that will let you adjust to portrait mode, it does have VESA mounting holes so you can attach it to a wall, or a stand of your own in whatever setup you'd like.
Ideal Monitor Setup for Programming & Coding.
Before we jump into monitor suggestions for programmers, let's start off with what makes an optimal display setup. If you're serious about being efficient, you need to get a multiple monitor setup. We suggest 3 monitors, but even just upgrading from a single monitor to dual displays is an amazing boost in productivity.
Unlike many desktop applications, it's optimal to have at least one of your monitors in portrait mode, meaning it's tall and skinny rather than the traditional landscape mode. Most of the time when you're looking at the code, 60% of your screen width is going to waste as your code sprawls downward and very rarely does it get anywhere near the width of your display (we hope!).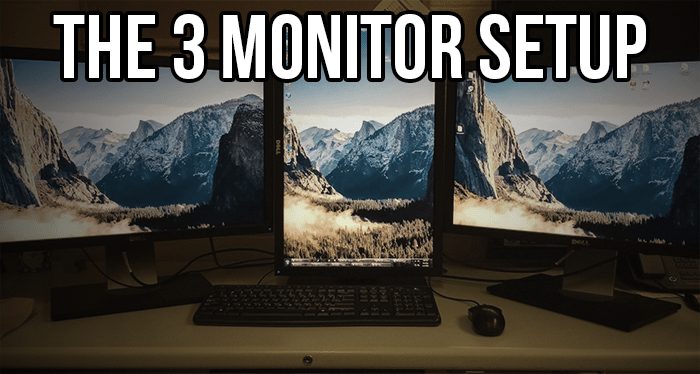 A setup like the one above will let you look at your code in the center portrait monitor, test your code or run your application in another monitor, and use the third for either more code, reference documents, email, and chat, etc. Feel free to experiment with monitor display modes and placements to find what works best for your workflow.
Must-Have Monitor Features for Programmers
By now you probably know how many monitors you need, but what features are most important for programming? We'll list out what's most important, but don't be intimidated or discouraged if you can't afford monitors with all the latest and greatest technology. There are great options at affordable prices that we'll cover, and any additional monitor is an upgrade over not having a multi-monitor display.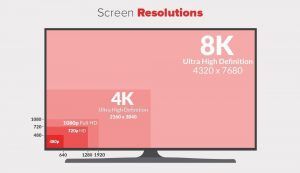 High resolution. The more pixels that can fit on your monitor, the more you can display on-screen at any given time. It could be the difference between comfortably comparing two different files versus having to do a ton of scrolling around. Most monitors sold in the past several years have been at least 1920 x 1080, and now there are monitors even 4 times larger, which are 4K displays.
Adjustable stands. A monitor that comes with a highly adjustable stand will make all the difference in the world when it comes to the ergonomics of using your computer. Many monitors allow you to quickly adjust the tilt and height of the display as well as switching between portrait and landscape mode in a jiffy.
Wide viewing angles. Often times it's beneficial for programmers to move around a bit at their desk, or to have a colleague come take a look at something you're working on. If you've had a monitor with poor viewing angles in the past, you know how awkward it was for your colleague to hunch over and get their head directly behind yours in order to clearly read some code. Monitors with larger viewing angles don't have this issue! The screen can easily be seen without having to squirm around.
Contrast and color. A monitor with sharp contrast and color is going to make reading code easier, as well as quickly being able to tell colors apart when you're browsing code in an IDE with syntax highlighting.
Conclusion
And that wraps up our guide and list for the best monitors for programming & coding! In this guide, we tried to find a variety of different programming monitors for every budget and preference. If you're a programmer or coder, it's essential to have a proper setup as you'll be in front of the work station all day. Leave a comment below – we'd love to hear your thoughts.