During intense gaming or a day of serious typing, accidentally spilling your beverage on your keyboard is just unavoidable.
So getting a water-resistant mechanical keyboard is a solution to this problem. Regardless if you are a serious gamer or an everyday office worker who needs a reliable keyboard, everyone makes a spill or two. In this article, I'll cover what I think are the best 5 waterproof, spill-proof, and snack-proof mechanical keyboards.
After spending potentially $100+ dollars on a brand spanking new keyboard, it may be disappointing to find that it gets short-circuited after just one spill. There are quite a few mechanical keyboards that have some sort of spill-proof build but today we'll focus on keyboards specifically built for your clumsiness.
Quick Look: Best Waterproof Keyboards
The 5 Best Water-Proof Mechanical Keyboards
Let's take a deep dive into each keyboard and explain why they are super waterproof and excellent keyboards all-around.
Corsair K55 RGB: Waterproof and Excellent for Gamers
Disclaimer: this keyboard is not mechanical
The Corsair K55 RGB is a gaming keyboard produced by Corsair that boasts a three-zone backlight, six extra macro keys for user customization, an IP42 rating for dust and spill resistance, and a detachable armrest.
| | |
| --- | --- |
| PROS | CONS |
| Good ergonomics | Membrane switches |
| Good build quality and value | Wrist rest could be more comfortable |
| Customizable lighting | |
| Good range of key functions | |
Summary
The greatest advantage of this keyboard is that it is decent for gaming and all-around use due to its actuation force and the pre-travel distance.
However, it may leave more serious gamers disappointed as this keyboard is not mechanical. This keyboard is perfect for casual gamers and office use. Its water-resistance is a big advantage to have in these environments. But if you are looking for a more customizable keyboard for gaming or a more pleasant typing experience, then this is not for you.
Check out the mechanical keyboard here on Amazon to see the price and more information.
SteelSeries Apex 3: Waterproof Keyboard Loaded with Features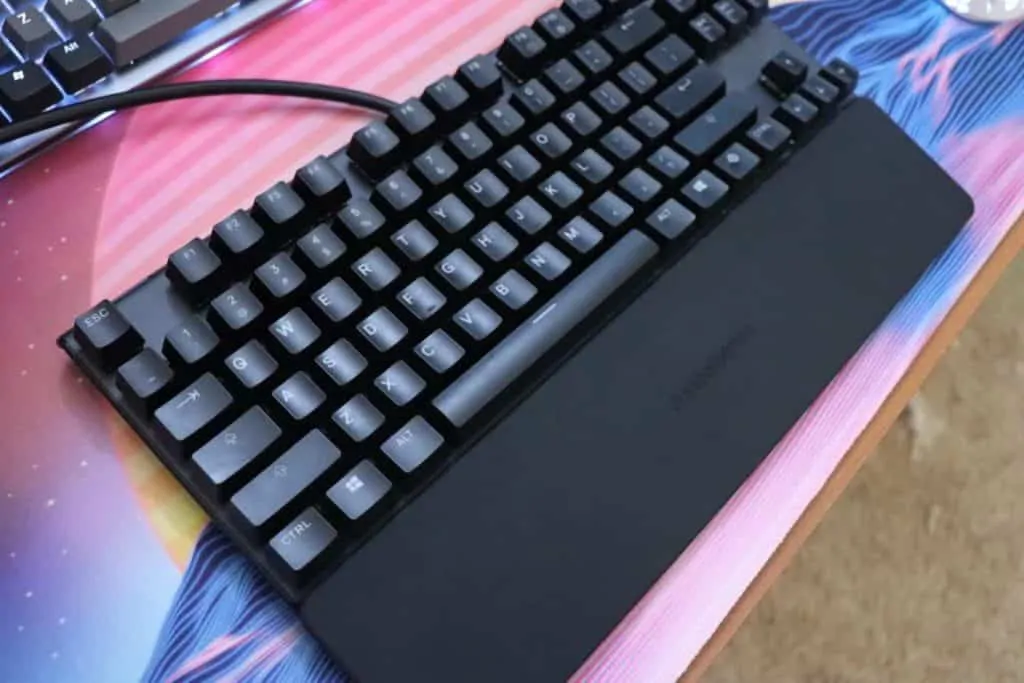 SteelSeries' brand-new lineup of products aimed to be budget-friendly gears. Hence, they introduced the Apex 3, a mechanical keyboard equipped with RGB backlighting, water resistance, and a magnetic wrist rest. Note that the switches used are rubber-dome, indicating that this is not a mechanical keyboard.
| | |
| --- | --- |
| PROS | CONS |
| Great software support | Disappointing lighting |
| Good build quality and value | Unsatisfying keystrokes |
| Inexpensive | No dedicated macro keys |
| Water-resistant | |
Summary
The Apex 3 sets itself apart with the silent-switch technology that it is produced with. This makes it very suitable for office environments or for people who dislike the tactile features of other mechanical keyboard, and all for an affordable price.
The Apex 3 breaks the mold by separating the stigma of the correlation of price to quantity with this new product. It lives up to its claims of being silent, has great ergonomic comfort, and has water resistance.
Corsair K68: Budget-Friendly and Spill Proof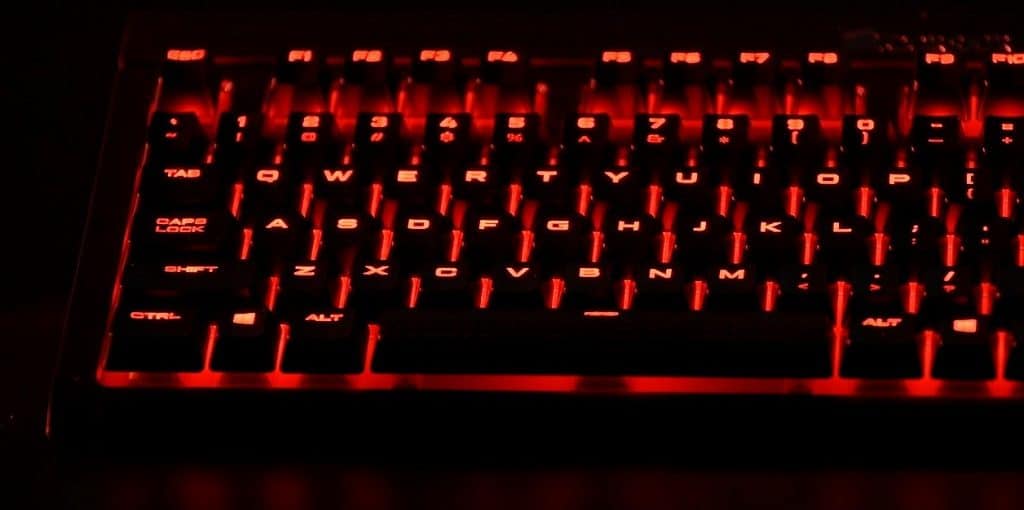 This well-built gaming keyboard by Corsair is one of the best budget keyboards on the market. The versatility and enhanced tactile features of the product are well-known among gamers worldwide.
| | |
| --- | --- |
| PROS | CONS |
| Great design | Flimsy wrist rest |
| Customizable | No dedicated macro keys |
| Dedicated Media Keys | No drainage system |
| Water-resistant | On-board memory may not be functional |
| Overall great typing experience | |
Summary
This keyboard is a great mechanical keyboard for optimal gaming. Its water resistance has also been tested thoroughly.
It offers options for the users as well with the variants that it comes with. If you fancy a more efficient typing or gaming experience, then it also comes with the famous Cherry MX/Blue switches instead of the Mechanical Blue switches. It also has great ergonomic support with its wrist rest. The Corsair K68 software is the best in the market.
With a sleek design, this Razer water-resistant keyboard is a new version of the Razer Blackwidow. With an IP rating of IP54, this bold keyboard can resist even a spill of a bottle of water.
| | |
| --- | --- |
| PROS | CONS |
| Affordable | Identical to previous model |
| Great performance | No dedicated macro keys |
| Mechanical switches | |
Summary
The pro to this is that it is an all-around excellent keyboard.
It has a stylish design, high-quality mechanical switches, smooth software, and functional peripherals. It has a good build quality and was tested to be fast and responsive per its performance.
However, the only downside to this new model is that it has practically no difference from its predecessor, the Razer Blackwidow.
Manufacturer: HOU JI | Keys: 81 | Switches: Blue Switches | Backlighting: Yes | Dimensions: 12.2 in x 4.8 in x 1.4 in | Weight: 1.6 pounds
The HUO JI Z-88 RGB mechanical keyboard has a compact design that can fit neatly on your desk without taking too much space. The ten backlight mode not only can help you see the keys while in a dark area but can also beautify your desk.
It produces responsive and tactile feedback when keys are pressed. All keys are replaceable, meaning it can be customized.
The product has a non-slip and splash-proof design which can make it last for long periods of time if maintained properly.
| | |
| --- | --- |
| PROS | CONS |
| Excellent build quality | You cannot pick a custom color for backlight |
| Compact design | Keys may be difficult to remove |
| Replaceable keys | |
| Water-resistant | |
Summary
The best pro for this product is that it's affordable. However, that doesn't say anything about its quality.
The product is all-around excellent for gaming with its features and design. It is versatile for any setting with its durability and responsiveness.
The typing experience using this keyboard is great. The product is truly affordable and reliable, which makes this the perfect budget-friendly and water-resistant keyboard out there.
What to Look for in a Spill-Resistant Keyboard
The most important aspect of keyboard-shopping is to know what you are looking for yourself. A keyboard may have all these good qualities, but they may not be the optimal option for your usage and purpose. Here is a quick and basic guide on what a good keyboard is:
Connectivity
The main question in this feature is to go wireless or cable. The advantage of a wireless keyboard is perfect for people that are looking to declutter. It also means that you can connect to other devices as well and not just be limited to computers. However, most people in the gaming community will prefer the cabled type as they don't have to deal with lag and connectivity issues that come with the wireless ones. While a cabled keyboard can be bulky, it provides an easy experience.
Key Switches
To summarize, key switches are mechanisms beneath the keys that dictate the typing experience when using a keyboard.
Mechanical keyboards are popular among computer nerds and gamers alike because of the spring-loaded sliding key post under every tile. This boasts durability and efficiency. A mechanical keyboard is also perfect for people who love the "clickity-clack" sound when using a keyboard.
Spill-Resistance
Many innovations have been made to further improve this technology. From rubber floodwalls to waterproof key switch casings, the best are produced to cater to the masses. How these mechanisms work will be discussed in the next part.
What Makes a Mechanical Keyboard Water Resistant?
So, are mechanical keyboards waterproof? It can be!
The water-resistant mechanism lessens the probability of damaging the keyboard with liquids. For this, most keyboards have a water-drainage system that helps guide the water away from the crucial components of the said keyboard.
The recent technology of the Corsair K68 software includes waterproof rubber housing for the key switches and a translucent covering for the backlight of the product.
Keep in mind that all of these keyboards are developed for this purpose and that all of them have an IP rating of IP42, which means that all are dustproof and waterproof to some extent.
Conclusion
In this "best list" guide, we set out to find the best water-resistant keyboards, keeping in mind affordability and perks. There isn't a single best waterproof mechanical keyboard out there. Your choice would definitely depend on your typing or gaming needs.
Both the Corsair K68 and Raizer BlackWidow Ultimate are the best of the five being presented. Both products are tested and proven water-resistant keyboards that are sure worth the money. However, if you are strapped for cash, then both the SteelSeries Apex 3 and the HUO JI Z-88 RGB LED Backlit Water-Proof Mechanical Gaming Keyboard are both good keyboards that surpass user's expectations based on the price range being offered. They both have the great build quality, excellent performance, and have unique features that appeal to both ends of the spectrum. Nevertheless, no matter what keyboard you choose, it still depends on what you seek and what works best for you or your needs.
That wraps up our list of the absolute best water and spill-resistant mechanical keyboards of all time. If you're interested in more of our best top lists, check them out below: