When gaming, it's common and typical to start sweating during those intense moments. With a glossy or slipper mouse, it can be easy to accidentally do something you don't want to or aim slightly off.
Making your mouse more grippy can be a quick fix when it comes to improving performance with aiming and gaming with your mouse.
Making a mouse more grippy can be done in a number of ways. You can purchase a precut grip tape for your specific mouse model from different manufacturers, purchase grip tape and cut it down yourself, or use sandpaper or a dremel to sand the plastic to become more roughly textured and improve grip.
We'll talk about each way separately with recommendations for different precut mouse grips if that is the way that you're choosing, recommendations for sandpaper or appliances to make sanding easier, and recommendations for different grip tapes for you to DIY it yourself.
Let's jump into it!
Buying a Mouse Grip: The Easy Way
Of course, purchasing precut mouse grips with adhesive tape on the back is the easiest and quickest way to go when it comes to making your mouse more grippy. There is no effort on your part, just some money to spend.
If you have a popular mouse, there are many grip options out there. If you do not have a popular mouse design, then it's best to skip this option and go to the DIY options.
Up and Coming: True Grip Mouse Grips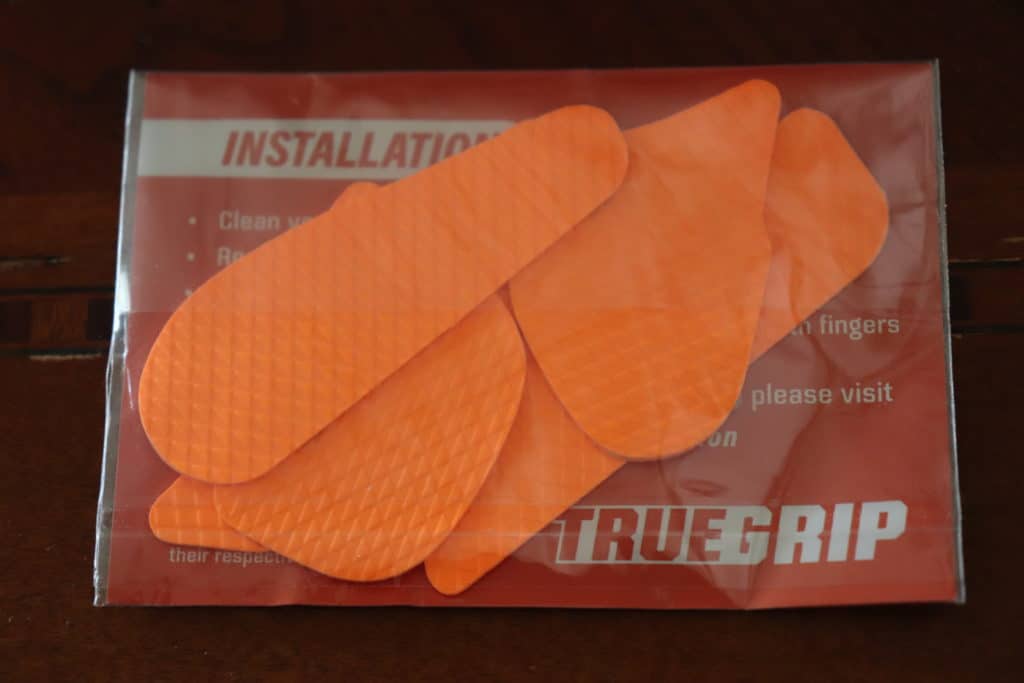 True Grip Mouse Grips are made specifically to match the shape of your mouse. They provide precut mouse grips for the following mice:
Cooler Master MM710
Cooler Master MM711
Endgame Gear XM1
G-Wolves Hati
Glorious Model D
Glorious Model O
Glorious Model O-
Logitech G Pro Hero
Logitech G Pro Wireless
Logitech G203/G305/G403/G502/G703
Razer DeathAdder
Razer Viper Mini
Roccat Kone Pure Ultra
Zowie EC1/EC2/FK1/FK1+/FK2/S2
As you can see, their selection is wide, and they are constantly working to obtain more stencils for different mice.
True Grips come precut with different parts to fit different areas of the mouse: right click, left click, the hump where you palm rests, left and right sides of the mouse.
All of these areas come together to create the ultimate gripping surface for every part of the hand that contacts the mouse.
One downside of the True Grip is that they're only available in a bright orange color. It definitely will stand out compared to your other peripherals.
The True Grips are very easy to install. They are durable and last a long time.
However, they will accumulate dark spots on the most frequently used areas.
This can easily be wiped down using warm water and a cloth/paper towel. Just do not use alcochol wipes.
You can also add a small amount of soap as well, and be sure to let it dry completely before use.
This company is currently small and started by a gamer. They are in the trenches testing their products while gaming to ensure that their grips will benefit your gameplay!
Budget Pick: Hotline Games Mouse Grips
Hotline Games Mouse Grips are available for popular mice such as Logitech G Pro/G102/G104/G403/G502/G900, Glorious model O, Razer Viper Mini, and Steelseries Sensei RAW/XAI.
Additionally, there is a DIY option where they provide just the anti-slip adhesive material that you have to cut out by yourself.
These grips are soft and comfortable. They also have sweat-absorbing properties so that even if you do sweat, you'll be less likely to accumulate it on the mouse material itself.
The DIY option can fit any mouse, but it does require some precision and handiwork on your end.
Within the package, if you choose to use Hotline Games Mouse Grips, you will receive the anti-slip grip tape, tweezers, and alcohol wipes. Pretty much everything you need to make it happen.
Users of this grip say that compared to other grips, these are not as durable and will peel off from the mouse over time.
However, it does provide a better gripping surface than the stock plastic of your current mouse. Over time, the mouse grip also becomes less grippy and smoother with prolonged use.
If you're in the market just to see if a mouse grip can help your performance without wanting to spend too much money trialing it, Hotline Games Mouse Grips are a great way to experiment and practice cutting mouse grips to customize your mouse.
It's only available in black, so if your mouse is colored, there aren't many options with this one.
How to DIY Mouse Grips: The Harder Way
Lizard Skins
Lizard Skins are some of the more popular grips that are widely available for purchase on Amazon.
They have a wide assortment of colors ranging from black camo to tangerine to emerald green.
They originally started as a company that sold grips for bats (like baseball bats), bike handles, controllers, lacrosse tape, and more!
These grips definitely stand the test of time. They're meant to be worked hard in sports, after all.
The Lizard Skins for mice are 0.5mm thick. Thick enough to be grippy, but it won't ruin your mouse experience.
This comes with a large grippy adhesive rectangle. It's up to you to draw the stencil and then cut it out of the material.
It's easy though with the grid transfer sheet!. You'll lay the transfer sheet on top of your mouse, trace the shape you want, cut it up. Lay it on top of the adhesive material, cut that out, and then install!
Not bad at all.
These grips have high ratings with good smoothness, durability, and grippiness.
It looks good and plays good. Check them out!
Dragon Grips: Less Work Required
The Dragon Grips are hexagon shaped grippy stickers that can adhere to anything.
You do not have to cut out a stencil and then transfer it to the tape. Just peel and stick.
It's not the prettiness option, but it gets the job done and can be used for many different applications such as cell phones, controllers, mice, tools, etc.
The hexagon shape can definitely be laid out to look really cool too. They have a slightly rubbery texture to prevent slipping.
It may be hard to get the hexagons to look uniform and clean looking, but if you take the time, it can look really good.
A big benefit of these grips is that they can be arranged in any way, look really cool with the hexagon shape, and require little work.
Inside the package, you get 57 pieces of grip tape.
Go check these out if you don't want to take your time tracing or are scared that you'll mess it up somehow. Trust me, you probably won't
Talon Tape: An Unconventional Yet Effective Method
This is another way to put on grip tape on your mouse. This tape is not rubbery. Instead, it is sandy feeling, similar to sandpaper.
It's a granulate texture that is 0.5mm thick. It won't change up the feel of your mouse, but it will provide a grippy surface for your sweaty hands.
This tape was originally made to be put onto firearms, so you know the grip has got to be good. It does require tracing, stenciling, and cutting with precision on your part.
Despite that being its original use, many people have modded their mice, cameras, and more with this grippy material.
If you want to see more examples of how it's been done, check out the product on Amazon using the link below.
Last Option: Sanding Down Your Mouse
Another option is to sand down the plastic of your mouse. This is used commonly among gamers as well, but it does permanently change the feel of your mouse with no take backs.
It's super durable because it is a permanent change though, so you won't need to replace the "grip" ever again.
This is the final option, if nothing else works, this is what remains.
With this, it's best to experiment with different sandpaper with different grit levels. These different levels determine the roughness of the sandpaper.
Get a small piece, cut a square or rectangle from the larger piece of sandpaper.
Find a spot you want to test it on, the side or back will work well. Don't jump to the right and left click just yet.
Do a sample test by sanding a small part of the plastic. See if you like the way it feels. If not, either stop or try another grit level.
You may find that you need some time to experiment to find exactly what you needs are with sandpaper and grippiness.
Conclusion
There are many ways to make a mouse more grippy. It can be as easy as buying pre-cut grip tape for your mouse if you have a popular mouse model.
You can even stencil the design out yourself to fit exactly what you want it to from different companies such as Lizard Skins and Talon Tape.
The last option is to sand down your mouse if nothing else works or if you just want a more permanent solution. Definitely test it out before you do it to your entire mouse.
Hope this helped you out on your journey to obtaining a more grippy mouse. Good luck!