The Magicforce 68 is a minimalist TKL (tenkeyless) model designed for wallet friendliness and portability. It debuted in the Western market on Massdrop, a company that runs group buys for the MK community on a regular basis. The Magicforce 68 mini comes from a company Qisan and can be bought on both Massdrop and Amazon. Although I'm not too familiar with Qisan, the MagicForce mini has garnered quite a bit of attention on Massdrop and deserves a review.
The sale of the Magicforce mini involved some nice customization options, including a choice between Cherry, Gateron, and Kailh switches. In addition, black, white, silver, and several backlit LED layouts were offered.
At the time, Gateron switches hadn't quite left their hype stage. Many users were still skeptical that a Chinese clone could outperform Cherry MX switches in terms of actuation point and smoothness. I was curious about the hype on /r/MK and GeekHack, so I joined the hype and got myself a MagicForce 68 mini.
After gaming, writing, and traveling with a MagicForce 68-key for 11 months I think it's high time for a review. This ranked on our list of the best keyboards for every budget (check it out here.), so it's worth examining. After trying out the Magicforce for quite some time, I've really come to enjoy its smart ergonomic design and portability. Let's get into the unboxing and in-depth review of the Magicforce mechanical keyboard below.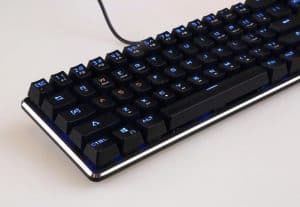 Magicforce Unboxing
Packaging
Massdrop versions of the MagicForce mini 68 (M68) were delivered in simple, unprinted cardboard boxes. The box provided adequate protection from shipping damage. A short manual, keycap puller, and generic USB Mini-B cable were included. I recycled my packaging long ago, so most of that is from memory.
Build quality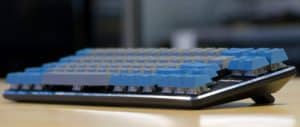 The MagicForce mini 68's outer case materials feel better than one might expect. The upper case finish and machining are quite pleasing on my copy. The ABS bottom plate is less lovable, but its texture and construction are passable. Neither side accumulates fingerprints or blemishes easily. The Magicforce 68's thick aluminum upper case doubles as its switch plate. That design feature reduces weight, size, and manufacturing costs. It also increases the keyboard's overall strength, as secondary plates require additional space and design accommodations.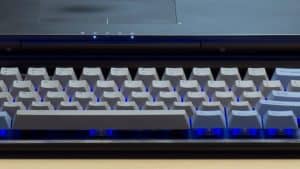 The floating key design, which leaves key switch housings visible, is typical for case-plate combinations. It's expensive to machine a lip around the edge of a plate, which means most companies avoid it. LEDs illustrate the only major flaw with floating designs. Depending on your monitor's location, the light produced by the upper row of LEDs can reflect from the screen into your eyes. Matte monitors suffer from colored splotches instead. Fixing the issue requires dimming your keyboard, adjusting your monitor position, or setting something between your keyboard and monitor. My laptop's cooling stand negates the glare, but it is still visible below the laptop's indicator LEDs.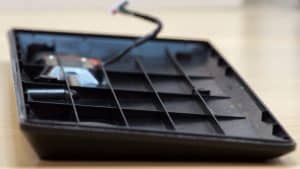 The lower case plastic is roughly 1 mm thick. Numerous lateral supports run the length of the case, providing stiffness and strength. A unidirectional cable channel with anchor points solidly holds larger-than-stock cables in place but doesn't necessarily hold small diameter cables well. Overall, the base is solid. It's also less likely to suffer from scratches or blemishes than a metal surface. The Magicforce mini is quite sturdy and having used it for gaming many times, I'm impressed with the build quality of Qisan.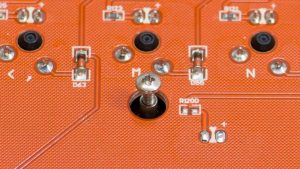 Six threaded metal sleeves, which mount directly to the top of the case, hold the Magicforce 68 together. This is an excellent feature, as threaded plastic tends to loosen and wear down over time. The screws are simply adequate. Their heads are small enough to place a great deal of stress on a small area of plastic, which could cause failure. In practice, the six fastening points and stiff upper plate should prevent damage.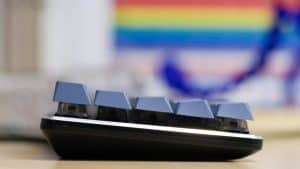 Creak and flex are essentially nonexistent. Some fit issues are present, though. The bottom case half extends just a hair past the upper case half, creating a slight lip. That's undesirable but easy to overlook in everyday use.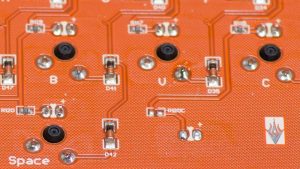 The PCB on the MagicForce mini appears to be well designed and free from any major soldering flaws. A logo, shown in the lower right above, may be an OEM. If you recognize it, please leave the company's name in the comments.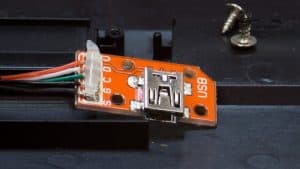 The stock cable on the Magicforce is abysmal. I immediately swapped it out for a braided cable from another keyboard (and subsequently lost the original). The USB daughter board is mounted with plastic screw inserts and two support pegs. The plastic threads on my keyboard were stripped, but the pegs still held the daughterboard in place. Some poorly applied hot glue is present on the wires to provide support. I think the daughterboard will fail before other components, as its fasteners are questionable. It also utilizes USB Mini-B, a standard with sub par insertion ratings.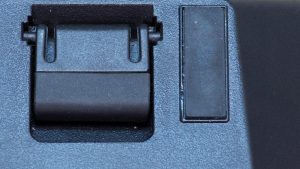 Fold out feet are a common feature in mechanical keyboards, but the Magicforce 68 mini stands out from the pack. Rubber moldings are attached to the ends, giving the feet grip. Its four rubber feet aren't amazing. Their adhesive will peel when moderate sideways pressure is applied. That won't be an issue if your mechanical keyboard stays at home, but regular travel will result in lost pads. My front pads went missing around the 8-month mark.
Magicforce – Switches and stabilizers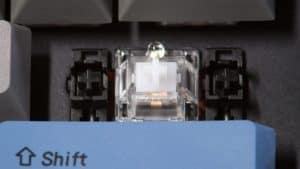 Key switch preference varies widely from person to person. I tend to like light linear switches, which led me to select Gateron Clear switches (35g) for my M68. The Gaterons live up to their reputation for smoothness, providing an excellent alternative to modern Cherry switches and other clones. Gaterons handle off center key presses well and sound great. They can, however, have some quality and consistency issues. Buying from a reliable merchant should help you avoid or mitigate those problems.
Stabilization is handled Cherry style. I haven't noticed any stabilizer quality issues, and aftermarket keycaps fit well. Note that O-rings, a common method of lowering switch travel and reducing noise, don't work perfectly with Cherry stabilizers. If installed on Cherry keycap stabilizer stems, binding will occur. Keycap tilt can occur when O-rings installed on the switch stem only.
Keycaps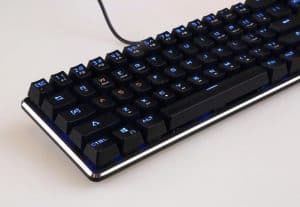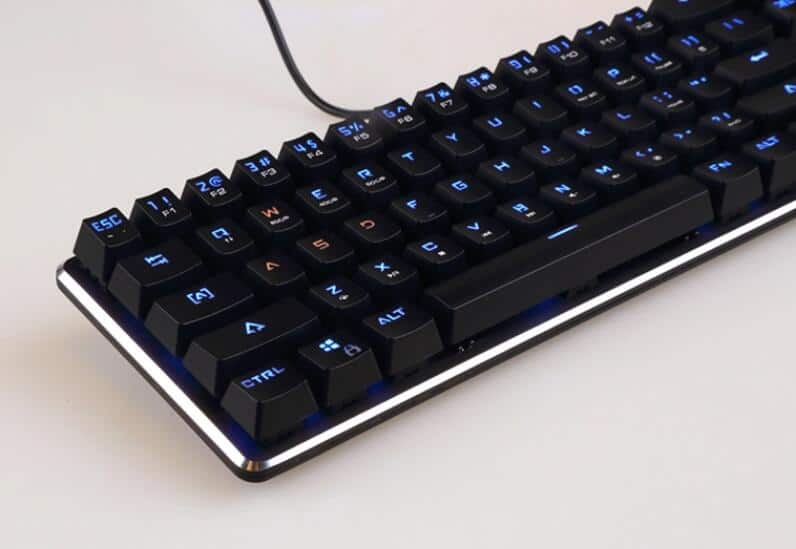 The stock Magicforce mini keycaps aren't special. They'll last longer than coated and lasered caps, as they're double-shot, but shine will happen quickly. ABS plastic isn't particularly durable. Fingers wear the plastic down with use, resulting in a shiny finish.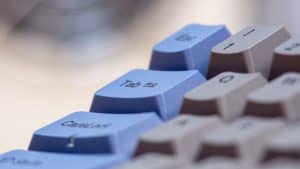 I immediately replaced the stock caps with a dyesub PBT keycap set. PBT is resistant to finger wear and yellowing. Dyesub, or dye sublimation, is a durable printing method that many hobbyists prefer.

Features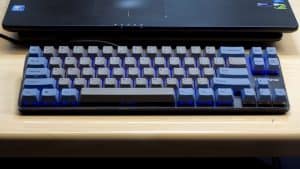 The monochrome LEDs on this mechanical keyboard aren't anything fancy. I chose a package with "gold" arrow and WASD keys to mix things up a bit. The yellow LEDs output less light than their blue companions. Intensity can be adjusted via the Fn layer. Thankfully the LEDs sip power with a worst case load of 148 mA. A breathing mode with adjustable speed is also available. While we're close to the keycaps, the Magicforce 68's function layer is pretty funky. It isn't necessarily bad, but it doesn't provide a full feature set in comparison to other keyboards. Media keys and other operating system functions are accessible, but the lack of a number pad alternative hinders the keyboard's usability in spreadsheets and other data entry environments.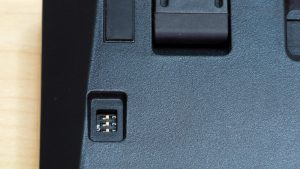 Its DIP switches aren't amazing either. They simply alter the key combinations that trigger tilde and escape.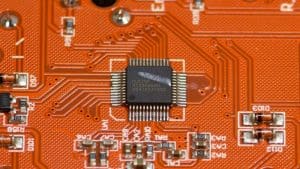 Overall, the mechanical keyboard's firmware is solid and NKRO enabled. The polling rate is optimal for gamers, clocking in at 1000hz or 1ms. I am, however, disappointed by the lack of memory functionality. If you unplug the keyboard and plug it back in, you'll need to reconfigure the LED brightness and breathing mode.
Labels and branding
I'm not all that fond of the Magicforce logo, nor how it is ostentatiously machined into the top of the case. It certainly won't wear off, so in terms of quality and durability, it is exceptional.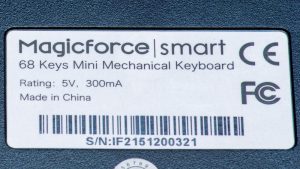 The rear label is printed well. It has decent contrast and durability. The substrate seems to be plasticized slightly, so it shouldn't suffer from occasional wipe downs with a wet cloth.

Magicforce 68 Mini – Editor's opinion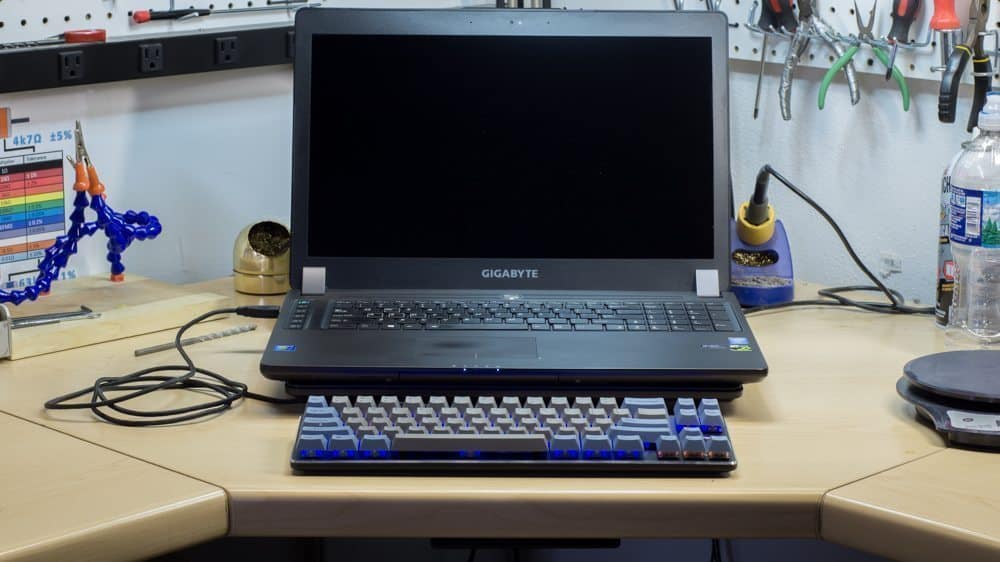 The Magicforce mini 68's overall appearance is pleasing. Small issues, such as the logo, are overshadowed by its solid build quality. The font, glare, and connector mount comprise the only real weaknesses I see in the keyboard. That's remarkable at this price point.
Its case is aggressively styled and minimalist. Machined metal trim gives it an air of class that doesn't seem chintzy or over the top. While this mechanical keyboard is probably best for gaming, a different set of keycaps could make it viable in a formal work environment. The stock font is quite aggressive, which I'm not fond of.
Overall, I think this is an excellent keyboard for those on a budget. I really enjoyed the giving the MagicForce mini a review and testing it to its limits. For an uknown company, Qisan did well in making this mechanical keyboard. If you're interested, you can find the keyboard and reviews on Amazon.
We rate mechanical keyboards on a 10 point scale. 10 is absolute perfection, 6 is average, and anything less is increasingly bad. The Magicforce mini 68 scored a 7.9 due to its high build quality. A lack of innovation and additional features held the MagicForce back from a higher score.