Today, we're going to be discussing one of the most classic keyboard showdowns – the Corsair K70 vs K95.
We get this question a lot because of how similar they are in both design and price. And what's more, they're both excellent mechanical keyboards. See our comparison table below for an easy look at the differences between the two keyboards.
K70 vs K95 – Comparison Table
Keyboard
Switches
Backlighting
Extras
Price
Corsair K95
MX Speed, brown
RGB
– 8 MB profile storage
– Programmable RGB
– Macro support
– Wrist rest
$$$
Corsair K70
MX Speed
Red or RGB
– Programmable RGB
– Macro support
– Wrist rest
– USB port
$$
Let's take a quick look at the company and its keyboards below:
Corsair has been making gaming hardware for a long time. And since then, they've also manufactured quality mechanical keyboards, usually aimed towards the gaming niche.
Two of their most popular mechanical keyboards are the Corsair K70 and Corsair K95, both excellent keyboards in their own right. We'll take a look at the nuances of the Corsair RGB K70 and K95 in this review to help you choose the best mechanical keyboard for your gaming rig.
Overall, the two mechanical keyboards are very similar in terms of build quality and features such as 100% anti-ghosting. The only things that may push you to buy one or the other are minor feature differences and price.
Many people have trouble choosing between these boards, so in this guide, we'll review and compare the key differences between the Corsair K70 and K95.
Disclosure: Both the K70 and K95 both have many versions; In this comparison, we'll take a look at their most popular ones (as seen from Amazon), which is the K95 Platinum and K70 RAPIDFIRE.
---
Corsair K70 vs K95 – Pros & Cons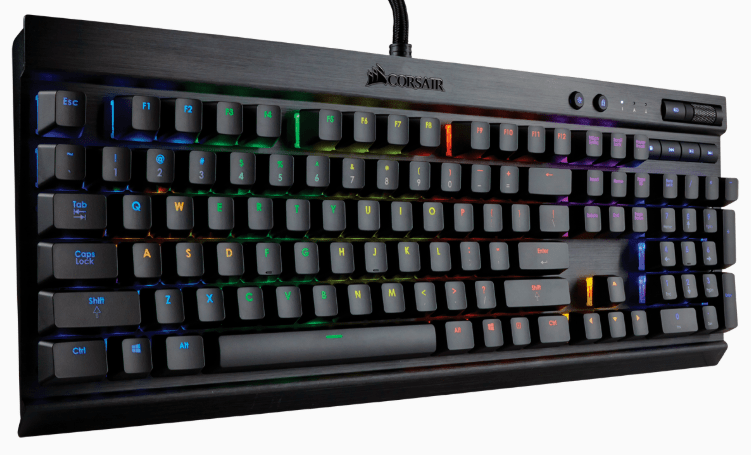 The Corsair K70 Rapidfire, much like the other Corsair keyboards, sports extreme durability with its aluminum frame and premium components. Boasting its wide array of switches like the Cherry MX Red, Brown, Blue, and RGB Speed Switches (which are the fastest available on the market), gamers can choose whichever suits them best. This keyboard sticks to the basic layout, whilst sporting its fully programmable keys that you can use to assign your macros to.
The Corsair K70 is controlled with Corsair's very own iCUE software. The RGB versions of the K70 flaunt their own colors, but you can opt for a standard version with red LED lights too.
| | |
| --- | --- |
| PROS | CONS |
| Vibrant RGB Backlight is useful and colorful | Difficult software suite |
| Cherry MX Switches | No dedicated macro keys |
| Aluminum Frame | Software is NOT Beginner-Friendly |
| Enhanced lighting effects with 3 brightness levels | Keys are exposed because of the lack of a bezel on the edges |
| Dedicated Media Keys | |
| Removable, easy to attach wrist rest | |
Corsair K95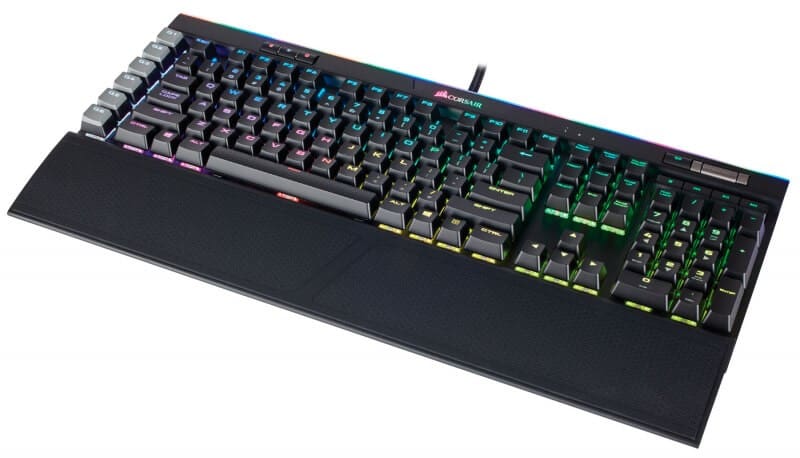 The Corsair K95 Platinum still sports the same sturdy aluminum structure with a detachable, reversible, and magnetic wrist rest.
Gamers can choose between Cherry MX Brown and Cherry MX Speed switches, which are both durable, long-lasting, and specially designed for gamers and typists who prefer a tactile bump without an audible click. This keyboard is fully programmable but comes with 6 more keys compared to your basic layout, which is also programmable, making it a great choice for hardcore gamers.
Corsair's iCUE software allows you to program the keyboard to your liking. As for its vibrant backlight, the Corsair K95 offers RGB lighting not only on the keys but on the Corsair logo as well, adding a whole new flair to its overall design and helps your keyboard shine brighter. This keyboard has definitely improved compared to its previous versions and gives you the best value for your money.
| | |
| --- | --- |
| PROS | CONS |
| Reversible wrist rest | Rubber palm rest easily gets dirty |
| 8MB profile storage | No audio pass-through |
| Durable and lightweight aluminum frame | Challenging iCUE user experience |
| Media and Shortcut Keys | Difficult to program functions |
| 32-bit arm cortex processor | |
| Many customization options | |
Corsair K70 and K95 – Switches and Layout
Switches
The Corsair K70 and K95 are both made with Cherry MX switches, available in a variety including MX Speed. Both of these Cherry switches are excellent for gaming (or just everyday typing).
Their Cherry MX Speed is supposed to have a quicker tactile response and therefore a better gaming experience. That being said, the response is already so quick it is likely not to be noticed.
Layout and Keys
The main difference between the K70 and K95 comes down to the macro features of the K95. The Corsair K95 has 18 programmable "G-Keys", which make excellent hotkeys for games with many different spells or commands, like World of Warcraft, the Civ series, etc.
These keys can be programmed to whatever you need. The K95 also has 6 different memory banks that you can switch between, meaning those 18 keys can have a different function on each memory bank (great for games like Fornite or PUBG). This gives you a total of 108 macros ready to go on your keyboard at once.
If you mostly play MOBA's or first-person shooters, the Corsair K95 might not be that appealing to you. You should also consider the extra 4 inches or so of desk space that the bank of G-Keys takes up. The Corsair K70 might be a better option in those scenarios. The K70 has onboard memory, but only enough that stores your settings if you unplug the keyboard.
Features & Quality
Having tried both the K95 and K70 – it's easy to say that they both have the same quality. Their builds are similar enough and their switches are both excellent.
If you're choosing one keyboard over the other it should be based on features or price. The price of the K95 is a little higher than the K70 and both have great features (but slightly different).
As seen from the comparison table, both come with wrist rests, Cherry MX switches, RGB, macros, and programmable keys. So, what will really set the keyboards apart is the fact that the K95 has 8 MB worth of profile storage.
Another thing to consider is the style – both keyboards are very similar in design but if you take a closer look, their key layouts are slightly different. The K95 has a set of keys on the very left of the keyboard, as noted in the previous section. Take a look at the K95 keys here.
Corsair K70 and K95 – Backlighting
Both the Corsair K70 and K95 are available with RGB backlighting. The K95 is also available with white LED backlighting, while the K70 is available with red LED backlights.
You'll save about $20-40 by choosing a model without RGB lights, depending on where you buy from.
Typically, Amazon has the lowest prices on the RGB models. Personally, I love the RGB models – they fit every type of gaming rig and just looks awesome.
So, Which One is Better – K70 or K95?
We recommend those that do a lot of strategies, RPG, or MMORPG gaming to go with the K95 because the extra programmable macro keys will be useful to you. Or even if you're not really into gaming, the K95 can be useful if you can utilize the Corsair macros. If you're on a budget, save a few bucks and get the model without RGB.
At the end of the day, your choice will depend on pricing and a few features. The differences aren't that large
For other gamers who prefer FPS, MOBA's, or games without many hotkeys, you'd be best suited with the Corsair K70.
Conclusion
Corsair is known for its gaming peripherals and their K70 and K95 are no different. Get the non-RGB version if you're on a budget.
The price for the K95 is a little higher but has some additional and cool features that might be helpful during gameplay.
But, if you don't really care and are not looking to spend that much on a mechanical keyboard, I wouldn't hesitate to get the K70. They're both excellent mechanical keyboards and their amazing ratings on Amazon speak for themselves.
In the end, what it really comes down to is the price and those macros. For an in-depth review of that Corsair RGB Rapidfire K70, check out this article.
We also have comparison guides for the Corsair STRAFE vs Corsair K70, and the Corsair K70 vs. Razer BlackWidow.