This article covers general-use mechanical keyboards with all switch types. If you want to see our top gaming keyboards list, we have them in a separate piece. We also cover mechanical keyboards with Cherry MX switches if you'd prefer to stick with name brand hardware.
In this guide, I'll go over the best budget mechanical keyboards for every use. This includes gaming, general use, quiet, white, tenkeyless (TKL), and wireless. This budget mechanical keyboard list is huge and comprehensive, I recommend using our bookmark links (left-hand side). Below, I'll talk about the benefits of owning a mechanical keyboard and then dive right into our top budget list. For mechanical keyboard beginners, check out our guide here.
Why use a mechanical keyboard?
Mechanical keyboards were developed from typewriters in the early days of computing. After dominating the market until the mid-late 80s, mechanical keyboards were phased out in the 90s due to dropping computer prices and an interest in quiet office environments. The past ten years have sparked a renaissance in mechanical keyboards worldwide, and there are good reasons for their reappearance.
Four major advantages set them apart from standard domes: quality, enjoyment, ergonomics, and community.
Quality
Most rubber dome keyboards are designed to be cheap. They use inferior plastics, feel pretty awful, and don't last all that long/degrade in press-feel. Mechanical keyboards have higher build quality in every conceivable way. In fact, some switches improve with regular use! To sum things up, mechanical keyboards will probably last for tens of years unless they're spilled upon, abused, or neglected. I have mechanical keyboards that are 30 years old. They still work beautifully.
Enjoyment
"Blah." That's what every rubber dome feels like when you press a key. "Tick." That's what every rubber dome sounds like. Mechanical keyboards offer a totally different experience. Click, clack, and thock are all common sounds when hammering away on a mechanical keyboard (though quiet options exist too). Typing can be fun, particularly when you choose the right switch and form factor for your needs. It's the difference between buying a tool at the local bargain store and picking one up from a respected store brand — the tool will be better designed, resulting in a better user experience overall.
Ergonomics
Although it hasn't been proven, many swear that mechanical keyboards are more ergonomic than their rubber dome cousins. Some of this may be due to the extent that you can customize your keyboard, but the rest comes down to the switches. You can choose light, heavy, or anything in between. In addition, a few innovative mechanical keyboards utilize ergonomic form factors. They're a bit harder to track down, but the extra effort may be worth it if you suffer from RSI or similar health problems.
Community
Several forums have hoisted the mechanical keyboard flag. Reddit, Geekhack, and Deskthority are the big three. Each has its own particular thing, yet all three welcome thoughtful questions and posts of all types. Reddit is the most active community, which mostly focuses on modern tenkeyless keyboards and keycaps. Geekhack blends vintage keyboards with projects, keycaps, and modern keyboards. Deskthority is focused on vintage mechanical keyboards but often branches out into modern products and vintage keyboard remakes.
Choosing a mechanical keyboard
Selecting the right mechanical keyboard can be pretty difficult. Form factor, switches, and other preferences make it a balancing act. If you're not sure what to look for, check out our starting page for more information. If you haven't experienced mechanical keyboard switches you should consider purchasing a switch tester. Several different Cherry switch variants are included in most testers. Because switches are the most important part of the mechanical keyboard experience, it's worth sampling some different types before purchasing an entire keyboard.
Best Budget Mechanical Keyboards List
Now that we've covered why mechanical keyboards are an essential for gaming and everyday use, let's dive into my list of the best budget mechanical keyboards to date. For this list, I've added a variety of different mechanical keyboards so that everyone can find one they like. Most of these mechanical keyboards are under 100, affordable, and friendly for any user. Without further adieu, let's get into my top picks!
Best Mechanical Keyboard for Gaming: Corsair K95 RGB
Every single keyboard on this list will work fine for gaming. In fact, most of the mechanical keyboards on this list are marketed as gaming keyboards! It's very difficult to recommend a few gaming keyboards as "the best" because gamers have very different individual needs. While one may love RGB lighting, another gamer might want monochrome LEDs or no lights at all. Some may want clones, while others will have Cherry or nothing. In any case, I recommend scrolling through each section of this article to see what will suit your gaming style.
There are, however, things I would recommend avoiding. Wireless mechanical keyboards introduce some lag to your keypresses, which can put you at a big disadvantage when gaming. It's also a problem when batteries die mid-game. Furthermore, I think macro keys aren't nearly as important as gaming companies advertise them to be. They're fine for casual single player games, but most competitive multiplayer games (both online and local) ban or frown upon macros. Macros, in my opinion, have increased value for graphic designers and other professional users. If you need a mechanical keyboard that's decked out with every possible feature, I have one recommendation and one only: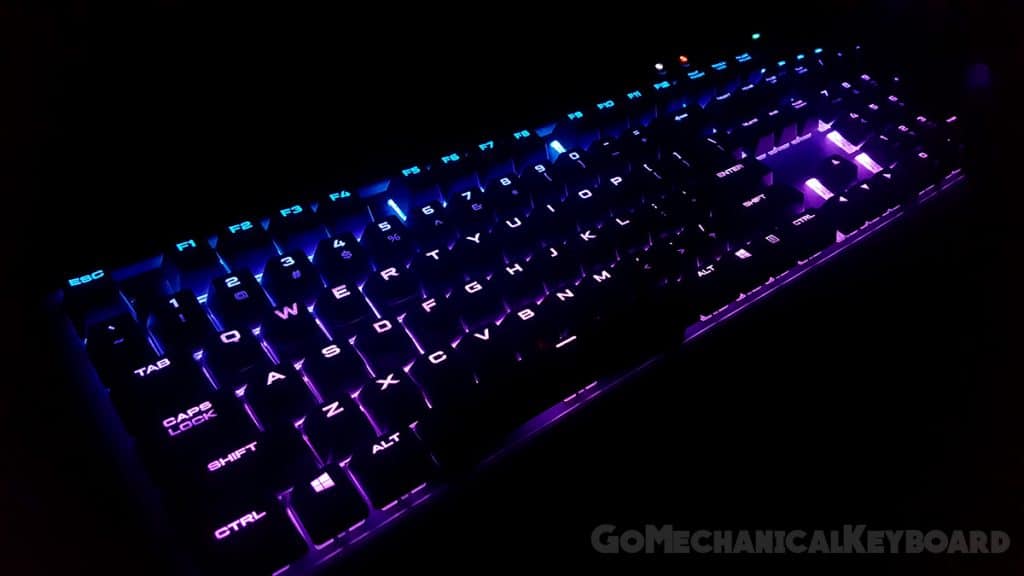 | | |
| --- | --- |
| Pros | Cons |
| Metal upper case | Aftermarket keycap compatibility is low |
| Cherry switches | Occasional software stability issues |
| A ton of macro/media buttons | Media buttons aren't mechanical |
It's stealthy, it's full of attitude, and it will take up 3/4 of your desk. All hail the K95 RGB, which has a massive cluster of macro buttons on the left hand side. Besides its imposing width, this Corsair keyboard shares high build quality with the rest of Corsair's recent releases. A volume knob and removable wrist rest complete the behemoth's package. The Corsair-standard USB pass through port is absent on this model, likely due to the power draw of the additional RGB LEDs. You should also be aware of the fact that the additional macro keys are appended to the metal plate. The keyboard is essentially a K70 with a few extra keys stuck on.
You can find a decent video review here.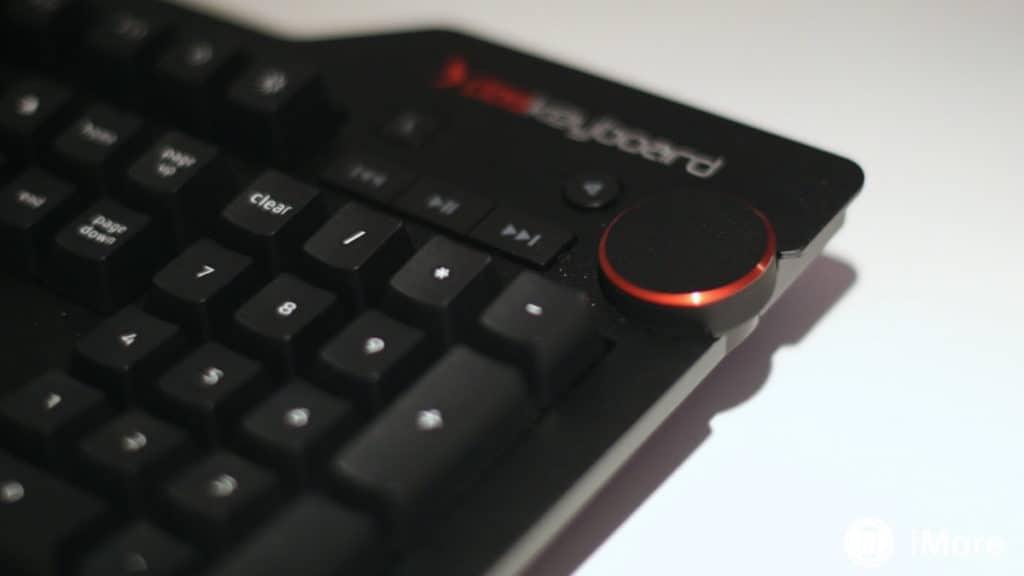 | | |
| --- | --- |
| Pros | Cons |
| Genuine Cherry MX switches | Its ruler foot is pretty subpar |
| Aluminum upper case and excellent build quality | Fairly expensive for its features |
| Dedicated media buttons and volume dial | Boring, non-braided cable |
The Das Keyboard 4 Professional is a sleek, top of the line mechanical keyboard that can handle professional environments and game nights with ease. Dedicated media keys and a volume knob take the hassle out of changing settings. Cherry MX Brown or Blue keyswitches provide an excellent typing experience. It even sports USB 3.0 passthrough ports for additional peripherals. The only downside to this model is its ruler foot, which isn't particularly grippy.
I selected the 4 Pro for this slot because it's a good looking generalist. It isn't perfect in every way for every task, but it will do a respectable job with everything you throw at it. The font isn't weird, the design doesn't scream gamer, and its build quality is very reasonable.
Best Cheap Mechanical Keyboards
In my opinion, a cheap mechanical keyboard is better than no mechanical keyboard at all. There's nothing wrong with picking up a bargain basement model to sample mechanical keyboards or hold you over until you can afford a nicer one. You'll find some of the most accessible mechanical keyboards below. They're cheap, but they still maintain reasonable levels of quality. Even I'm tempted by them!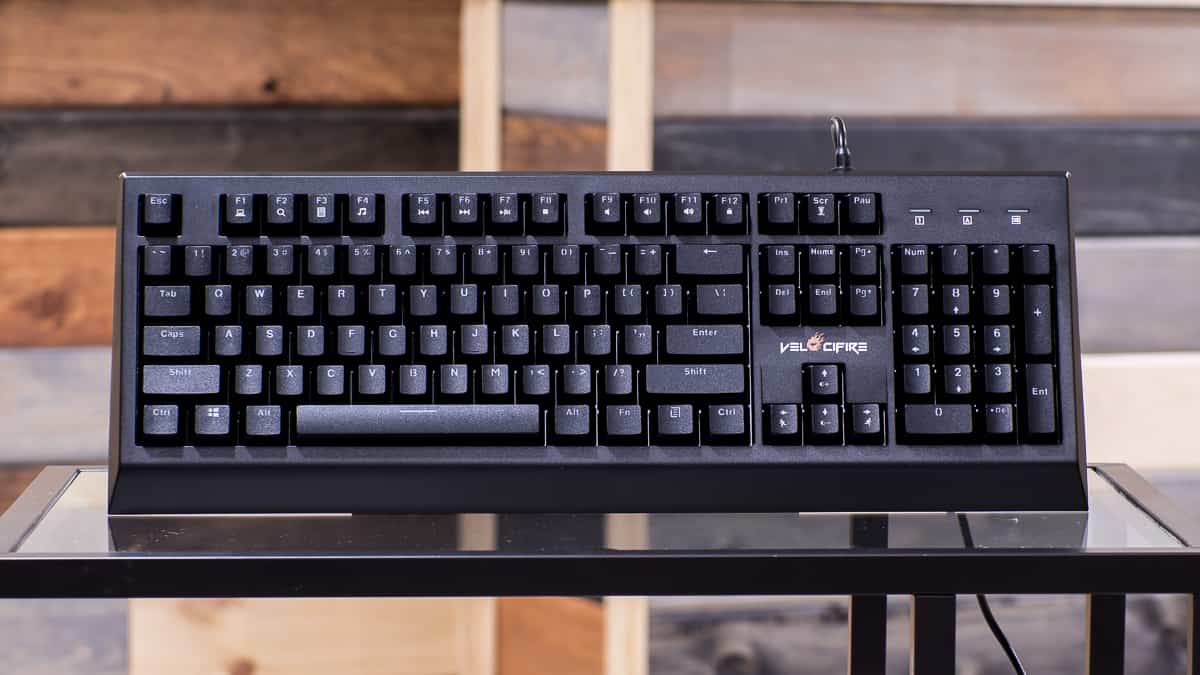 | | |
| --- | --- |
| Pros | Cons |
| Nice doubleshot keycaps and font | Uses Zorro clone switches, which are iffy |
| Passable build quality | No flip out feet |
| Backlighting for next to nothing | Limited backlight levels and settings |
The Velocifire VM01 is a solid, cheap, full size mechanical keyboard. Its Zorro Brown switches aren't exactly great, but at this price point it's hard to argue with a keyboard that has relatively thick doubleshot keycaps and a few backlighting modes. I like the fact that the keycaps are less gamer-ish than other cheap options. GoMK's review points out the pros and cons of this remarkably budget keyboard. Seriously — I have no idea how they're making money on this.
| | |
| --- | --- |
| Pros | Cons |
| Aluminum upper plate, floating key design | Outemu clones aren't as good as Cherry switches |
| Raised bezel reduces LED-monitor glare | Elevation feet flip to the sides, not front to back |
| Budget backlighting | No backlighting frills, only brightness adjustments |
The Eagletec KG010 is a sharp looking mechanical keyboard with an aluminum upper case/plate. It seems to draw some of its styling from Corsair keyboards. Legitimate Cherry switches aren't present, but it's hard to fault the keyboard for that when it's priced cheaply. You should watch out for its feet, which swing out sideways in comparison to most mechanical keyboards. The feet end up with less grip due to their angle.

| | |
| --- | --- |
| Pros | Cons |
| Nice doubleshot keycaps and font | Uses Zorro clone switches, which may be scratchy |
| Passable build quality + feet | Switch type and weight not ideal for gaming |
| Backlighting for next to nothing | Limited backlight levels and settings |
I'm going to go out on a limb and say that this is the new top dog of the cheap tenkeyless market segment. Sure, it only has a few Amazon reviews. But based on the success of its sibling, the VM01, the TKL01 is going to be a big hit. Velocifire has managed to lower the price on this keyboard and make sequential improvements to the model line. What do I mean? The TKL01 has flip out feet. It's always good when companies listen to feedback, and this is a case where it was implemented in a bargain basement model. Good job; I approve. Spec wise, everything else is similar to the VM01.
Read our TKL01 review for more information.
Best Budget Mechanical Keyboards
Let's say that you're not strapped for cash. Let's say that you're looking for something that's a big step up from a cheap keyboard, but you still don't want to shell out for a flagship model. Budget keyboards are for you. High build quality, a lower price point, and fewer features in comparison to premium models place budget mechanical keyboards in a sweet spot for everyday users.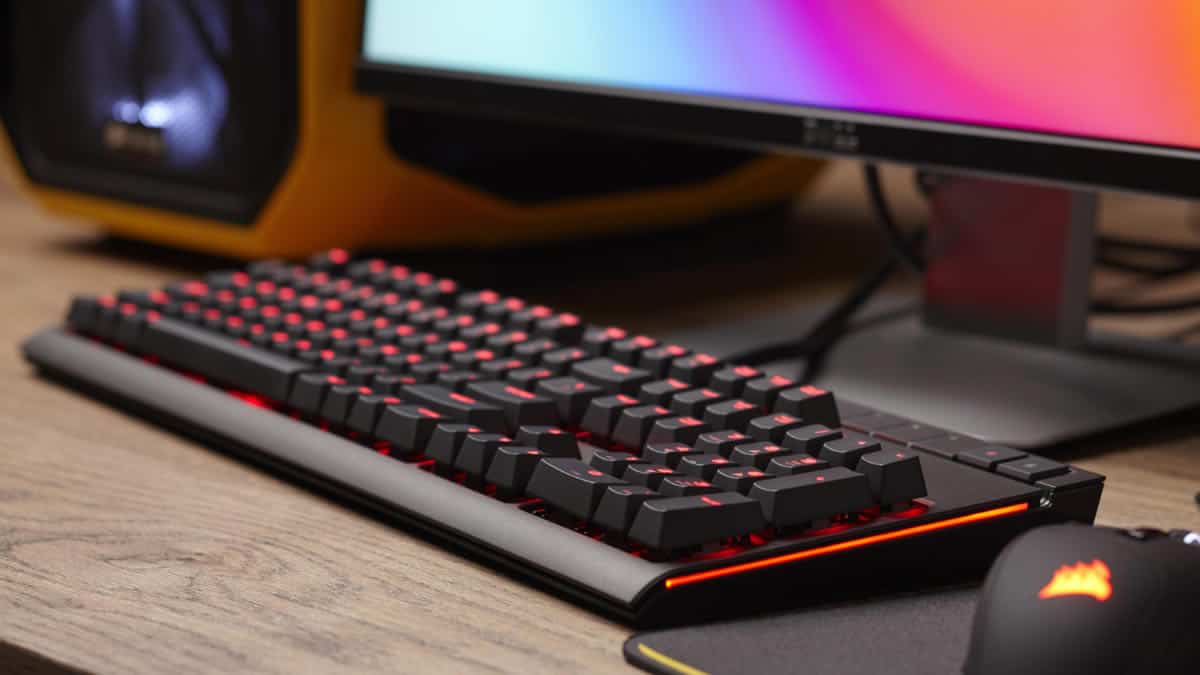 | | |
| --- | --- |
| Pros | Cons |
| Genuine Cherry switches | Isn't available with Cherry Speed switches |
| Corsair's excellent build quality | Plastic upper case, even if built well, is still plastic |
| Multimedia player & USB port | Few features compared to high-end models |
The Corsair STRAFE with Cherry MX Red switches and standard red backlighting is the reference point for mechanical keyboards under $100. Corsair's excellent build quality shines, even with a plastic upper case and reduced features in comparison to the K70. You can pay more or less for various changes, including MX Silent switches, but they don't offer the same kind of base value that this version does not.
Read our review of the STRAFE RGB to learn more about the base model's build quality and features.

| | |
| --- | --- |
| Pros | Cons |
| Uses Gateron clones, which beat Cherry switches | Barebones function layer |
| Very sturdy — uses metal upper plate/case | LEDs can create glare on monitor |
| Removable cable & rubberized feet | Weak-ish cable attachment point |
The Qisan Magicforce 68 Mini Mechanical Keyboard (what a mouthful!) is, in my opinion, the best 65% mechanical keyboard you could pick up. It has a machined metal upper case, doubleshot keycaps (though the keycaps have been replaced on the pictured keyboard), backlighting, and a standard bottom row for replacement keycaps. It doesn't flex at all due to some great material decisions. Finally, it has a removable cable. The cable's connection point isn't ideal, but it will hold up if you aren't violent with it.
Read our review of the Magicforce 68 for more information.
3. Logitech G610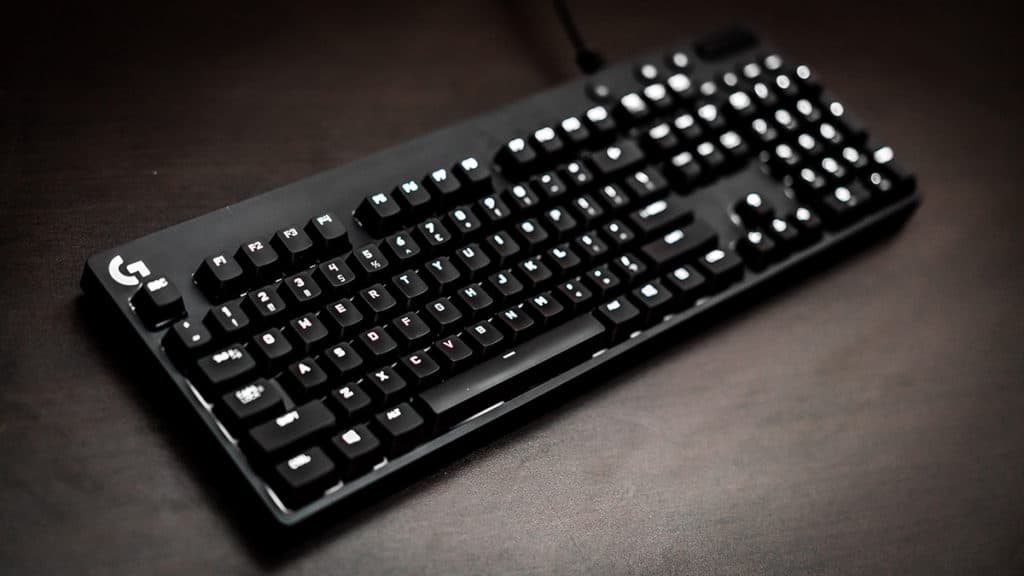 | | |
| --- | --- |
| Pros | Cons |
| Uses genuine Cherry switches | Plastic case materials |
| Volume roller and media buttons | Inconsistent Num lock on boot |
| Additional software customization | Function row keycaps may cause sticking |
The Logitech G610 is remarkably feature rich for its price point. Backlighting, a volume roller, and media keys complete the package. Its monolithic, sharp, black design is also a plus. Legitimate MX Brown switches further round out the keyboard — no clones here. The backlighting and function row can be configured above and beyond the norm for a keyboard at this price. Even the keycap font is acceptable. Its only real fault is that stray units have keycaps that cause key hangups, particularly on the function row. Not only would this keyboard work for gaming — it would fit in just fine at the office. If you do plan on using it at work, consider the Brown variant of this model.
See Tech Showdown's video review for a detailed look at the keyboard.
Best Quiet Mechanical Keyboards
Sometimes you're stuck in an environment that doesn't handle noise well. Grumpy cubicle neighbors, nosy parents, sleeping children, and a ton of other situations can benefit from quieting things down. There's three real options available: the STRAFE MX Silent, the Matias Quiet Pro, and DIY dampening. Cherry released an in-house mechanical keyboard, but that isn't available in North America yet. In other words, choices are pretty limited.
| | |
| --- | --- |
| Pros | Cons |
| Cherry Silent switches | Price is high due to exclusive switch deal |
| Corsair build quality | Plastic upper case |
| Macro recording | No dedicated multimedia buttons |
The Corsair STRAFE MX Silent is the only keyboard available with MX Silent switches in the United States. The MX Board Silent, Cherry's in house offering, is still unavailable locally. The damping mechanism used in Silent switches is enough to significantly muffle typing sounds — namely bottom out and upstroke clack. The STRAFE Silent shares the same great build quality as regular mechanical keyboards from its model-family, so there's no need to worry about durability.
| | |
| --- | --- |
| Pros | Cons |
| Totally different switch design | Difficult to find aftermarket keycaps |
| Shapely, glossy case | Picks up fingerprints and scratches |
| Mac compatible versions exist | Laser etched keycaps aren't great |
The Matias Quiet Pro uses an upstroke and downstroke dampening system similar to Cherry's MX Silent solution. It's applied to a totally different switch mechanism, though. Matias manufactures its own switches based on simplified designs from Alps Electric, a big name in keyboards during the 80s. If you like the organic, shiny, curvy style, this mechanical keyboard will be great for you. It reminds me of yesteryear's Apple keyboards, actually. That's no shock, as it's available for Mac too.
DIY dampening is another option, but it only works to silence downstrokes. You might not even need to purchase MX Silent or Matias Quiet switches.
That said, putting on O-rings and other dampening equipment can be time consuming. O-rings can also suffer from limited compatibility with certain stabilizer systems. Check out our page on dampening methods to see if DIY dampening appeals to you.
Best White Mechanical Keyboards
Black is the standard color of the computing world. In response to that color dominance, most keyboard and peripherals follow suit. If you have a white PC, it's a rare bird. White and metal Apples, on the other hand, are quite common. Regardless of your hardware, quality white mechanical keyboards are hard to track down. I scoured the internet to find the best white, sanely priced mechanical keyboards. You'll find them below.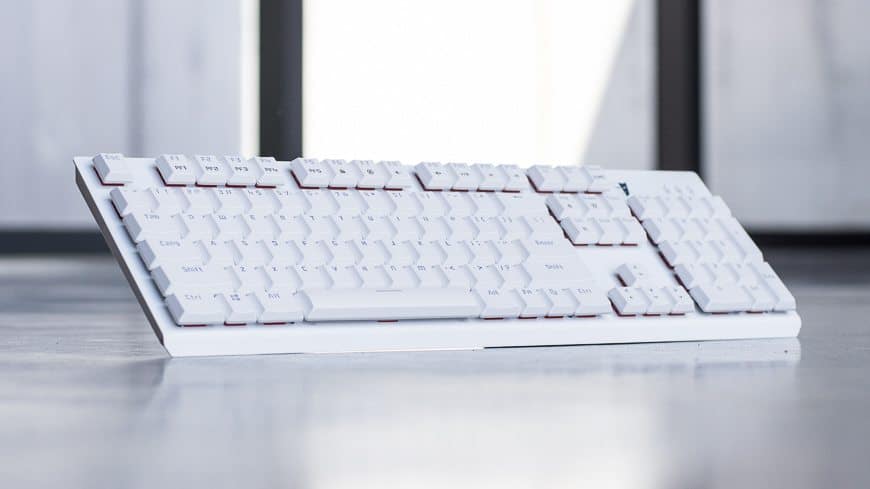 | | |
| --- | --- |
| Pros | Cons |
| Steel upper case | No Mac support for LEDs |
| Software configurable RGB LEDs | Software isn't great |
| Innovative low profile technology | Occasional reliability issues |
Tesoro's Gram Spectrum introduced a new line of low profile switches, produced by Kailh, to the market. Blue (clicky, better for typing) and Red (linear, better for gaming) switch variants are available. The metal top plate and removable braided cable add some class to a mechanical keyboard that's already beautiful. It also has RGB lighting that can be customized via a program. All in all, an amazing package that hits just the right price.
Read our review to learn more about this awesome mechanical keyboard.
| | |
| --- | --- |
| Pros | Cons |
| Aluminum upper plate | Outemu switches aren't awesome |
| Dedicated media/macro keys | The media/macro keys aren't mechanical |
| Detachable wrist rest | Lighting quirks limit customization |
The K550 is an interesting beast. Redragon is really stepping up its game in the budget market. At a price point similar to the Corsair STRAFE's, you can pick up a mechanical keyboard with limited RGB lighting and an aluminum plate. The volume knob is also aluminum. Even the wrist rest has quality touches that similar keyboards lack — it uses magnetic pins to lock in place. Switches are where this keyboard suffers a bit. Most versions have Outemu linears, which are scratchier than Cherry MX and Gateron switches. In addition, the media and macro buttons aren't mechanical. Regardless, this sort of feature set is impressive at such a competitive price.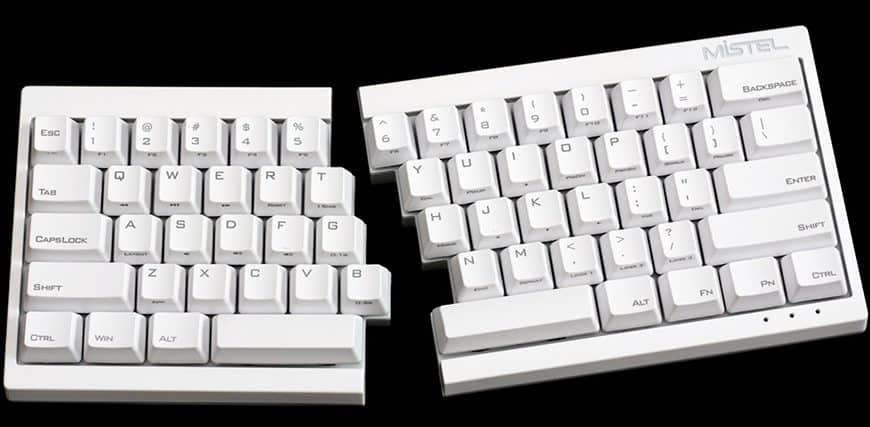 | | |
| --- | --- |
| Pros | Cons |
| Split, ergonomic design | Pad printed keycaps will wear down |
| Cherry switches | Poorly written documentation |
| Supports alternate layouts | Small firmware bugs when remapping keys |
Mistel is a new name in the mechanical keyboard business, at least in America. Our site had some extremely early coverage of their Barocco split keyboard. In fact, they mistakenly sent us a prototype! After spending time with early and production variants, the GoMK team thinks that the Barocco is something special.
It's the only commercial split mechanical keyboard that was designed by a company and not a community, as far as I know. It's certainly the most interesting split mechanical keyboard that's available on Amazon. Split keyboards offer superior ergonomics by placing typists' hands in a natural position. Normal staggered keyboards force typists to bend their wrists, which isn't terribly healthy.
If you want to know more, take a look at our review.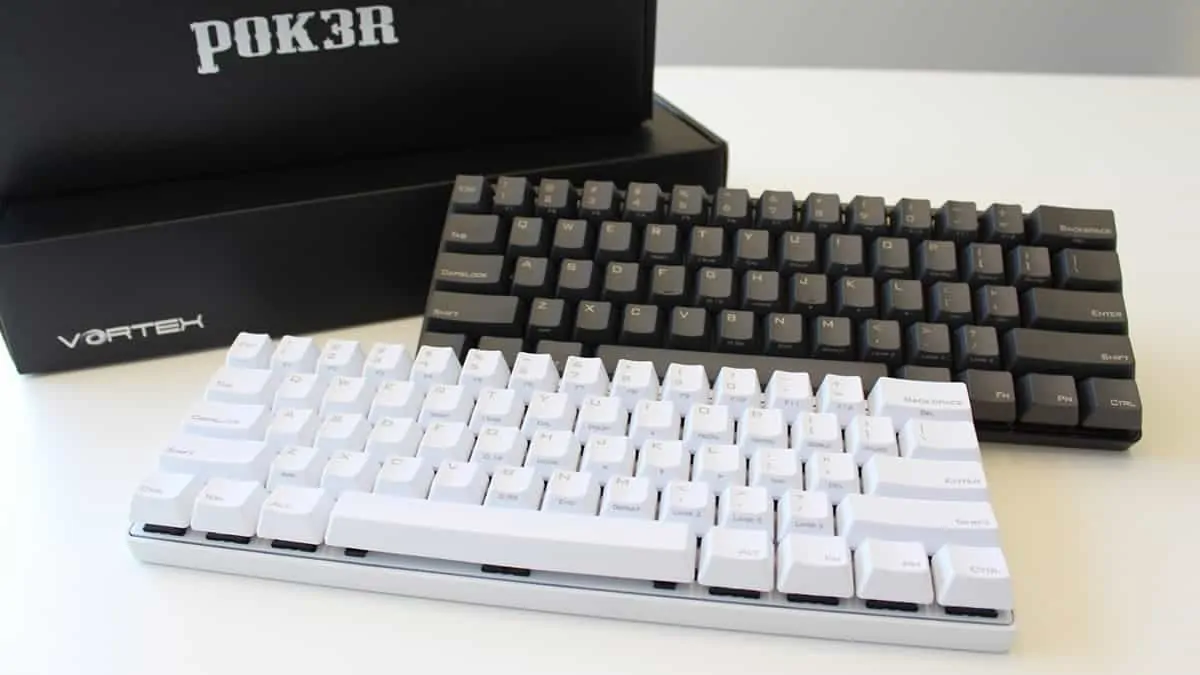 | | |
| --- | --- |
| Pros | Cons |
| Metal case | Keycap legends will wear off quickly |
| Cherry switches | Certain keys cannot be reprogrammed |
| Supports alternate layouts | Esc legend doesn't match other caps' alignment |
The Poker lineup has essentially turned into a mechanical keyboard phenomenon. Reddit's mechanical keyboard community is overrun with Pok3rs and other 60% layouts, shoes, and keycaps. Do I think that's a bad thing? Not at all — in fact, Pokers are a sturdy and viable platform for all mechanical keyboard users. Extensive programming support means that the keyboard doesn't lose functionality when compared with full-size mechanical keyboards. Pokers also have DIP switches that activate Dvorak and Colemak layouts.
Our review of the Poker RGB should provide a useful look at the series' build quality.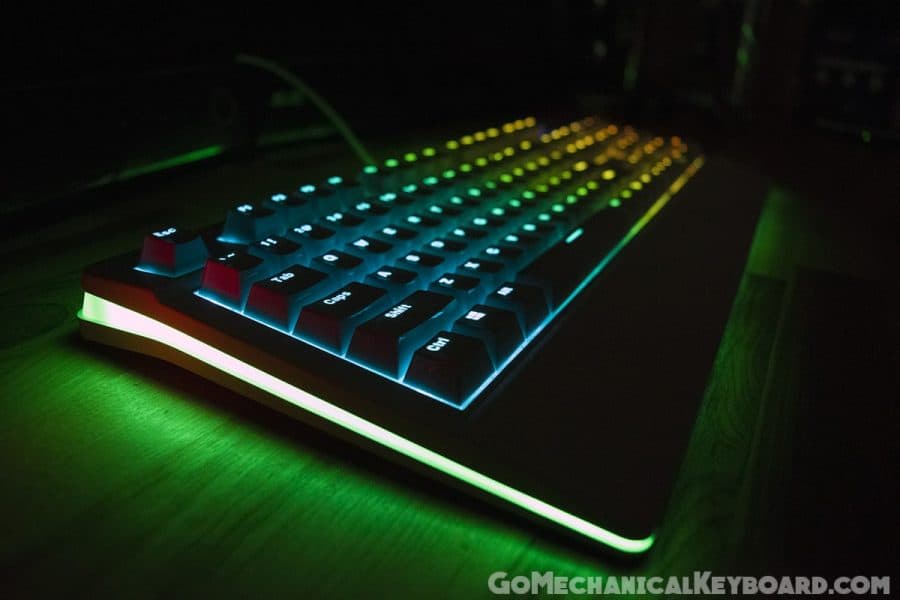 | | |
| --- | --- |
| Pros | Cons |
| Sweet side lighting | Built-in wrist rest might be annoying |
| Reasonable font | Kailh clone switches are "meh" |
| Plenty of lighting options | Switch selection limited to Kailh Browns |
The Royal Kludge RK PRO104 is a budget mechanical keyboard with unique RGB side lighting. It's pretty much the same as the Havit HV-KB389L, so I'm assuming that an anonymous OEM produces it. In short, it's an RGB keyboard with a mostly-standard feature set and nice build quality. An affordable awesome mechanical keyboard for those on a budget.
Check out our review of the Havit HV-KB389L to see what the PRO104 is like.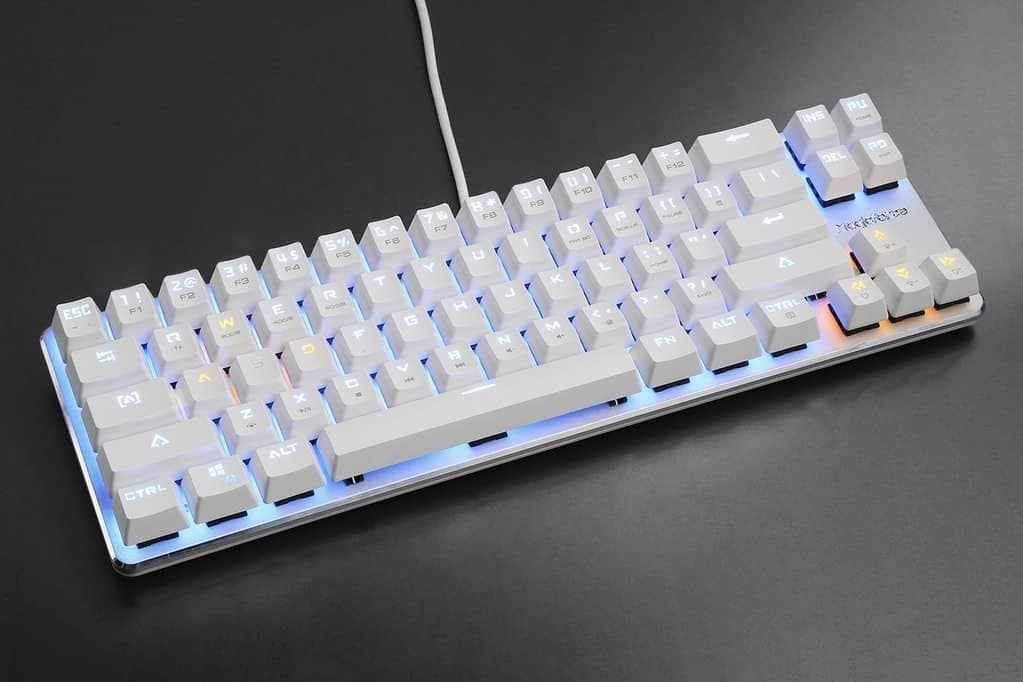 | | |
| --- | --- |
| Pros | Cons |
| Uses Gateron clones, which beat Cherry switches | Barebones function layer |
| Very sturdy — uses metal upper plate/case | LEDs can create glare on monitor |
| Removable cable & rubberized feet | Weak cable attachment point |
Showing up a second time, the Qisan Magicforce 68 Mini Mechanical Keyboard is, in my opinion, the best 65% mechanical keyboard you could pick up. It has a machined metal upper case, doubleshot keycaps, backlighting, and a standard bottom row for replacement keycaps. It doesn't flex at all due to some great material decisions. Finally, it has a removable cable. The cable's connection point isn't ideal, but it will hold up if you aren't violent with it.
Read our review of the Magicforce 68 for more information.
Wrapping Things Up
We've covered many major mechanical keyboard categories in this piece, making it one heck of a read. I chose the keyboards in this article based on personal experience, some educated guesses about what you might want, and a bunch of additional research. If you think I missed a keyboard, please tell me. Other readers will be thankful that you spoke up. The same goes for displeasure with my choices.
If you still don't know what direction you'd like to head, ask me questions in the comments or on GoMK's social media pages. I'm always happy to give helpful opinions to newcomers — I was in your shoes, once. I won't ever forget the raw curiosity that led me to my first mechanical keyboard.
Seriously, feel free to get in touch with me when you're looking for input!