Can't decide between the Corsair STRAFE RGB and the infamous Razer BlackWidow Chroma V2 for your gaming rig?
In an effort to do battle with the Razer Blackwidow Chroma, the Corsair RGB keyboard offers a lot of great features. In the classic battle between Corsair and Razer – two gaming PC peripheral companies – we'll do an in-depth comparison and review of the famed Corsair STRAFE RGB vs. Razer's BlackWidow Chroma.
The only main differences are a few features, the switches, and the overall design. Other than that, the pricing, quality, and functionality of both are excellent (as per my own use and many positive Amazon reviews).
Comparing the BlackWidow by Razer and the STRAFE RGB by Corsair will be difficult as competition is fierce and both keyboards boast top of the line functionality. Let's see a deeper comparison below.
Switches – MX Cherry Vs. Razer's Green
The Corsair STRAFE RGB comes in 3 different Cherry MX switch options – Red, Brown, and a new switch called "Silent". The STRAFE is the first keyboard to use to new Silent switches, which are designed with internal sound dampening.
Corsair claims these switches to be "Exclusive" right now, but it's not clear if that's a long-term deal they have with Cherry, or if they're just the first company to use them right now.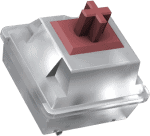 Razer, on the other hand, used its own branded switches made by Kailh, a Chinese company.
They're known as clicky Razer Green switches. The Greens are similar to Cherry MX Blue but of course, Cherry MX's have a longer history and therefore more reliability. These Razer switches have a shorter actuation distance, but you likely won't be able to tell a difference.
It should also be noted that Razer has come out with more of their switches – orange and yellow. Both the orange and the yellow switches are supposed to be more silent. The difference is that the orange switches are more tactile whereas the yellow ones are more linear.
RGB Backlighting – Similar Enough
As with other Corsair RGB mechanical keyboards we have seen, the STRAFE offers per key RGB backlighting for ultimate customization with their CUE lighting software.
Razer uses their Razer Synapse software to deliver a similar backlit RGB lighting experience. I think the two end up being very similar in quality of light produced. The STRAFE switches are raised from the backplate, allowing light to spill out from the side, whereas the BlackWidow has a more traditional sunken design.
I'd say the built-in lighting effects of the Corsair STRAFE are better, but not by much. Both the Corsair RGB and Razer BlackWidow are easy to setup and use.
Keyboard Wiring – Minor Differences
The Corsair RGB STRAFE has a USB pass-through port built into the keyboard, as does the Razer BlackWidow. The BlackWidow also has audio and mic pass-throughs which is nice.
The Corsair RGB has 100% anti-ghosting technology with full 104 key rollovers, whereas the Razer BlackWidow Chroma only has 10-key rollover. Depending on your gaming setup and what you're doing with the keyboard, this might not be a big deal.
[section label="Extras" anchor="Extras"]
STRAFE vs. BlackWidow – Extras & Features
The Corsair STRAFE RGB comes with a detachable wrist rest, something we didn't see on the base model.
It also comes with a MOBA and FPS keyset, giving you specialized textured and contoured keys that are most used during gaming. The Corsair RGB also comes with a 2-year warranty.
The Razer BlackWidow Chroma has a 1-year warranty but doesn't come with any extras.
The difference in price/features is due to the fact that Razer is more of a brand name in the gaming community and is considered a little more premium than Corsair.
Razer is known for their excellent quality and build. The BlackWidow Chroma is no different.
That being said, both mechanical keyboards can be said to have almost equal quality. The materials they're made from and the overall functionality are very similar.
So it really boils down to design and features – if you're set on Cherry MX switches, then the STRAFE is the choice for you. However, if you prefer to have the audio ports, then stick with the BlackWidow V2.
BlackWidow Chroma or STRAFE RGB? Our Verdict
We find the Corsair STRAFE to be the better value of the two keyboards.
The Corsair RGB uses better switches and overall looks better to us. That being said, both the Corsair RGB and the Razer BlackWidow have minor feature differences that could be a make or break deal.
If you prefer the aesthetics or branding of Razer's BlackWidow Chroma or find the mic and audio pass-through ports to be game-changers, then you may want to go with the Razer Blackwidow Chroma.
For a $20 dollar difference, your choice between the Razer BlackWidow Chroma or the Corsair RGB should be either about aesthetics or functionality. Either way, we've covered both in this review and hope you buy one for your PC gaming or everyday rig!
Check out our article here for a more in-depth review of the Corsair STRAFE RGB or the Razer BlackWidow Chroma here.
If you don't like either, we can help! Find other options by reading our list of the best mechanical keyboards. We also have articles that cover Corsair's entire keyboard line.
One thing not in this review is the Corsair K70 RGB, which is also a solid gaming keyboard that we cover here.