If you have been looking for a mousepad, you have probably been scouring around various sites trying to find the best option out of thousands of choices.
Unlike keyboards or mouses that all look a little different and offer varying features, it can be more difficult to figure out what mousepad works best for you.
Today we are here to help you navigate the many mousepad options out there.
First, we will go over the different size options for mousepads, and tell you which are most suitable for gaming and why.
But the size of a mousepad isn't the only factor you want to consider, so we are going to go over the other important qualities such as material, how to account for your mouse's specifications, and if you want your mousepad to have other features.
Finally, we will give you a few mousepad options that we think are ideal for gaming.
Let's get into it!
What are the different size options?
| Mouse Pad Size | Dimensions |
| --- | --- |
| Small | 260 mm x 215mm (10.2 in x 8.5 in) |
| Medium | 350mm x 270mm (13.8 in x 10.6 in) |
| Large | 450mm x 400mm (17.7 in x 15.7 in) |
| Extended | 900mm x 400mm (35.4 in x 15.7 in) |
Mousepad sizes will vary across brands, but generally, the sizes options you will find are small, medium, large, and extended. However, it is important to always check the dimensions when looking at mousepads, because a large SteelSeries mousepad will be slightly different from a large Corsair mousepad.
Small mousepads are often considered a bit too restrictive for gaming. The dimensions of small mousepads tend to be 260mm x 215 mm (length x width). Having enough space to move your mouse is important always, but especially when gaming you want to make sure you have space for quick movements. If you have a mouse with a high DPI, smaller mousepads may work since you can make slighter movements, but more on this later!
Medium mousepads are around 350mm x 270mm, so a slight (but still noticeable) difference from the small size. A small or medium mousepad may be the best choice for people with limited desk space, as you want to make sure you have room for your keyboard or other items. A medium-sized mousepad is always a safe bet if you have limited desk space but still want enough room for mouse movements, but a lot of gamers tend to opt for larger mousepads.
Large mousepads are typically sized at 450mm x 400mm, providing ample room for you to move a mouse around. If you have a mouse with low DPI, you will need the space as it will require large movements. With a large mousepad, you won't need to worry about running out of space, so if you have a large desk this is probably your best bet.
Extended mousepads are about double the width of large mousepads, with enough space to also accommodate your keyboard. Extended-sized mousepads may not work for smaller desks, but these extra-large mats are indispensable if you have the room. Not only will you have tons of space for mouse movement, but the pad may also improve your overall gaming experience by minimizing sounds and rattling of your keyboard. The padding helps absorb sounds of shaking when you press keys, making the benefits of an extended keyboard multifaceted.
The size of your desk will play a major role in determining what mousepad will work best for you, so figuring out what will work with your setup is a good first step. But there are other things you'll want to think about when looking into mousepad options, which we will get into next.
What factors do you need to consider?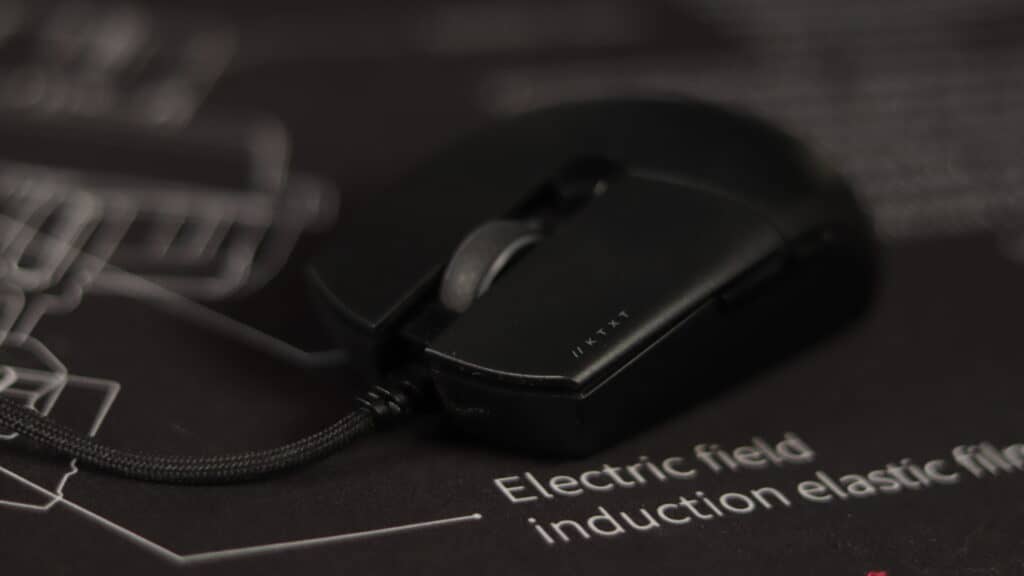 Now that you know the different size options available, let's talk about some of the other factors that might influence which mousepad you choose. The DPI settings and sensitivity of your mouse, whether the mousepad is made of soft or hard material, its thickness, and the features of the mousepad may influence how much utility you will get out of it.
Mouse DPI Matters
As discussed briefly in the last section, the mouse that you have and your DPI preferences may indicate what type of mousepad you should look for.
With a low DPI, it takes larger movements of the mouse to see movements of the cursor on your screen, so you should look at mousepads on the larger end. Many FPS gamers prefer low DPI settings because it can help with accuracy.
A high mouse DPI indicates that more concise motions of the mouse are sufficient for moving the cursor. If your mouse has a low DPI, then you won't need a lot of space on the mousepad and small/medium options should work.
Mousepad Material
The material used to make the mousepad is also important, and the two general categories for material are hard and soft.
Soft mousepads are made of cloth fabric and feel almost squishy, making them comfortable for your wrist/arm to sit on. The material provides a little bit of traction for the mouse, which can be helpful for games that require a lot of precision.
With this additional traction though, movements may be marginally slower than what can be done on a smooth, hard surface.
Soft mousepads have a tendency to pick up dust and get dirty easier than hard mousepads, and the woven fabric can be more difficult to clean. With a hard mousepad, you can just wipe the surface and it will be good as new.
Hard mousepads are typically made of plastic, but you can find some that are made of metal. These mousepads allow you to move the mouse with maximum speed, which can give an edge in certain games. Some people find that hard mousepads are rougher on the mouse feet, so if you want to preserve the longevity of your mouse a soft mousepad may be the way to go.
With hard and soft mousepads, there is a tradeoff between speed and control, so your choice between the materials should ultimately be based on the games you play.
Additional Features
Mousepads these days are offering more than just a surface for your mouse to sit on, there are models that come with features that can offer cool looks or enhanced functionality.
To enhance the gaming ambiance and add a little flair to your desktop, you can find mousepads that have RGB lighting. While this feature isn't a necessity, it is fun to have and you can even sync the colors or modes up with your keyboard, speakers, or headset if you have compatible devices.
A super useful feature that some mousepads have is the ability to be a wireless charging hub. The mousepad can not only keep your mouse (if wireless) fully charged at all times, but it may also work to charge your other devices. If you are all about convenience, getting a mousepad with this feature would make it so you never even have to think about plugging in your mouse.
If you have a wired gaming mouse, some mousepads helpfully have a USB passthrough built-in. Instead of having to plug your mouse into your monitor or take up USB ports on your laptop, you can plug it into the mousepad itself. The USB port can also be used to plug in your phone or other devices, so it can be a helpful addition.
If you think you want a mousepad with any of these features, it is important to note that they will come at an additional cost. Mousepads serve a pretty basic role
Mousepad Recommendations
After reading this article and figuring out what to look for in a gaming mousepad, we thought it would be helpful to provide a few recommendations. Below you will find a few highly-rated options that are certain to give you lasting quality.
Corsair MM200
If you are looking for a simple and reliable mousepad at an affordable price, the Corsair MM200 is a great choice.
The MM200 is a black cloth mousepad that doesn't mess around, its simple and gets the job done. With minimal branding, this is a great option if you want a mousepad to blend in with your desktop rather than be flashy or distracting.
Since it is a soft mousepad, it is also super comfortable to game with the MM200, but the cloth is a little hard to clean.
This mousepad comes in multiple sizes and is one of the most highly-rated budget options out there, so if you want to check it out you can find it here on Amazon.
Logitech G440
If you want a mousepad with a hard surface, the Logitech G440 is an ideal option.
This low-friction mousepad would be a great option for people who prefer to have a high mouse DPI. If you have a Logitech mouse, the G440 has special compatibility with Logitech sensors, so that may be an area of further gaming enhancement.
Remember, some benefits of a hard mousepad are that they allow quicker mouse movements and are easier to clean.
The G440 only comes in size medium, which is a little bit limiting, but the size should suffice for most gamers.
If you want to check out this great mousepad, you can find the Logitech G440 on Amazon.
ROCCAT Sense Aimo
If RGB lighting is a feature you seek, the ROCCAT Sense Aimo has an illuminated border that can change your whole desktop vibe.
This cloth mousepad comes in at a higher price due to the RGB lighting, but if your desk aesthetic is a priority it can definitely be worth it. You can program the lighting to whatever color or mode you see fit, so there are tons of customization options.
A downside to the RGB lighting is that this mousepad requires a USB plugin, which can be annoying if you have limited port availability. Aside from that though, this mousepad functions exactly how you would want a soft mousepad to, with a nice level of traction to ensure proper movement control while gaming.
If you want to check out this mousepad, the ROCCAT Sense Aimo can be found on Amazon for a good price.
Sale
Conclusion
With all of the mousepad options out there, it can be overwhelming to figure out what will work for you.
Today we went over the different sized options and all the other important information you should consider before purchasing a mousepad.
Remember, the mouse you have and your preferred DPI settings may be the biggest indicator of what size mousepad and material you should seek.
I hope this article was helpful for you during this search process, and if you are stumped on where to begin remember to check out our recommendations.
Thanks for reading!