While the idea for illuminated mechanical keyboards has been around since the 80s, backlit mechanical keyboards have been surging in popularity with the emergence of affordable LED lighting, as well as RGB LEDs.
Most new keyboards released today only come in LED-backlit models, so the trend is here to stay. Backlit mechanical keyboards are popular for gaming rigs and I personally like backlit keyboards so long as the settings are customizable. In this guide and list, I'll cover what I think are the best backlit mechanical keyboards.
Backlit mechanical keyboards offer a big advantage if you have to work in dark rooms, or would just like some brightness on your keys to help you see them better. Illuminated mechanical keyboards also look awesome, especially with programmable, multi-color LEDs like the Corsair STRAFE has! Now, let's get into my list for the best backlit mechanical keyboards of all time!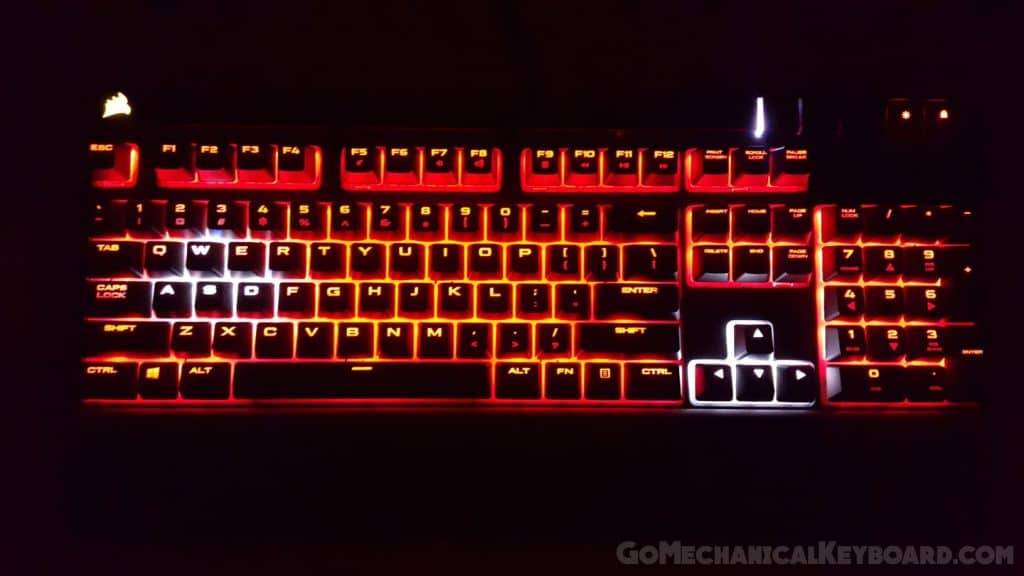 If your keyboard has advanced software that lets you choose which keys to illuminate and which to leave dark, this can help you remember certain hotkeys you use frequently as they can be the only ones lit up.
Best RGB Backlit Mechanical Keyboard: Corsair STRAFE RGB
RGB keyboards can be expensive, and often times cheaper keyboards skimp on some of the cool lighting effects. With the Corsair STRAFE RGB, you get the best lighting effects around at a relatively affordable price! It's an awesome looking keyboard that doesn't break the bank, which is why we named it our best RGB backlit mechanical keyboard. We did a Corsair STRAFE RGB mechanical keyboard review that you can check out here for more details.
Best White Backlit Mechanical Keyboard: WASD Code 104
If you're looking for a backlit mechanical keyboard for purely functional reasons, you probably just want white LED illumination under your keys. This gives the keyboard a professional, clean feeling and not one that screams "gaming".
If this appeals to you, then you should look no further than the CODE 104-Key Mechanical Keyboard. We have a full review of the unit for expanded details, but simply put this is a solid mechanical keyboard. The white LED lights have 7 different brightness settings and you can turn them off completely if desired. This is a nice sleek and minimalistic mechanical keyboard that is perfect for the workplace or everyday typing.
Best Compact Backlit Mechanical Keyboard: Vortex Pok3r
If a compact mechanical keyboard is your highest priority, the Vortex Pok3r is an excellent choice. Available in a variety of different Cherry MX switches, this well-renowned keyboard is freshly available with built-in white LED backlights. The tiny 60% layout will save a ton of space on your desk, and it has 3 programmable layers to help your productivity. This is the perfect backlit mechanical keyboard for portability.
Best Budget Backlit Mechanical Keyboard: Havit KB-389L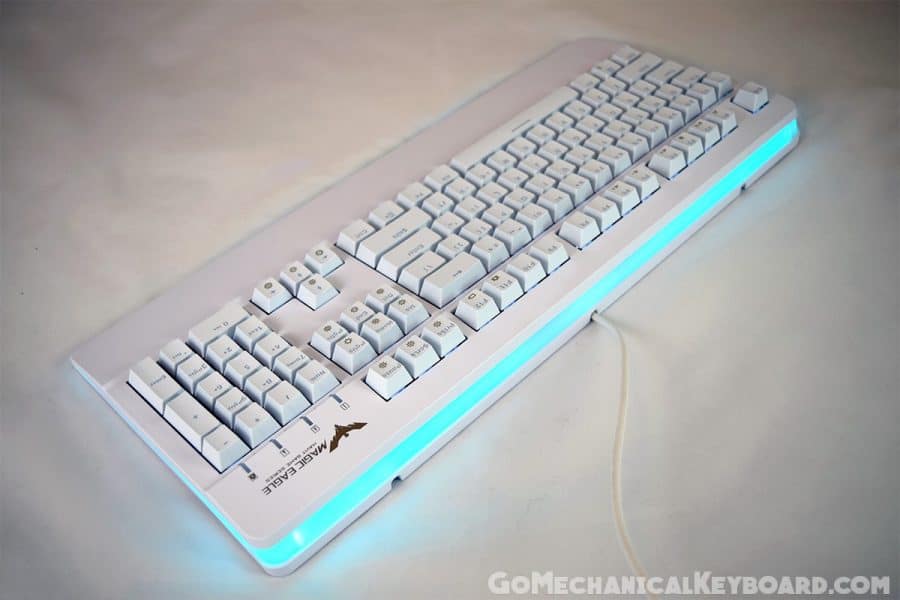 After trying nearly all the sub-$100 backlit mechanical keyboards on the market, I have to say that the HAVIT HV-KB389L (or its rebranded twin) is the best cheap RGB backlit mechanical keyboard you can find. You can usually find this keyboard for $80 or less, and it's a thing of beauty once you get it plugged in! This is definitely the best budget backlit mechanical keyboard and is an easy buy.
What makes this mechanical keyboard extra awesome is the side RGB lighting that runs around the perimeter of the entire keyboard! You can customize the side LEDs to stay one of 7 colors, or cycle between them fluidly. HAVIT also added many extra RGB backlighting modes that you don't see on a lot of other keyboards. While it's nowhere near the customization of a Corsair keyboard, for a keyboard under $100 it's very impressive. Read our HAVIT HV-KB389L RGB review for more photos and videos.
That concludes our guide for the best backlit mechanical keyboards of all time! This list contained a variety of different types of mechanical keyboards from tenkeyless (TKL) to a low-cost budget keyboard. Check out our specific reviews of the mechanical keyboards if you're uncertain about a particular one.