Anyone who's serious about PC gaming knows how important their keyboard is to performance.
So, naturally, we get asked all the time – what are the best mechanical keyboards for gaming?
Any hardcore enthusiast is always in search of the perfect gaming rig. The mechanical switches give tactile, consistent feedback that makes keystrokes register more reliably and predictably than other, regular keyboards.
Comparison Table – Best Mechanical Keyboards for Gaming
Most gaming keyboards also have anti-ghosting technology, which means you won't be pressing too many buttons, too quickly for the hardware to recognize. Other features such as FPS, backlighting, and cherry switches are why gamers want the best gaming mechanical keyboards for their setups.
See below for a more in-depth look at each of the keyboards in our comparison table. We'll also go over what to look for in gaming keyboards and how they can benefit your performance.
The Corsair K70 MK.2 is an updated version of the previous K70 series with almost perfect design and authentic Cherry MX switches that are well integrated with a wide array of backlights. Of course, with a bigger price tag, it can put off some gamers.
However, considering the premium quality of K70 MK2 and the well-known reputation of its predecessors, you won't want to miss out on this one.
Equipped with full size and comfortable spacing, K70 MK2 comes with a durable aluminum frame. The slight elevation in the keys makes it sophisticated and more aesthetically appealing. You can choose from five different variants of Cherry MX switches.
The Corsair Utility Engine Software has its own extensive features, which makes this keyboard more intuitive and responsive. Surely, there is a learning curve but once you get used to it, you wouldn't want to use anything else. In terms of performance, the keys work amazingly. These are springy, responsive and comfortable in all aspects.
There are no dedicated macro buttons but you can use the software to reprogram any key and make up for the lack of any set of keys.
PROS
CONS

Brushed Aluminum body
Useful media controls
Five different variants of Cherry MX switches
Comfortable spacing
Sturdy PBT caps

Software comes with slightly longer learning curve
High build-quality makes this a great mechanical keyboard for gaming and everyday use.
For a full review of a similar Corsair product, check out our review of the K70 RGB Rapidfire here.
I'm not a huge fan of the font Razer used on these keys, but otherwise, this is a good looking keyboard. Similar to the Corsair K70, it has individually backlit keys that you can set to any color. The BlackWidow has 5 programmable macro keys which could be a big selling point to gamers.
Another key differentiation to consider is Razer puts custom-made mechanical gaming switches into these keyboards. They're known as Razer green switches, which could be a good thing or a bad thing, depending on your preferences to switch. Unlike Cherry switches, these were designed with only gaming in mind.
Furthermore, this keyboard also features a built-in USB hub, as well as audio and microphone ports. Any gaming enthusiast has heard of Razer – they're considered a premium brand in the gaming industry. Therefore, it's not a big surprise to see one of their most popular gaming keyboards on this list. A sweet addition to any gaming rig.
One downside to the Razer BlackWidow is it only has a 10-key rollover. This shouldn't be an issue for most gamers, but it's something to consider.
Here are some of the keyboards main features:
Custom Razer green switches
Ergonomic wrist rest
Life span of 80 million keystrokes
PROS

CONS

Automatic gaming experience (no manual settings required)
Magnetic wrist rest
Syncing of various effects across razor products possible (mouse, gaming pads, etc)
Customization possible

No lighting for secondary icons
Only supports USB 2.0
You can read our full, in-depth review of the Razer BlackWidow Chroma to get a better insight into all the features. As with all of the gaming keyboards in this guide, we've hand reviewed every single one to ensure that you get the best-rated keyboard at the best prices.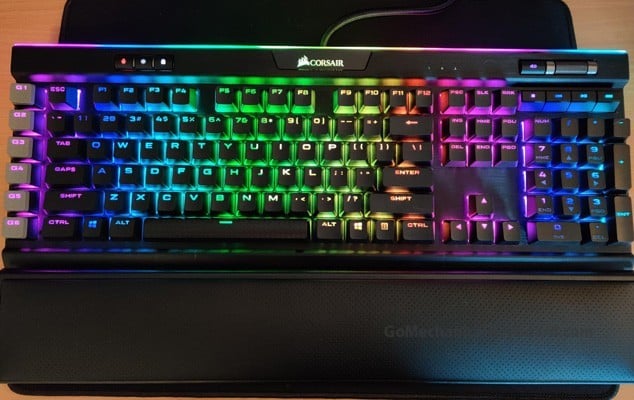 Corsair is one of those high-tech mechanical keyboards that almost every gamer would want to try. Undoubtedly, this has taken RGB keyboards to a higher notch and makes it to the list of one of the best keyboards until now. In addition to this, with more than 16.8 million color options and Cherry MX speed switches, this is both a functional and durable aluminum frame keyboard. However, don't forget the high price tag that comes with its fancy features. For a gaming device, it is certainly a lot to invest.
Furthermore, you will definitely notice the big change from its predecessors as it comes with a narrower construction. Macro-keys have been reduced to only six, making access to them much easier.
Besides, you will love the short keys such as media controls, volume wheel, lighting buttons, and game modes, all within reach of your fingers.
Note: Corsair sent us this keyboard to review, check out the full review here.
Some key features of Corsair K95 RGB Platinum XT are –
Backlit RGB LED
Detachable cushioned palm rest
Ultra-fast keystrokes
6 dedicated macro keys
PROS

CONS

Fantastic Build-quality
Wrist rest with reversible magnetic pad
Easy to press keycaps
Braided USB Cable

Switches good for gaming but not so great for typing
Buggy Software
Logitech G910 Orion Spark is a keyboard with quite a huge footprint, which means bigger keys and much faster Romer G switches. These are different from any other mechanical switches in the market, in a good way. With effortless keystrokes and quiet experiences, these switches are more or less similar to Cherry MX to some extent.
Programming the macro keys fairly easy and you can even change colors from different options. The Logitech Gaming software is intuitive enough to scan your system for games you have already installed in your system. You will love how easily you can link your profile to games. Obviously, these amazing features come at a higher cost, but they are worth it.
Overall, it is a great mid-range mechanical keyboard that features some fancy features with decent performance. However, users have complained about the lights in the keys getting burnt out after one year or so, which takes away some cookie points for this one.
Still, you will enjoy the stiff button threshold and the volume controls that allow you to turn it up and down when you snap the wheel. Also, futuristic editing software is another feature you would love to try out on this keyboard.
PROS
CONS

Amazing in-game performance
Quiet keys
Effortless Macro reading
Intuitive software

Key spacing feels a bit cramped
Not really great as writing keyboard
This is a newer gaming keyboard from Corsair, and it has quickly become one of our favorites.
It comes with a detachable wrist-rest and textured gaming keycaps for both FPS and MOBA games. It has awesome and bright backlighting effects and a USB pass-through port.
This keyboard is also one of the coolest looking gaming keyboards you'll see. It's sure to impress your friends at your next LAN party (if those still exist). But honestly, the keyboards name has "RGB" in it – expect some awesome backlit features.
Even though Corsair is known for a lot of their other gaming accessories, their keyboards are quickly becoming noticed. Not only are they quality keyboards, Corsair understands what a typical gaming rig looks like and has adopted to include those features in their mechanical keyboard lineup.
Want to read more about it? We have also compared this keyboard with K70. Read on
Here are some of STRAFE's main features:
Feature-rich multimedia controls
Macros and programmable RGB support
Cherry MX silent keys
PROS
CONS

Heavy built and durable
Textured touch keys
Pass-through USB connection
Comfortable key layout
Full RGB customization possible

Buggy software
Keys are a bit loud
Check out our review of the STRAFE RGB here.
Important Criteria for Gaming Mechanical Keyboards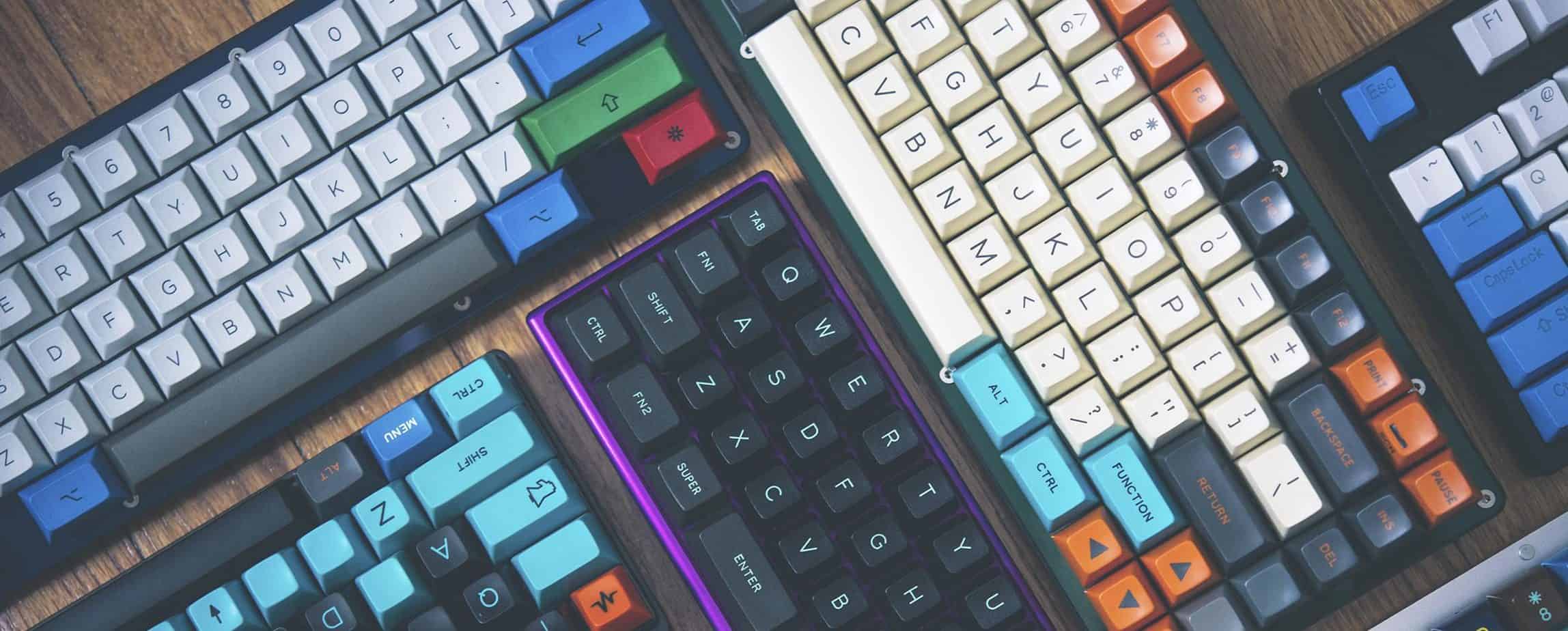 Gaming mechanical keyboards have different ideal characteristics than a keyboard you'll primarily use for work. Here's a list of the important criteria that helped us pick out the best mechanical keyboards for gaming:
Form Factor – Full-Sized Vs Compact
Full-Sized


The most popular form factor preferred by many users is the full-size keyboard layout. It consists of around 104 keys, including Numpad and function keys. Moreover, it is suitable for gamers who use numbers as much as the rest of the letters.

Compact
On the contrary, if you want a relatively compact form and are willing to compromise on those extra keys, you can go for 80% or less, depending on your preferences of keys. Also, you can have 80%, 75%, or even 60% layout. The lesser the keys, the more will be its portability.


In addition, these are very lightweight and weed out the useless keys for you and save a lot of space on your gaming desk.
Quality of Switches and Keycaps
Mechanical keyboards are different from a regular keyboard. Mechanical keyboards are integrated with individual switches, which are meant to provide better performance and durability. Moreover, there are three general different types of mechanical switches –
Linear – without any bump or click
Tactile – with a tactile bump but no click
Clicky – with both bump and a loud click
Despite Cherry MX switches' popularity, some companies have come up with their own brand switches and Cherry MX compatible keycaps. If you are looking to save some money, you can consider these switches with the company brand name.
Keycaps
It is to be noted that the most commonly used keycaps are ABS Plastic and PBT.
ABS Plastic Keycaps – ABS Keycaps are considered the most widely used plastic for keycaps. However, they have been known to become shiny relative to PBT keycaps.
PBT Plastic Keycaps – PBT keycaps are used in premium quality keyboards. The material is highly durable and has resistance against heat and chemicals. Unlike ABS keycaps, these do not turn yellow when exposed to UV light.
Doubleshot keycaps – both ABS and PBT come in a doubleshot variety which is an additional layer of plastic for added durability and reliability. We recommend always getting doubleshot when possible.
Build Quality
Gamers are going to put more stress on their keyboards than non-gamers. When it comes time to mash some buttons, you want to know your keyboard can withstand the abuse and not start to break down. Further, the material used can create a significant difference in the quality of the keyboard. Some of the most commonly used materials are –
Printed Circuit Board (PCB)
When you buy a cheap keyboard (> $50), the keys and switches will be directly mounted on the printed circuit board (PCB). Sure, these are budget-friendly, but comes with a compromise on durability.
Plastic
Backplate with plastic mounting is less solid than metal. However, these are more durable than PCB. These are relatively inexpensive and helps in dispersing the backlight much better than a metal frame or PCB keyboard.
Metal
The metal frame offers more rigidity, higher durability, and a sturdy base. These are much heavier and are often without spill resistance. Besides, some manufacturers offer premium metal backplates and top frames. These keyboards are highly durable and give a superior and premium look to the keyboard. In addition, the top frame can also be made of steel, aluminum or even magnesium.
Extra Features and Backlighting
Some of these keyboards have great extra features like audio/mic pass-through ports, gaming keycaps, and awesome backlighting effects which are always a nice bonus.
Wrist rest for a more comfortable gaming experience
RGB Backlighting and Dynamic Illumination
Customizable Keys
Dedicated software for key reconfiguration
How These Keyboards Improve Gaming Performance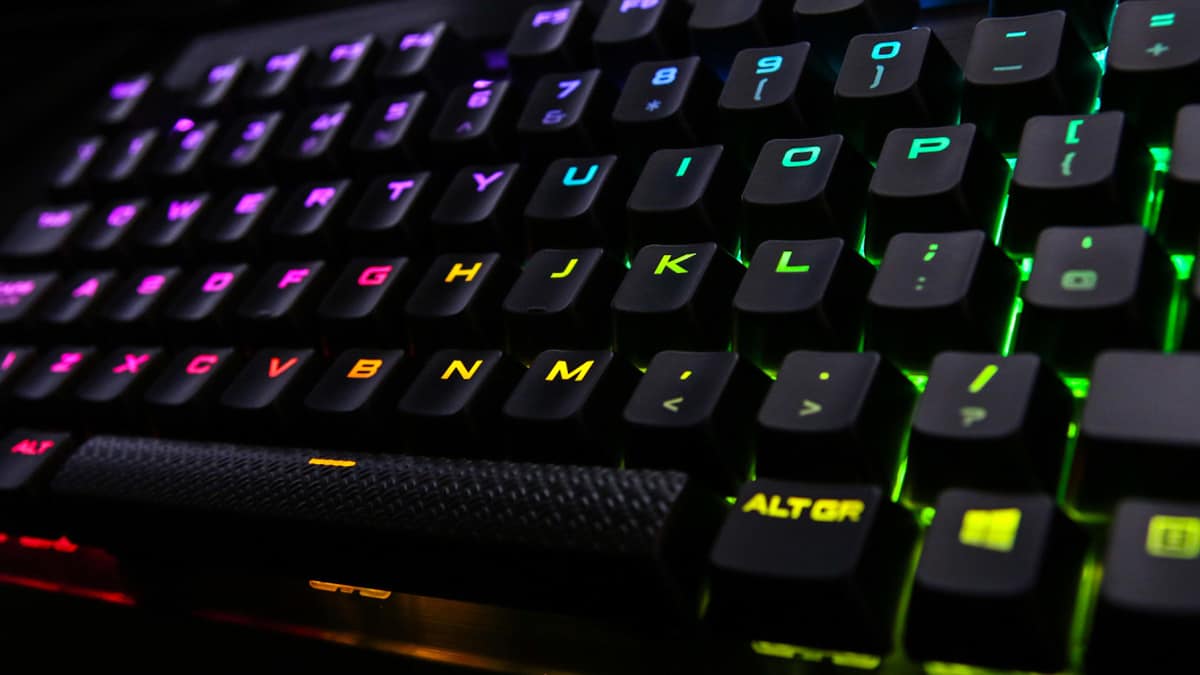 Other than the features listed above, mechanical keyboards provide many things that regular dome switched keyboards don't.
Features such as better tactile response, input, programmable backlighting, and macros, give mechanical keyboards an advantage when gaming. Imagine you're playing Fortnite or PuBG that requires many different keyboard inputs. While you're playing, you're going to want a very confident tactile response so that you know your clicks are going through.
In addition, if you like to play in the dark, you'll need to be able to see the keys, which is how RGB backlighting can enhance gaming performance. If the keyboard has programmable keys, then you can even select the keyboard keys that you use when gaming and have only those keys light up. The options are limitless.
And of course, you can't forget the aesthetics – gaming keyboards make your PC setup look like a real gaming rig. With RGB backlit keys, you can match the exact color of your gaming rig with your keyboard.
Moreover, you don't want to have keys that aren't pressing properly, getting dirty quickly, or not even lasting a few years. The fact that you can remove the switches from mechanical keyboards means that you can clean them, making them last substantially longer.
So, although mechanical keyboards are more expensive then their dome counterparts, you'll be saving yourself a ton of hassle and a more reliable keyboard, that is geared towards gaming.
If you're more interested in a pure typing experience, be sure to check out our best mechanical keyboards for typing.
Conclusion
Although there are many awesome gaming keyboards out there, we've condensed the list to our top 6 so that you don't have to waste your time going through every single gaming board out there.
Our guide contains keyboards at a bunch of different price points, so take your pick and enjoy!
As you may have noticed, we like to link out to Amazon a lot. I've noticed that Amazon can have some pretty good deals for mechanical keyboards and I highly recommend you check them out.
Alternatively, you can also check out Massdrop or eBay but in terms of customer service and return policies, nothing can beat Amazon. Also, If you're looking to update your gaming rig or are just starting out with mechanical keyboards, give one of these a try, we've tested them ourselves to ensure they're top-notch.