Looking for the best mechanical keyboard for your programming/coding setup?
No one spends more time behind a keyboard than modern-day software engineers and hardcore gaming enthusiasts.
As a programmer, the type of mechanical keyboard you use will be vital to productivity and general typing. Mechanical switches can help you type faster and more efficiently, and also help you establish a flow to your work more than a standard keyboard could. In this article, we'll take a look at our favorite ultimate mechanical keyboards for programming.
To further illustrate the importance of a great mechanical keyboard for programming, the well-known coding blog Coding Horror has an article expressing how important typing is to programmers. Author Jeff Atwood's thoughts can be summed up in the following quote –
What I'm trying to say is this: speed matters. When you're a fast, efficient typist, you spend less time between thinking that thought and expressing it in code. Which means, if you're me at least, that you might actually get some of your ideas committed to screen before you completely lose your train of thought. Again.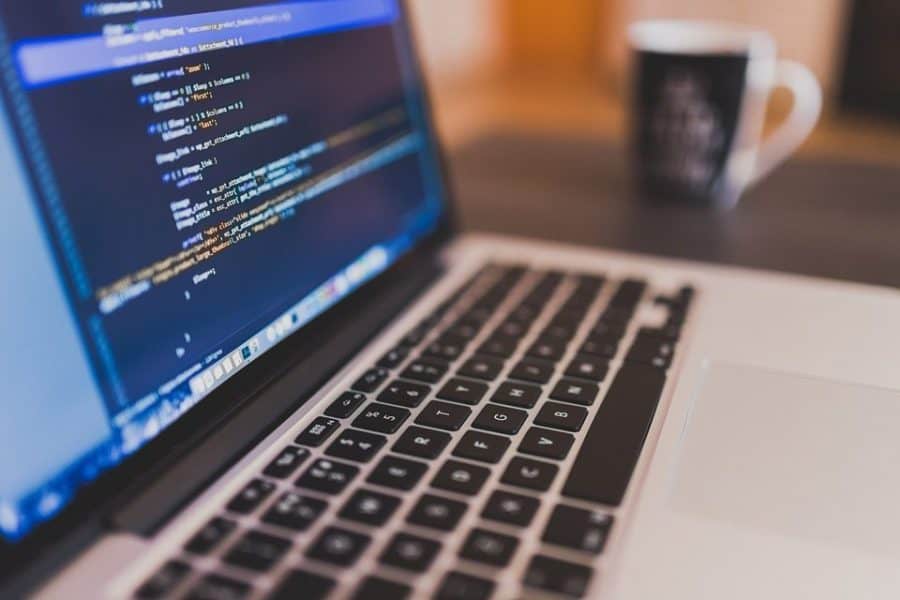 Now that we've made a case for getting a quality coding mechanical keyboard, let's look at some of the criteria that would help make up such a product.
Our Top Three Picks
The Realforce R2 is a tenkeyless keyboard with Topre switches, which are rubber dome switches that feel like raindrops.
These switches are Topre capacitive switches, which need a light tough to actuate but also has tactile feedback and increased resistance on the keypress.
Alongside this, the keyboard has 100% anti-ghosting and full N-key rollover to prevent typing mistakes due to your keyboard not registering or skipping a keystroke.
The tenkeyless format enables more room at your desk, but also has all of the functions that you need, including the function row, navigational keys, and arrow keys too.
The keycaps are PBT plastic with dye sublimated legends that won't wear down over time because the ink is seeped into the plastic itself.
Topre switches are unique in the way that they feel and sound. Topre switches can be silenced using rubber-esque films that are put on like O-rings, but they make the keyboard much more appropriate for the office.
For many, typing on Topre switches improves their accuracy and typing speed. It also decreases finger fatigue and mistakes.
For people who make the switch from mechanical switches to Topre switches, it's hard for them to go back because it's that good. However, they're not for everyone because they are still rubber dome switches (with some mushy feeling at the very bottom).
Logitech G915 TKL – Low Profile With Wireless Capabilities
The Logitech G915 TKL is a tenkeyless version of its full-sized version. This is a more compact layout that is better for your desktop because it gives your arm more space to move. It also gives you more space for other desktop accessories such as notepads, detached numpads, coasters, coffee mugs, etc.
If you do find yourself using the numbers often or need a number pad, it's possible to buy the full-sized version OR to get yourself a separate number pad that you can move out of the way when you're not using it.
The G915 TKL can connect via wire or wireless, with Bluetooth and 2.5Ghz dongle. Alongside this, it is a low-profile keyboard with mechanical switches. It sits very close to the table and lets you type extremely comfortable without extending your wrists too much or lifting up your fingers high.
It's really convenient for working on the go or switching between devices between home and home with its Bluetooth capabilities.
The G915 TKL also has RGB lighting, and it is now available in all-black or all-white. With RGB lighting, if that's awkward for the office, you can turn it off or decrease the brightness. Using the software, you can even change the effect to a static white color (so you just use it for seeing your keys, am I right?).
There are also dedicated media keys and a scroll wheel for changing volume to your liking. For programmers, it's actually a really great device. It's super clean, lightweight, and has all of the buttons that you may need.
DROP ALT – Fully Programmable and Customizable
The Drop ALT is well-known within the mechanical keyboard community. It is a keyboard made out of CNC aluminum for its case, no plastic except for a diffuser strip for its perimeter RGB lighting.
The Drop ALT is also a 65% mechanical keyboard, which means that it does not have the function row or nav cluster. However, you can program any of these functions onto secondary or tertiary layers for all of your needs.
The keyboard also is hot-swappable, allowing you to change the mechanical switches without soldering and desoldering. Just pull them out with the included tool and then push new switches back in.
Alongside this, it comes with shine-through PBT keycaps with doubleshot injection molding. This means the legends will never wear because it's an entirely separate layer of plastic.
The legends are clean and professional looking, and the keycaps are two-toned dark and light grey. Very cool and fancy to see. You'll be getting a lot of compliments from your co-workers.
The keyboard is fully customizable through QMK firmware, which is available on the Drop website or to download and fiddle with using your own PC.
The Drop ALT has two USB-C ports, one on the right and left. You can use the other one to charge a phone or other accessory.
Some downsides of the Drop ALT is that it does require a lot of power to work properly, which means using a short-enough USB-C cable for it to work.
There are many switch options available for it, and even if you don't like the options, you can purchase it barebones and then place in your own switches.
The Competition
The Keychron K6 mades an excellent contender if you find the Drop ALT to be too expensive or too flashy,
The Keychron K6 has Bluetooth features and can connect to three devices, interchanging between them easily. If you find yourself carrying your keyboard around often and switching between devices, whether Mac or Windows, this keyboard makes a great option.
It can toggle between Windows or Mac compatibility via a slider switch on the left side. It has a USB-C port on the left side as well, which can be awkward, but it works well as a charging port.
The K6 is not programmable, and therefore, you cannot remap the keys or change the secondary layers. You can modify the keys using software such as SharpKeys or Karabiner. Keychron has yet to make software for their keyboards.
The K6 also is hot-swappable with 5-pin sockets, allowing you to switch between mechanical switches without soldering or desoldering.
Alongside this, it has RGB lighting and aluminum bezels for a cleaner and more durable frame.
The RGB lighting effects are easy to toggle between, using a dedicated lighting button on the top right side. This button, unfortunately, is not remappable. There are 18 effects you can choose from.
The keycaps are ABS plastic, which will shine over time. The legends are super professional and clean looking. You can see the K6 being used by video editors, programmers, music editors, and more.
It's an all-around great keyboard.
The Das Keyboard 4 Professional is available in both Brown and Blue switches, and it's a great mechanical keyboard for programming at home. The dedicated media buttons will make it seamless to skip a track or adjust your music while you're working, allowing you to stay in the zone and productive. The aluminum chassis has a very solid and high-tech feel to it, and the build quality is superb.
As with the other mechanical keyboards on this list, we've also done an in-person review which you can check out here. This mechanical keyboard has an excellent sleek and professional feel, which is perfect for both home and office use.
| | |
| --- | --- |
| PROS | CONS |
| Choice between Cherry MX Brown and Blue Switches | Expensive |
| Aluminum plate keyboard covering | Lack of programmable keys |
| Durable and Good Build Quality | |
| Good haptic feedback | |
Summary
The Das Keyboard 4 Professional Mechanical Keyboard is one of the best keyboards for typists and programmers.
The new features added to this version such as the Round Volume Knob and the Aluminum cover sets it apart from its predecessors.
For active typists and programmers, this is the ideal keyboard as it gives them a great user experience.
The Razer BlackWidow Elite is the next improved version to the Razer Huntsman Elite. With the addition of media keys, this new version boasts multiple new features. The three Razer mechanical switches being offered can cater to different user preferences. Every key is a programmable macro key and has a better wrist rest for ergonomic support.
| | |
| --- | --- |
| PROS | CONS |
| Media Keys | Almost identical to the last version |
| Fully controllable keys | Lack of programmable keys |
| Good build quality | Expensive |
| Ideal for gamers | |
| Ergonomic wrist rest | |
Summary
Coming from a lineup of the best mechanical keyboards for gaming, the Razor BlackWidow is possibly the best addition yet. All of the new features make it a great keyboard for programmers and gamers as well. However, the only thing that is unique about this version is the media keys. All features can already be observed in the last model to some extent. For the price that it is offered at, it can be a little expensive in today's standards. The keyboard itself is great, but when compared to its original versions, there is not much else going on.
The CODE 87-Key mechanical keyboard is a great option for programmers looking for clicky switches on a tenkeyless mechanical keyboard. CODE mechanical keyboards have a timeless font and 7 different levels of brightness for the LED backlighting. As you can tell by the name, this keyboard was designed with programmers in mind. The 87-Key also comes in Brown and Clear switches.
This is the mechanical keyboard I choose to use every day at work. This is what I consider to be the best mechanical keyboard for programming. If you want to check out a review of the 104-key CODE keyboard, we got you covered here!
| | |
| --- | --- |
| PROS | CONS |
| Clean design | Expensive |
| Layers of Macro Keys | |
| Ergonomic features | |
| Stable and durable | |
| Very Customizable | |
Summary
The CODE 87-Key Illuminated Mechanical Keyboard is known as a keyboard that is built to last. Features such as thick rubber pads as well as a height stand for the keyboard can offer the best typing experience for its users. The backlight, while simple and white, can be customized according to brightness and can be turned off entirely with the simple click of keys. The bottom of the board also has grooves for better cable management. This programmable keyboard comes in versions such as the full-size and the TKL (tenkeyless) version appeal to a wide variety of users.
Dubbed as the best 60% keyboard to exist, the Anne Pro offers the best of both worlds in the customization and design an
ny are blown away by the small keyboard. It is beautiful and lightweight, perfect for the programmer on the go.
| | |
| --- | --- |
| PROS | CONS |
| Great software | Size may be divisive |
| Connectivity | |
| Ergonomic features | |
| Great customization | |
Summary
The best quality of this keyboard is its connectivity options. The keyboard offers instant Bluetooth connectivity to any device and can also be wired to a regular desktop. The size can gain mixed opinions from users, but it is advertised as a 60% keyboard after all. Customization options are through the roof with this keyboard as colors can be changed to suit your liking. As for the typing experience, it has great programmable keys and ergonomic support. An overall superb keyboard for users preferring compact keyboards.

The thin Logitech G915 Lightspeed is a great gaming and programming keyboard with dual connectivity functions and that is packed with features such as multi-device pairing, full RGB backlighting, and dedicated macro keys. This keyboard offers a balance of a comfortable and quick typing experience with all the features that is needed to have an incredible gaming session.
| | |
| --- | --- |
| PROS | CONS |
| Excellent build quality | Low actuation point |
| Great software | |
| Great typing experience | |
What Makes a Good Programming Keyboard?
A good keyboard evolves with the times. With Information Technology, the Internet, and Social Media taking the spotlight in today's market, programmers are expected to be in demand for decades to come. The development of apps, websites, media platforms, online markets, and even games are just some of the fruits of programming. But it is also proof that the demands are getting more advanced. A keyboard, which is an essential programming tool, must employ the latest technology to provide efficiency and comfort to the user.
A good programming keyboard is customizable. Like every occupation, programming tends to demand different things from the programmer. Finding a good keyboard for them could be challenging, as there are a lot of keyboards that are being produced and offered in the electronic market. This list helps you narrow down your options and find the keyboard just for you:
What we Look For in Programming Keyboards
There are many criteria in finding out the aspects of what makes a great keyboard for programming or coding. While these criteria are crucial to some, they are not the priorities for all.
Knowing what suits your lifestyle and work the most will lead to a great typing or user experience as it is important to know each individual's preference. These are the basics of what criteria to watch out for when looking for a good programming keyboard:
Comfort and Ergonomics
Before keys and switches, the greatest thing to watch out for would be what will provide the most comfort for your wrists. As programmers spend all day typing, it is common knowledge that there is a significant probability of related injuries that result from this activity such as wrist injuries or strain. With that in mind, good programming-keyboards boast the best ergonomics. Comfort technology such as adjustable tilts and heights or comfort wrist rests will allow the typist to align their wrists at a comfortable level.
Keys and Switches
Keys and switches are essential for the overall typing experience. Switches are mechanisms under the keys of your keyboard that affects the build, quality, and haptic feedback being produced when typing on the keyboard. Depending on the switches being used, the typing experience can either be springy and tactile, or soft and feather-like. The three types of switches are rubber dome, scissor, and mechanical switches. However, there is a clear favorite among professional programmers and gamers alike and that is the mechanical key switch.
Design or Layout
There are also different layouts and designs to keyboards, not just the standard rectangle kinds that are often seen. The various layouts are targeted at the individual preference of programmers. A full 100% layout ensures that there are no cramped keys, which can increase typing efficiency. A keyboard without extra function keys would also contribute to better performance.
Connectivity
Having a wired and wireless keyboard has its own advantages and disadvantages. While having a wireless keyboard can decrease the clutter in a workspace, it is usually expensive and less efficient. Wired keyboards are affordable, but they aren't portable and are quite clunky. Knowing your work style may help you choose between the wired or wireless keyboard. It should also be known that there are keyboards that support both.
Features
One good example of a feature is backlighting. While it may be mainly aesthetic, backlighting is especially useful in lowlight typing.
Another feature would be programmable keys. This feature will help the user make shortcuts during typing. These features may not be the core components of a good keyboard, but it is essential in the convenience and comfort of the user.
When looking for a good programming keyboard, look for keyboards that have features, which match your work. For example, if you are on the go, then get a Bluetooth TKL keyboard.
Summary
The Logitech G915 Lightspeed is both an excellent gaming and programming keyboard. It has an excellent build and has a lot of macro keys for maximum customization. It also has beautiful RGB backlighting. However, it may give a lot of typos to some because of its very low actuation point.
Conclusion
For different price points, two mechanical keyboards stand out from this list of best programming keyboards. At the lower end of the price range, the Anne Pro 2 maybe a 60% keyboard, but it boasts maximum functionality, customization, and a great typing experience.
The CODE 87-Key Illuminated Mechanical Keyboard is a great keyboard for programmers if you are looking for a higher price range. It is designed to be hefty and durable and it has a sleek design. It offers customization for the users with its different switches and minimal almost blank-slate design. Both offer equal functionality for different sizes and price ranges and are great buys for any programmer.
If you work on a Mac, check out our article on the best mechanical keyboards for Mac's mac. The best thing about the mechanical keyboards we've covered here is that almost all of them make our list for the best gaming mechanical keyboards as well.
So if you like to game while in between working, these mechanical keyboards are an excellent choice. If you're all about value, I'd buy the Keychron K6. If you're looking for media keys or just a sleek look, I'd go for the Realforce R2. If not, I would pick the Drop Alt.