Many exciting keyboard switches have launched this year. Nearly every major manufacturer released at least one line of switches. Many community projects have also created new switches or switch variants. Our featured image, for example, shows Flaretech Optical switches from a Wooting Keyboard blog post.
Here's a rundown on the new releases in case you missed any of them.
Cherry MX Speed
Cherry's partnership with Corsair seems to be paying off for consumers. Last year saw the release of MX Silent switches, which reduce typing noise. This year's flagship is the MX Speed, or Silver, switch. Other switches tend to fall in the 1.7mm to 2mm activation point range, but MX Speed activates at 1.2mm. Activation point, if you're unfamiliar with the term, refers to the point at which a switch's slider closes its electrical contacts, registering a key press.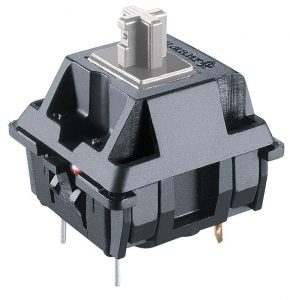 Reduced activation distance provides benefits for gamers and typists. Gamers enjoy the reduced time it takes to activate a switch. A few extra milliseconds can improve performance in competitive MOBA and FPS genres.
Typists who don't bottom out may also find the activation point pleasant. We don't anticipate further reductions in activation point, but we may be proven wrong as manufacturers compete for the gaming market.
Check out our review of the Corsair K70 to learn more and see the switches in action.
Das Alpha-Zulu
Das responded to Cherry's recent innovations and exclusive deals with Corsair by releasing two clone switches. While their names, Mustard (tactile) and Olive (linear), are creative, the keyswitches are said to compare favorably with other clones. Das states that they operate quietly, activate at 1.7mm, and feel smooth.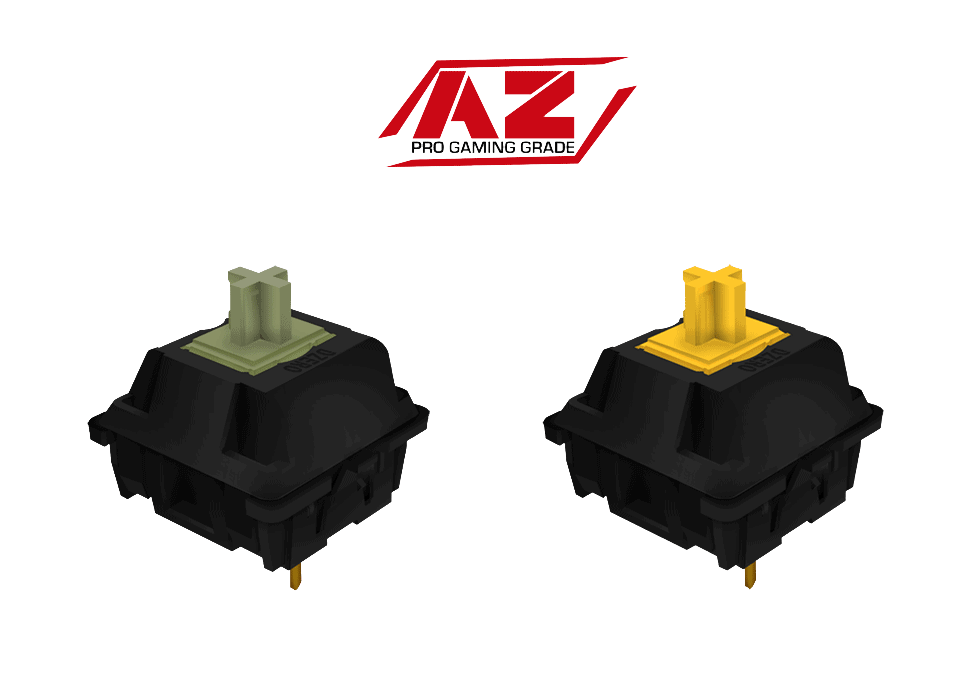 It appears that Das combined the best features of MX Speed and MX Silent switches in their Alpha-Zulu switches, which are likely manufactured by Greetech.
Razer Mecha-Membrane
The Mecha Membrane combines positive and negative features from mechanical and membrane switch technologies. It does provide a consistent tactile point in the keystroke, but that tactile point may not directly relate to the activation point. You still need to bottom out the switches to make them activate, which is a disadvantage in competitive gaming. Finally, the rubber domes may break down over time. Razer hasn't published press test figures, which may indicate a lack of durability.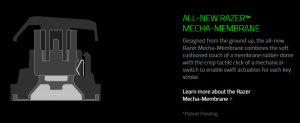 The Mecha Membrane will provide a slightly better typing experience than regular domes. Its metal leaves create consistent tactility that domes lack on their own. It's also quieter than purely mechanical switches. On the other hand, you can purchase an entry level mechanical keyboard for the same price as a [easyazon_link identifier="B01LVTI3TO" locale="US" tag="xxaxle-20″]keyboard with Mecha Membrane switches[/easyazon_link].
Razer Ultra Low Profile
Razer ULP switches aren't widely available. They're only present in one product, an iPad case. Reviews seem to agree that the switches are passable for their size. That said, the 70g switches can't compete with the feeling of full size MX variants. Their total travel is 1.6mm and their activation sits at 0.9mm, which may not be comfortable for some typists.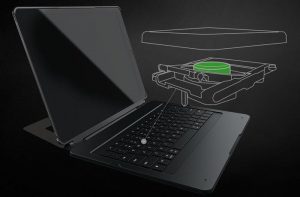 Razer's design seems to utilize scissor switches with springs instead of rubber domes.
Tesoro Agile
Agile switches have reduced travel and activation distance, clocking in at 3.5mm and 1.5mm respectively. They're also low profile, which results in thinner keyboards. Those features position the switch to compete with Cherry Speed and Das Alpha-Zulu models.
Reviews of the switches seem to suggest that Blue Agiles are less enjoyable than MX Blue switches. If you find the low profile appealing, it appears that Red Agiles provide a better experience.

Topre MX Mount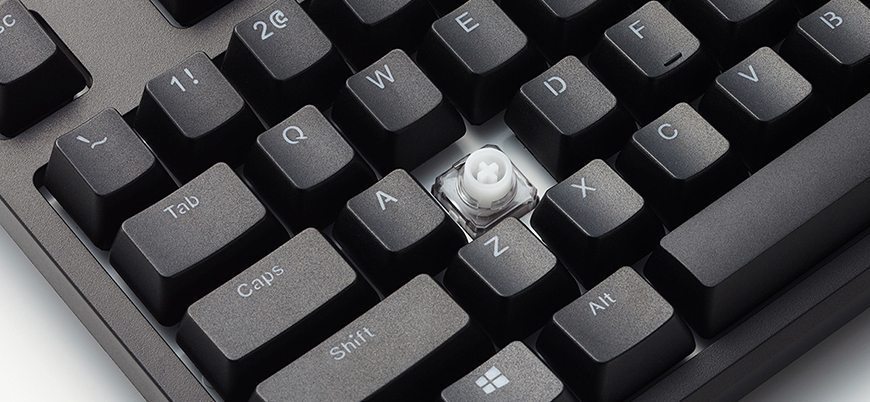 Topre switches are known for their unique sound (thock), ergonomic force curve, and smoothness. That is achieved using a combination of capacitive rubber domes and coil springs. New sliders with MX mount keycaps were released in the RealForce RGB, which should be competitive due to the discontinuation of Cooler Master's Topre-based NovaTouch.
RealForce keyboards aren't cheap, though, so getting your hands on one of these beauties will involve a serious investment.

Fosen Aquamarine
New switches from the East, such as Gaterons, have been generating a lot of buzz in the community. Fosen Aquamarine switches are no exception.
GeekHack forum members seem to think that they compare favorably with other MX clones, particularly in terms of their click. While the current group buy has concluded, another is likely in the future.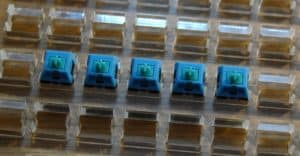 Hall Effect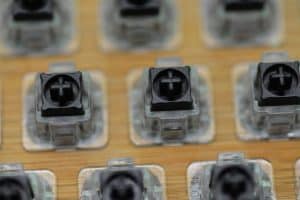 XMIT, a member of the Deskthority keyboard forum, worked with a Chinese company to refine and sell a Hall Effect keyboard on Massdrop. Hall Effect switches use magnets and electronics to set an activation point, which can be altered via firmware.
Hall Effect switches are known for extreme durability under harsh circumstances. The XMIT keyboard was well received by beta testers (full disclosure: I was one), but hasn't been shipped to the community at large. Its switches are mildly scratchy, but extremely linear. The current Massdrop sale has ended, but future developments will result in additional sales.
Model F buckling spring
Ellipse, a keyboard community member, revived IBM's excellent Model F switch technology last year. While it seems odd to mention it a second time, the development of a new all-metal case makes it worth revisiting.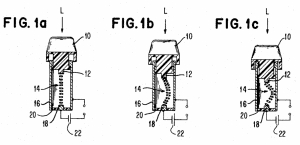 The keyboards aren't cheap, but they will last for a lifetime. Model F switches use a durable contactless system. Essentially, the PCB detects changes in capacitance caused by a moving flipper. You can read more about the system on the Deskthority Wiki.
Zealios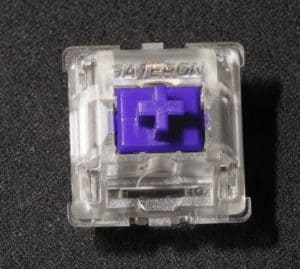 ZealPC is a one man operation that partnered with Gateron, a well known Cherry clone manufacturer, to produce a new line of tactile keyswitches. His first group buy occurred last year, but this year brought new switch weights and slider colors to the table.
Gateron switches are widely considered superior to modern Cherry switches in terms of smoothness, so Zealios are a real contender in the tactile switch market.
Das Gamma-Zulu

The switch was announced with the 5Q cloud-connected keyboard. It is slated to have a 1.5mm activation point and 100 million actuation lifespan. Das markets them as a competitor to MX Brown, a tactile switch.
Omron is the OEM, which is an interesting choice. They're better known for microswitches in mice, but also produce full travel keyboard switches.
Flaretech Optical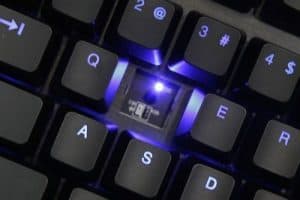 Flaretech's optical keyboard switch will be the first widely available variant of the technology. Marketing campaigns from Wooting, which produced an analog keyboard, are positioning the switch as a gaming revolution. Most analog switch technologies can detect small increments of movement rather than a single on/off state, which means that analog keyboards can be used like game controller sticks.
It's rumored that Wooting is struggling with some QC issues, which may be delaying the release of the Wooting One. In addition, early reviews state that holding keyboard switches down halfway is tiring.
Tesoro IR
A wave of interest in analog keyboards may have convinced Tesoro to develop IR switches. They likely chose IR light to reduce room lighting and LED backlight induced errors, but we can't say for sure. Our site reviewed Tesoro's IR switches in the Excalibur SE Spectrum keyboard, and we're quite impressed with their smoothness.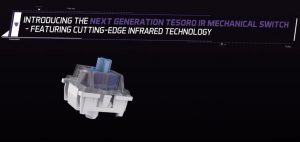 Tesoro sent a Spectrum SE keyboard to a voter in the final round of The Deskthority Awards. If that voter chooses to take a switch apart we'll have a second look at their design.
Kailh PG1350
In a bold move, Kailh decided to near-clone the Cherry ML line. ML switches are widely thought to be scratchy and unpleasant to type on. Fortunately, Kailh's unreleased line of switches seems to resolve those issues completely. They're expected to compete in the low profile and laptop mechanical keyboard markets.

Matt3o, a member of Deskthority, received some switches for beta testing and review purposes. The clicky model is said to be a great performer. PG1350 switches aren't keycap compatible with MLs, which will limit the selection to OEM caps until aftermarket molds are produced.
Zealiostotles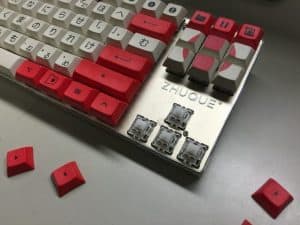 The brainchild of a mod-mad community, Zealiostotles combine Aristotle MX clone sliders with Zealios switches. They're said to have an unparalleled click. That said, Aristotle clones haven't been in production for quite some time. You can find them on Zeal's website in limited numbers. The mod costs roughly $1.70 per switch, so it isn't for the faint of heart (or wallet).