When it comes to making your desk and keyboard more comfortable, most people turn to wrist pads. When seeking out a wrist pad of my own, there's one brand caught my eye more than the others due to a vast variety of products and great reviews.
That company is Grifiti, makers of some great products that I'll review below. I'm not too familiar with Grifit but it seems like they specialize in ergonomic products for electronics. See below for my unboxing and in-depth review of various Grifiti wrist pad and deck products.
The Best Mechanical Keyboard Wrist Pads
If you're looking for a wrist pad to go along with your mechanical keyboard, many aren't up for the challenge. Mechanical keyboards are thicker/taller than cheap membrane keyboards, and our wrist pads need to match.
That's why Grifiti makes a line of Fat Wrist Pads, which are perfect for mechanical keyboards at their height of .75 inches and 4 inches wide.
Here are my favorite features of the Fat Wrist Pads –
Very comfortable for typing. This will probably be your main reason for seeking out a wrist-rest in the first place. I find the wrist pad very comfortable to set my hands or wrists on in between spurts of typing or while typing out something short.
Non-slip base. For something as lightweight as these wrist pads, it's easy to imagine them being a nightmare to stick in one place. That isn't the case in my experience; the bottom of the Grifiti Fat Wrist Pads have great hold wherever you place them and aren't prone to sliding around on you.
Very firm/supportive. Don't confuse these wrist-rests with some sort of soft gel pad. They're much more firm and sturdy than those, which I find ideal. I often find myself using the Fat Wrist Pad to lean an elbow into while I'm thinking at my desk. It's much more comfortable than leaning onto my wood desk as I used to. This alone makes the Fat Wrist Pad a must-have for my home office.
Now let's meet the different varieties the Fat Wrist Pad comes in.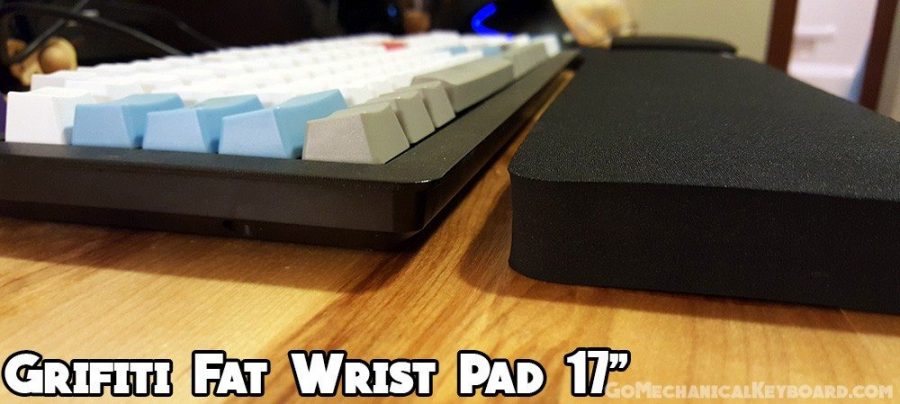 In the shot above, you can see the Grifiti Fat Wrist Pad 17 matches up perfectly to my Das Keyboard 4 Pro.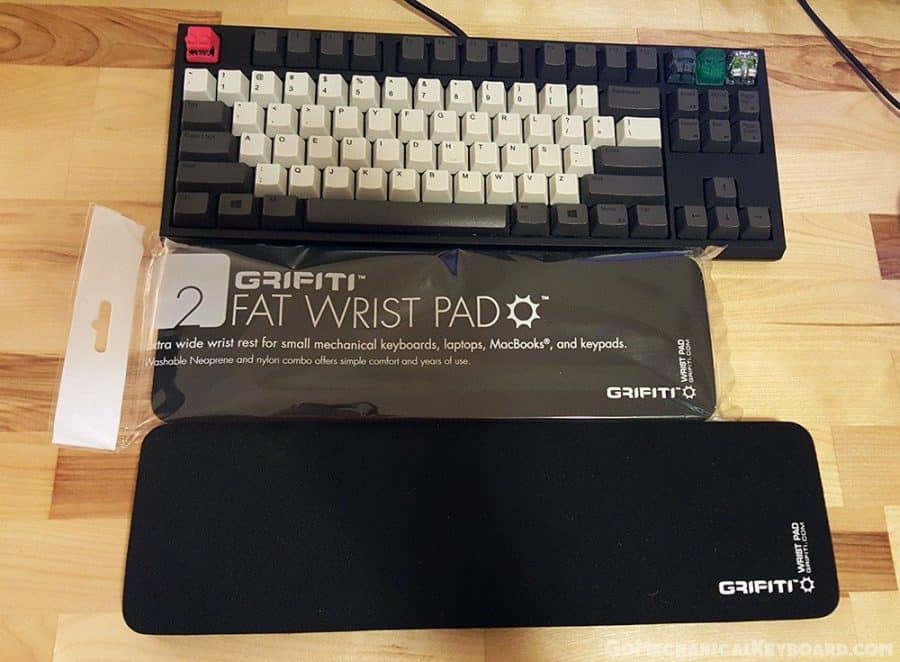 The Grifiti Fat Wrist Pads come in a variety of sizes to match your mechanical keyboard form factor. Here's a quick guide to help you get the right size –
60% – 12″ (pictured above with in the wrapper)
Tenkeyless – 14″ (pictured above with no plastic)
Full – 17″ or 19.5″ (both pictured below)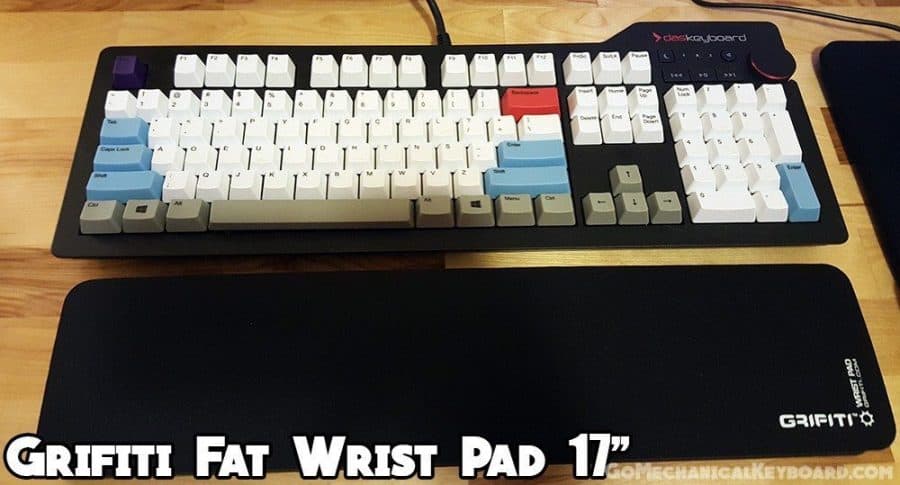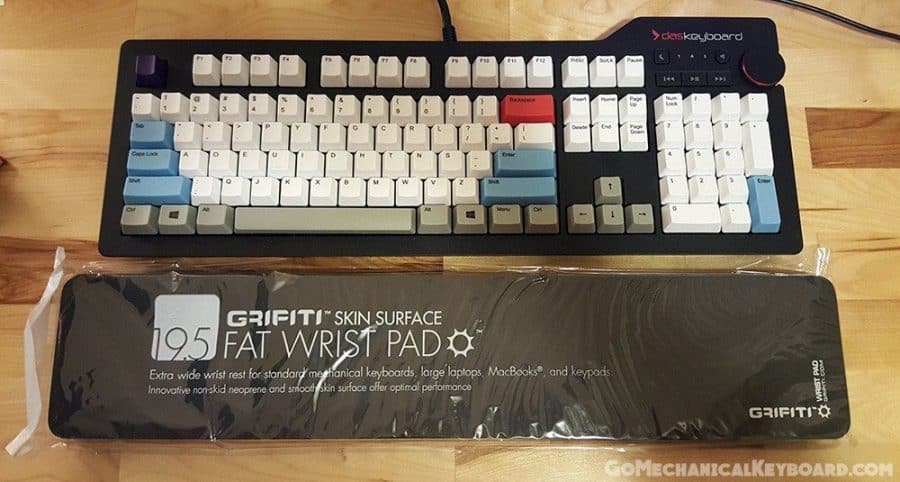 You can also get your Grifiti Fat Wrist Pad in a variety of colors if that matches your mechanical keyboard better than black.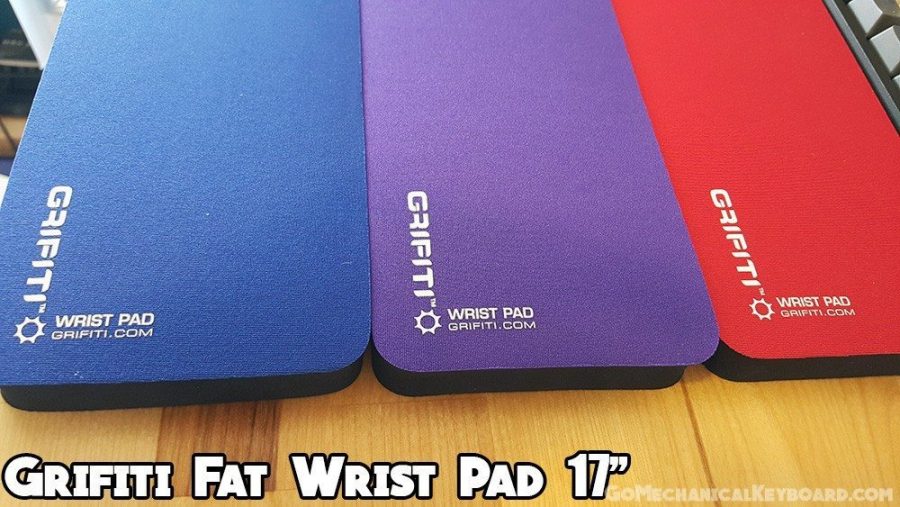 Other Grifiti Wrist Pads
The Fat Wrist Pads are clearly the flagship product as far as mechanical keyboard users are concerned, but Grifiti also makes some other wrist rest products that are very interesting and worth taking a look at.
First up, the Grifiti Big-Ass Wrist Pad, which is identical to the 17″ Fat Wrist Pad, but double the width! At 8 inches wide, this can double as a mousepad.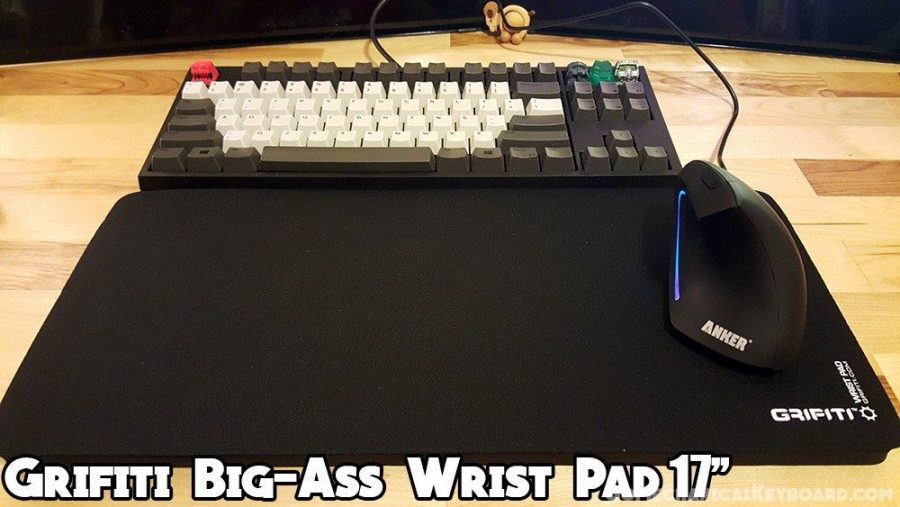 If you're looking for a slim wrist-rest, maybe for a laptop keyboard, Grifiti has a great line of Slim Leather Wrist Pads. They're still 4 inches wide, but only .125 inches thick. Available in black or brown leather. I would think that the Grifiti slim wrist pad is more geared towards laptops or those wanting better portability.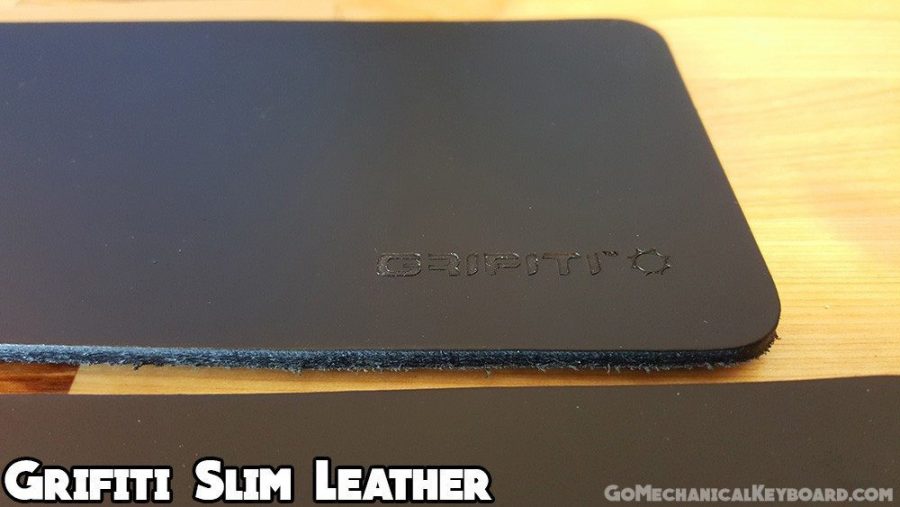 If you're in the market for a new mouse pad and wouldn't mind a built-in wrist-rest, the Grifiti Fat Mouse Pads are just what you're looking for!
Using the same material and wrist pad width as the Grifiti Fat Wrist Pads, these make an ideal tracking surface for mice in my experience. The only qualm I have with them is if you're using a vertical mouse as I do, any wrist pad doesn't feel comfortable. If you use a standard mouse though, these work great.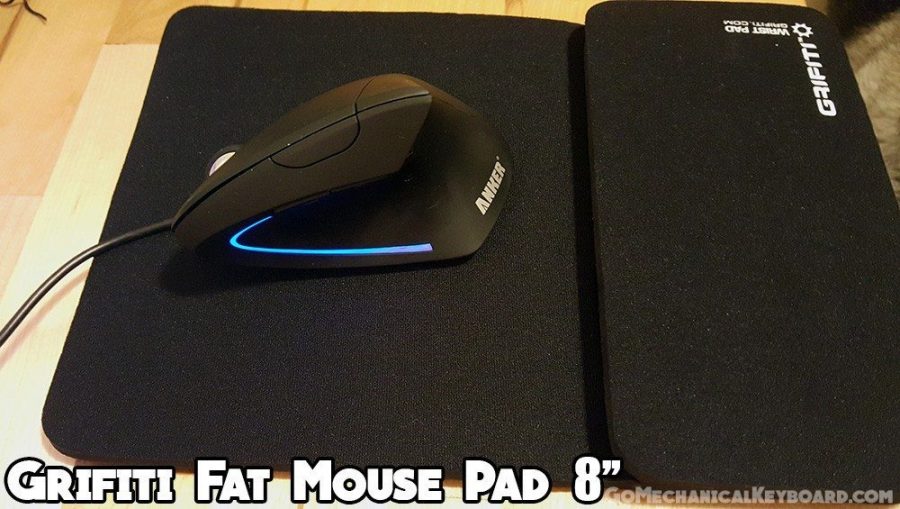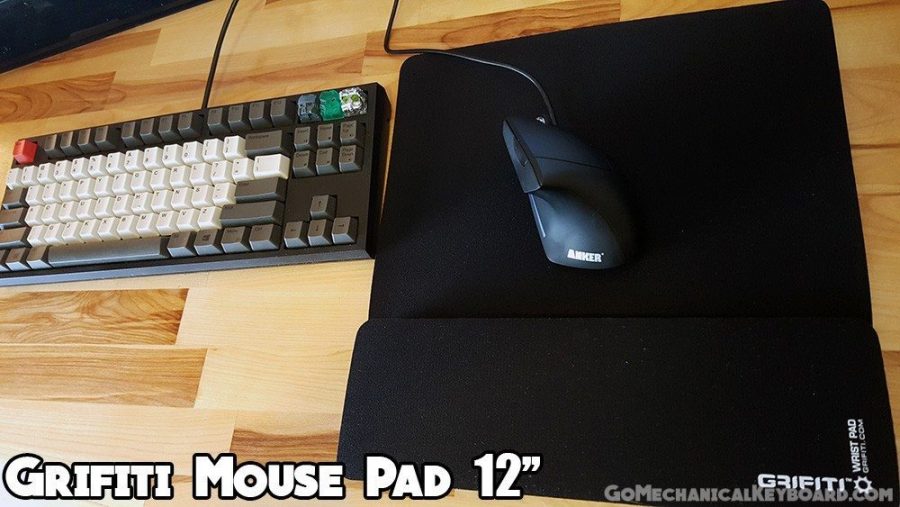 As you can see in the images above, you can get a somewhat standard sized Fat Mouse Pad, or a Jumbo Fat Mouse Pad with all the space you could need!
Grifiti Deck Lap Desk Review
Though the Fat Wrist Pads are Grifiti's most well-known product, the Grifiti Deck is easily my favorite product of theirs. It's such a simple product, but completely changes the way I view lap desks. Previously I used a lap desk that had a bulky padded bottom that rested on my lap, and a slippery plastic top where I would place my laptop.
The Grifiti Deck, on the other hand, has a thin aluminum core wrapped with an extremely grippy surface on both sides. The result is a very lightweight lap desk that doesn't slide around on your lap, and whatever you set on it (laptop, book, phone, etc.) doesn't budge! After reviewing and testing the Grifiti line of deck pads, I've grown to like them a lot. The slim look and grippy platform allows me to maneuver with ease.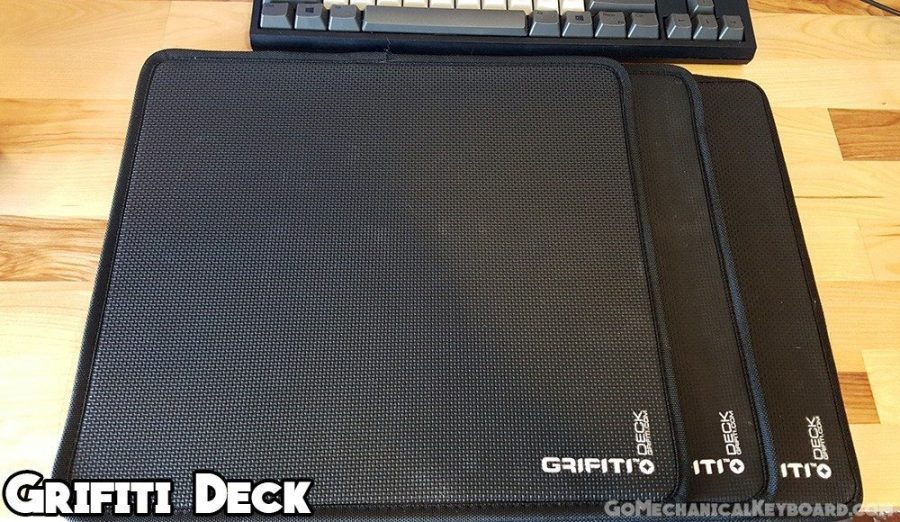 The Grifit Deck is available in a variety of sizes – 11″, 13″, 15″, or 17″, it's easy to find one that suits your needs. Pictured above are the 13″, 15″, and 17″ models.
In the pictures below, I place my 10″ ASUS Transformer on the Grifiti Decks for reference so you can get a feel for the size.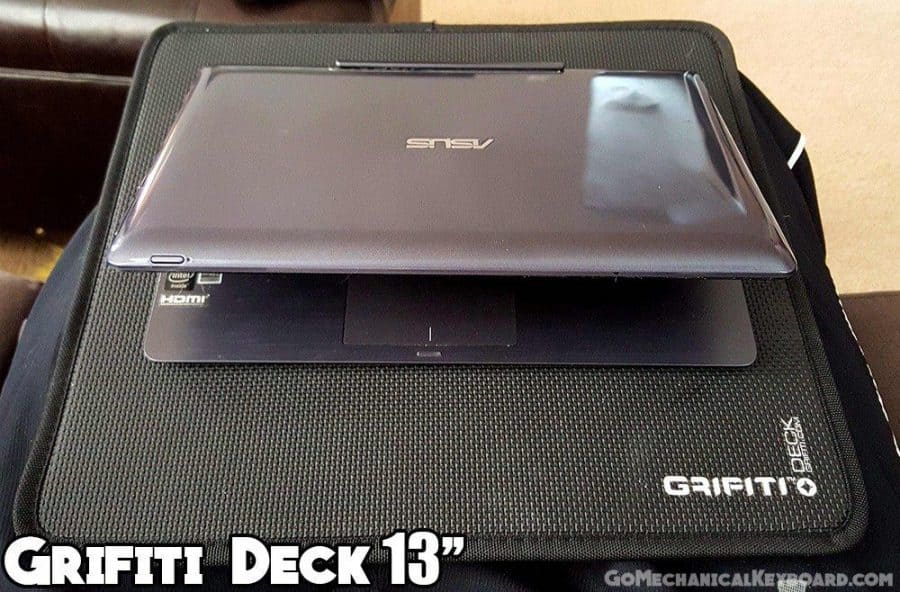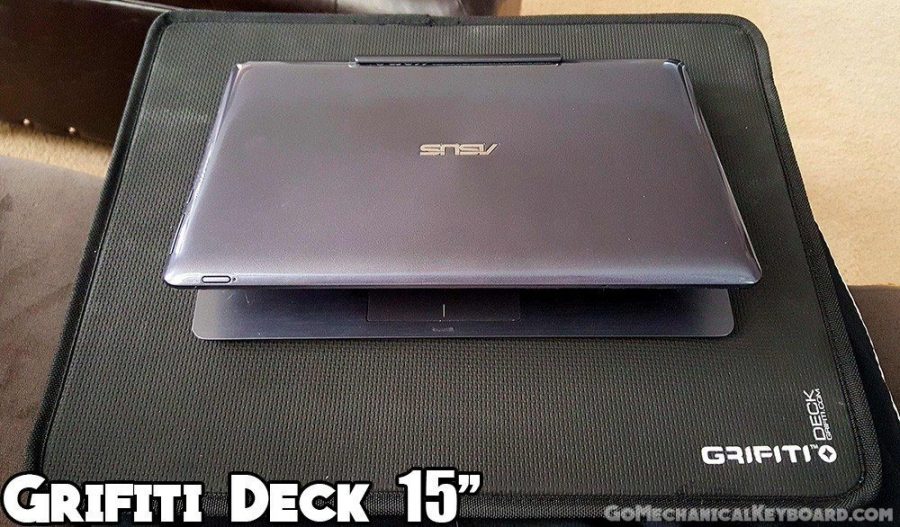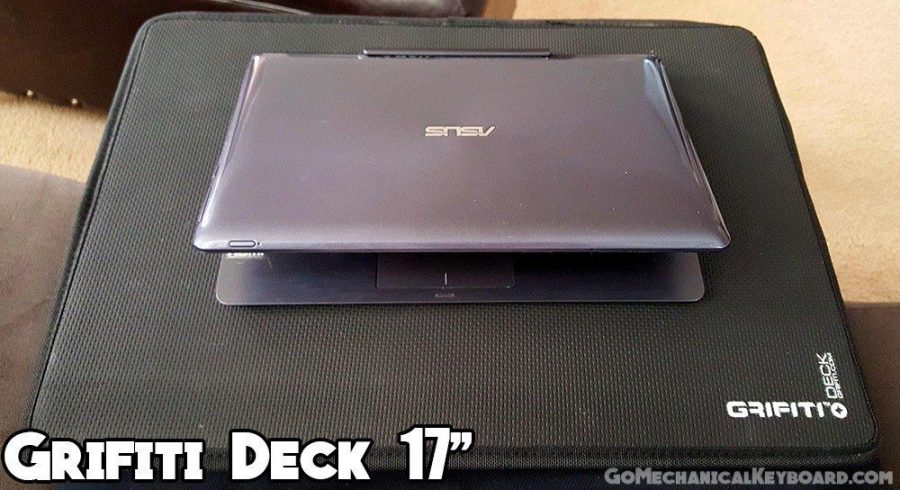 I now use my Grifiti Deck for just about everything now. It's a great surface for reading, writing, or even setting a plate to eat from. If you ever need a makeshift place to set your compact mechanical keyboard, it works great for that as well. I'll never use a big and clumsy lap desk again. That concludes my review of the Grifit wrist pad and decks lineup! let me know in the comments below if you've had a chance ot try one.