Can't decide between the Corsair K70 and the Razer Blackwidow?
Here it is – the ultimate mechanical keyboard showdown! The Corsair K70 vs Razer's BlackWidow.
Comparison Table: Corsair K70 vs Razer Blackwidow V2
Keyboard
Switches
Backlighting
Extras
Price
Corsair K70
MX Speed
Red or RGB
– Programmable RGB
– Macro support
– Wrist rest
– USB port
$$
Razer BlackWidow V2
Razer Green
Green or RGB
– Programmable RGB
– Inter device color sync
– Audio port
$$
The two most popular keyboards for gaming are without a doubt the Corsair K70 and Razer BlackWidow. Both of these are the ultimate flagship keyboard product lines of Corsair and Razer. The K70 and Razer BlackWidow Chroma have garnered a lot of attention for their aesthetics, quality, and functionality.
As you can see in the comparison table above, the K70 and the BlackWidow are available with one-color LED lighting or RGB backlighting, and they're usually priced similarly.
Also, note that these keyboards come in multiple variants and we'll take that into consideration when reviewing these keyboards. For example, the Corsair K70 has a model known as the K70 Rapidfire – check out our review of that particular model here.
With that being said, let's take a look at each keyboard more in-depth below.
Manufacturer: Corsair | Keys: 104 | Switches: Cherry MX Brown Mechanical Switches | Backlighting: Yes | Dimensions: 17.24 x 6.53 x 1.53 inches| Weight: 2.76 pounds|
The premium K70 MK2. Corsair's flagship sports a fancy aircraft-grade aluminum frame, crafted for a lifetime of gaming.
Cherry MX Brown Switches provide you the accuracy and light tactile feedback you need for every game. The RGB backlighting adds an aesthetic flair, perfect for your gaming set-up. Additionally, it offers a wide range of color customization. Store up to three profiles with Corsair K70 MK2 as it has 8MB of profile storage. Register every keypress accurately with its 100% Anti-Ghosting feature. The keycaps are ergonomically designed to assure you comfort.
The FPS (first-person shooters) and MOBA (Multiplayer Online Battle Arena) keycap sets are contoured for an impressive feel and maximum grip. Its Window Key Lock mode helps you prevent accidental Window presses to make your gaming problem-free. The dedicated multimedia controls also allow you to adjust volume, play and stop videos, skip, and play music directly from the K70. Lastly, gaming sessions are made even longer with its soft-touch wrist rest.
| | |
| --- | --- |
| PROS | CONS |
| Cherry MX Switches | Occasionally too responsive |
| Vivid RGB backlighting | Hefty price tag |
| Fully programmable | Short rear feet |
| Ergonomic design | |
Manufacturer: Razer | Keys: Full-size | Switches: Razer Yellow Switch | Backlighting: Yes | Dimensions: 18.72 x 6.74 x 1.54 inches | Weight: 3.31 pounds |
Razer is a prolific manufacturer of mechanical gaming keyboards, and the Razer BlackWidow Chroma V2 is a testament to their iconic status. Razer premiers its top-notch Yellow Switch with the Chroma V2. The switches are perfectly designed to enhance your gaming experience. It is linear and silent with an actuation force of 50 grams, engineered to endure gaming, and provide you added responsiveness. Each key switch is engineered for a lifespan of 80 million keystrokes, 30 million more compared to a standard mechanical keyboard.
A whopping 16.8 million color options are featured in Chroma V2, set through its exceptional Razer Synapse. The programmable color palette is certain to reinforce your gaming practice. The Chroma V2 is also ergonomically designed. A magnetic wrist rest ensures your maximum comfort regardless of how long your gaming marathons are.
| | |
| --- | --- |
| PROS | CONS |
| Razer Synapse compatibility | Lacks a media bar |
| USB 3.0 | Inconsistent RGB lighting |
| Premium build | Expensive |
| Ergonomic design | |
Head to Head Showdown
K70 vs Blackwidow – Backlighting
Both the Corsair K70 and the Razer BlackWidow come in a variety of different backlighting options. The Corsair K70 can be found with RGB, Red, or Blue LEDs.
The Razer BlackWidow can be purchased with Chroma (RGB), Green, or no backlighting.
Though both options have LED options, I highly recommend their RGB counterparts. RGB gives you more optionality and the prices aren't too different.
When it comes to the RGB backlighting, I'd give a slight edge to the Razer BlackWidow Chroma. Their lighting software is a little easier to use but only by a small margin.
Both keyboards put out amazing RGB lighting effects though, so there is no loser here. As previously noted, both Corsair and Razer are well-known players in the gaming community so you can rest assured that the RGB aesthetics are on point. Also, RGB variants of the K70 and BlackWidow Chroma don't cost too much more, so I do recommend it for the best experience.
Switches – Razer Green vs. Cherry MX Speed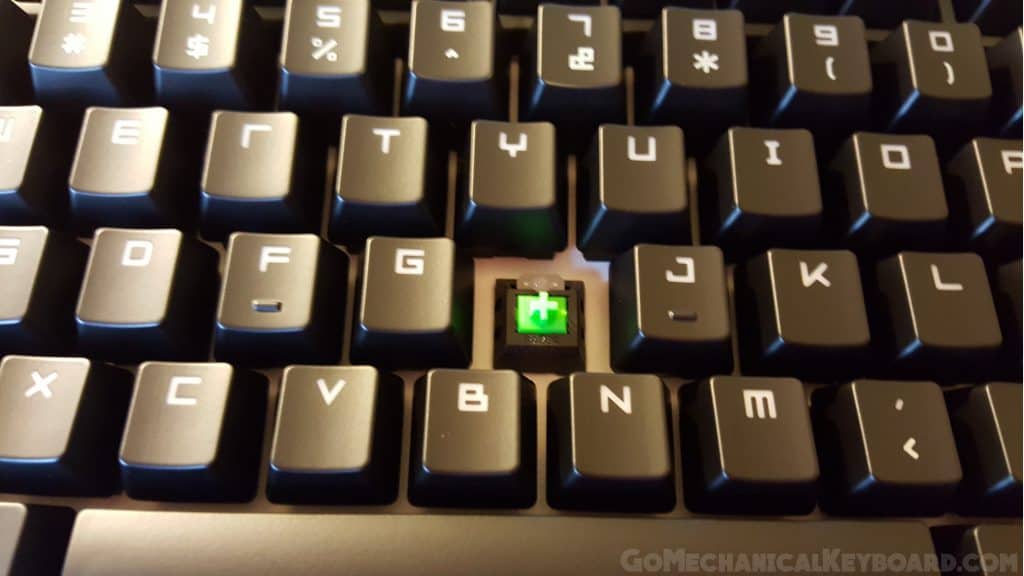 The Corsair K70 uses high-quality Cherry MX mechanical switches for all models of their keyboard. Cherry switches have been around for decades and are well renowned for their durability and reliable performance.
Razer used Cherry MX switches in the past, but in the last few years have switched to "their own" Razer switches which are made by Kailh.
These switches are essentially a clone of the Cherry MX switches but with a short actuation point, which Razer claims is better for gaming. The reality is, they only save you ~10 milliseconds per keystroke, which is unlikely to have an effect when gaming. That being said, the Cherry MX Speed switches are also meant for faster response times, so the differences between the two are likely to be minimal.
Due to many reports of users running into their Razer switches sticking and Cherry's sterling reputation, I have to say that the Corsair K70 is the clear winner for the best switches.
That being said, if the Razer BlackWidow sticky switch issue isn't recurring or can be fixed, then it would be a close call.
K70 vs BlackWidow Chroma – Aesthetics 
Both of these keyboards have an excellent build quality to them. When it comes to which of these mechanical keyboards looks better, I have to leave that up to you.
I do prefer the font on the Corsair K70 keys to the font on the Razer BlackWidow Chroma keys (compare in the photos above), and I prefer the minimal Caps Lock / Num Lock / Scroll Lock indicators on the K70, but these are highly subjective.
Take a good look at both and decide which one looks better to you! From what I've seen, Razer likes a little more flashiness in their aesthetics, which could be great for a gaming rig. The BlackWidow Chroma is no different and definitely stands out a bit more than the Corsair K70. So if you're looking for a slightly more low-key look, I'd go for the Corsair K70.
K70 vs BlackWidow – Features & Extras

This might be one of the biggest deciding categories when deciding which keyboard to purchase.
The Corsair K70 keyboard comes with a detachable wrist rest which looks great. Considering ergonomics in choosing a mechanical keyboard is important. With this detachable wrist rest, you can keep your wrist joints healthy and free from injuries.
The non-RGB model comes with contoured and textured FPS gaming keycaps which are a nice addition. Also, the dedicated media controls including a volume wheel are extremely useful features. Standard typing keycaps and a keycap tool are included for general typing and keycap replacement. Plugin your microphones or other gaming peripherals as the Corsair K70 includes a USB pass-through connection.
The Razer BlackWidow keyboard has some great features of its own, including 5 dedicated macro keys (great for games like Fornite or PUBG). There are a handful of extra features the BlackWidow possesses. This includes a hybrid on-board memory and cloud storage that can store up to 5 profiles, an employed Razer Synapse 3 that is a unified hardware configuration tool, and an N-key rollover with Anti-ghosting elements.
Additional Features
The other big extras the BlackWidow delivers are an audio/mic pass-through and a USB pass-through. Depending on your PC set-up and how accessible it is, this could be a vital feature for you. It has a gaming option for maximum gaming experience, and 1000 Hz Ultrapolling for a snappier performance, other than a 500 Hz, which is meant for a smoother one.
On the other hand, the Elite variant comes with a handful of additional features. Unlike the plain wrist rest, the Elite is equipped with a detachable plush leatherette wrist rest, and multi-functional digital dials and media keys. Moreover, switch options are available with Razer Yellow and Orange Mechanical Switches.
The BlackWidow Chroma V2 also comes with a plush, magnetic wrist rest that is a step higher than its competitors. Chroma V2 boasts a 10-key Roll-over Anti-Ghosting feature too. Chroma V2 is equipped with a gaming mode option, a necessity for your gaming schedule and it is also compatible with Xbox One. Lastly, the chord is reinforced with braided fiber cable.
The "Extras" for the Corsair K70 and Razer BlackWidow Chroma are maybe the only features that would be a make or break for you as they make up the largest difference between these keyboards.
Corsair K70 vs Razer BlackWidow – Conclusion
Both the Corsair K70 and Razer BlackWidow are closely matched in terms of price and what they deliver.
Ultimately, I would suggest you go with whichever features you enjoy more. If I had to choose between the two, I'd go with the Corsair K70 because I love the dedicated volume wheel and Cherry MX switches.
I would also say that your choice would highly depend on either aesthetics or the "Extras" portion of this article. If you're really into the BlackWidow Chroma keyboard style or macro keys, then it would be an easy buy.
If you didn't already know, Corsair and Razer have been competing with each other for a long time. Corsair's RGB K70 and Razer's BlackWidow Chroma are aimed at the gaming community and both mechanical keyboards are worthy of owning.
In this comparison of the Corsair K70 vs the Razer BlackWidow Chroma, we noticed some subtle differences in the switches and larger differences in the features and aesthetics. If you need more help, I recommend checking out the Amazon reviews (links below).
That concludes our comparison and review of the Corsair K70 and the Razer BlackWidow Chroma.
We also have in-depth reviews of the Corsair K70 and Razer BlackWidow Chroma if you need more info. The in-depth review of both the Corsair K70 and Razer BlackWidow Chroma are hands-on and include pictures of the unboxing.
If you purchased or have either the Corsair K70 or the Razer BlackWidow Chroma – I'd love to hear your thoughts in the comments below!