Usually, I stick to what I know, but today I'll venture out to review a new mouse I was very excited about – the Anker Vertical Mouse. I'm a big fan of making ergonomic improvements, especially when we're spending 8+ hours a day behind a desk. When my old mouse started to die, I sought out an ergonomic solution. Trackball mice are very popular, but I don't think I'm ready to ditch the traditional mouse just yet.
Instead, I went with a "vertical mouse", which allows your wrist and arm to rest in a more ergonomic and comfortable fashion. Why a vertical mouse? Because they're made with an ergonomic design with the intent of comfort and ease of use. In this review, I'll take a hands on look at the Anker Vertical Mouse – and an ergonomic masterpiece for those looking to upgrade to a more comforting mouse.
Aside from the Anker's ergonomic design, the mouse is also wireless and sells at a really low cost. Anyways, let's take a better look at the Anker Vertical Mouse in the review below.
Anker Vertical Mouse Feature Overview
Ergonomic, vertical design.
Optical tracking at 1000/1600 DPI.
Blue LED light.
Left and right clicks, scroll wheel, DPI button, and a page forward and page back button.
Comes in wired or 2.4G wireless.
Anker Vertical Mouse Photos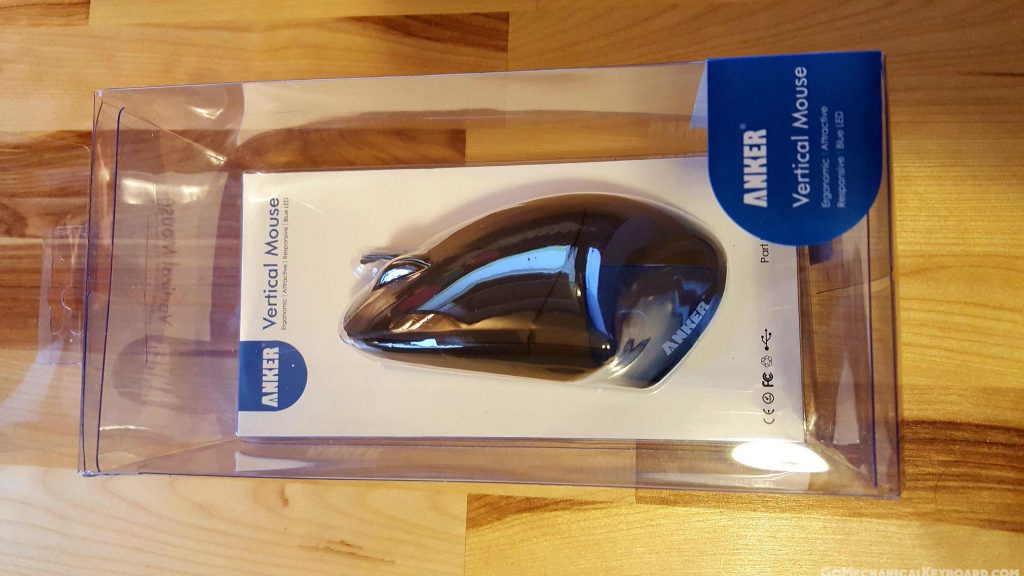 The Anker Vertical mouse comes in a rectangular plastic box, nothing very special but it looks nice and professional. The packaging wasn't difficult to open, which is nice.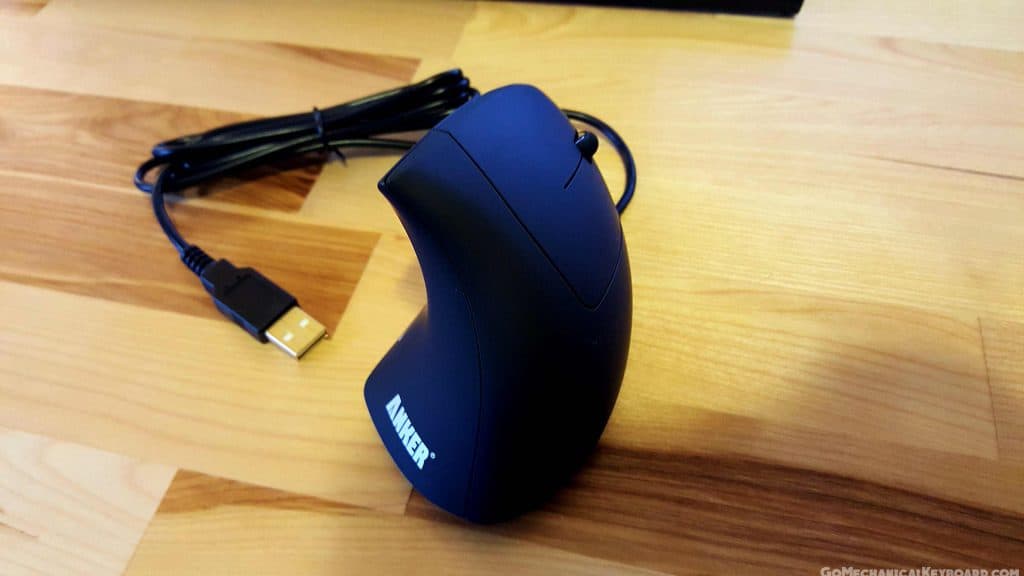 Here's the Anker mouse unboxed. As you can see, this Anker Vertical mouse is the wired model (they also have them in wireless).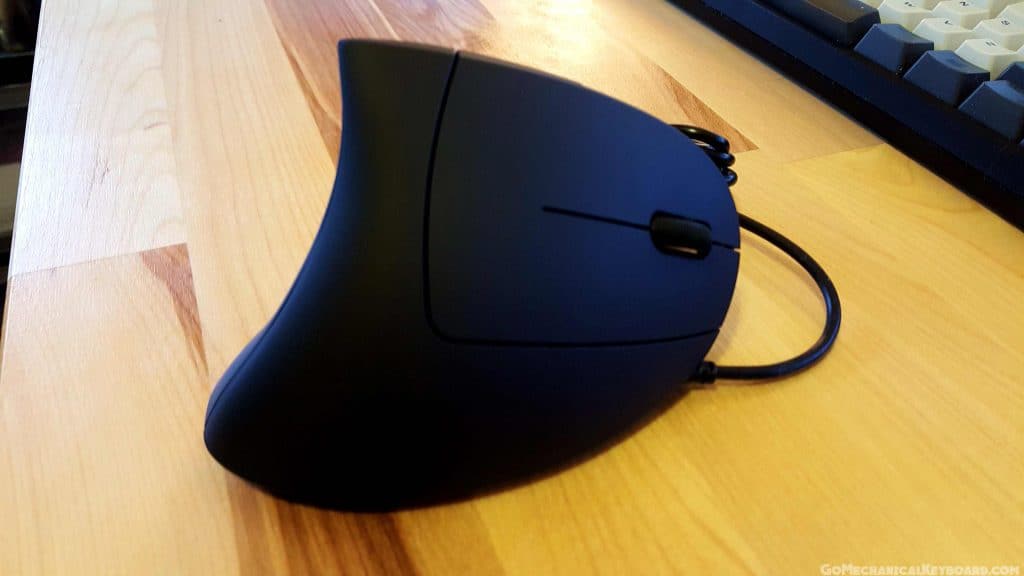 From the right side of the mouse, you can see the vertical layout of the mouse buttons.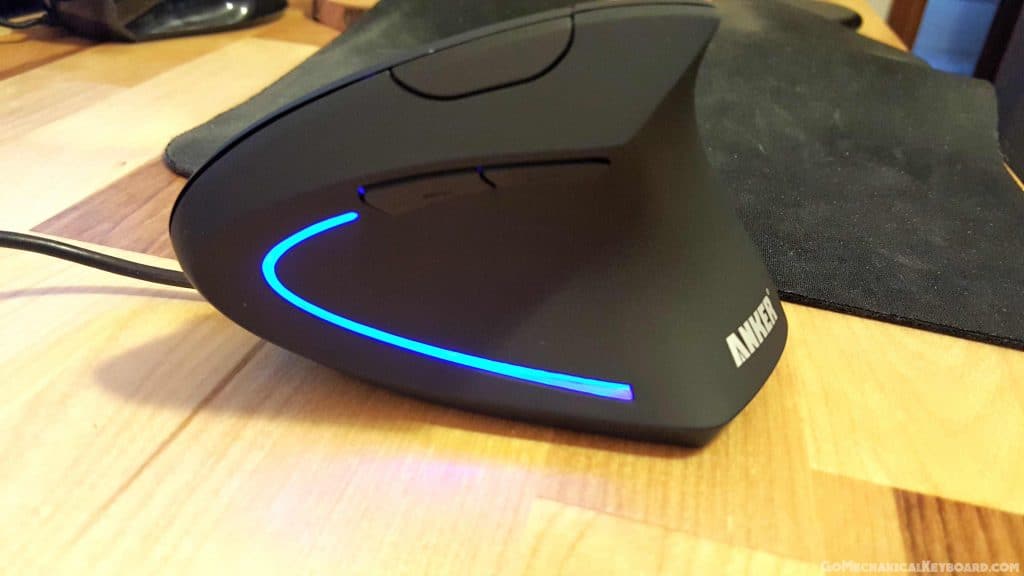 Here on the left side of the Anker Vertical Mouse, you can see the blue LED light that comes on once it's plugged in. The top most button switches the DPI setting, and the two underneath are used for Page Forward and Page Back.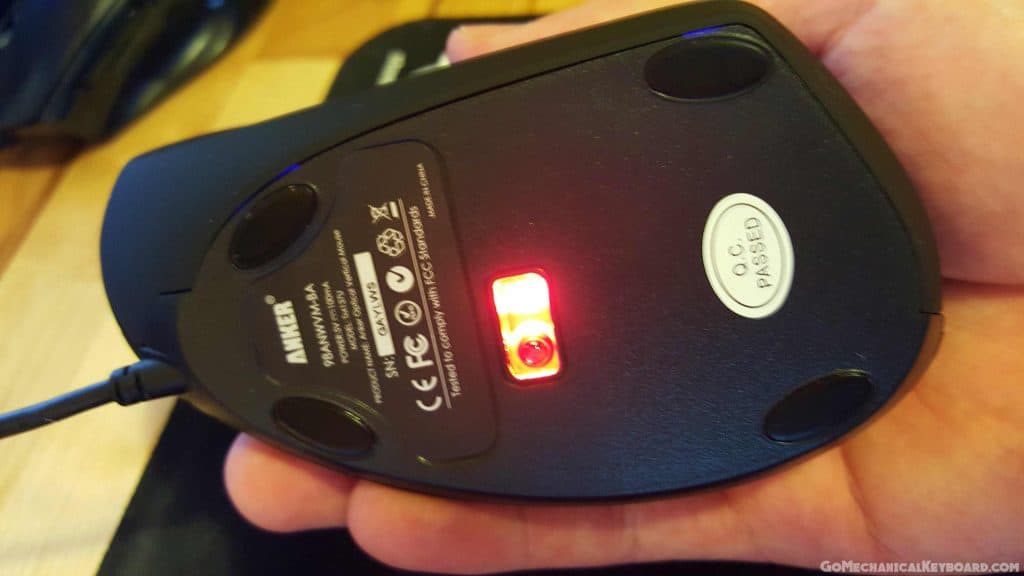 Here's a view of the optical sense on the bottom of the mouse and the size relative to my hand.
Here's a shot of the mouse in my hand from the right side. You can see my pinky is bunched next to my ring finger down at the bottom of the mouse, sometimes part of my pink slides across my mouse pad with the mouse.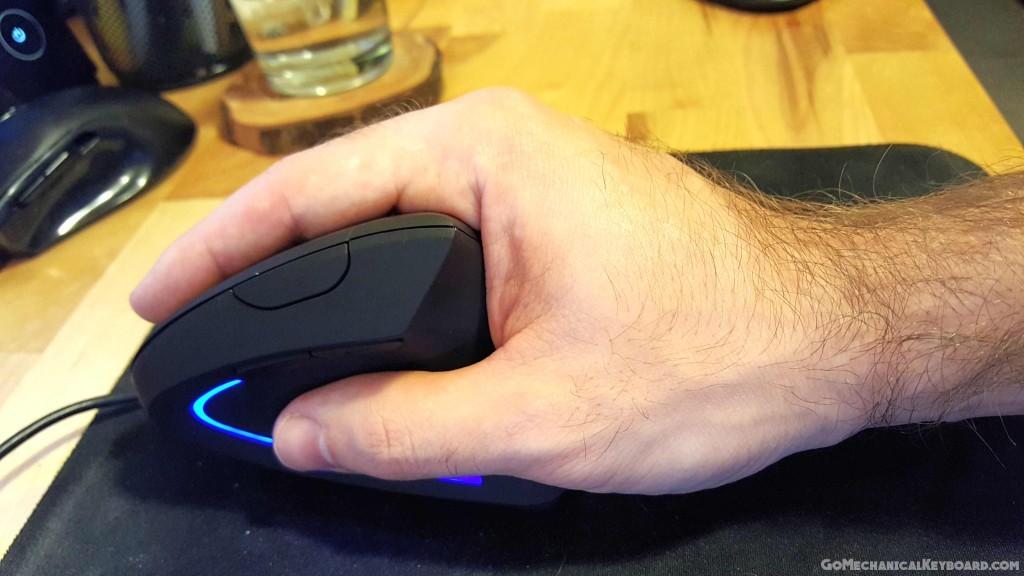 Finally, here's the Anker Vertical mouse in my hand from the left side, showing how my thumb fits.
Anker Vertical Mouse Impressions
The Looks
For starters, I'll say this is a very good looking mouse. It looks like a shark fin on your desk, but it also looks like a very natural piece of technology that seems like it belongs. I think the smooth shape and design help it a lot here. Its ergonomic design may take a little while to get used to, but overall the Anker Vertical Mouse was easy to transition into.
The outer-shell is a kind of rubberized-plastic with a matte finish, which looks very professional and minimalist. The blue LED light is a nice feature, not that it serves a purpose other than looking cool and maybe helping you find the mouse at night.
The Function
The Page Forward and Page Back buttons are a nice addition that I've found myself picking up and starting to use. The scroll wheel movement feels very nice and crisp, as do the mouse clicks.
The optical sensor seems to work great, and I don't notice any less precision than my previous Razer mouse which probably had 4x the DPI. There's not a massive difference between optical and laser type mouses but if you're curious, check out this article.
The Ergonomics
This is the main reason why I bought the mouse. In just a short time, it feels much more comfortable. So much so that when I move my right hand over the keyboard and flatten it out horizontally to type, it feels like a pain!
My one complaint though is that I wish it came in a bigger size. My hands are probably an average size for an adult male, and my pinky finger feels just a little bit cramped. If this thing was just half an inch taller, it would make a huge difference for my comfort. That being said, every hand is different and so far, I've gotten used to the size.
Anker Vertical Mouse Overall Verdict
Pros
Ergonomic design.
Wired or wireless varieties.
Very solid feeling construction.
Attractive smooth design and nice rubberized texture.
Cons
A bit too small for my hand.
I would prefer if the right-click button was a bit larger.
For the price, I'd highly recommend buying this mouse to anyone without large hands. It's probably ideal for younger kids and women, but guys with larger hands will likely feel a little cramped. The price of this mouse is super low ($20 last time I checked) and the reviews on Amazon will give you the confidence to buy if you're into vertical mice. Although I got the wired version, I'm sure the wireless is just as good and would be perfect for those seeking portability and an ergonomic build. And that's it for my review of the Anker Vertical Mouse! Given its super low price, I highly recommend you check it out.