I've been meaning to test the HAVIT KB366L RGB for awhile now and finally got my hands on this beast. HAVIT has been making professional gaming PC peripherals for quite some time now and I'm glad I got a chance to try their mechanical keyboards.
Looking at Amazon's reviews, it seems like this mechanical keyboard has gained quite a bit of popularity and high rating. What sets this GOMK apart from Amazon reviews is that we go all out with our in person review, so let's get started.
HAVIT HV-KB366L RGB Unboxing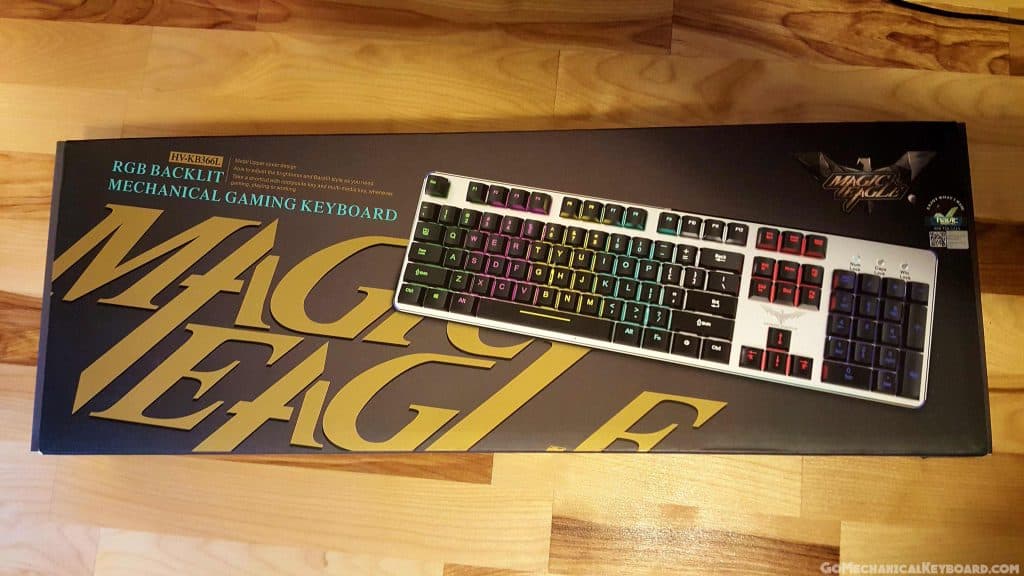 The HV-KB366L RGB arrives in pretty nice packaging, though it is a bit confusing. "Magic Eagle" is prominently displayed, and the company name "HAVIT" is hard to find. It turns out "Magic Eagle" is a line of gaming products from HAVIT.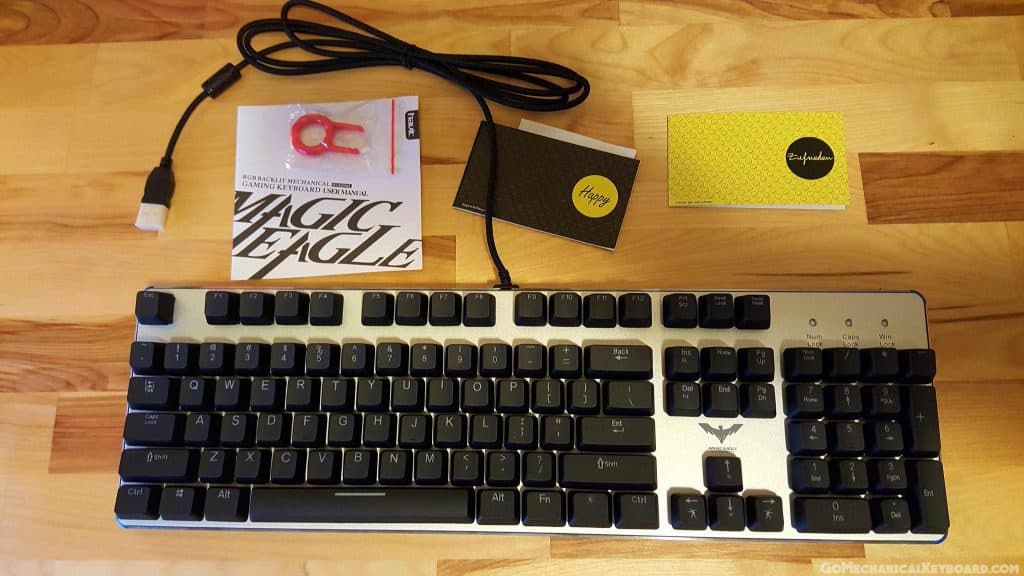 Here are all the contents of the box. We have one mechanical keyboard, one keycap puller, some warranty/feedback cards, and a user manual that's actually pretty helpful to figuring out the RGB controls. Everything is done from the hardware itself, there's no software to install which I actually prefer.
The keyboard has a very nice profile to it. I like the raised switches, especially for a backlit keyboard. You can see here that the switch casing is clear, allowing more light to disperse. The ergonomics on this keyboard are nice, not too steep of row changes are good for typing comfort.
You're probably wondering about the blue plastic pieces on the corner of the keyboard. These are thereby design and do not peel off. I would have preferred them to be black or silver, as they only really serve to take away from the RGB backlighting.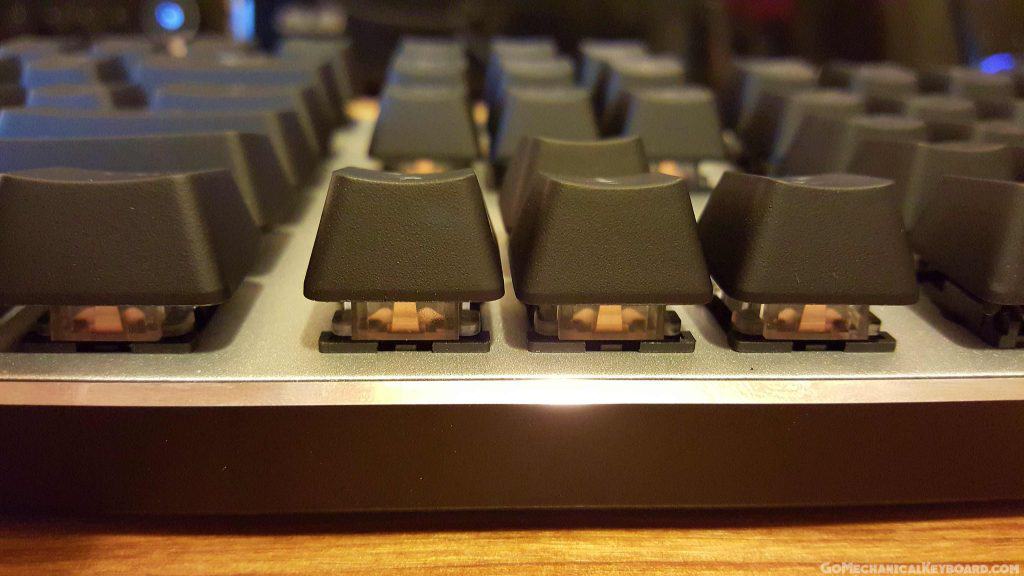 Here's a better close-up of the profile of the switches and the clear casing around them.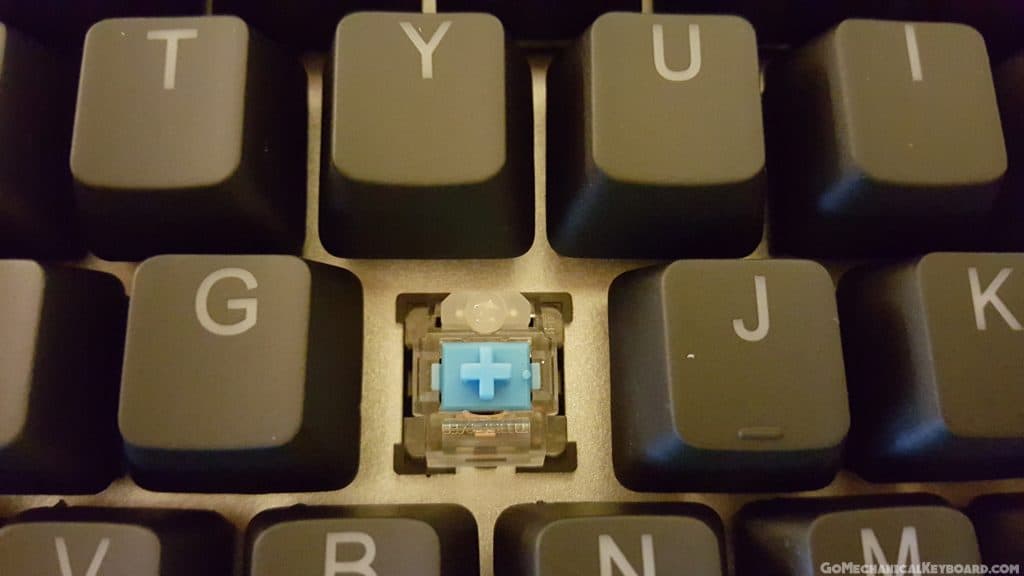 Here's a close-up of the switches with the keycap removed. You can see the LED is top-mounted, which looks better for some artisan keycaps.
HAVIT HV-KB366L RGB Backlighting
When it comes to RGB mechanical keyboards, there are currently two different types you'll find. Larger companies like Corsair and Razer have very advanced RGB backlighting that includes software to let you customize the lighting of each individual key, as well as adding some advanced effects like sharing your lighting profile with other people.
Some examples of keyboards with this technology include the Corsair STRAFE RGB and Razer BlackWidow Chroma. These keyboards run anywhere from $40-80 more than the HAVIT HV-KB366L RGB.
The HAVIT HV-KB366L falls under a different category of a more simple, more affordable RGB backlighting system. There's no software to install and no way to customize the backlighting on individual keys. Instead, you can only use the built-in profiles provided by the manufacturer.
The Rosewill RGB80 also used this pre-defined RGB backlighting approach, but I must say that the HV-KB366L has a lot more options available than any other cheaper RGB mechanical keyboard I've tried.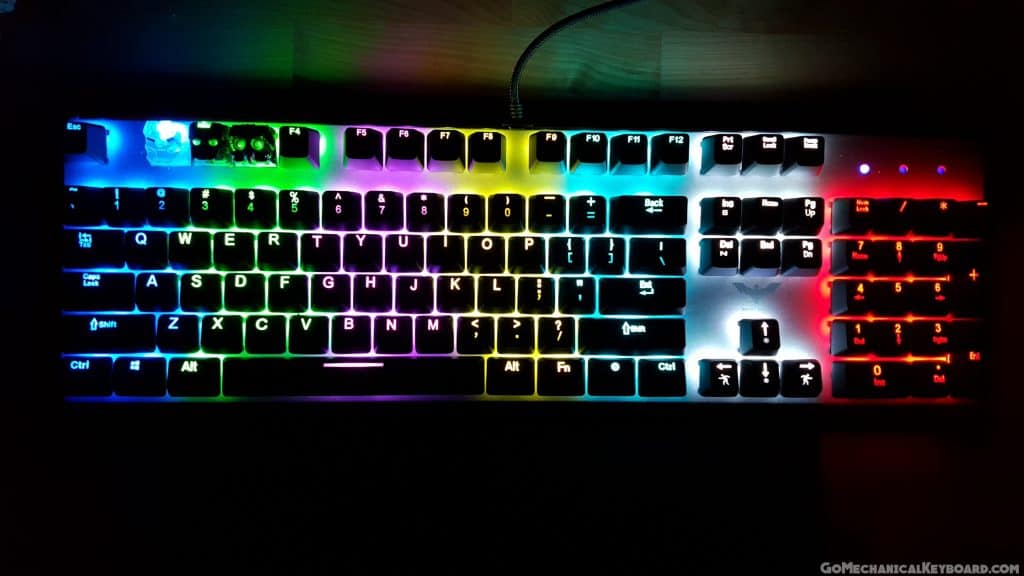 Above you can see the keyboard lit up in the "rainbow" color profile. This mechanical keyboard has 4 different backlighting levels of brightness, and the highest is very bright indeed. This keyboard really benefits from the raised switches. You can see how the colors spill out from under the keycaps and create a really cool glowing aura on the aluminum below.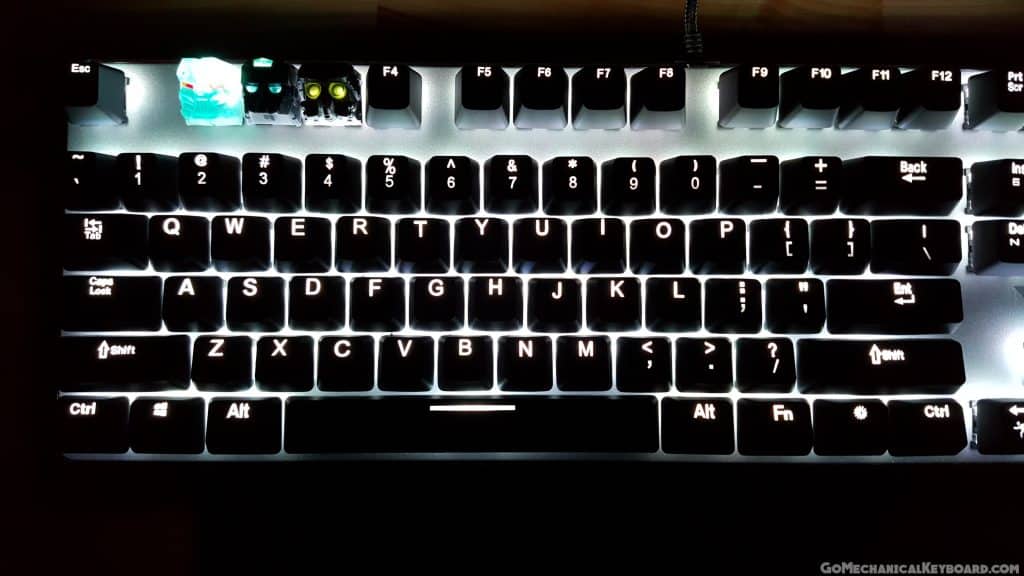 Here's one of my favorite modes, just pure white LED backlighting. It's nice to have a bright and neutral color available when you don't want to put off a "gamer" vibe.
Note: artisan keycaps not included!
To get a real sense of capability of these RGB backlights, check out the YouTube video I put together below that shows off all the different modes and settings.
Outemu Blue Mechanical Switches
The biggest question mark for most people when it comes to this keyboard will be the Outemu mechanical switches. Outemu is not a well know brand. They're a Chinese Cherry MX clone, and these Blue switches are similar to the Cherry MX Blues.
After using them for more than 30 hours, I can say they feel pretty good. The tactile bump feels a bit larger and more pronounced than Cherry MX switches, not quite as smooth and a bit louder. I made two videos below, a speed typing test and one comparing them directly to Cherry MX Blues for you to compare yourself.
And here is the comparison video, featuring the Das Keyboard 4 Pro with Cherry MX Blues –
Overall, I was pretty happy with how these switches performed. I would have preferred them to be Cherry MX switches, but for the price, they are not bad at all.
HAVIT HV-KB366L RGB Overall Verdict
My conclusion on the HAVIT HV KB366L mechanical keyboard is it's possibly the best cheap RGB mechanical keyboard available today. Although it doesn't have all the customization that other more expensive RGB keyboards offer, its sub-$100 price tag more than makes up for it. Given such a low-cost solution to an RGB backlit mechanical keyboard, the HAVIT KB366L has a nice build and is super fun to use. Its ease-of-use and customizability makes it perfect for those new to mechanical keyboards or those looking on a budget.