The Corsair KATAR Pro XT has absolutely every you could ever need in a budget mouse. Between the deep levels of customization, robust build quality, and a smooth gaming experience, what else can you ask for?
Let's take a closer look at this super affordable gaming mouse.
The Verdict
The Corsair KATAR Pro XT delivers immense value at it's current price point. The comprehensive number of features and software support all bundled together give this mouse an edge over other budget mice.
The mouse has excellent build quality. Although it's lightweight, coming in at 73g, the KATAR Pro XT is built like a truck. Other lightweight gaming mice will sacrifice a robust build in exchange for a lighter mouse, but the KATAR doesn't have that problem.
If you're a gamer who prefers to use claw or fingertip grip (and have slightly smaller hands), this mouse could be an excellent option for you. The shape is perfect for petite hands unless you prefer an aggressive claw grip.
Palm grippers beware, with next to no hump, the shape does not support that grip type very well.
The RGB lighting, paracord-style cable, smooth PTFE feet, and robust software support make this a top-of-the-line budget gaming mouse.
You can find the Corsair KATAR Pro XT on Amazon for a really good price.
Sale
Corsair KATAR Pro XT Gaming Mouse
Play with hyper-fast, sub-1ms SLIPSTREAM CORSAIR WIRELESS TECHNOLOGY, or connect to a wide range of...
Weighing just 96g, the KATAR PRO WIRELESS is light and agile for hours of fast-paced FPS or MOBA...
Play for days on just a single AA battery, with up to 135 hours of battery life.
---
In The Box
In the box, you get the usual suspects.
The mouse: The Corsair KATAR PRO XT with the cable attached.
The quick start guide: A quick outline of the different buttons and functionality.
The warranty: Details on the two year warranty included with the purchase.
The safety info: The basic dos and don'ts to avoid hurting yourself.
Everything is packaged inside a bright yellow and black case with the classic Corsair branding we've all come to know and love.
My only complaint with the packaging is that no stickers are included. I've been trying to collect as many as possible, but there is none in the box. Oh well.
Build Quality
For a budget mouse, the build quality is very impressive. The outside of the mouse has a very satsifying texture to rub your fingers up against and it provides extra grip during intense gaming sessions.
You don't need to worry about it slipping out of your hands, even if the mouse itself is on the smaller side.
The cable is non-detachable and super lightweight, giving it the feel of a paracord. There's nothing worse than gaming with a thick cable that tugs on your hand the entire hand.
With the KATAR Pro XT that issue is nonexistent thanks to the cable design.
The entire build looks very well put together. All of the connection points where the different sections meet all have even spacing between and you can tell it was precisely toleranced.
Overall, I'm blown away by the build quality for such a cheap mouse.
The Mouse Shape
| | |
| --- | --- |
| Length | 116 mm / 4.6 in |
| Width | 64 mm / 2.5 in |
| Height | 38 mm / 1.5 in |
| Weight | 73 g |
Corsair KATAR PRO XT Dimensions
The overall mouse shape has a symmetrical design, making it great for claw grip and fingertip grip.
Although it's symmetrical, it is not ambidextrous, as the buttons are only on the left side of the mouse making them difficult to reach for a left-handed person.
The overall size of the mouse is quite small. As a larger-handed person, I found the size to be too small for fingertip or palm grip, but an excellent fit for claw grip. It's excellent for FPS games where you need to quickly turn your mouse to place crosshairs on the enemy.
For those who prefer palm grip, I wouldn't recommend this mouse as the hump is almost non-existent. This makes is hard to get any support for your palm when gaming.
The Buttons
The mouse has six different buttons that you can press whilst gaming. Each button can be remapped through the iCUE software, making it highly versatile.
The different buttons included are:
Left click
Right click
Middle mouse button
DPI button
Forward
Back
While there is nothing too special when it comes to the button options, all of the bases are covered and there is nothing missing. Being able to remap and set macros with each individual button makes the software extremely powerful.
Unfortunately, however, the onboard memory only supports the DPI and RGB settings, meaning you'll need to have the software open if you want the other functionality.
The buttons themselves use the classic OMRON switch, which is the standard nowadays for quality and performance.
Overall, the buttons are satisfying to use and there are no complaints in this department.
The Feet
The feet use a large PTFE glide material. This allows the mouse to slide around easily on my mouse pad.
The feet are two large sections on the top and bottom-side of the mouse underbelly.
A virgin PTFE is usually preferred for the ultimate gaming experience, but at a budget price point, you can't really complain with the feet that Corsair opted for.
Expect a smooth time when gaming with the PTFE feet.
The Software
The software is both a huge selling point and a small source of disappointment.
The iCUE software itself is very comprehensive (although a massive download), allowing you do to some really helpful stuff.
With the software, you can:
Remap buttons: Every button on the mouse can be remapped to whatever key or functionality you prefer.
Set macros: You can create your own macros and assign them the button of your preference.
Set DPI: You can set the DPI anywhere between 100 and 18000 and increment by as small as 1 DPI for a specific DPI preference. Meaning you could set it at exactly 123 if you want. Not to mention you can change both the X and Y direction individually.
Open applications: You can assign a button to open certain applications.
Customize RGB: iCUE has a lot of powerful RGB settings such as changing the pattern, colors, syncing it with the rest of your setup, and making the light change based on in-game actions.
Set timers: You can set timers to certain buttons.
The only disappointing part is the onboard memory of the mouse will only remember the RGB and DPI changes you made inside the software. If you want to remap buttons and set macros, you'll need to leave the software open for those changes to work.
It's a bit painful to leave such a large application open all of the time when most already have Spotify, Discord, and Chrome running while playing games.
But for a budget mouse, you can't have it all.
Conclusion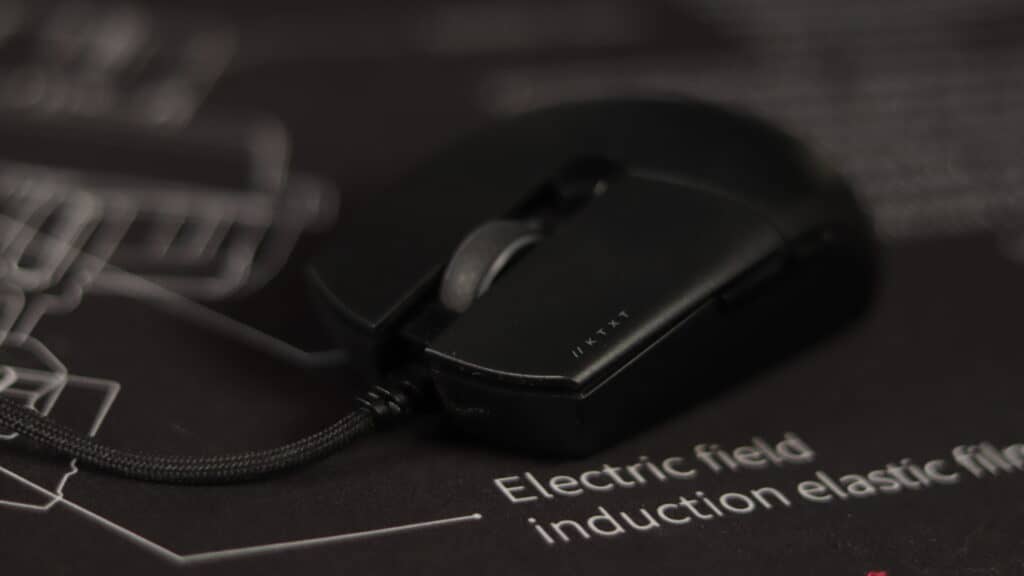 Sale
Corsair KATAR Pro XT Gaming Mouse
Play with hyper-fast, sub-1ms SLIPSTREAM CORSAIR WIRELESS TECHNOLOGY, or connect to a wide range of...
Weighing just 96g, the KATAR PRO WIRELESS is light and agile for hours of fast-paced FPS or MOBA...
Play for days on just a single AA battery, with up to 135 hours of battery life.
Overall, the Corsair KATAR Pro XT delivers immense value at its budget price point.
With a tough build and in-depth design, it's hard to say no to this mouse. If you're a gamer with normal or smaller hands the KATAR Pro XT is excellent for both claw and fingertip grips. The smooth gliding feet, RGB lighting, adjustable DPI, and powerful software all contribute to this being such a good option.
The software backing this mouse is extremely strong, but a little bit of extra on-board memory would've gone a long ways. The 73g weight probably limits them from adding more features to the mouse to avoid weighing it down.
If you're interested in the Corsair KATAR Pro XT, you can find it on Amazon for a good price.