Any serious gaming enthusiast will have heard of Fnatic – a big e-sports brand. As of recent, they've been getting into the gaming market by producing quality gaming peripherals such as mechanical keyboards. I've managed to get their Fnatic Rush G1 mechanical keyboard for review. In this hands-on review, I'll unbox the keyboard and go in-depth into the pros and cons of the Gear Rush G1.
First impressions may lead to a short panic attack, as some beautiful graphics show the wrong keyboard layout — ISO UK, not ANSI US. Don't worry, though. Fnatic probably printed one packaging type to cut costs. I received a proper US layout for this mechanical keyboard. The graphical mismatch seems to be a trend at the company, as Fnatic's US web store uses an ISO product photograph. American buyers can be sort of skittish, so updating those photos should be high on Fnatic's to-do list.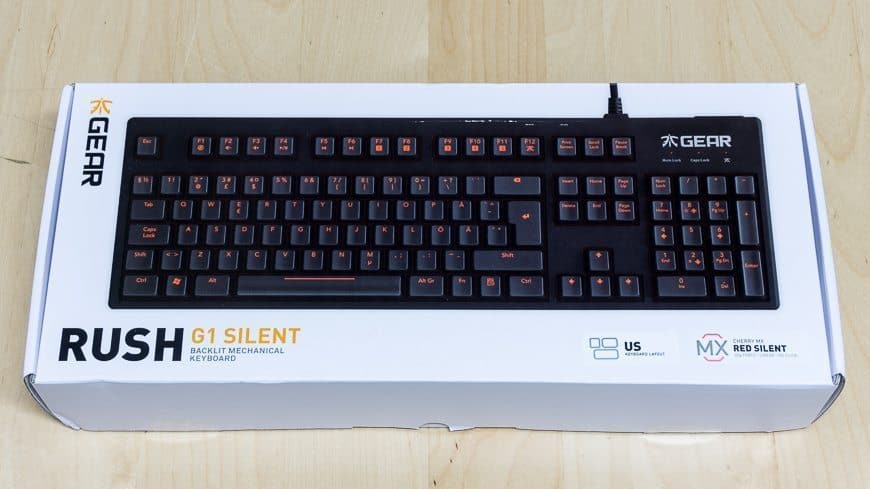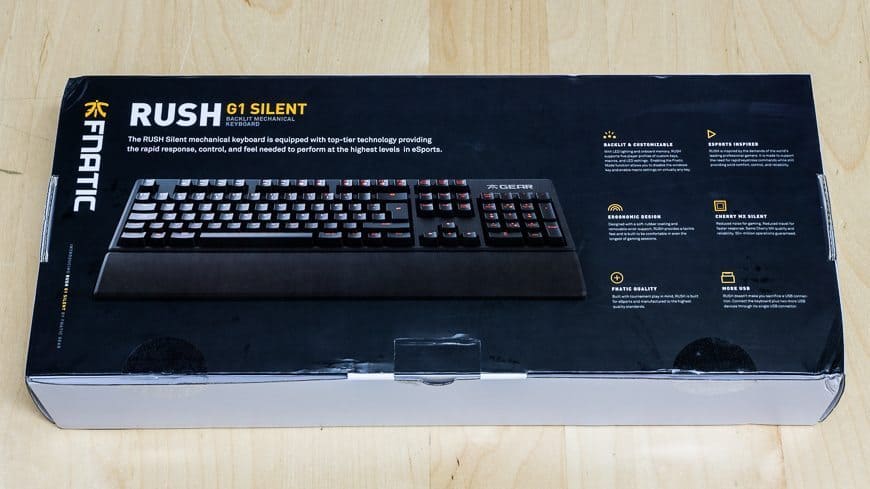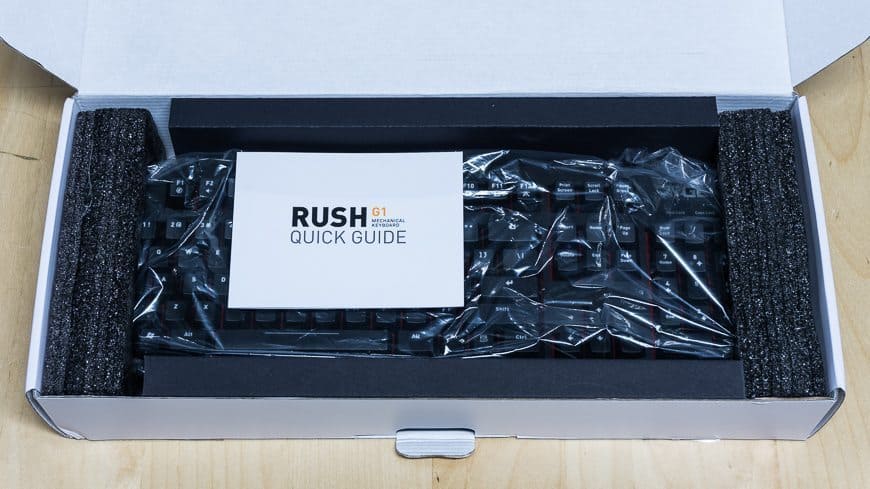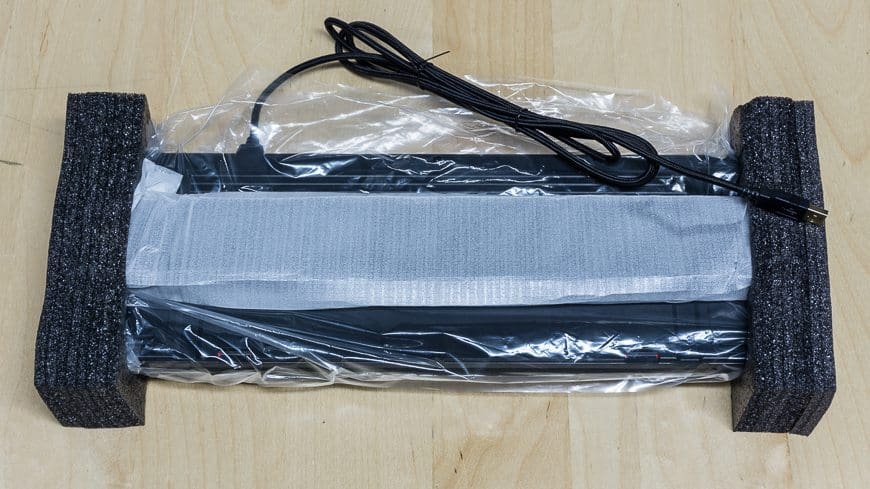 Let me say this right away: the box is huge (19.5 x 8.5 x 3.5 in.) and well designed. I doubt that any Fnatic Rush Silent keyboard will be damaged during shipment. My box arrived with a few nicks and dings, but the contents were safe and snug in some foam and supports. The wrist rest is supported too, though having it knocking against the back of the keyboard (even through some protective plastic) might not be the best idea.
Build quality
The Fnatic Gear Rush G1 Silent has an ABS plastic chassis with a high profile design, which is atypical (but certainly not a bad thing) in the modern market of mechanical keyboards. Floating key designs are aggressive looking and easy to implement. Manufacturers can save a quite a bit on tooling when the switch plate doubles as the top plate, and enthusiast "sandwich" designs are also easier to implement in that style.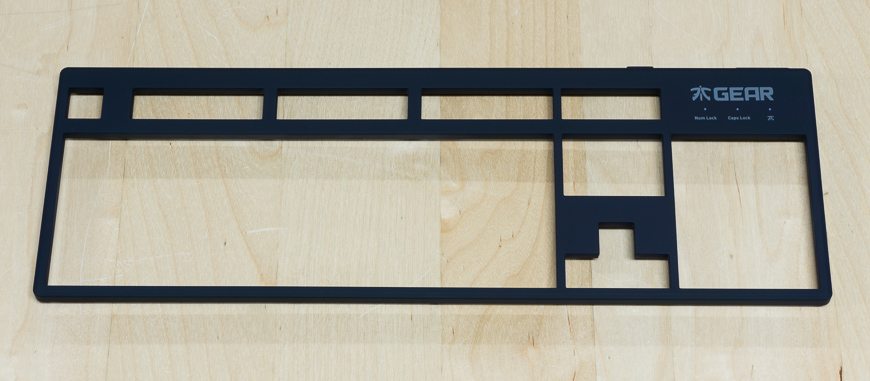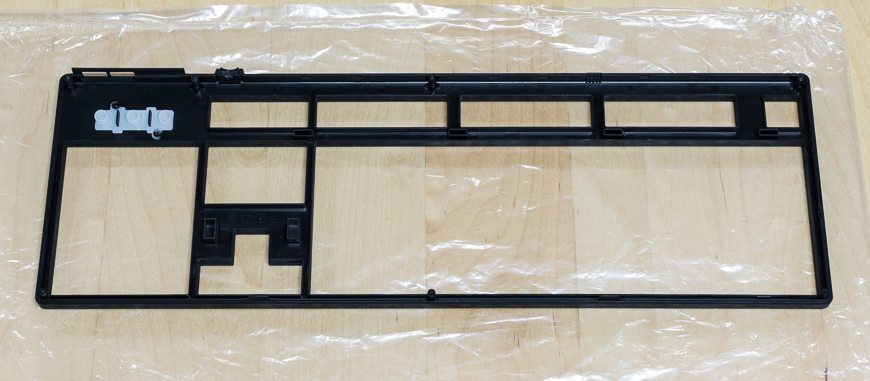 The mechanical keyboards upper ABS plastic shell is covered with a soft touch coating. It feels nice, but the rubberized outer layer may not last particularly long before getting worn or appearing dirty. That's a common weakness of soft touch coatings. The wrist rest will likely be the first thing to exhibit wear. Its attachment clips are decent, so it isn't a hassle to pop on. I found that hand oils accumulate on the surface easily, leaving smudges that some may find unsightly. The Rush Silent's lower case is unremarkable ABS plastic. Overall, the finish is a hair better than average. It might be a good idea to wash your hands before using the Fnatic Rush Silent.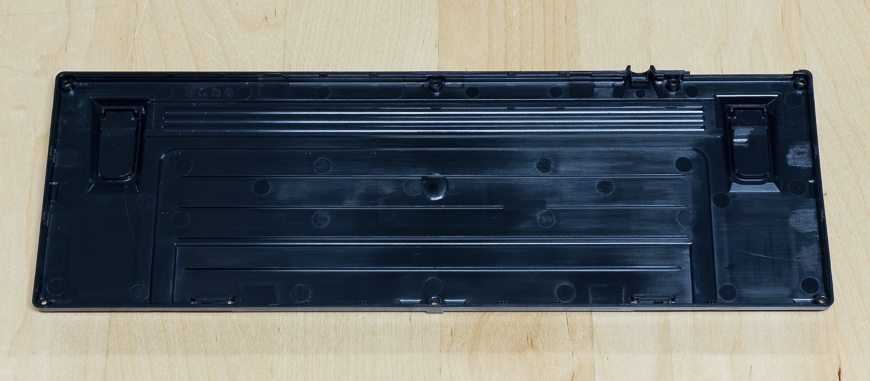 The Rush Silent case doesn't creak when significant rotational force is applied to both ends. It doesn't flex much either, which is nice. Frankly, this mechanical keyboard surprised me with its performance. The only issue I see in terms of fitment is that the upper case protrudes slightly where the USB ports are housed. Thankfully that glitch isn't particularly visible, as it's at the rear of the keyboard.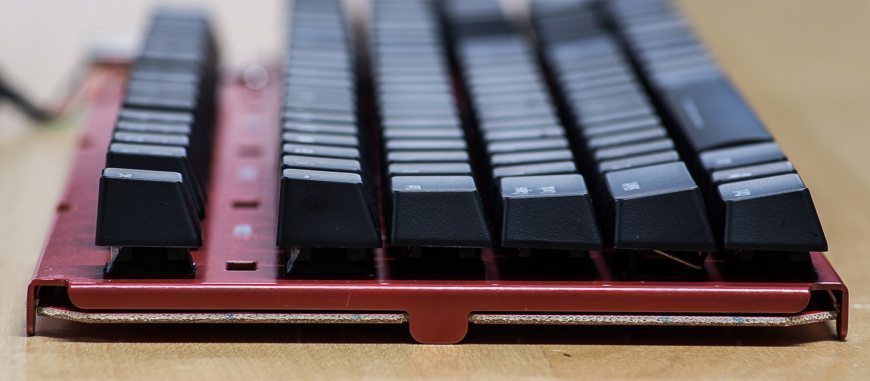 The switch plate and PCB offer some interesting insight into the Gear Rush's lineage. When I saw the beautiful red switch plate, I recognized its bent corners from the Tesoro Excalibur SE Spectrum. The bends are a clever way to add plate stiffness with minimal additional cost. It works in this implementation due to the soldered switches, which hold the plate and PCB together tightly.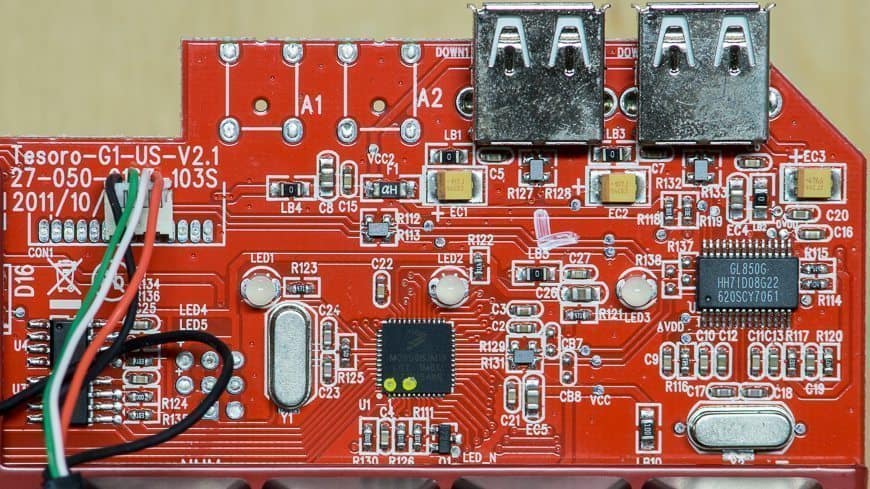 I thought the mechanical keyboards might share the same OEM (which is probably true anyway), but I wasn't expecting further brand overlap to occur. I was in for a surprise. The Fnatic Gear Rush's PCB is clearly labeled Tesoro-G1-US-V2.1, which provided some material for speculation. My representative at Fnatic spoke with the brand's ODM to find out more. Apparently, the unnamed ODM uses a common USB hub/USB input section on many of its keyboards, as it owns the design. Someone simply forgot to remove the Tesoro branding from a screen printing template or PCB design file. The error will be corrected quickly.
I am told that the Fnatic Gear Rush isn't a Tesoro rebrand, but it does come from the same place. The common USB/audio hub even explains the audio and USB port outlines on the rear-upper case of the Excalibur SE Spectrum. In short, you can expect Fnatic and Tesoro mechanical keyboards to be exceptionally similar due to recycled elements from their ODM.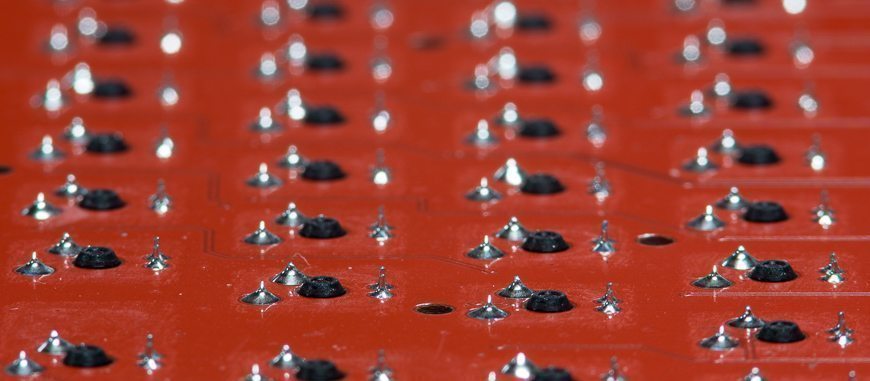 The PCB is pretty nice, with minimal residue and no serious soldering glitches. The cable is pretty nice too. A gold plated USB connector prevents corrosion and contributes to a premium look. No ferrite is present, but the cable is well grounded. A nicely braided exterior (which varies between dark gray and black based on lighting) connects the whole thing to the PC. The strain relief is passable, but it isn't worth writing home about.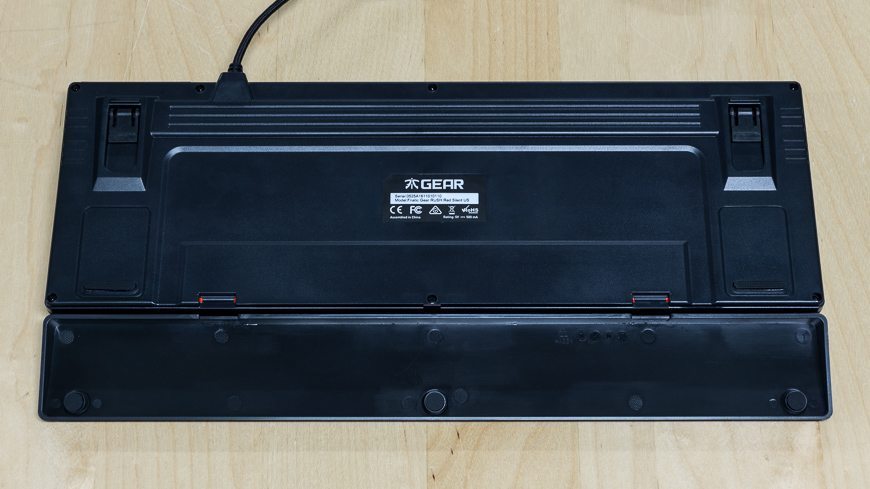 The Rush Silent's case pads aren't amazing. They are two tall, thin pads underneath front chassis. They appear to be weak in situations where shearing force is applied, so I'm not sure they would survive regular backpack time. No rear pads are present, which could result in scratches on sensitive desk surfaces. The wrist rest has large circular pads to prevent slip, so that passes. The flip out case feet is passable due to a rubber coating and reasonable thickness.
Fnatic Gear Rush – Switches & stabilizers
Switches
The Cherry MX Red/Pink Silent switches in the Fnatic Gear Rush surprised me. I've heard rumors that Cherry changed their tooling, and the whispers may very well be true. They're almost indistinguishable from Gateron Clears in terms of scratch, even with a higher 45 gram weight. If I'm feeling things right, the Cherries are just a hair scratchier. Higher QC levels make the minimal scratch worth it, though.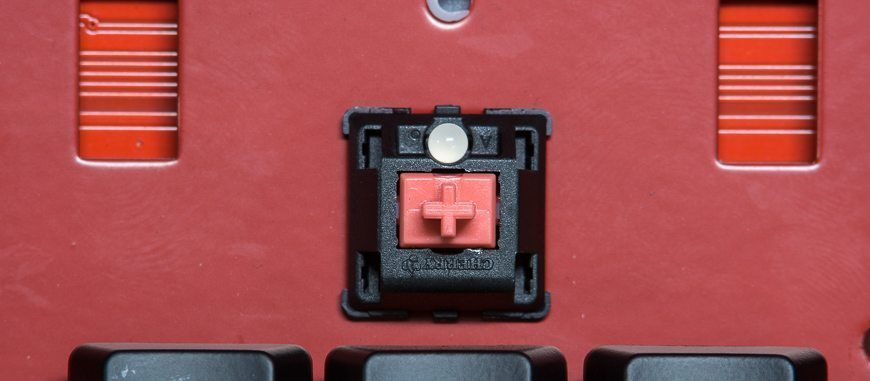 The silencing is impressive; it truly minimizes or prevents this mechanical keyboard from noises of all sorts. I expected a small decrease in noise level, but the Rush Silent is rubber dome quiet. It's disconcerting after daily driving clicky IBM keyboards, but I could see it being very useful in offices and shared spaces. Off-center key presses still result in a bit of bind when compared with Gaterons, but it isn't a scratchy sort of binding. It just feels rubbery. To sum things up, I am very pleased with MX Silent switches. These switches can prove to be excellent for those looking for a quieter mechanical keyboard.
Stabilizers
Keyboards from this OEM use Costar style stabilizers that have occasional issues with scratchiness, but this batch is smooth and properly lubricated. The design makes keycaps difficult to swap quickly, but Costar stabilizers preserve the natural switch feel of whatever keyboard they're placed in. Cherry stabilizers have shock absorbers that change the bottom out feel, though that can be altered with mods.

Fnatic Gear Rush G1 – Keycap quality
The UV coated or painted keycaps are common fare in the market these days, but that doesn't mean they're good. The coating on Fnatic's caps is fairly thick, so the legends probably won't wear off, but their smooth texture will show fingerprints and shine quickly. The caps are also fairly thin. A nonstandard bottom row means that finding replacements will be difficult. Frankly, the keycaps are the Gear Rush G1 Silent's worst showing. At least the font is reasonable…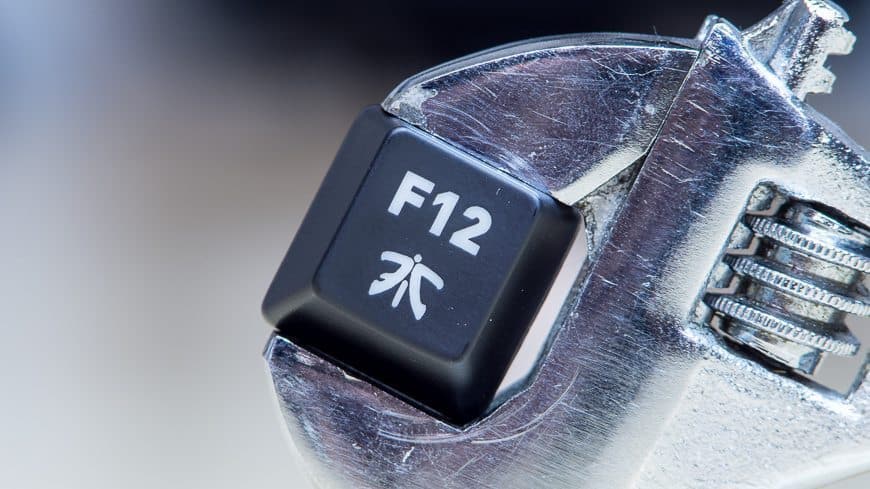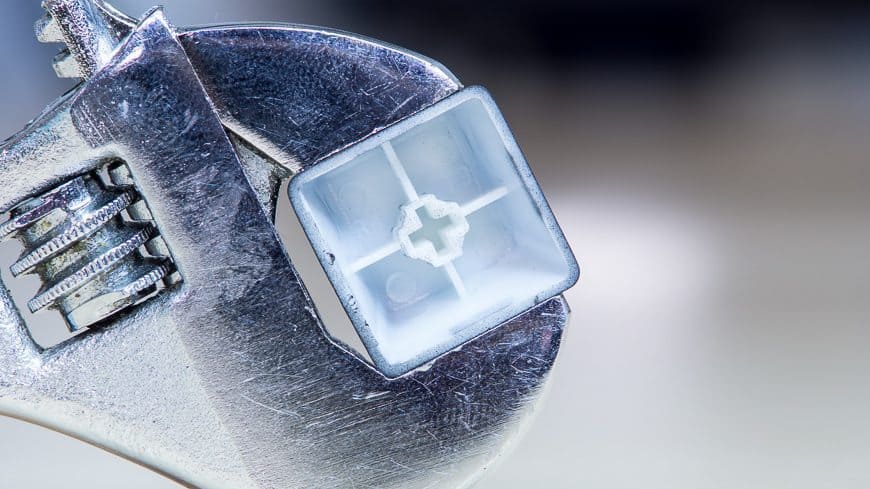 Fnatic Gear Rush – Features
LEDS
The Fnatic Rush G1 Silent has simple red backlit LEDs. Red is a good choice for dark rooms, as it is easy on night vision. The backlighting is even and all of the backlight levels are properly thought out. There aren't many steps (4 including off), but the lowest and highest steps provide a significant difference in brightness. I'm particularly happy with how dim the lowest setting is. There aren't any additional configuration options, though there is a breathing mode. The only issue with the backlit LEDs is some leakage around the USB ports.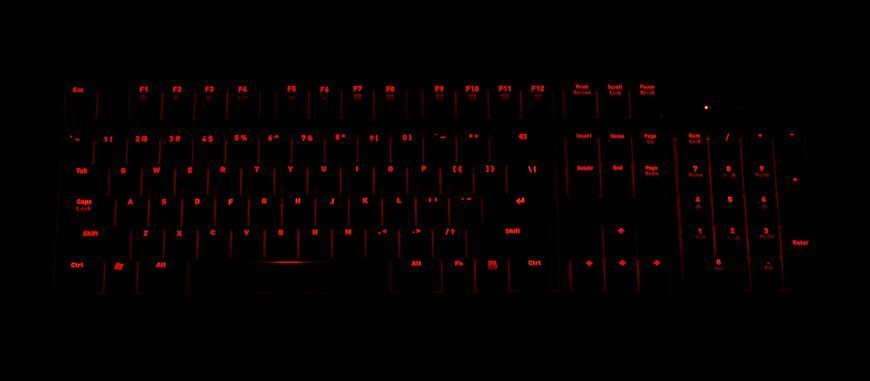 The keyboard uses 289 mA worst case, which is well within USB 2.0 spec.
Software
Fnatic's gaming software is very bare bones. The Gear Rush G1 can store a limited number of macros and key reassignments across 5 profiles. Keys can be directly replaced with a limited number of functions, and most of those aren't useful when gaming. You need to use macros if you want to remap alpha keys.

Spillproofing
There is essentially no spill proofing, though the wrist rest clip cutouts might allow some liquid to drain. It's quite probable that liquids will get below the plate and foul the PCB, so a full disassembly (including soldering) would be necessary if a sticky liquid made its way into the works. If water gets dumped on it, just unplug the cable quickly and leave it to dry.
Labels & branding
The lower label is properly plasticized, so it will withstand wipe downs with a wet rag (and dings during travel). The upper label is screen printed on top of the soft touch coating, which could reduce its resistance to scrapes and scratches. That said, it seems fairly durable. There aren't any major gaffes or quality issues present on the Fnatic Gear Rush – it's a quality mechanical keyboard.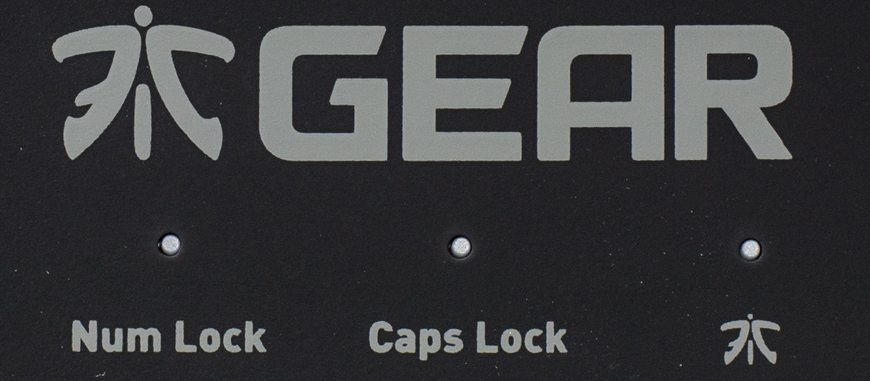 Editor's opinion
It comes down to one question. How many features are you willing to sacrifice for Cherry MX Silent switches? The features that the Rush Silent has are well implemented, but similar mechanical keyboards with different switches offer a myriad of options that this one doesn't. That being said, Fnatic is a growing brand and having one of these keyboards purely for the name wouldn't be a terrible choice.
If you don't mind the relative lack of extras and need something quiet, the Fnatic Gear Rush G1 Silent will meet your needs. It genuinely surprised me with its keyboard quality level. A design that proved less than adequate in a previous review keyboard from Tesoro showed excellent performance here with the simple addition of soldered switches. It even seems office appropriate, as it lacks the aggressive design and gaming-oriented font that some budget models display.
The USB hub makes it convenient in ways that its competitors aren't, and it's even bundled with a wrist rest. I think it's safe to say that this is the best sub $100 keyboard with Cherry MX Silent switches. The STRAFE, but it lacks dual USB ports and leans on a gaming design. It does, however, offer advanced configuration options in the LED and macro departments. If you need those things, the STRAFE is a better choice. Overall, this was an excellent mechanical keyboard to review. If you're looking for a silent quality mechanical keyboard for work or gaming, this could be the one. I recommend checking out the reviews on Amazon for good measure but we covered this mechanical keyboard thoroughly.
Feel free to leave your thoughts in the comments or on social media.
We rate mechanical keyboards on a 10 point scale. 10 is absolute perfection, 6 is average, and anything less is increasingly bad. The Fnatic Gear Rush G1 Silent scored a 7.2, which means it is a bit better than average.