Velocifire is an underdog in the mechanical keyboard market. They've been making low-cost mechanical keyboards for quite some time and I've had a chance to review some of them. Today, we're going to look at the Velocifire VM70 mechanical keyboard. As always, I'll do an unboxing and in-depth review of this mechanical keyboard.
Unboxing the Velocifire VM70 Mechanical Keyboard
The VM70 mechanical keyboard comes in Velocifire's standard packaging. Minimalist boxes please me for one primary reason: packaging is expensive. Complicated print jobs and folding operations generate costs that are passed on to the end user. Velocifire sidesteps those costs by keeping things simple, which leads to lower retail prices for their keyboards. It also gives the company more leeway to develop their product and/or use premium materials in it.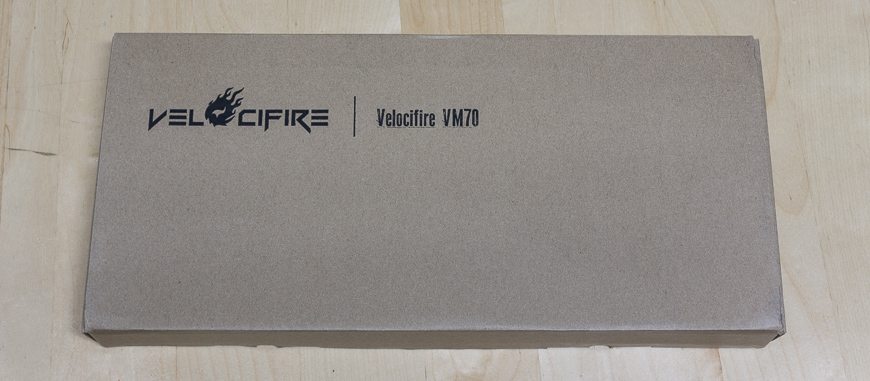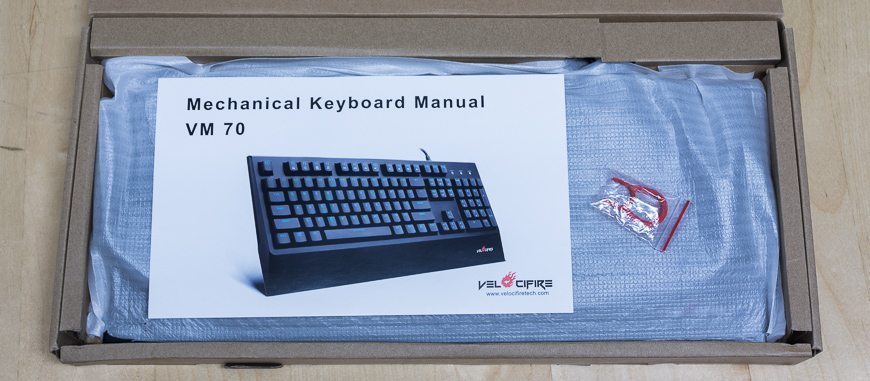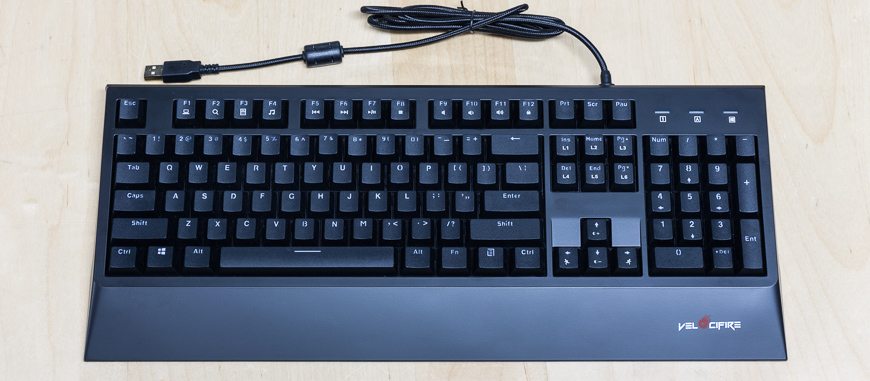 What's in the VM70? A plastic keycap puller and huge glossy instruction card reside in the box. The end of the keyboard cable has a cap, and the mechanical keyboard itself is covered with a foam bag. Not bad for a budget keyboard.
Build Quality
The Velocifire VM70 is a tank. It's heavy and it has a large footprint. The ABS plastic case is quite thick, hovering around the 2mm mark in most areas. I'm quite fond of Velocifire's construction habits, as they remind me of IBM Model M mechanical keyboards (though their style is very different).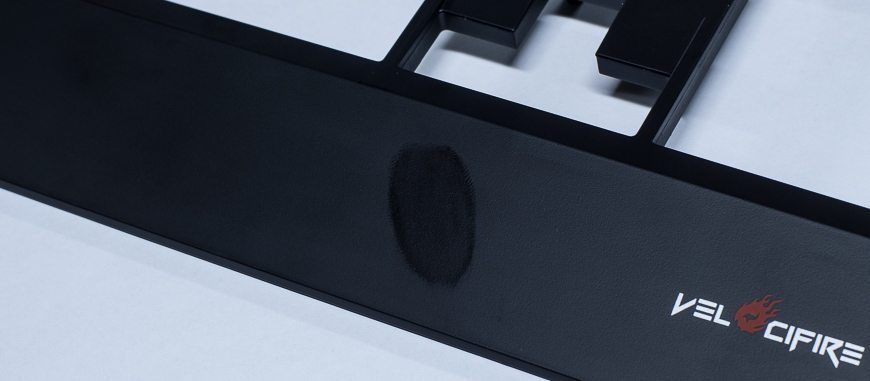 Unfortunately, the finish on the Velocifire VM70 is less than ideal. Its semi-gloss surface picks up fingerprints easily and holds on to smudges with shocking tenacity. The photo above shows a worst-case mark. In its favor, the finish is rather consistent and doesn't seem to have any blemishes. The Velocifire VM01 had less gloss in its finish, and it's unfortunate that it wasn't ported over to the VM70. The wrist rest, which has seen a size increase, will likely suffer the most from fingerprints and palm prints.
Even with its size increase, the wrist rest is rarely of use. If the Velocifire VM70 sits on the edge of a table (and I mean right on the edge), the rest can be used. It is still too small for gaming, though, and it interferes with third party wrist rests so badly that they are unusable. I think Velocifire should consider removing the massive protrusion from future mechanical keyboards. It takes up desk space without providing significant utility. The company could follow up by creating a separate universal or detachable wrist rest, resulting in additional sales.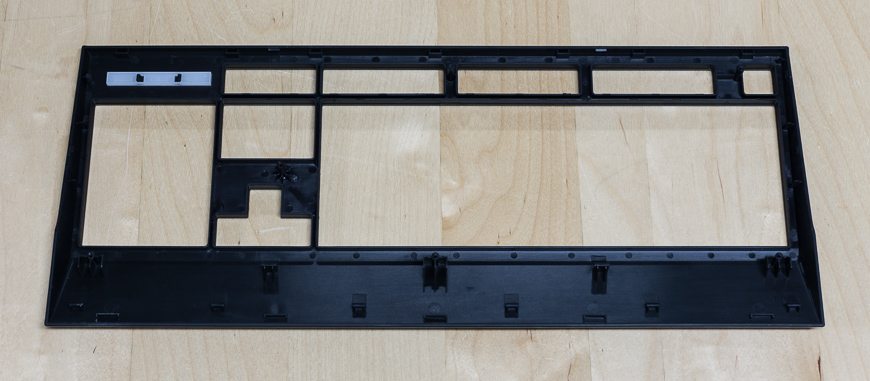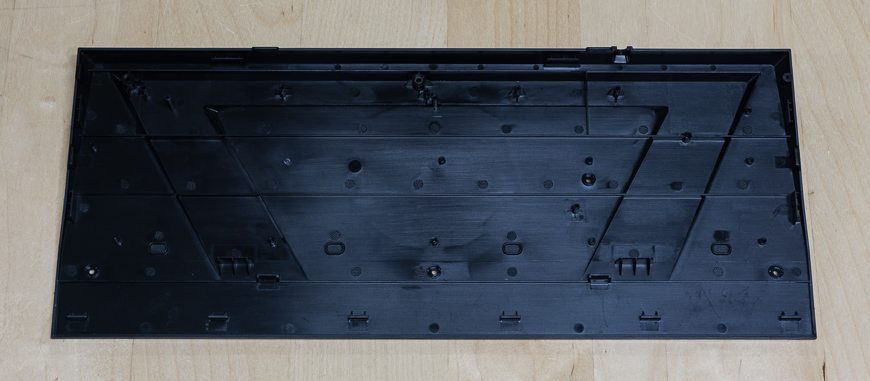 The case on the VM70 doesn't creak at all. Flex is minimal too, so the VM70's showings in terms of stability are great. High-density cases seem to be a specialty of this up-and-coming brand, so I'm happy to see that they've carried the trend over to their newest model.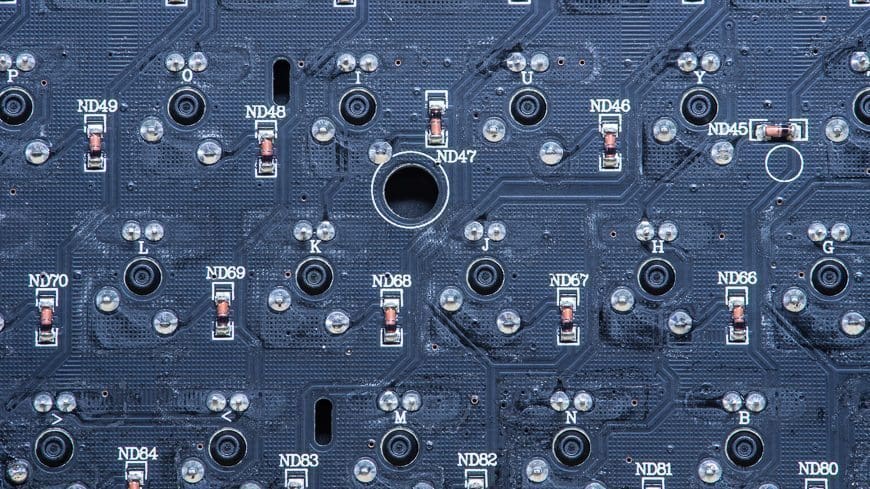 The VM70's PCB is well built and uniformly colored, but significant amounts of residue from the soldering process mar its aesthetic. I don't see any serious soldering errors. Its plate is 1.4mm thick and seems to be well painted. Its cable is braided. It has a gold plated connector, which will prevent corrosion, and a ferrite to reduce RF interference. Neither feature will have a huge impact under normal use conditions, but the additions are nice to see nonetheless.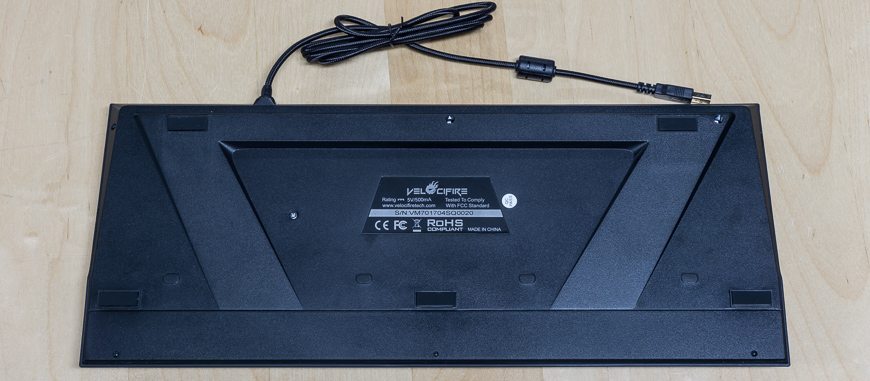 A number of reasonably large case pads are present on the bottom of the Velocifire VM70. They aren't textured, but that's alright. There aren't any fold out feet on this mechanical keyboard, though, which is a carryover from the VM01. It also appears that cutouts for the feet were filled in, but the thin lines are on the bottom of the keyboard so it's inconsequential. That might be a dealbreaker for some people, but it's actually more ergonomic to type without fold out feet deployed. In my opinion, that makes their absence a wash.
Velocifire VM70 – Switches & stabilizers
Switches
The VM70 features standard Cherry MX Blue switches. This review model has two variants in it. One features a standard font, but the other has a somewhat poorly sculpted logo. It's still a legitimate Cherry, though. I confirmed it on Deskthority. Our best guess is that they were used as a stopgap when transitioning to new tooling. I'm not too fond of Blues personally, but I understand why other people might enjoy them. They're smooth enough, so long as you don't take the tactile point into account, and behave well if you type on them aggressively. Off center presses result in rubbery feeling binding, much like other Cherry switches I have used.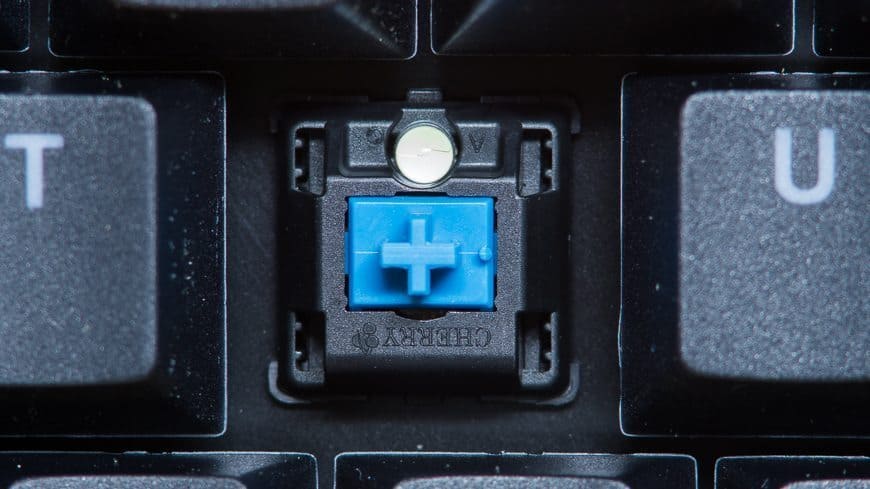 The biggest issue I have with MX clicky switches involves their rattly, high pitched sound. Pretty much every design based on MX clicky switches shares that element, so be sure to listen to a few typing videos before selecting a keyboard with Blues, Greens, or their equivalents.
Stabilizers
Velocifire uses Cherry clone stabilizers that seem to perform well. They tend to be slightly loose in the plate, and that's the only potential downside. I didn't feel any issues related to that slight slop, so they pass with full marks.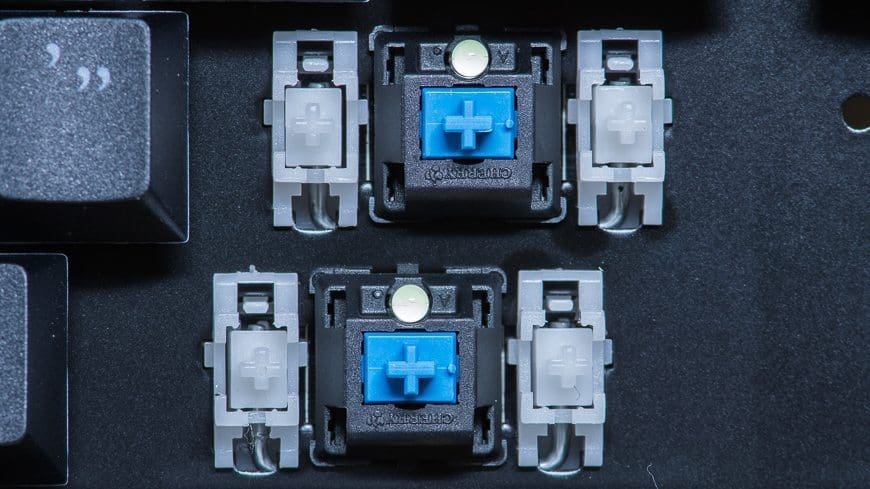 They also seem to bottom out a bit harder than brand name Cherry stabilizers, which is nice.
Keycap quality
Velocifire's keycaps are pretty great considering its pricing. They're decently thick ABS doubleshot keycaps. The font isn't perfect, but it is significantly better than most other keyboard fonts in the budget market. Velocifire's cheaper keyboards, the VM01 and TKL01, are practically worth buying for their caps. Even if you want to replace them, the standard bottom row makes it easy.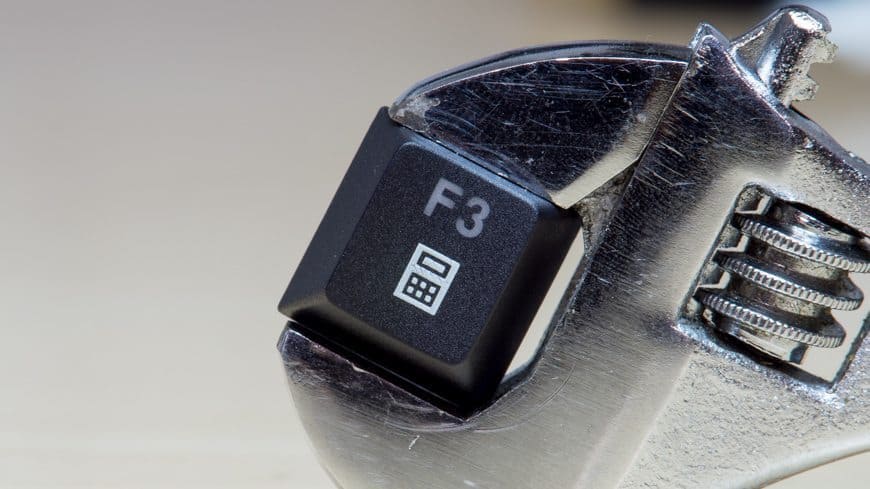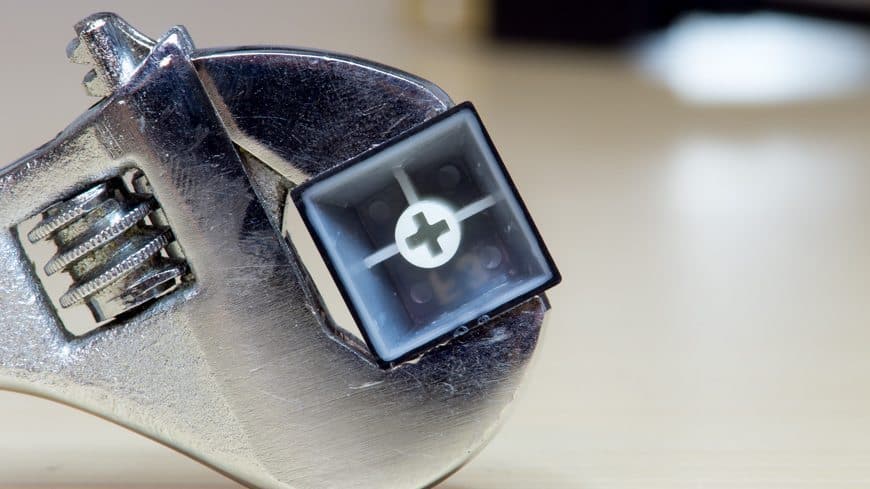 The caps do have a few downsides, though. They'll get shiny over time and their pad printed legends might wear off. You'll also run into translucent plastic rims (flashing) on the bottom of the keycaps. I'm guessing that Velocifire or its supplier avoided removal procedures to keep costs down.
VM70 – Features
LEDS
The Velocifire VM70's backlit LEDs are bright and relatively even. The photo below shows them at their lowest setting, so that's as uneven as they'll get. Only a few keys on the numpad have legends that lack LED coverage. Velocifire also implemented four brightness steps, or five including off, which is a pleasant improvement over their previous models. And, in another great move, the mechanical keyboard remembers its previous backlight setting when it is unplugged or power cycled.

It has essentially the same backlighting effects as the VM01. Ripple, breathing, and a few other flashy tricks are up its sleeve. I'm surprised that it includes some basic on/off programming capabilities. You can enter a programming mode for backlighting mode 5 by hitting Fn + End twice. The lock lights will flash rapidly to indicate that it's active. Press Fn + the keys you would like to turn on or shut off, then terminate the mode by pressing Fn + End again.
Worst case power draw was measured at 197 mA. That's well within USB 2.0 spec, so no issues should arise.
Spillproofing
There really isn't much going on in terms of spill proofing. No drain ports are present on the bottom, but the use of non-SMD LEDs adds a bit more resistance than previous Velocifire offerings. Water won't immediately have access to the bottom of the PCB. Still, though, you should take spills seriously. Unplug your mechanical keyboard immediately and expect to take it apart for cleaning. Sticky drinks, as usual, will be more of a pain to deal with.
Macros & Fn layer
The macros and function layer on this mechanical keyboard are pretty average. A few media keys and assorted shortcuts line the top of the keyboard. The only standout, which is common in Velocifire models, is the Calculator button. It isn't something most users need on a regular basis, but some people could find it useful. What you see is what you get.
Labels & Branding
Velocifire's pad printing is typically okay, but the branding on the VM70 is a bit of a letdown. The silvery white text is okay. The ball of flame, on the other hand, lacks saturation. It looks as though an opaque, gray plastic was used to seal it. I doubt that is actually what happened, but it gives a good mental image of its appearance on the VM70.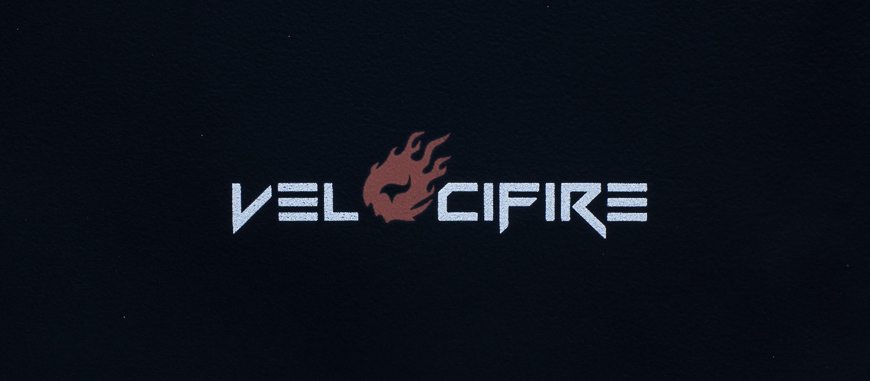 The rear label is well made and pretty much on-center. It is also plasticized, which will mitigate harm from light dings and wipe downs with a wet rag.
Velocifire VM70 – Editor's opinion
The Velocifire VM70 is one of the cheapest full-size keyboards with Cherry MX Blue switches on the market. That would typically require sacrifices in terms of features or quality, but in this case, there are remarkably few issues. Some sub-optimal decisions were made, like the fingerprint prone finish, but I would be willing to overlook those problems due to the keyboard's value proposition and price.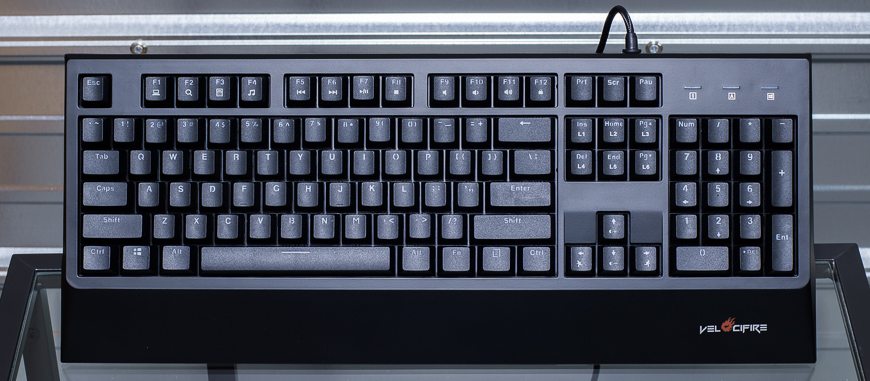 Other options in the budget market tend to have terrible keycaps, nonstandard bottom rows, flimsy cases, or any number of other downsides. The VM70 mitigates or solves those issues while offering backlighting, Cherry switches, and some serious heft. Velocifire did an excellent job with the VM70 mechanical keyboard and I would say it is an easy buy for any setup. I recommend it if you're looking for MX Blue switches on a budget. You could upgrade to a metal case or find a mechanical keyboard with programmable firmware, but it's hard to argue with this one if you simply need a workhorse to throw around at home. That concludes my review of the Velocifire VM70 mechanical keyboard! Velocifire has been stepping up their keyboard game with the VM70, and at this rate will be a top player in no time.
If you have any questions or comments, feel free to leave them on this page or social media. We're also interested in seeing some photos of your keyboards.