HAVIT HV-KB389L RGB review
Net 2.6 lbs, 18 x 8 x 1.6 in.
Side RGB Lighting = Amazing
RGB Backlighting
Routable USB Cable
Kailh Brown Only
Backlight Hotkeys Confusing
Plastic Body
Buy on Amazon
Read user reviews
The HAVIT HV-KB389L RGB mechanical keyboard is the latest and greatest keyboard from upstart HAVIT. We've reviewed both the 366L and 378L in the past with the 366L being one of our favorite cheap mechanical keyboards. As you can see, I'm very familiar with HAVIT and am very excited to review this mechanical keyboard.
The HV-KB389L is similarly a full-sized mechanical keyboard, but the style of it is what really sets it apart. As with all of our mechanical keyboard reviews, we'll start by showing you the hands-on unboxing of the keyboard an then move on to the actual review.
HAVIT HV-KB389L RGB Unboxing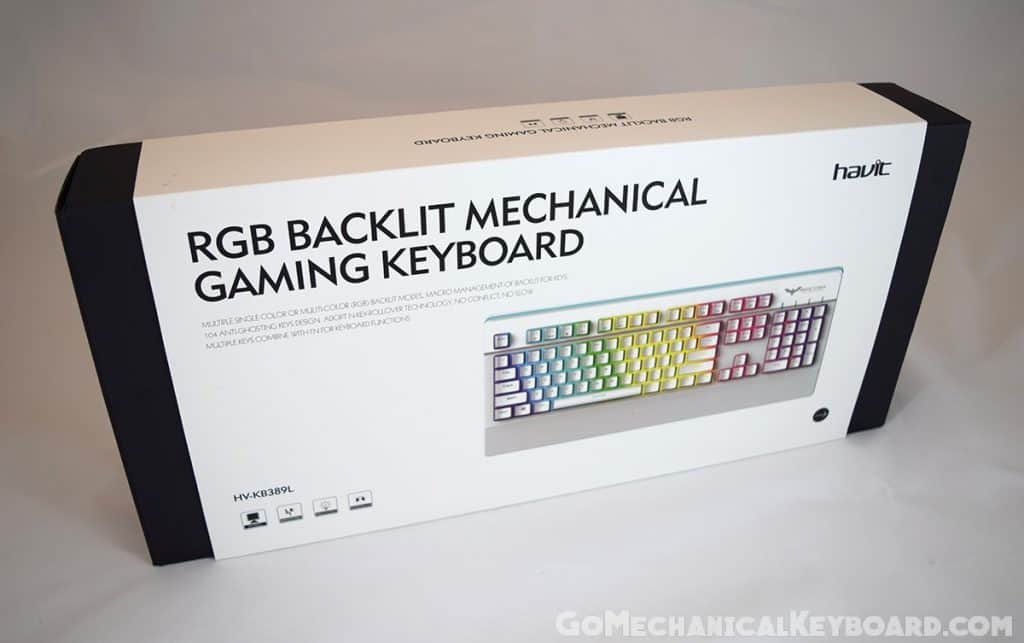 The HAVIT packaging seems to be standardized across all their keyboards now, and the boxes look pretty good. All the features are laid out on the front and back of the box.
The HV-KB389L RGB comes with the keyboard, a keycap puller, and instruction manual.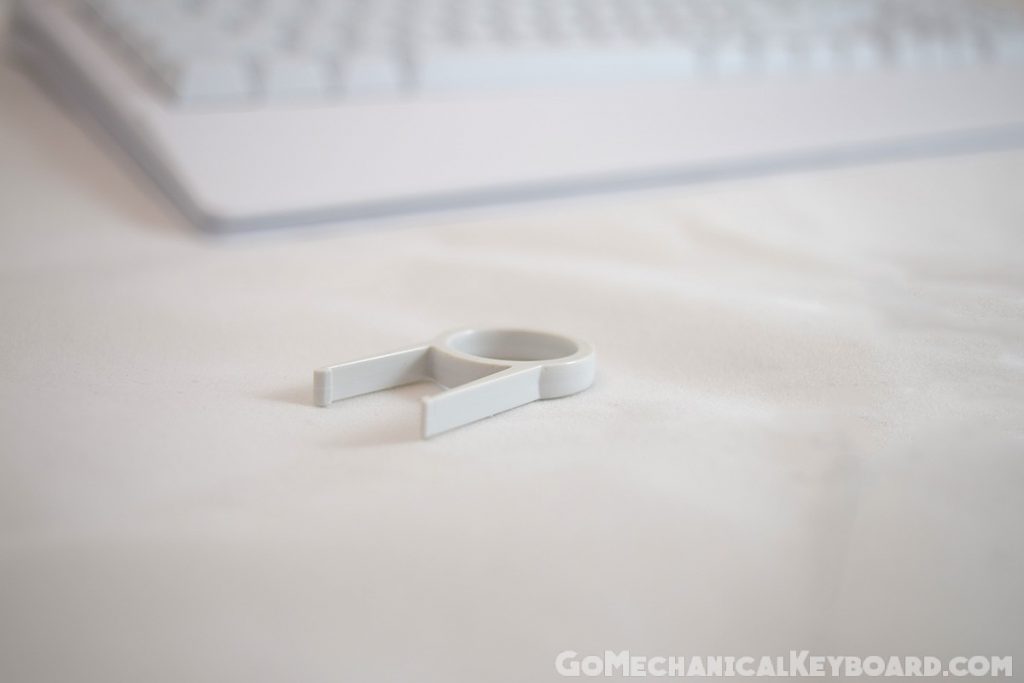 Here's a first look at this beauty out of the box. The all-white design is unique for a mechanical keyboard; most that you see today are largely black. We've put together a list of the best white mechanical keyboards, as some people look long and hard for a white keyboard like this.
This keyboard would pair nicely with any Apple products you have around, making it a great keyboard for a Mac.
The icons on the keys that indicate secondary functions like the media hotkeys and backlighting control seem to be a bronze/silver kind of color that also looks great.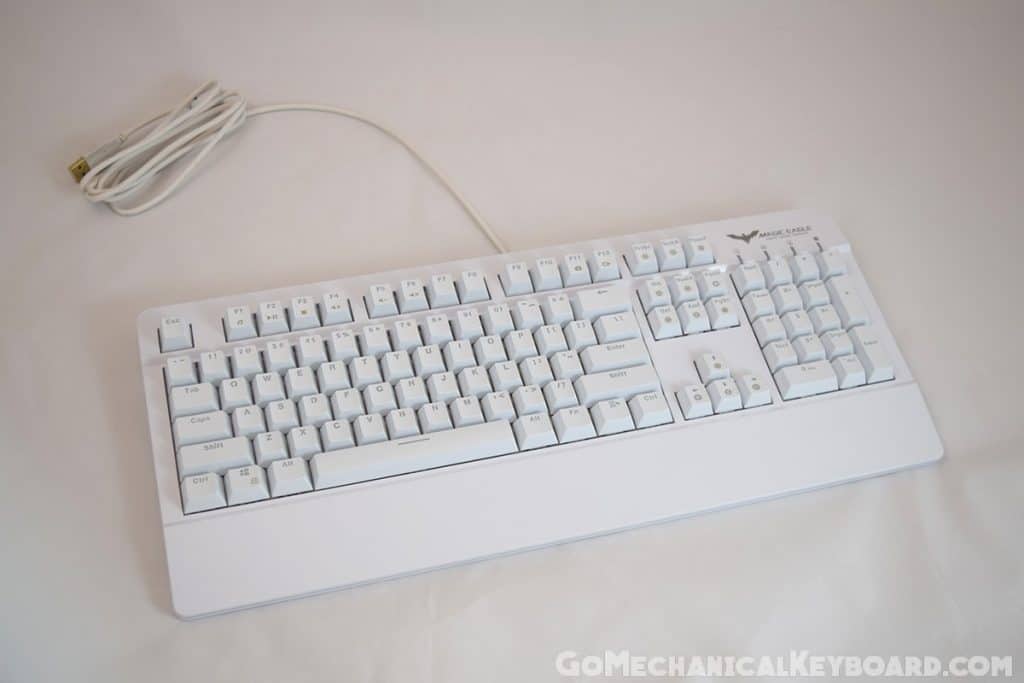 From the side, you can see this keyboard is pretty sleek and has a slight ridge to the bottom of it. The profile of the keys are slightly inclined in a standard fashion.
What you may notice about this side angle is the tapered clear plastic that runs between the white top and bottom. Hold on for another minute, we'll come back to that!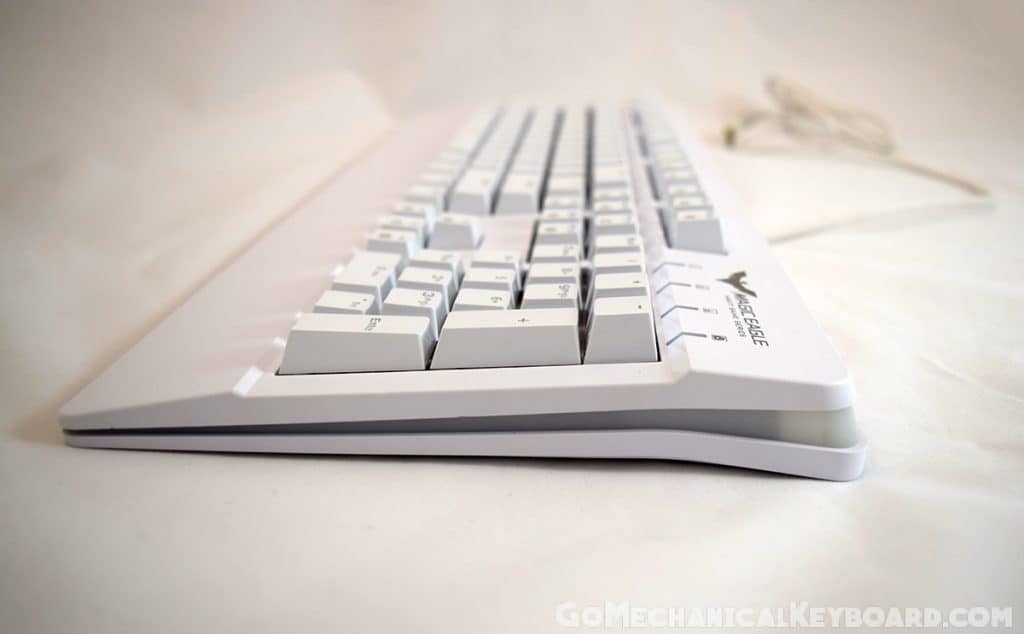 On the bottom of the keyboard you can see the USB cable is not detachable, but it is 3 way channeled to suit your desk setup. The rubber pads do a good job of preventing slipping.
If you're the type that uses the kick-out legs on your keyboard, you've probably had an experience where the keyboard slides all over with the legs out because there isn't sufficient rubber padding on the legs to prevent it. That certainly won't be the case here, as grey rubber covers most of the legs.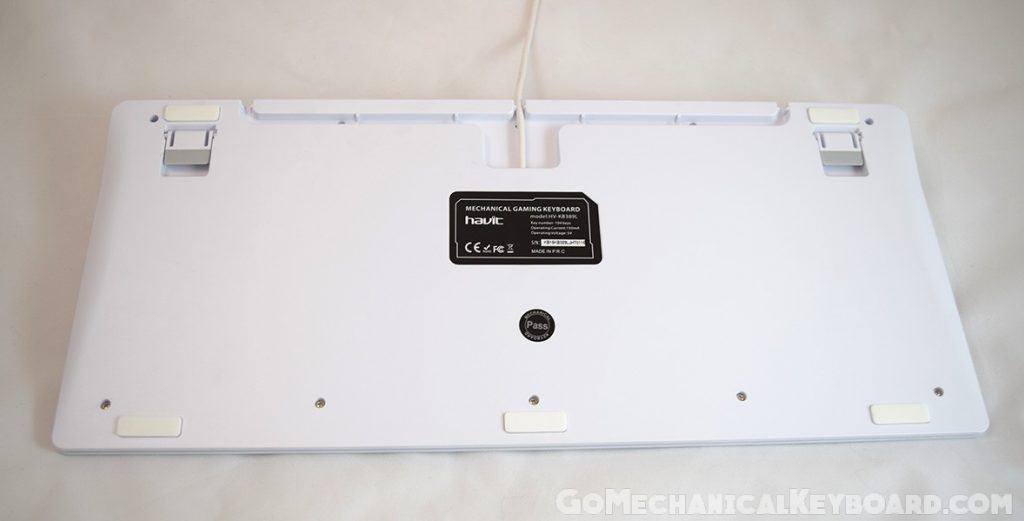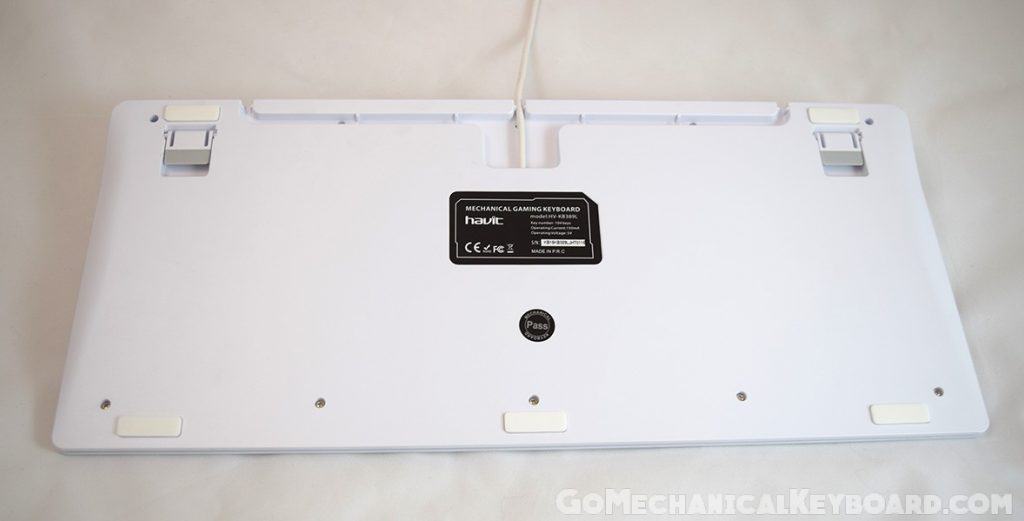 Havit HV-KB389L RGB Backlighting Review
Now, for the section you're probably most interested in. Not only does this keyboard have RGB backlighting under the keys, but it also has RGB backlighting along the sides of the keyboard the entire way around!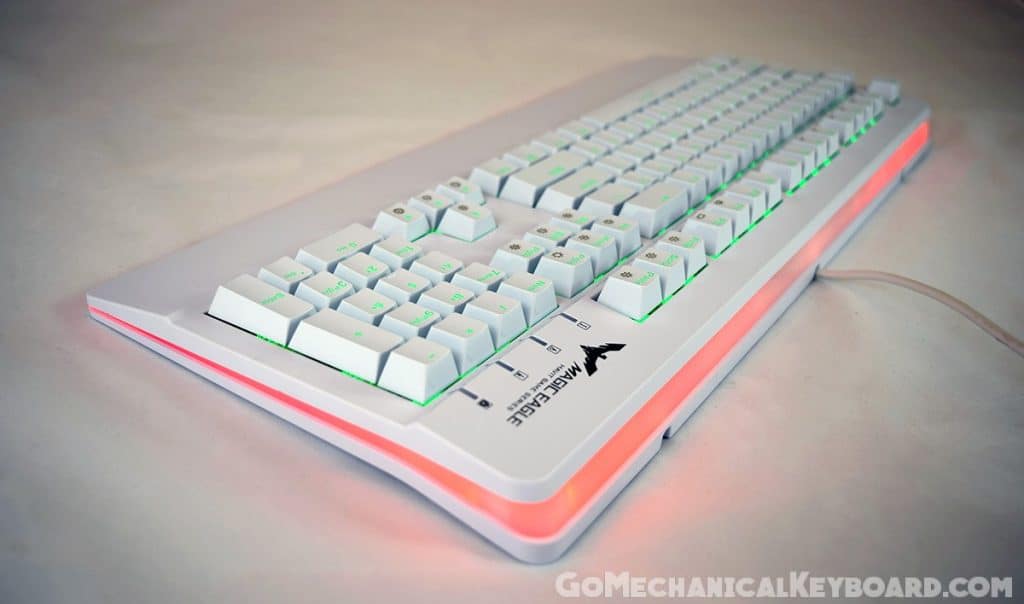 You can operate the side lighting independently of the backlighting to make for some awesome color schemes.
Here's a look at the thin lip that is lit all the way across the front of this keyboard.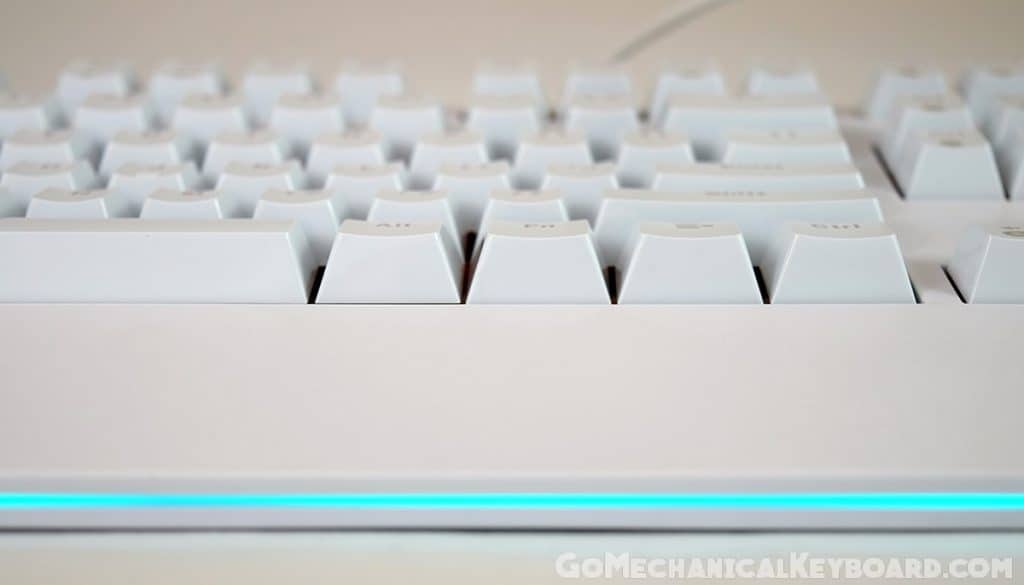 You'll also notice that the HV-KB389L has a kind of "wrist rest" almost built into it that gives it a deeper footprint than you'd normally want in a mechanical keyboard. If that's the price you have to pay for such great side lighting, it's well worth it in our opinion.
While the side lighting will draw a lot of your attention, it's also worth noting that the backlighting is just as beautiful as any RGB keyboard HAVIT has put out.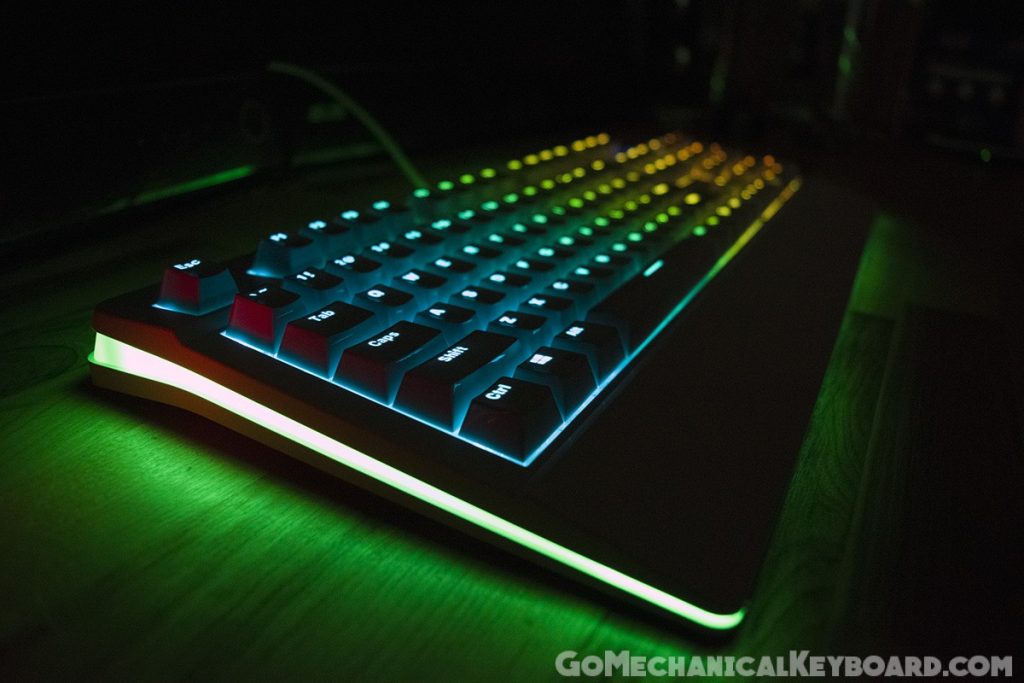 How to Change the HV-KB389L Backlighting Settings
The instruction booklet that comes with this keyboard does a pretty good job at describing how to use the backlights, but we'll give you a run down so you know what to expect. Everything is pretty straightforward if you read the instructions instead of trying to figure it out only looking at the key icons.
Custom Backlighting
The HV-KB389L allows for 3 different custom backlighting profiles that you can access by press Fn + 1/2/3.
Once you're on a profile, press Fn + F11 and your indicator lights (caps lock, scroll lock, etc) will flash rapidly, meaning you're in programming mode. Press each key to set it to the color you'd like for it to be. The different colors are- green, blue, yellow, white, red, purple, aqua, and off.
Once you're done setting the key colors, press Fn + 11 again to save it.
Adjusting Backlighting Brightness/Speed
By pressing Fn + left arrow or right arrow, you can slow down or speed up the animation of the backlighting, where applicable.
By pressing Fn + down arrow or up arrow you can decrease or increase the brightness of the backlights. There are 4 different brightness levels and off.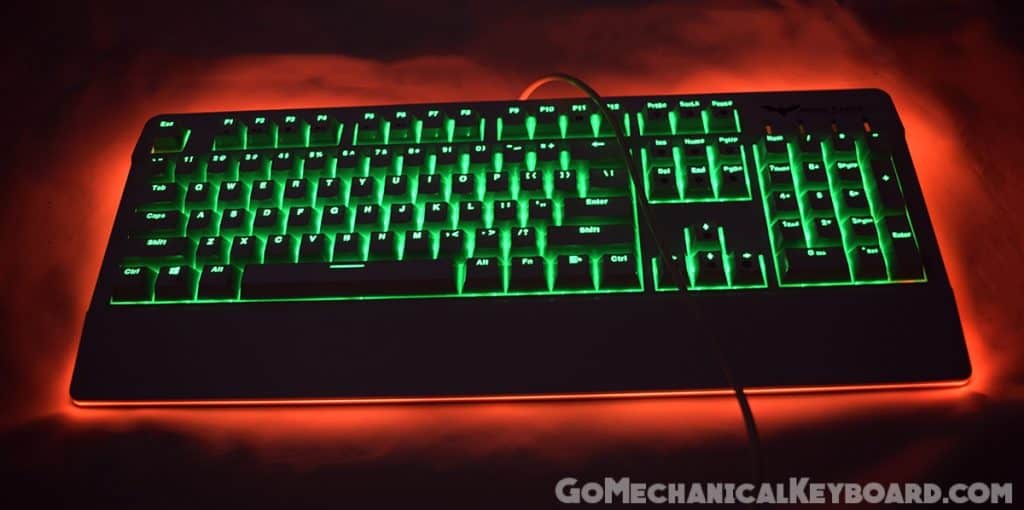 Interactive Backlighting Modes
There are four different interactive backlighting modes you can choose between by pressing Fn + Insert.
The first is a "on-click key lighting" mode. This means when you press a key, it will light a certain color. The color choices are any of the 7 listed earlier, or "random".
In this mode, you can also change the "default" state of the non-pressed keys to be off or any of the 7 colors.
The 2nd interactive mode is a ripple effect. After touching a key, a "ripple" of light will flow across all the other keys. You can choose multi-color mode by pressing Fn + Print Screen, which will put a spectrum of color across the keys with red on the left side, moving over to purple on the right.
You can also set this mode to be a specific color by pressing Fn + Scroll Lock.
The 3rd interactive mode is "on-click zone lighting". This mode has all the same settings as "on-click key", but a small zone of keys will react to the touch instead of just one.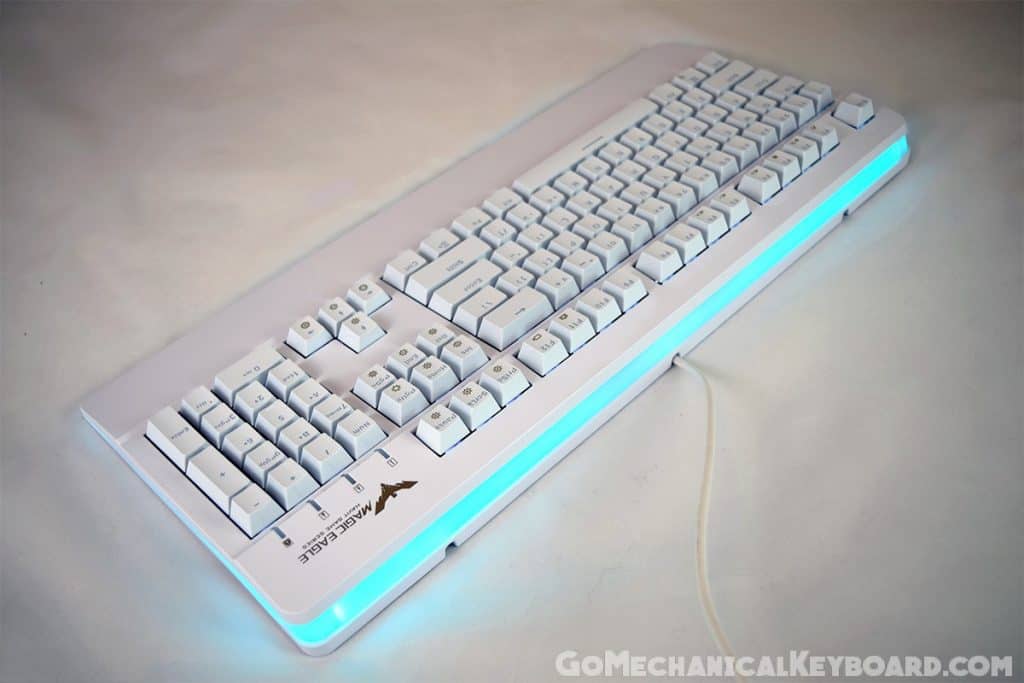 The 4th interactive mode is "typing seed" mode. In this mode the keys will start out backlit blue, and then adjust to the color red as you type faster. When you stop typing, the keyboard will "cool down" back to blue. This is a pretty neat feature and one we haven't seen in another keyboard thus far.
Breathing Backlighting
By pressing Fn + Home, you enter "breathing mode". The backlights will fade in to one color at max brightness, then fade out to off, then fade back in to the next color in a loop. By pressing Fn + Scroll Lock, you can have it pulse one color continuously.
You can press Fn + Page Up to enter an "always-on" mode. In this mode, the keyboard can shift between the 7 different colors without fading to off in between. If you want the backlights to remain on a static color, you can press Fn + Scroll Lock.
Change Side Lighting
To change the side LED lighting, you can press Fn + Page Down and it will cycle between the 7 colors. You can also cycle these colors by pressing Fn + Scroll Lock after you press Fn + Page Down once.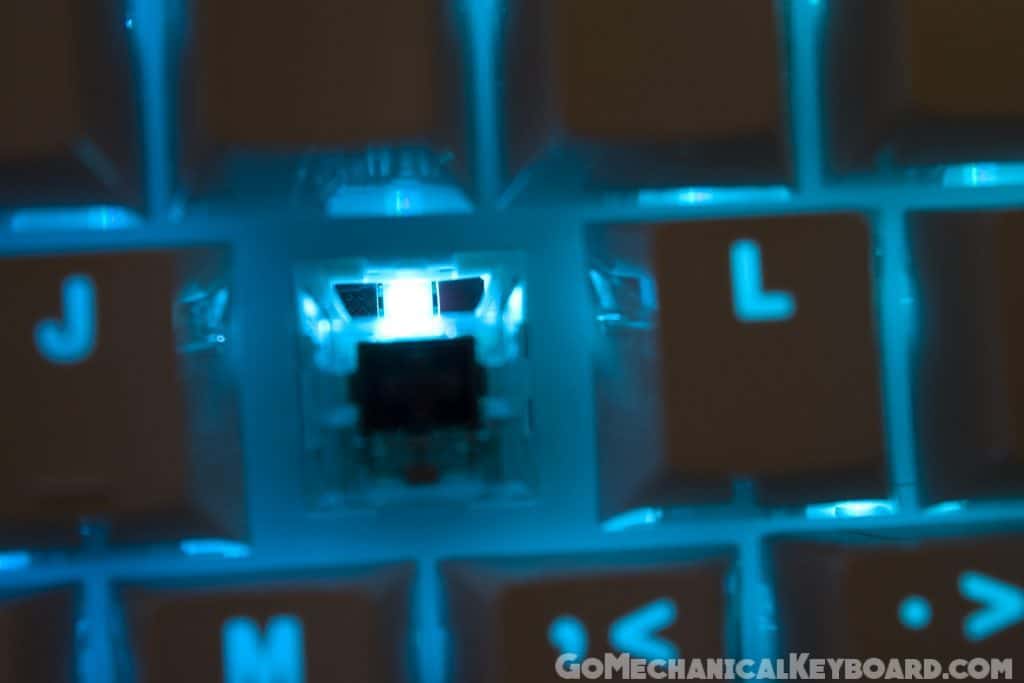 After pressing Fn + Page Down, you can send the side lights into a "breathing mode" by pressing Fn + Print Screen. This will have the side LED lights breath between the 7 colors fluidly.
Backlighting Wave
To set the backlighting to do a rainbow wave across the keys, press Fn + End. This can be changed from rainbow to one static color by pressing Fn + Print Screen or Fn + Scroll Lock. You can also pause the wave by pressing Fn + Pause.
Havit HV-KB389L RGB Keys and Switches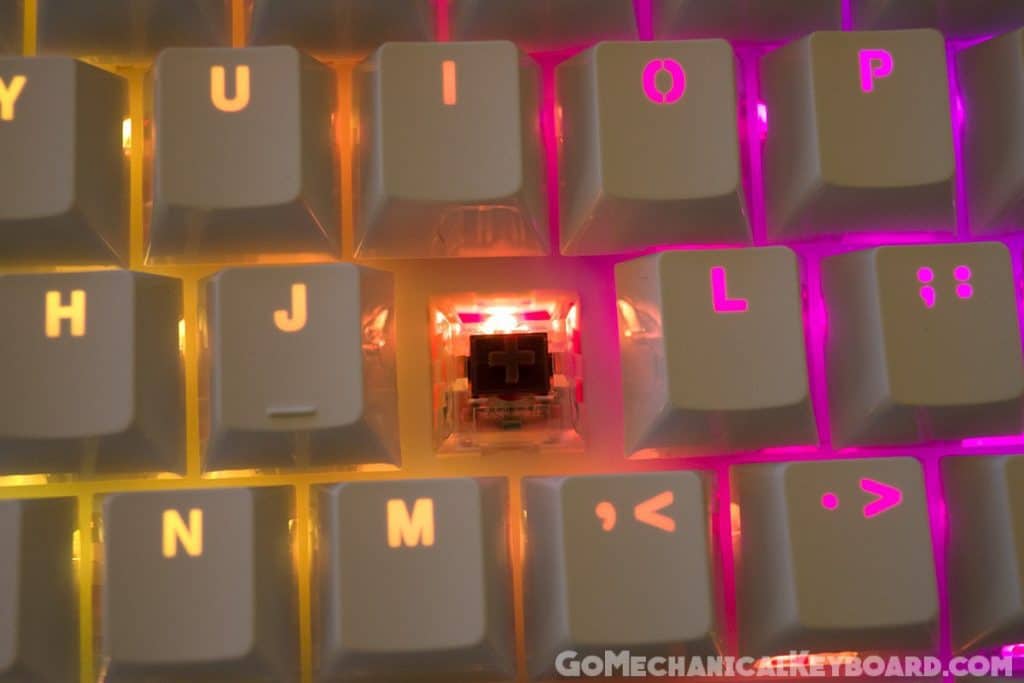 If there's one area this keyboard comes up a bit short on, it's that they only offer it in one switch type – Kailh Brown. HAVIT has used Outemu Blue switches for their other keyboards we have reviewed which seemed great in our testing.
While Brown switches are the most popular switch type along with Blue, some people just don't like the feel.
The keycaps are doubleshot plastic and feel very well-made. The font used on the keys appears to be a toned-down version of what they used on the HV-KB378L, and we strongly prefer the font used here. It's not as bold, more rounded, and overall smaller so it doesn't feel like it's over the top.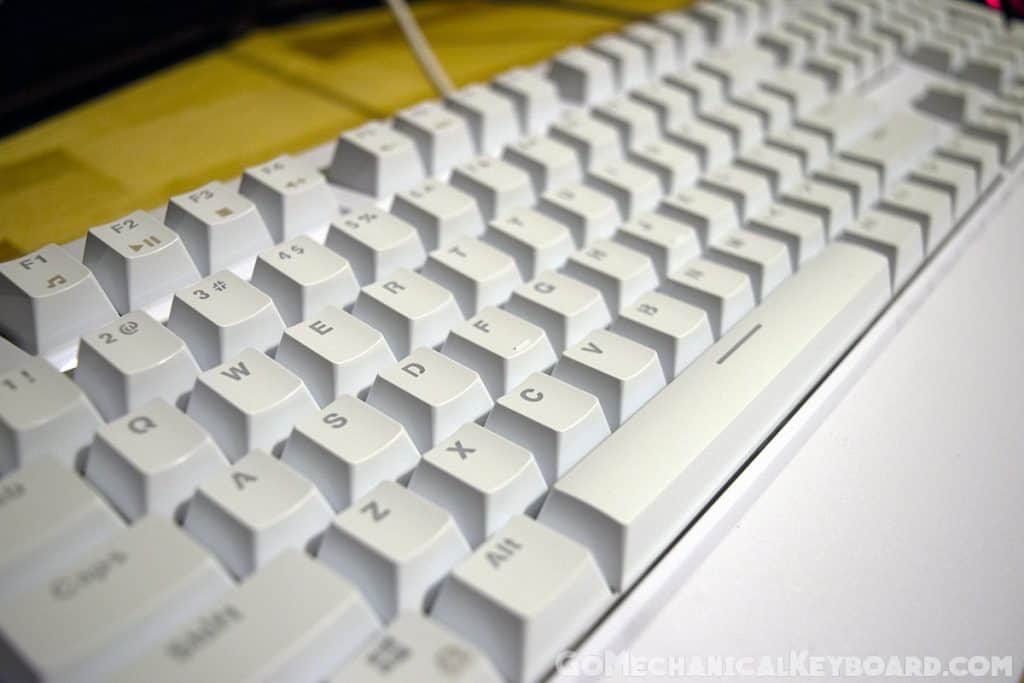 Here's a close-up shot of the navigation keys that show the bronze coloring of the Function indicators. The icons on these navigation keys aren't particularly helpful for figuring out what they do or how they adjust the backlighting in most cases.
You'll notice by the indicator lights that this mechanical keyboard does have a "Windows Lock" mode which is very common among gaming mechanical keyboards nowadays. You can enable and disable the Windows key by pressing Fn + Windows Key.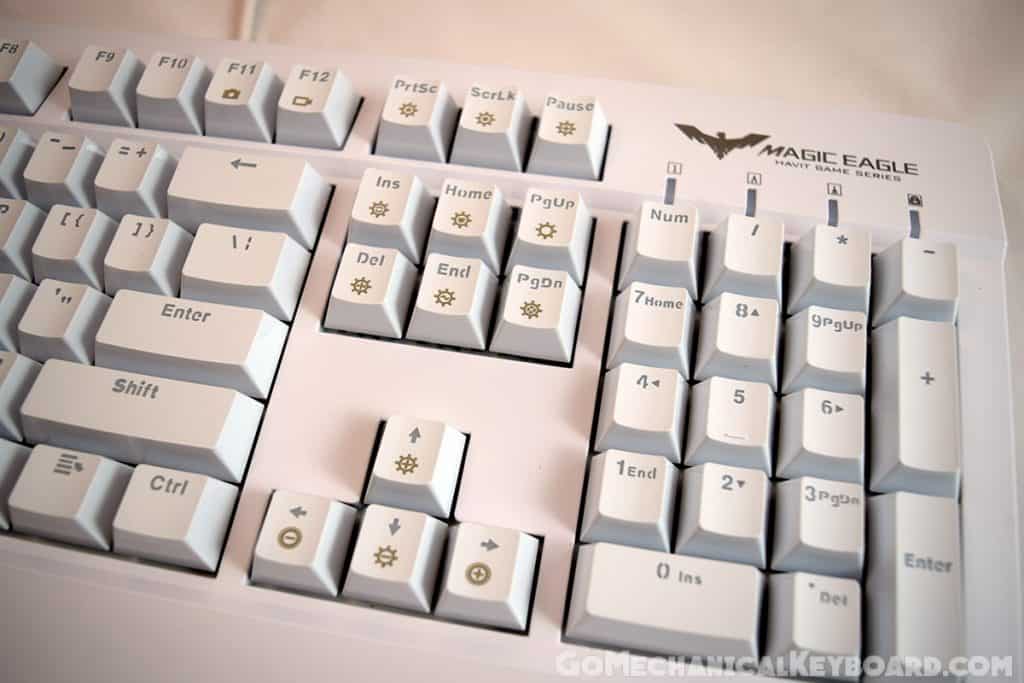 Here's a typing test of the HV-KB389L in action at 103 WPM. The keys sound pretty nice, though as often is the case with Cherry MX keyboards, the spacebar can sound somewhat jarring.
HAVIT HV-KB389L RGB Mechanical Keyboard Overall Verdict
Overall, this keyboard is amazing. We loved the HV-KB366L for delivering a great RGB backlighting keyboard at a cheap price, but this offering from HAVIT takes it to another level. It's hard to imagine someone wanting an RGB keyboard and not thinking the side LED in this keyboard in a wonderful feature. One of my favorite things with the HAVIT HV KB389L is its sleek white design and key layout. Definitely something refreshing and new relative to most other mechanical keyboards.
There are two main drawbacks that might turn people off from this keyboard. One is its footprint is a bit bigger than you might want with the strange protrusion of plastic coming from the front of it. The 2nd is it's only available with Kailh Brown switches. While in our testing, the switches performed great, but it'd be nice to have a choice in the matter.
For the price, this keyboard is an absolute steal. This keyboard will instantly jump to the number one spot on our best cheap mechanical keyboard list, though it's only available as a rebrand now.
Buy on Amazon
Read user reviews