After seeing how popular MX Cherry Clear switches are from our mechanical keyboard survey, I decided I needed to add some Clear switches to the stable.
After some research, I ended up deciding on the WASD V2 87-Key Custom mechanical keyboard. I had been using a Das Keyboard 4 Professional with Cherry MX Blue switches, so this was a change on several different levels.
Here's a breakdown and review of my experience with the WASD V2 mechanical keyboard.
Ordering the WASD V2 Keyboard
The cool thing about ordering a WASD Custom keyboard, is you get to set it up just the way you want it, right out of the box. This is great for someone like me who uses DVORAK, and doesn't want to go through the hassle of putting O-rings on keycaps again!
If you're unfamiliar with WASD, they focus purely on custom mechanical keyboards and keys. WASD is all about custom and has been getting keyboard enthusiasts excited with their line of custom keyboards.
You can also customize the color of each individual keycap to whatever you please. WASD currently offers 21 different colors. I'm not thrilled with how my key color design worked out, but that's on me for making a bad selection.
Below is what I ended up designing from the WASD site, with Cherry MX Clear switches and Blue O-rings.

WASD's support crew was quick to respond with an estimate on shipping time. It took them 2 days from when I placed my order to the shipping of the keyboard, which seems very reasonable to me.
The WASD V2 Custom Keyboard Arrives – The Review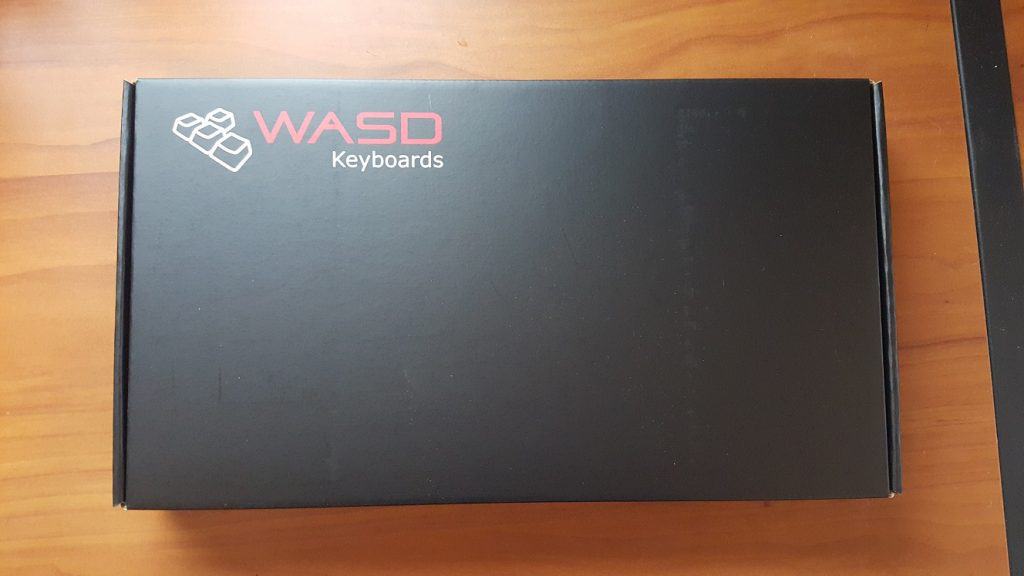 The package arrived safely with everything packed together nice and tight.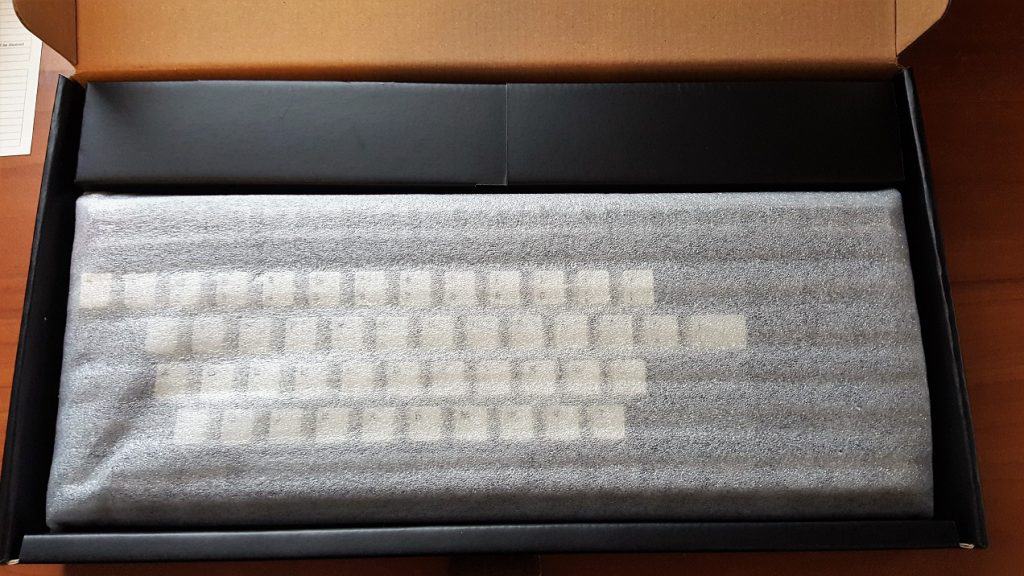 And fully unpacked…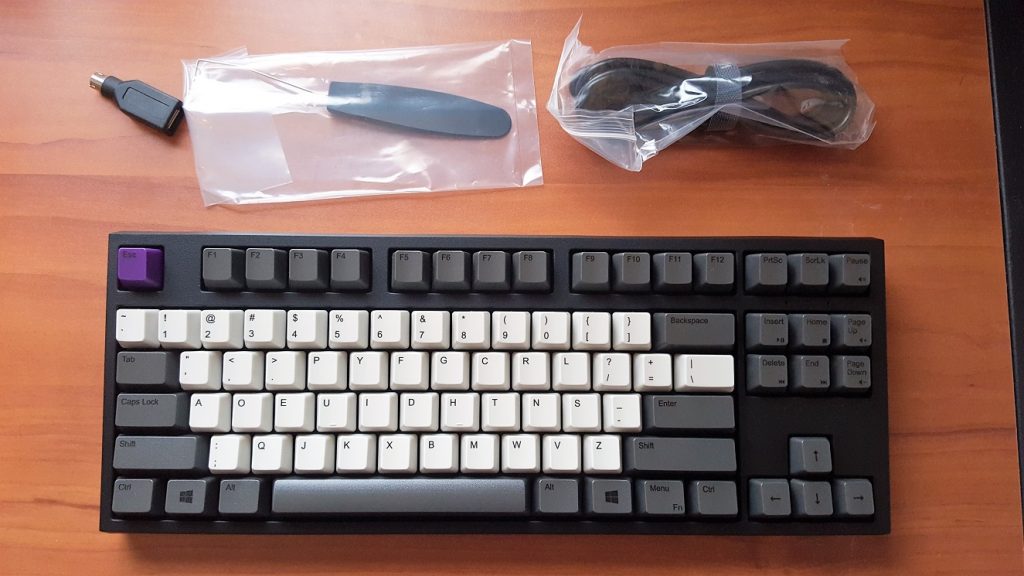 As you can see, included are the tenkeyless mechanical keyboard, detachable USB cable, keycap puller, and USB to PS2 converter. Again, I don't love the keycap colors I selected but they fit the non-flashy look I wanted. Flipping the keyboard over, you'll find a 5-way cable routing system and 6 pins to set different modes on the keyboard.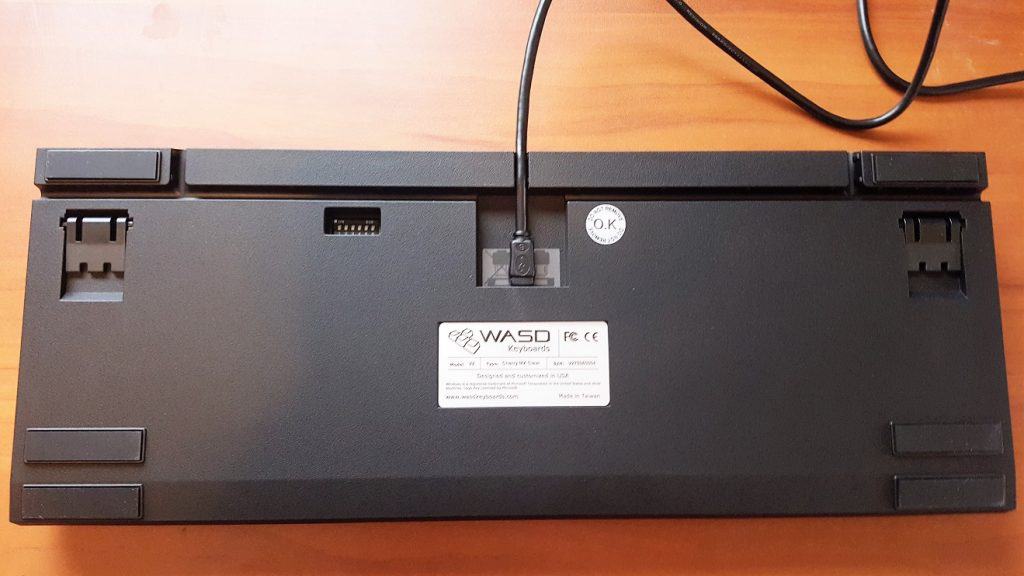 The Good
There's a lot to love about the WASD v2 custom mechanical keyboard. For one, I find the Cherry MX Clear switches very much to my liking. Coming from Blue switches, you can really feel the extra force needed to activate the Clear switches, and it first it seemed a little tiring. After ~20 hours on this keyboard though, I can't say my fingers or hands actually feel more tired or overworked as a result.
Typing on these switches feels like a dream, I find without the clicks of the Blue switches it's actually easier to concentrate. As far as gaming goes, I find the Clears pretty easy to play on, though it seems like I did get a few accidental double-taps, that could just be from me getting used to the new switches.
Clear switches are not clicky the way that Blues are. I would actually have no issue taking this keyboard into work, I don't think I'd have any complaints about the noise. Whereas with my Blue switches, even with O-rings, I wouldn't dare for fear of being lynched.
The build quality on the WASD custom mechanical keyboard is top notch. Though it doesn't have the sleek aluminum chassis of the Das Keyboard, it still feels very solid to the touch. Without a doubt this is helped by the 6 big rubber pads on the bottom of this keyboard, so you'll never have to worry about it sliding around.
The compact nature of this WASD custom keyboard is also great, not just from the tenkeyless form factor but also because there's so little room around the edges. No branding or logo to be seen for a very minimalist appearance. Most of the WASD custom mechanical keyboard lineup has this sleek minimal look to it.
The Bad
The first issue I have with the WASD V2 keyboard is pretty specific to my workstation and likely won't affect many others, but I'll delve into it anyway. I use a button to switch between two PC's, with my mouse and keyboard feeding into the switch. Apparently, this removes the ability to use the Function media shortcuts, which is a huge bummer. When my Das Keyboard plugged into the switch, the dedicated media buttons worked fine so this was a bit of a surprise.
The 2nd issue I found with the WASD custom keyboard, is the built-in angle of the keys is too steep for my liking. You can see that even with the keyboard legs flipped in, there's still a pretty high pitch to the keys, which puts my wrists back further than I like in a less ergonomic position. This hasn't been bad enough for me to ditch the keyboard or think about returning it, but I really wish they offered a more flat model.
UPDATE: After several months of using this keyboard as my daily driver, I can't say the angle of the keys really bothers me much anymore. It's not a deal breaker by any means. Having the ability to really get custom with the WASD keyboard made it very enjoyable as it could fit my needs.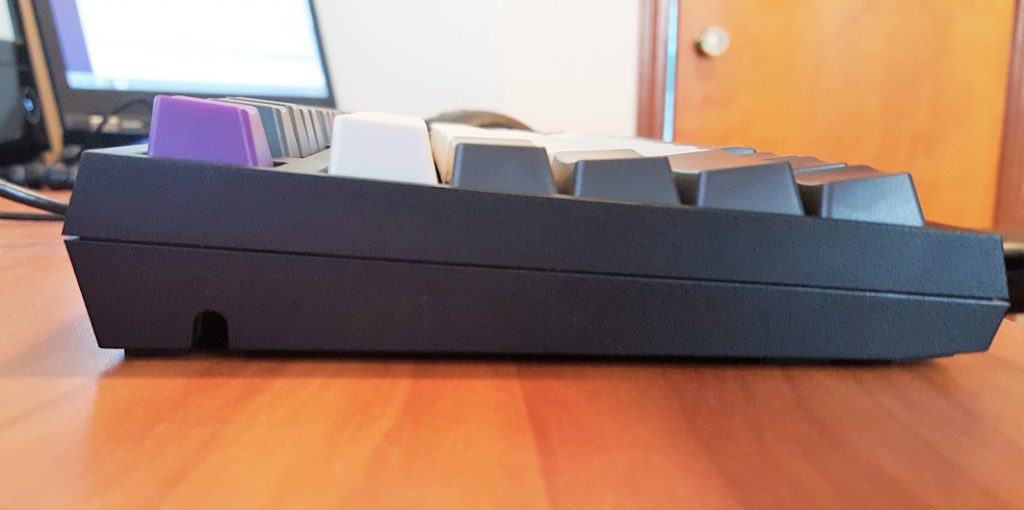 Overall Opinion on WASD 87-Key Custom Mechanical Keyboard
I think WASD V3 custom key mechanical keyboard is a great purchase for who are in the market for a tenkeyless mechanical keyboard and want to customize their keycaps right from the start. Also, if you want a tenkeyless in hard-to-find Cherry MX Switches like Green, Black, and Clear, WASD is likely the best option for you.
There are definitely cheaper mechanical keyboards out there, but if you plan on changing your keycaps anyways, I think it's worth it to pay for the access to 21 different colors and let someone else do the labor for you. If you're on a tight budget, you can find a tenkeyless for probably 50-75% of the price, though the build quality and support likely won't be as good.
Overall, I highly recommend the WASD Custom v2 line of mechanical keyboards. The cusom key optionality, sleek design, and great experience with WASD altogether made this an awesome purchase for any mechanical keyboard enthusiast.
Due to popular demand, check out our review of the CODE 104 custom key mechanical keyboard here