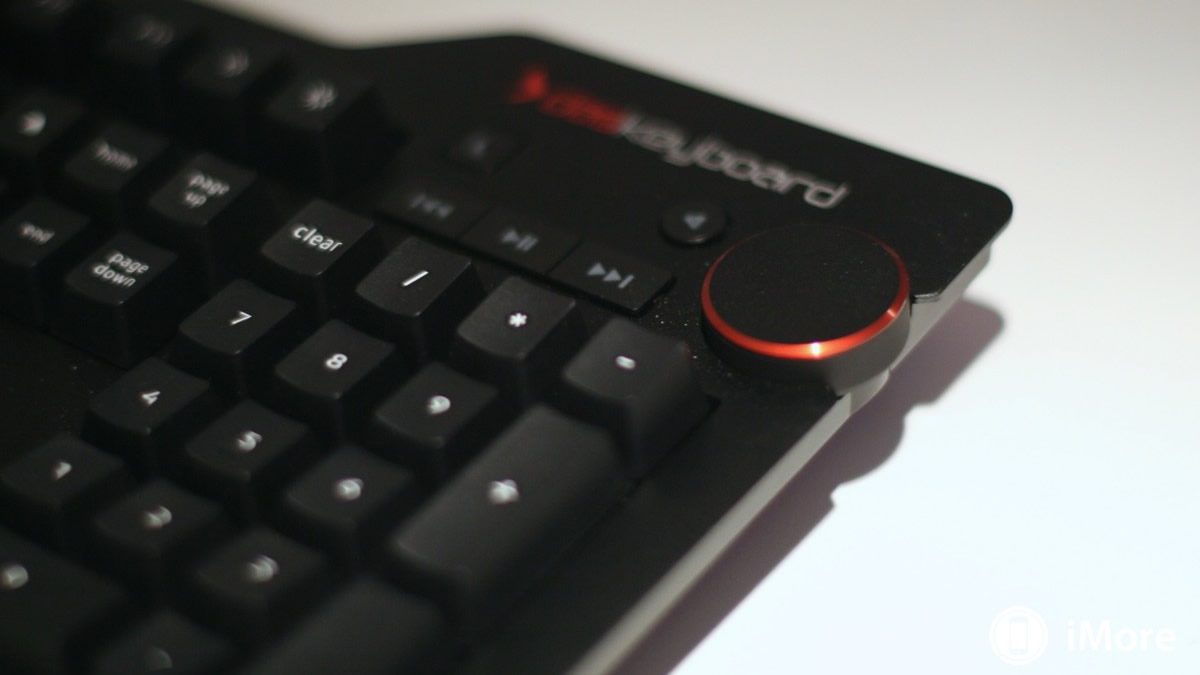 Das Keyboard 4 Professional review
2.6 lbs, 18 x 6.8 x 1.2 in.
Cherry MX switches.
USB3.0 hub makes it functional for years to come.
Outstanding build quality, awesome aluminum top panel feels military-grade.
The best ergonomics I've seen on a full-format mechanical keyboard.
Dedicated media buttons are the best around.
More expensive than other keyboards without LED backlighting, but build quality and extra features can make it worth the price.
Buy on Amazon
Read user reviews
UPDATE: Das has just released a new version of its Das Pro 4. Check out our updated review.
Das Keyboard makes PC peripherals for gaming and PC enthusiasts, and some of the best high-end mechanical keyboards around. Their latest line of mechanical keyboard, the Das Keyboard 4 series, is their crowning achievement to date. Released in late 2014, this might just be the mechanical keyboard that replaces all your other keyboards.
In this review, I'm going hands on! See below for pictures and a video of the Das Pro 4 in action followed by an in-depth overview of the pros and cons of the mechanical keyboard beast.
Das Keyboard 4 Professional Review
The first thing I should point out about my Das Keyboard 4 Pro, is this isn't the way it looks brand new! These are custom keycaps I bought from WASD, and you'll notice I use a Dvorak layout instead of the traditional Qwerty. I think the red keycaps look especially great and work to accent the red already on the keyboard logo and volume knob.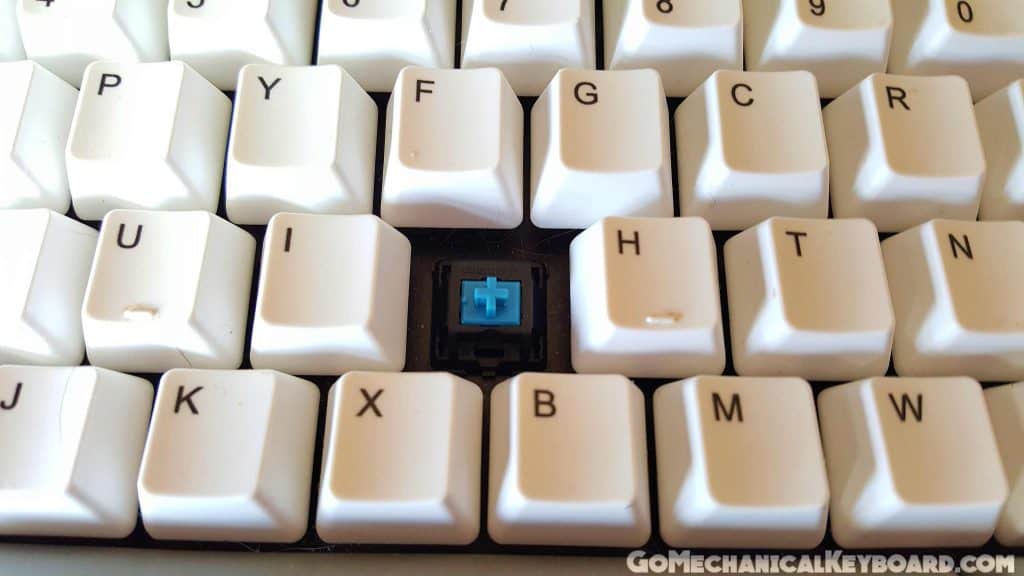 A closer look at the mechanical Cherry MX Blue switches used here. They feel great to type on but are quite loud and clicky even with Blue O-Rings installed. Check out the video below to hear this keyboard in action at 95 WPM.
Sounds like a great time at home, but not something I would bring to work to terrorize my coworkers with.

The image above shows off one of my favorite features of the Das Keyboard 4 mechanical keyboard. The rows of keys have little to no height change between them, which is awesome for typing ergonomics. When each row of keys gets higher, it forces your wrists to bend backward which puts unnecessary strain on your hands.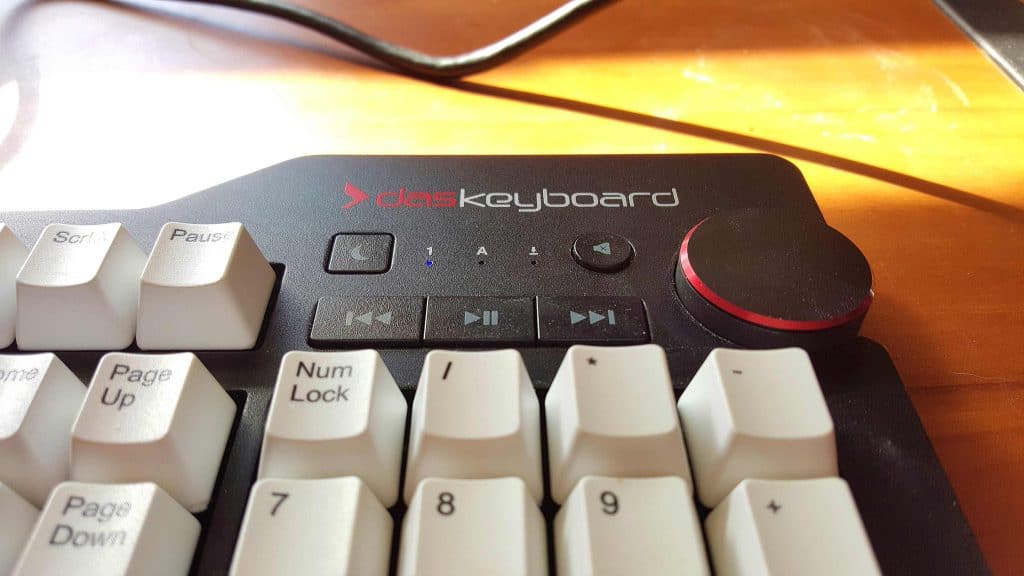 Next, onto another big selling feature of the Das Keyboard 4 Pro. The dedicated media buttons on this keyboard are superb. The volume knob, in particular, is a joy to use, and anyone who criticizes it likely hasn't spent much time with it. It delivers an audible and tactile click on each adjustment made, something mechanical keyboard enthusiasts should love and appreciate.
Another great feature – two, built-in USB 3.0 ports on the backside of the keyboard.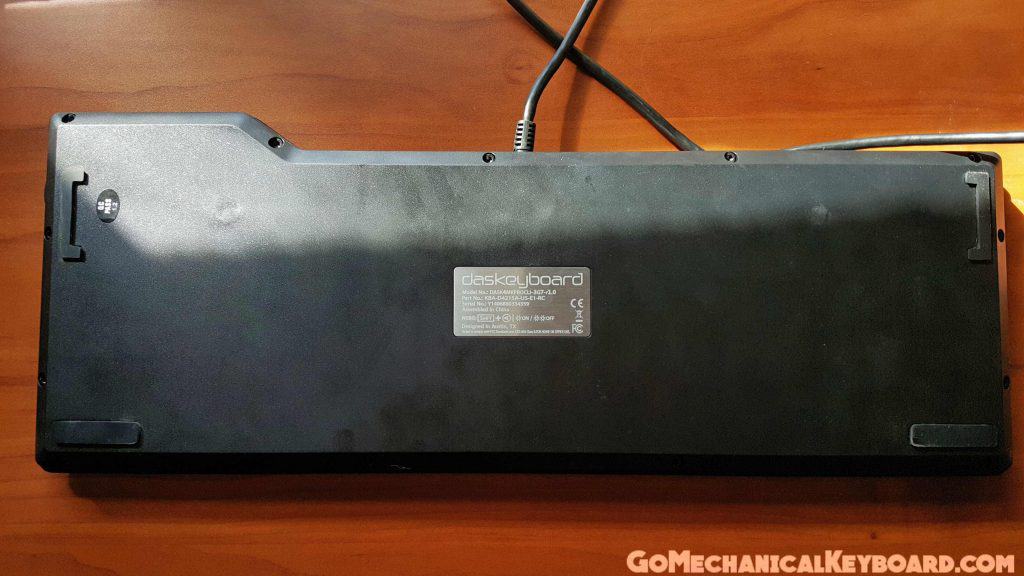 On the underside of the keyboard, you'll see that the USB cable is not detachable, and there are no feet that flip out to give you incline to the keyboard if you desire it. That's because this mechanical keyboard uses an external "foot bar ruler" that attaches and detaches with magnets into the rubber brackets seen above.

The worst aspect of the Das Keyboard Pro 4 is without a doubt the "footbar ruler". Nothing about this ruler is practical.
First of all, if you snap it onto the bottom of the keyboard, you now only have 2 rubber points of contact on the bottom the keyboard. Instead of having 2 more rubber points of contact on the top that prevent the keyboard from sliding, you essentially have a strip of plastic perfect for sliding around your wood or plastic desk. It even comes to a triangular point to reduce traction on the surface of your desk by reducing the surface area!
But hey, at least it's a ruler that you can use to measure stuff… right? Well, not quite.
As you can (or can't) see in the photo above, there's no contrast to the measurement markings on this ruler. It's simply raised plastic, the same color as all the other plastic. You may be able to see the inch markers on the top side of the keyboard above. How about the millimeter markers on the bottom edge? Unless the light is hitting the ruler perfectly, it's extremely difficult to read the measurement markings on the ruler.
Hopefully, in future iterations of the Das Professional Keyboard, they will scrap this idea altogether, or at least make the ruler functional. I really don't think the demand is there for an impromptu 16-inch ruler. That being said, a rule isn't a big deal. After this in-depth review, it's easy to see why Das is such a respected company. This keyboard is perfect for everyday typing and using it has been the ultimate typing experience. The media buttons and high-quality build make it perfect for everyday use. The only con is that Das doesn't make cheap peripherals. But for the price, you're getting durability, aesthetics, quality, features, and a great typing experience.
Das Keyboard 4 Professional Overall Verdict
Overall, the Das Keyboard 4 Professional is one of the most complete mechanical keyboards out there. From the dedicated media buttons to the aluminum top panel, and the excellent key ergonomics, if you want one mechanical keyboard that does it all, this is the keyboard for you. Makes a great geeky holiday gift for the computer geek in your life!
The Das Professional lineup, in general, has been top quality, as seen from the keyboards excellent review on Amazon. It's clear that Das has put a lot of thought into their professional keyboard lineup and the price tag is worth the durability. The Das professional mechanical keyboard also made our list for one of the best mechanical keyboards for Mac's. Check out the Mac article here.
The only people who may want to stay away from this keyboard are those looking for a budget keyboard, those who need LED backlighting, or those who want a tenkeyless mechanical keyboard. I hope you've enjoyed this Das Keyboard 4 Professional review, let us know what mechanical keyboards you'd like to see reviewed in the future!
Buy on Amazon
Read user reviews