CODE 104-Key mechanical keyboard review
2.4 lbs, 17.5 x 1.2 x 5.6 in.
1.8m Micro USB cable with cable tie
Wire keycap puller
USB to PS/2 adapter
Cherry MX switches available in 4 different types.
Awesomely adjustable LED backlighting.
No Logos or branding visible.
Classic, timeless font.
Solid build quality.
Keys show grease/fingerprints easily.
Buy on Amazon
Read user reviews
Today, I'm going to unbox the CODE 104 Key mechanical keyboard. See below for pictures of my unboxing and in-depth review of the mechanical keyboard. This mechanical keyboard comes from a company called WASD.
WASD has been making sleek looking custom mechanical keyboards for quite some time. The CODE 104 Key version of their mechanical keyboard lineup is awesome for everyday use. Its minimalistic design is refreshing and perfect for the workplace. And if you're looking to up your gaming rig, the CODE 104 Key is illuminated with backlighting.
Now, let's take a look at the CODE 104 mechanical keyboard and get into the review!
CODE Mechanical Keyboard Unboxing Images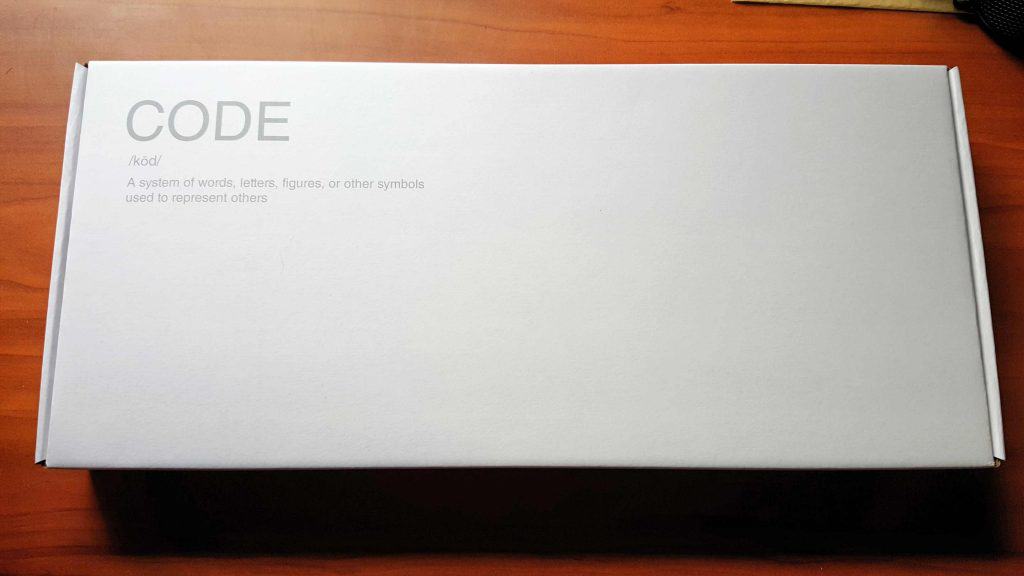 The keyboard arrives in a clean, white box. The design philosophy of clean and minimalism is apparent immediately.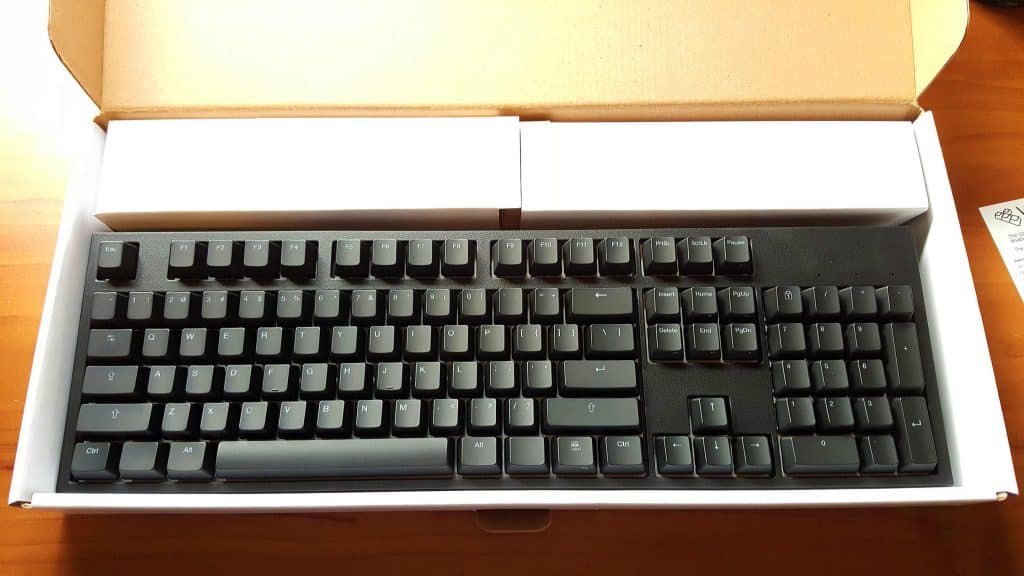 The first sight of the mechanical keyboard with the box cracked open! There's no branding or logo visible on the keyboard.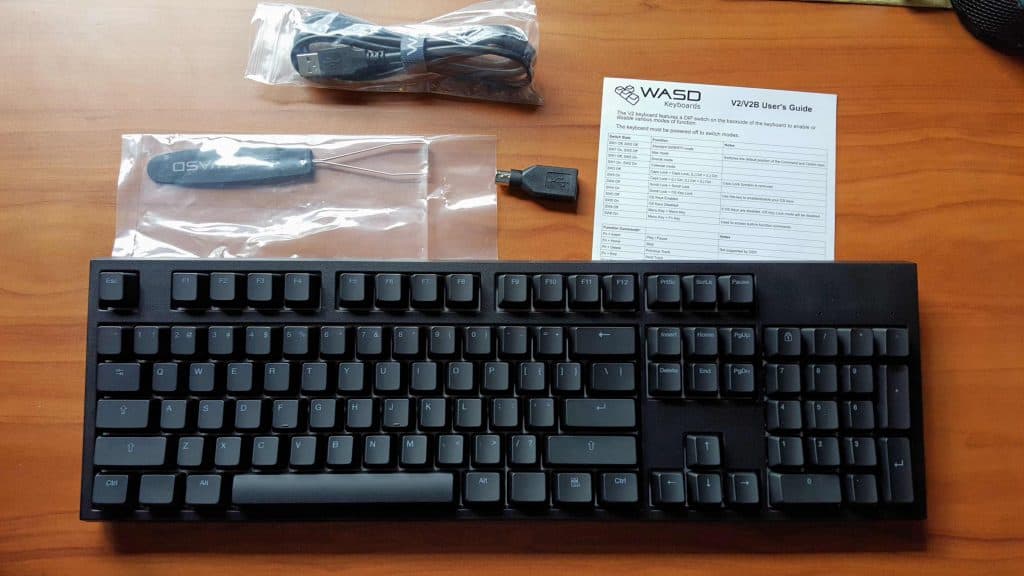 Here's a view of all the components of the CODE mechanical keyboard unpacked. One keyboard, PS/2 converter, USB cable, WASD cap puller, and user guide.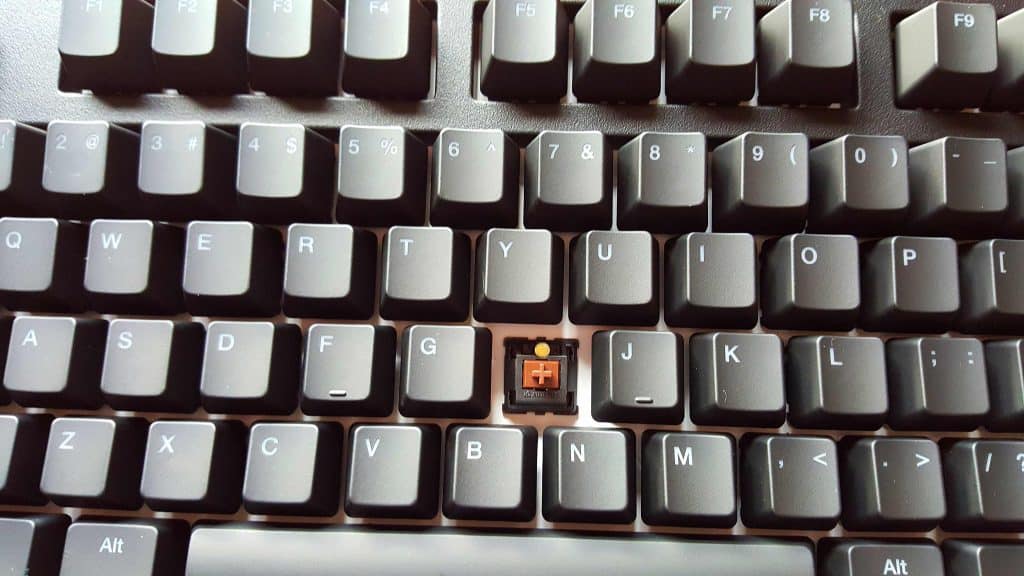 I'm reviewing a model with Brown Cherry MX switches. You can see the LED lights are top-mounted on the switches.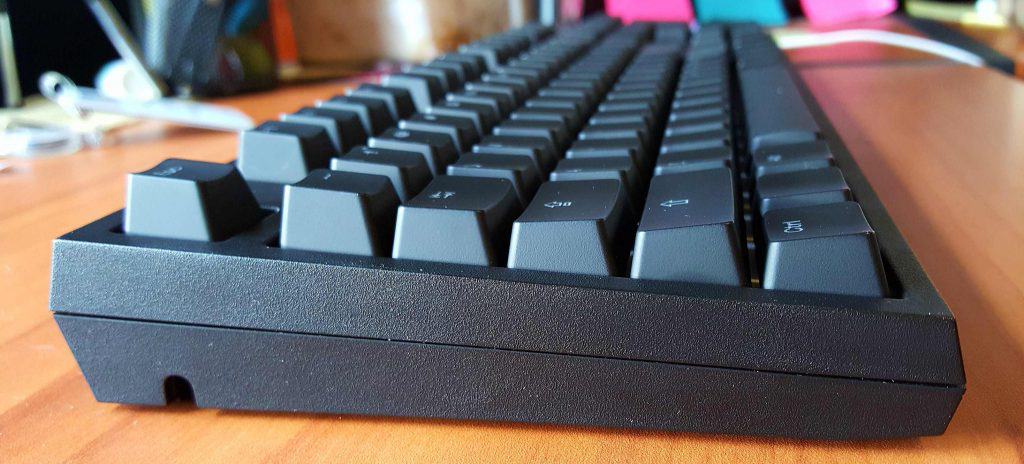 The case is made from ABS plastic and has a slightly textured feel. This appears to be the same type of case used on the WASD 87-key Custom keyboard I reviewed earlier in the year.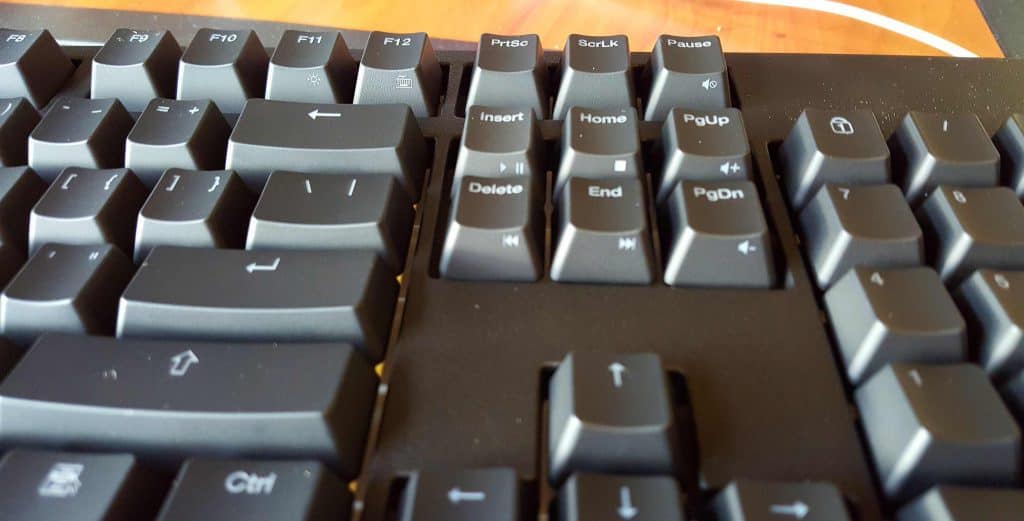 Here, you can see the media and function keys etched into the front side of the keycaps.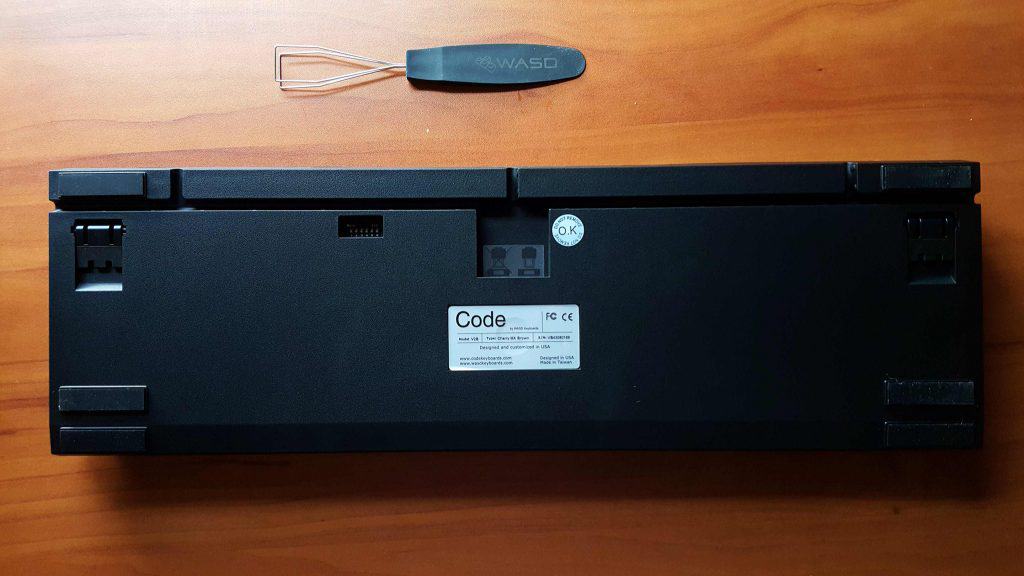 The back case of the keyboard features 5-way cable routing and heavy rubber pads to prevent any slipping around your desk.
The DIP switch panel on the underside of the mechanical keyboard. These switches are used to change between Mac mode, Dvorak, Colemak, disable OS keys, and more. The full list of their features is listed in the included User Guide.
The White LED backlights have 7 different brightness settings and can be turned off completely. These can be quite bright at their highest setting, and the steel backplate is painted white as well to reflect more light. The CODE mechanical keyboard has onboard memory to save your backlighting brightness preferences. The "Lock" indicator lights are very subtle over the numpad.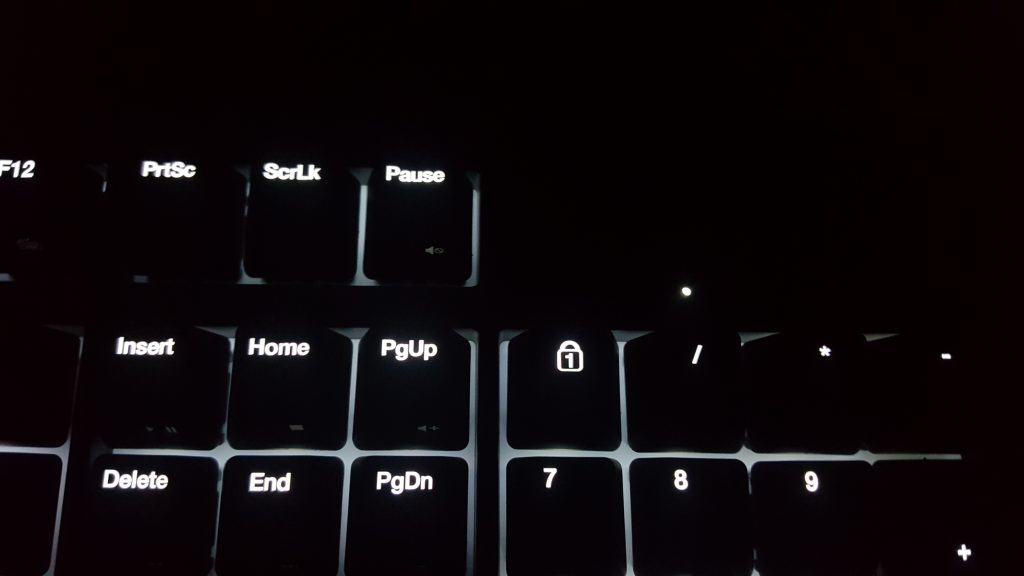 CODE 104-Key Mechanical Keyboard Verdict
Overall, the CODE 104-Key mechanical keyboard is the most professional looking mechanical keyboard available out there. Any programmer would love to have this keyboard as their main workhorse.
What I really appreciate about this mechanical keyboard that other companies miss on, is this keyboard is designed for professional adults. The CODE line of keyboards can be taken into any place of work and fit in seamlessly without drawing unwanted attention like many "gaming" mechanical keyboards do. Foregoing logo placement on the keyboard was a great choice.
What's also nice is how many different levels of LED brightness there are. It's a shame when you have to choose between turning your keyboard backlights off or have them way too bright and intrusive for your liking. Not the case with the CODE keyboards. The lowest brightness setting is pleasantly low-key and not disruptive at all. Given all of the above, it's no wonder this keyboard was named one of the best mechanical keyboards available.
If you're thinking about buying a CODE mechanical keyboard, I would highly recommend going with the Clear switches. In my opinion they're quiet enough for the workplace, and the extra stiffness makes typing a lot more enjoyable. That concludes my review of the CODE 104-key mechanical keyboard by WASD.
If you're looking for mechanical keyboards that are a little more flashy, check out my article here.
Buy on Amazon
Read user reviews