Mechanical RGB keyboards have a lot of cool advantages that will help you get the most out of your keyboard, especially if you're a gamer. Many RGB keyboards come with software to install on your PC that let you control the color profile on your keys. For a gaming enthusiast, this is the best way to upgrade your gaming rig. In this guide, we'll review our top picks for the best RGB mechanical keyboards.
The most popular type of RGB mechanical keyboards are those that are fully customizable. Fully customizable RGB mechanical keyboards let you do things like setting individual key colors and saving/importing backlight profiles to share with other users. There are also more advanced lighting effects you can pull off. These keyboards typically run $40-80 more expensive than cheap RGB mechanical keyboards. That being said, if you're looking for a mechanical keyboard that is low-cost, check out our article on the best cheap mechanical keyboards here. Otherwise, read our guide below to get a full overview of the best RGB mechanical keyboards to up your computer aesthetics in confidence. Prices in this list vary but all of them are full of the most important features.
Cheap RGB mechanical keyboards give you great RGB backlights but typically aren't as customizable. You'll be limited to the lighting profile the manufacturer programmed into the keyboard itself. Though, this isn't always the case. There are some good deals you can get and in some cases, the RGB mechanical keyboards will allow you to customize one backlight settings on the keyboard itself (no program required). The more sophisticated boards will require you to download something but will give you much more functionality in terms of lighting options.
Best Fully Customizable RGB Keyboards
This RGB keyboard from Corsair comes in a variety of Cherry MX switch types to suit your needs. Complete with a detachable wrist-rest and solid white backplate for maximum LED reflection, this mechanical keyboard has a quality construction that will last you a long time.
The Corsair STRAFE Mk.2 RGB is a full-sized mechanical keyboard. It has a detachable wrist rest, USB-passthrough, and dedicated media controls via a volume scroll wheel and buttons on the keyboard forehead. The STRAFE also comes with textured and contoured WASD and extra keys for gaming. These allow you to feel where your fingers need to be when gaming without taking time to look away from your screen during intense gamplay.
The Corsair STRAFE RGB also has some of the coolest backlit features we've seen, and the ability to completely customize and control your LED backlighting through their Corsair CUE software. We have a full Corsair STRAFE RGB review that you can get more details from. Having tried the mechanical keyboard ourselves, we can confirm that this mechanical board is definitely a top contender! Check out our video below to see what the mechanical keyboard is like in person.
The software is quite bulky and not as intuitive as it could be. However, it does offer a TON of options for lighting, remapping keys, and recording macros.
Razer makes great RGB mechanical keyboards aimed towards the gaming crowd, and their build shows it. This mechanical keyboard comes with programmable macro keys as well as special Razer gaming switches which claim to have a faster actuation time than traditional switches. If you're a big fan of Cherry MX switches, just know that things may be different than what you're used to. Known for their mechanical keyboards and gaming peripherals, you can rest assured that this backlit keyboard will last you a long time. You can check out our Razer BlackWidow Chroma review for more details.
The Razer Blackwidow Chroma is a full-sized mechanical keyboard with amazing RGB. Razer is one of those companies that really know what they're doing when it comes to aesthetic and matching lighting in all of your peripherals, and keyboards are no exception.
One downside with Razer is that the Razer Chroma Studio, a software to edit RGB effects, must remain open and active on your desktop if you wish to use your custom lighting effects. If not, then it will default back to its spectrum cycling pattern. This is a downside for many because the software can be bulky and possibly slow down your PC if you don't have the extra specs for it.
There are a lot of great things about this keyboard though, such as the plush wrist wrest that is extra comfy for long periods of gameplay and work. It also has 5 dedicated macro keys on the left side of the keyboard, for use in MMORPS and MOBAs.
It has 10KRO for pressing a bunch of keys without worrying about the keyboard not registering them. In addition, it uses Razer's proprietary switches, with great feel and sound.
If full-size is too big, then there is a TKL version of this keyboard as well.
I would only recommend the Corsair K95 over the Corsair K70 if you're the most hardcore of gamers that require a ton of dedicated macro keys. Both the K70 and the K95 mechanical keyboards are well known in the keyboard community. The K95 has 18 dedicated macro keys and 6 memory profiles, allowing you to configure up to 108 macro functions. For a mechanical keyboard, that's a ton of macros and memory profiles – perfect for the ultimate gaming rig.
This mechanical keyboard is the priciest on the list, and most of the features you can likely live without unless you're an extremely heavy macro-user (perfect for gaming). Though it can be costly, this mechanical keyboard has an amazing build and is fully loaded with features that most mechanical boards don't have.
The K95 has several different options for purchase, an all black aluminum version and a brushed gunmetal version. There are two different switch options: Cherry MX Speed for extremely fast and responsive lightweight switches and Cherry MX Brown for a lightweight tactile switch that you can use for work and gaming.
This keyboard has NKRO and 100% anti-ghosting to register each and every keypress, no matter how many are pressed down at once. This keyboard is just made for gaming and to improve your performance as much as possible. It has dedicated media keys at the top with a volume scroll wheel and an easy-access mute button in case someone wants to talk to you while you're playing games with a headset on or listening to music.
Another feature that it has that others don't is that the K95 comes with a detachable wrist rest. It may not be the most comfortable because it's made of hard plastic instead of having a plush foam, but it doesn't improve the comfort with the keyboard over long periods of time.
If you are interested in a keyboard with fully customizable RGB lighting and a ton of different macro keys, this is a great option to consider.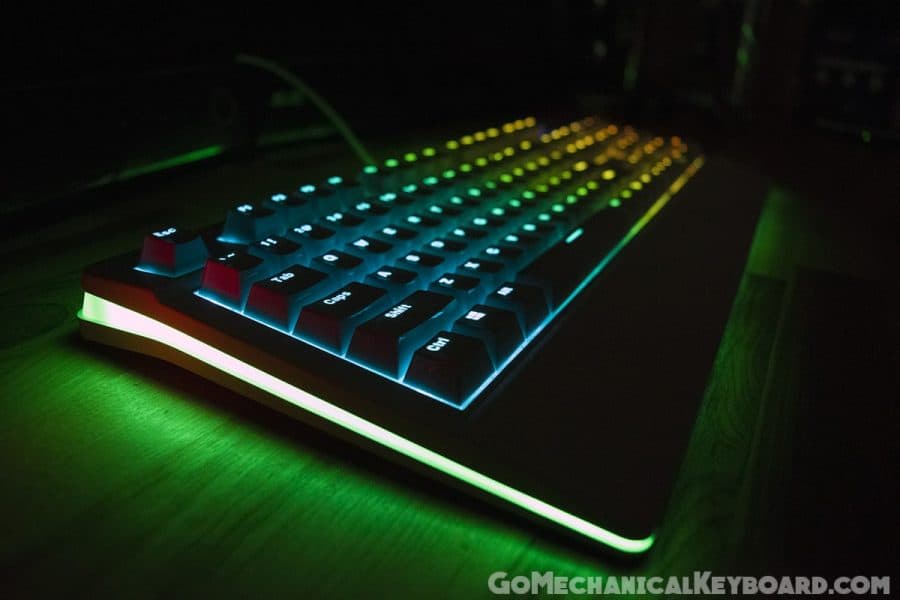 This mechanical keyboard is newly crowned our best cheap RGB mechanical keyboard! For under $100, not only do you get some really cool RGB backlighting profiles, but you also get an amazing side RGB LED! So, if you're looking for a cost effective gaming mechanical keyboard with a top of the line features, this keyboard is perfect.
For such a small price tag, this keyboard delivers dazzling lighting that will make your desk look incredible in the dark. A possible downside is it only comes with Kailh Brown switches.
The Havit keyboard comes in either black or white. It comes with a keycap puller and the keyboard itself. A unique aspect to this keyboard is that the wrist/palm rest is part of the overall keyboard case design. Unfortunately, the USB cable is not detachable, but the keyboard does have 3 channels to route the cable on the underside of the board, making it a little easier to hide the cable from immediate visibility. There are also two single-angle kickstands at the back as well to adjust the angle to your liking.
Along with the RGB lights under each keycap, there is a side RGB that runs around the perimeter of the board, looking extremely slick. There are three color profiles you can access via key combinations on the board. The firmware on the board allows you to do all the RGB programming without downloading any software.
For the price of this keyboard, it certainly is unique in its overall design and ability to customize RGB lighting without dedicated software.
For more information and photos, you can read our full HAVIT HV-KB389L review.
For those looking for cheaper mechanical keyboards that support RGB backlighting, this is the mechanical keyboard for you. This Tesoro keyboard features many different color modes that can fire off different affects when a keystroke is registered. This mechanical keyboard has an excellent build and allwos you to customize the backlighting for one setting. Given its low cost, this keyboard can do quite a bit. With 8 backlighting profiles and the ability to customize keys, it's an excellent budget mechanical keyboard.
The Tesoro Excalibur is available in blue, red, and brown mechanical switches. The branding of the switch is unknown. The Excalibur has a variety of RGB effects that you can pick from. There are macro options as well as key remapping.
The keyboard has NKRO and 6-key rollover, depending on which option you pick on your keyboard. The cable is braided, but it is nondetachable from the keyboard. That takes away from its portability, but this is a full-sized keyboard and probably will sit on your desk.
Unlike the other keyboards on this list, this is much more budget friendly. But with budget comes some losses in features as well such as per-key lighting customization.
The Apex Pro TKL and Apex 7 TKL are very similar keyboards made by Steelseries. However, the Pro has a different switch that allows you to change the actuation distance of the switches. That is, you can change the distance that you need to press before the keyboard registers it as a switch. It's really convenient if you're doing more than just gaming on your keyboard or you're sharing your keyboard with another person in the household.
The Apex 7 TKL has red, brown, or blue mechanical switches with locked actuation distances. These are Steelseries branded switches, and they are super smooth. The Pro is more expensive than the Apex 7, so keep that in mind when making your pick.
Both keyboards, other than the switches, are exactly the same. They both have USB-passthrough, an OLED screen for changing RGB patterns and effects, dedicated media keys along with a scroll wheel, and macro recording. The included wrist rest is matte black and feels extremely comfortable. It connects to the keyboard via magnetic feet that just clip on when in close proximity.
The keycaps are ABS plastic, but they feel more oil-resistant than other ABS keycaps I've worked with. Both keyboards require two USB slots to work because of the USB-passthrough feature. Overall, despite being pricey, these keyboards are very high quality. You can also use their software to change the RGB lighting and effects along with all of the customization you can access via the OLED screen and associated buttons.
You can check out the Apex 7 TKL here and the Apex Pro TKL using the Check Price button below.
The Kinesis Freestylye Edge RGB by Kinesis is an ergonomically designed, split mechanical keyboard for gamers. This keyboard is pretty pricey, at almost double the price of the other keyboards on this list, but it is meant for a specific audience.
By having the split design, there are two separate halves to the keyboard. If you are not a touch typist this board may not be for you, since it's hard to get used to the locations of the middle keys. When I first used a split board, it was difficult to type "y" and "b," but if you're a touch typist, it's a great pick.
All 95 keys are programmable with full customization of the RGB effects. There are 9 profiles available with a bunch of layers, macros, and more. All the profiles are saved to the board's memory, so there is no need to keep the software open. You can even take the keyboard to tournaments or elsewhere and show off your cool lighting setup.
This board may be bulky because of the two halves. However, when gaming, you can move the other one out of the way, giving you a ton of space for your mouse arm.
With additional parts, the keyboard can be tented and tilted to offer even more ergonomic benefits and increased comfort for your wrists and arm.
For people who are worried that long gaming sessions will affect your overall posture and health or if your wrists are currently hurting after gaming too long, this may be something to look at.
The Ducky One 2 Mini by Ducky is a highly regarded gaming mechanical keyboard that is ultra-compact and has strong firmware to edit everything within the keyboard itself with NO software needed.
The Ducky One 2 Mini is a 60% mechanical keyboard with a variety of Cherry MX switch options. The case itself is two-toned with a white glossy plastic bottom and a black plastic top. The keycaps are doubleshot PBT, and every Ducky keyboard comes with a custom spacebar that matches with the Chinese zodiac year that you purchase the board in.
The firmware customization may take awhile to learn, but it is really easy to do when following the instructions in the manual. You can edit the RGB of each single key via keyboard combinations alone. The keyboard also has multiple layers of programming available. Despite being a really small keyboard, it has full functionality of a full sized keyboard.
Alongside this, the One 2 Mini comes with a extra keycaps in a random color (red, yellow, green, blue, purple, orange, etc). It also comes with a detachable USB-C cable, a wire keycap puller, and more.
The One 2 Mini is an extremely high-quality keyboard that, although is pretty old, is still a really good keyboard to purchase. The stabilizers are also pre-lubed and sound really nice compared to big brand stores.
The Razer Huntsman lineup (Mini, TE, and Elite) all have custom RGB lighting through Razer Chroma Studio. The downside with these boards is that they do not hold the custom profiles on the keyboard, and you need to have the software open with your lighting setup to work.
Without the software open, these boards default back to their spectrum cycling effect, which can be pretty boring for most gaming setups.
The Huntsman Mini is a 60% mechanical keyboard that uses Razer's optical switches, either red or purple. Red is a silent linear switch, and purple is a loud clicky switch with a nice tactile bump. The keyboard has doubleshot PBT keycaps, a detachable USB-C cable, and a bunch of functionality despite its small size because of the secondary layers. It is available in black or white.
The Huntsman TE is a tenkeyless mechanical keyboard that has dedicated arrow keys, a function row, and the navigational cluster. It is extremely lightweight and portable. It also features PBT keycaps with a detachable USB-C cable. The TE is only available with Razer red optical switches, although these are not the dampened ones. Razer will probably do an update of these switches to the new version.
The Huntsman Elite is the most expensive and is a full-sized mechanical keyboard. It has a full wrist rest and a dedicated volume scroll wheel and media keys. It's available with either optical switch. It is available in black or white, and then a special Gears of War edition as well. The link below gives you the option to view all of the Razer Huntsman lineup. The Huntsman Elite has a non-detachable cable.
All of these keyboards use the Razer Chroma Studio and Razer Synpase for macro, key remapping, and RGB lighting.
The HyperX Alloy Origins Core is a great budget-friendly keyboard that has a ton of features that the nicer keyboards don't even have. This keyboard is tenkeyless and is made of full aircraft-grade aluminum for the frame. It is extremely sturdy, and full aluminum keyboards cost upwards of $200. However, the HyperX AOC is under $100.
The AOC uses HyperX Red or Aqua switches. The reds are lightweight and super smooth linear switches. The aquas are lightweight tactile switches. Their tactile bump is extremely soft, so if you are looking for more tactility, this may not be for you.
The keyboard has doubleshot ABS plastic keycaps, which allow light to pass through, but it also has floating keycaps as well to show off the switches. The software is only available on Windows 8+, and you need a Windows account to download it. Currently, the software is in beta, and many report having some problems with it.
However, the keyboard has 3 onboard memory profiles to store your custom effects without needing to have the software open. It is easy to edit effects and easy to swap between profiles using FN+F1/F2/F3. We have a full review of the HyperX AOC with reds here.
If you want an even better RGB show, opt for the HyperX pudding keycaps as well for more light visibility through each individual keycap too. We have a full review on the HyperX pudding keycaps as well.
The Logitech G Pro and the G Pro X (a Logitech store exclusive) both have really nice RGB lighting features. The primary difference is that the G Pro X is hot-swappable, meaning it can swap between different switches (available on the Logitech website) without desoldering and soldering again.
The G Pro attaches via a detachable Micro-USB cable. It is priced a little bit over $100. The keyboard comes with GX Blue clicky switches, which provide a loud audible click and tactile bump.
The G Pro is a tenkeyless layout keyboard with no number pad. Both keyboards use Logitech G Hub to edit lighting effects, maps, and programmable key editing.
On the back of the keyboard are dual-angle adjustable kickstands.If you own other Logitech RGB devices, they can all sync up to each other using Logitech Lightsync software. It also allows you to highlight certain keys and program in static lighting patterns, so that you can take these patterns to tournaments.
The G Hub software must be open to maintain fancy lighting patterns and effects that are more than just static. This may be a downside for some because having software open all the time can slow down your PC.
Logitech uses GX switches, which are rebranded Kailh switches, which are Cherry MX clones. They are high-quality and well-known within the mechanical keyboard community.
For the price and overall aesthetic, this is a great keyboard to check out. If you want a more customized experience, get the G Pro X to change up the switches to what you want to use.
The Drop ALT and CTRL are both pretty pricey keyboards, but they separate themselves through their features. This is a really good entryway into the custom mechanical keyboard world without breaking the bank.
The Drop ALT is a 65% mechanical keyboard and the Drop CTRL is a tenkeyless layout. Both feature the same features, which we'll outline below.
Both have a full aluminum case, and they are available in either low profile (floating keycaps) or high-profile (no floating keycaps). The high-profile versions are more expensive due to the increase of material.
The Drop boards have QMK firmware for full customization of each key and lighting effects. The QMK software can be used on the Drop website, and after that, you just need to flash your keyboard with the new information.
They both have two USB-C slots, one on either side. You can use one to connect the board to your PC and the other to charge a phone or something. The keyboards both use a lot of power, so not every cable (talking about custom cables) will work on them.
The PCBs are hotswappable, meaning you can experiment with different switches without having to desolder and solder again. The stabilizers on them are not the best, so many people recommend change them out for high quality stabilizers. Many of these steps are only recommended if you're more interested in the mechanical keyboard enthusiast side. However, as stock, they are great keyboards, super sturdy and looks really nice.
They both have side lighting that surrounds the perimeter of the keyboard.
The GMMK is another hot-swappable mechanical keyboard. It is special in that it's available in three different sizes, all for the same price. The sizes are compact (60%), tenkeyless, and full-sized.
Every size is hot-swappable with most mechanical switches. The switches that Glorious offers are Gateron and Kailh switches.
The features of each board are different, but recently Glorious upgraded their GMMKs to include detachable USB-C cables, foam within the case for sound dampening, and improved case angle for comfort.
These boards are relatively affordable and make great budget entry boards into the custom mechanical keyboard world. It is really easy to learn how to lube your switches, mod your stabilizers, etc. The software is super easy to use to edit the colors and map the keys as well. Out of all the keyboards on this list, I really recommend this one a lot to people who are new to mechanical keyboards. This board lets you experiment with switches, learn mods to make your keyboard sound and perform better, and it lets you save up money too because the price is so affordable.
The Logitech G915TKL is a low-profile mechanical keyboard. It is tenkeyless, and costs upwards of $200. Despite how expensive it is, it is still a game-changing mechanical keyboard.
This is because the G915 combines so many features that people ask for, and is probably the only board to do all of these things. The G915 is a tenkeyless board that is low-profile, has wireless capabilities through 2.4Ghz or Bluetooth, has dedicated media keys and scroll wheel, and is specifically made for gaming and improved performance.
The software is the same as Logitech's other boards. The overall look of the keyboard is super clean and the chassis is quite thin and compact, allowing maximum portability to tournaments and LAN parties. The dedicated media keys are convenient for listening to music and gaming as well without worrying about key combinations or secondary layers.
The G915 TKl is available with three different switches: linear, clicky, and tactile. Depending on your preference, you can pick what you want. Low profile switches are meant to improve comfort, reduce wrist extension for long periods of gamplay, and reduce the overall travel distance, meaning your reaction and response will be faster than others.
RGB mechanical keyboards are a part of every gaming rig for true gaming enthusiasts. Even if your not a gamer, having a backlit RGB board can make typing more enjoyable. Anyone who enjoys their keyboard will eventually buy one. I suggest you shop around Amazon, eBay, or other sellers for potential deals.