Pros & Cons of Cougar Havoc BT Headset
The Cougar Havoc BT headset has the following features,
| | |
| --- | --- |
| The Good | The Bad |
| | Performs Low while Wireless |
| | |
| | Cords material seems fragile |
| | |
Looking for other gaming headsets? Check out the headsets we've personally reviewed here.
Every gamer, anywhere in the world, knows the importance of having good sounding in competitive gaming; to hear footsteps or have a chat with your teammates.
Thus, competing for the need, I recently tested the Cougar Havoc BT Gaming Headset. The headset was sent as a sample by the company Cougar and I used it as my daily driver for about 2 weeks for both gaming and daily uses.
See my full review below to get the best illustration of my experience with the BT headset!
Introduction & First Impressions
Well, I've got to say, I'm really impressed with this headset. For a price of just 50 bucks, ($49.50 to be exact), you are getting a good deal for sure.
My first impressions after seeing the actual headset were that "It's probably a handsfree showcased as a Gaming Headset" but then I read the specifications and features of the headset on its box.
The microphone, the sound range, the bass-quality, and the stability hook were something that can't be termed "regular."
I was amazed, and to a point, thrilled to test this work of art.
The Havoc BT Gaming Headset is excellent in terms of both budget and features.
The sound quality of this headset (while connected with a wire) is just amazing. I was not expecting a good performance from a small looking earbud to outperform a lot of more expensive headsets.
However, while using them with Bluetooth, the sound quality drops as compared to the wired option. Normally, this could be because of the interference that Bluetooth gets from electronic waves in the atmosphere.
As gamers, we all know wired things work way better than wireless options because they have the lowest response times.
The bass-boosted songs worked pretty well and there were no dis-orientations and over-drumming in the speakers of the earbuds.
The microphone, I tested in both gaming and calling environments. Based on the feedback from my contacts and teammates, my sound was crystal clear.
One side of the main wire is orange and the other is matte black. You can also see dual-tone colored ear tips (Silicon-based) that you won't notice them much because they are going to be in your ears all the time.
Unboxing & Box Contents of Cougar Havoc BT Headset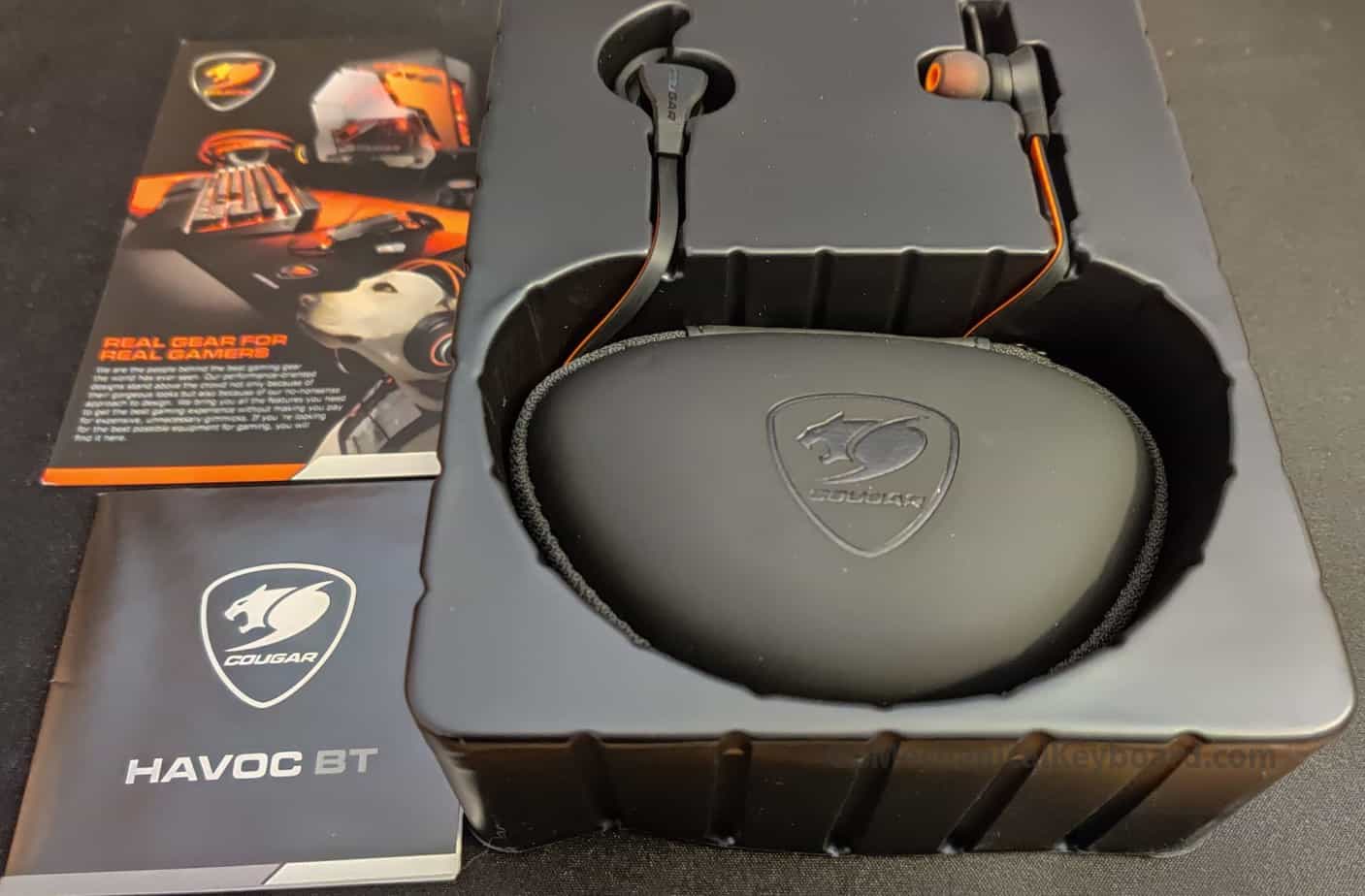 Finally, the one unboxing that had some "Good" in it.
At first, with my prior experience with unboxings of many expensive headsets, I was wondering if Cougar's Havoc BT Headset will impress me. In fact, I was doubting it!
Fortunately, the unboxing was nice and the design of the box down to the actual product itself was aesthetically pleasing and not overpowered with a large font.
Instead, Cougar opted for a more minimalistic style and it did pass my unboxing satisfaction test somehow.
The entire box was designed very well with everything you need to know or see displayed right in front of you. The right placement of branding and a see-through plastic made the box of the product look very premium.
Moving to the contents, not to mention the satisfaction I felt while unboxing the product, I was further relieved to see the accessories they included in the box.
In a quick note, you get the following things packed with the headset.
Carry Pouch
Ear-rest pieces of various sizes
Stability hooks of various sizes
A charging cable
A connecting cable
Performance Tests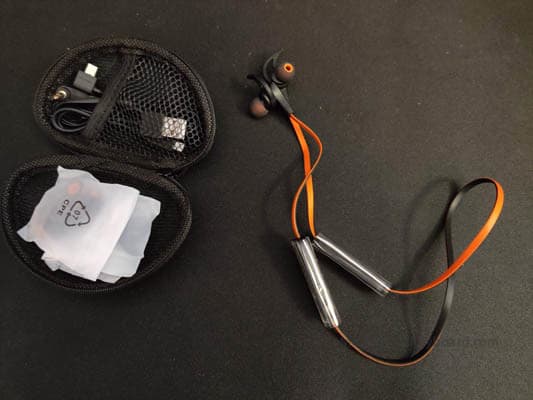 I ran the headsets to several sound quality and microphone tests.
Microphone & Speakers
From listening to the heaviest bass-boosted songs like "Go f*ck yourself by Trap Nation" to speaking in the microphone in the crowdiest places like "Black Friday sale in Walmart", I gave a constant tough time to this headset for a good three days.
Gaming – wireless is good
The headsets remained in good standing. The gaming concerns, you can hear a footstep that is at least 10 meters away in PUBG plus a gunshot can be heard from almost 200 meters away. So, you'll not see the "fire icon" but you'll hear the sound alright.
Ultimately, in competitive gaming and workout situations, these headphones held up pretty well and gave an excellent experience.
So, a solid 8.5/10 for performance (could be 9 if the Bluetooth connection wasn't weaker)
Battery – more than enough
Oh, the battery, it lasts about 8 hours and then you'll have to plug it in.
Comfort – not bad
Well, they certainly tried their best in this regard. The stability hooks keep the earpieces fixed in your ears and you won't need to repeatedly adjust them.
Verdict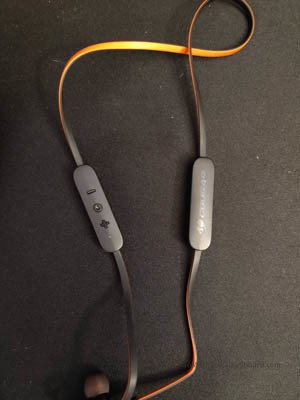 Okay, so, here it is.
You can go ahead and buy this one. You are getting quality and some very good features with the headset.
The cord, however, is short for a PC setup but if you have placed your PC at a perfect height, the cord will work for you.
The stability hooks that can provide added stability while you are gaming or working out can prevent any inconveniences during gameplay. Thus, the headset is recommended as a solid 8/10 for its value and features.
You can find the Cougar Havoc BT Headset on Amazon for a competitive price.
Happy Gaming!