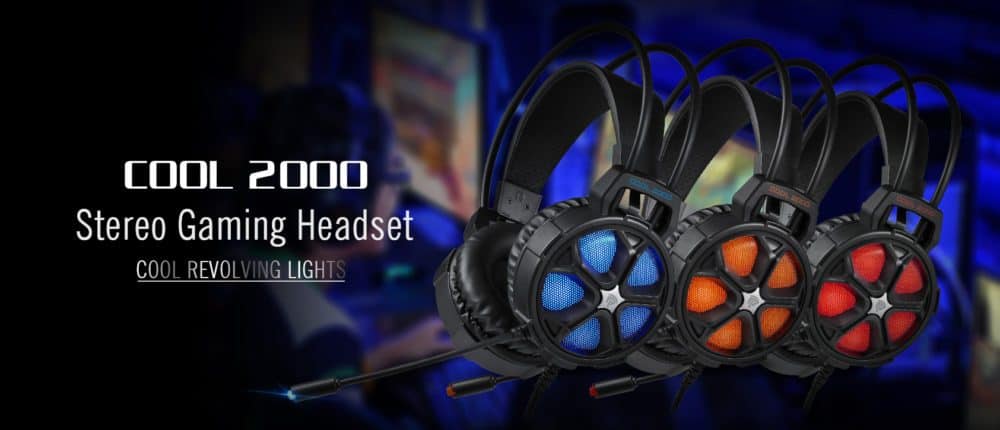 With a wide range of gaming headsets available in the market, it gets tedious to found out whats worthwhile and what's not.
The tedious search for the best fit gaming headset only increases when you type; "best gaming headset available"; and find a host of results that redirect you to various links, some of which don't even turn out to be relevant.
Moreover, Amazon is full of gaming headsets that are affordable with great ratings but many more that don't seem to have any ratings at all.
EasySMX reached out to us and let us try their new Cool 2000 gaming headset. Like most products, it is at an excellent price point but lacks in any decent reviews – so we're here to clear the doubt.
The Pros & Cons of the Cool 2000
Pros
Very affordable gaming headset.
LED illumination effect makes it look great in the dark.
Microphone position is flexible.
Physical over-ear design leads to passive (but mild) noise cancellation.
Black and red combination make it compatible with most PC gaming setups.
No additional drivers needed.
Extra-long braided cable
Cons
USB audio connection is missing.
The absence of vibration engine is a letdown.
It has two output chords attached to it – not detachable
The above pros and cons are a result of testing out EasySMX's sample for a few weeks.
Simply put, the EasySMX is a low-cost and feature-rich gaming headset. It has many useful add-ons such as external lighting, comfortable padding, built-in mic, and a set of chords to ensure compatibility with any device.
That being said, at the cost of only $24ish dollars, is definitely far from perfect. Let's dive deeper into the headphones qualities below.
Key Features of Cool 2000 Headset-
Design and Build
EASYSMX's Cool 2000 headset is best suited for gamers who spend a lot of time, well, gaming. The headset has an attractive design, robust and solid body. It is also equally padded on both the sides. Moreover, earmuffs are made of the best quality TPU (Thermoplastic Polyurethane).
One thing that was a little too much for me was its size. It felt bulky and at times a little too heavy. But given its low cost, it was a minor price to pay.
Multi-lighting
This is a rare feature that EASYSMX gaming headset cool 2000 provides. The lighting mode is available in red, blue and orange.
The headphones will also let you switch from constant, breathing to spinning mode.
The lighting is not battery activated but USB. You must plug in the USB for the lights to work. Although a nice touch, the added cable hanging down can get quite annoying at times (less so if you're playing on a PC).
For future versions, I would've much rather a battery option.
This is definitely one of the features that stands out the most. The lighting effects and colors allow for excellent design compatibility with most PC setups. And the lighting modes are quite interesting for those who are interested in flashy equipment.
Noise-canceling feature in ear cups
The ear-cups are very comfortable. There's nothing more that I like than excellent noise-canceling effects.
When gaming on Fornite or CS: Go, I really need the sound to be perfect, so noise isolation is essential.
With the Cool 2000, the noise cancellation feature was definitely not the best. I could still hear many of the noises around me, making it a little distracting. I didn't expect much from this particular feature though as most over-ear headphones don't have great noise-cancellation effects.
Bose QC's still reign supreme.
Audio Quality
This affordable gaming headset is bestowed with HD quality and lossless stereo surround sound which provides an immersive experience.
You can listen to each distinctive sound, and if you are someone who plays games involving swords or guns, you will be able to hear the slightest sound of a sword, footstep or identify the direction from which a bullet comes at you.
Although its noise-cancellation was lacking, its Omni-directional audio was pretty good.
I could hear footsteps from left to right while playing Fornite, and it made all the difference. Pro games these days all have directional sound, and having a compatible headset is essential for gameplay.
Microphone
You can chat, talk and connect so easily with the Cool 2000. The microphone picks up your voice and ensures that all other gamers in your clan can listen to you easily.
It blocks all the other disturbances and emits pure sound. This also helps in connectivity as you can be assured that there will be no hindrance in the communication aspect of gaming; something that plays a vital role in team coordination.
Though I can't speak for the quality of the sound I'm producing, I am certain that the mic is sensitive enough for others to hear me and does not produce static sounds – one of the most common complaints among poor mics.
Splitter Cable
EASYSMX Gaming headset cool 2000 has splitter cable which will allow you to share anything from movies, music and other files to your tablet, mobile or laptop.
Also, this feature adds up to its utilization.
As previously noted, its output cable is split into two different kinds, which is kind of annoying. I would've preferred that they have them separate detachable so that it doesn't just stick out.
Is EasySMX's Cool 2000 headset worthwhile?
Overall quality and value
As mentioned earlier, it has a great sound quality. To add to the delight of a pro-gamer like you, the headset also has bass aplenty but at the same time, it is not too sharp. Moreover, it gets the mid and higher frequencies pretty clearly.
Although it gets the tones pretty well it does tend to have a muffled sound when the audio gets too loud.
Given the headphones low cost and feature-rich nature, I definitely think the Cool 2000 is an excellent beginners gaming headset.
It works really well with its omnidirectional sound and has decent audio quality. This would make an excellent beginners headset or one for everyday use. If you're looking for some serious sound quality and noise-cancelation, you'll have to pay a substantial amount more which may not be worth it for just regular gaming.
Tailor-made product for long gaming sessions –
The exuded comfort and softness of well-padded ear-cups also make this product the best headset if you are a gamer who sits through nights for long periods.
I've personally used it for hours on end without much trouble.
What customers are saying
EASYSMX gaming headset cool 2000 is a value for money product as it provides good sound at a cheap price.
Most users mention they enjoy the universally connectable feature and the softness of pads. Even ones with a big head are comfortable with headsets over their ears. However, what takes the cake for gamers is the microphone and how precisely it connects to fellow gamers without loss of sound.
Conclusion – Editor's Thoughts
Like the G9000, EASYSMX's Cool 2000 is one of the most affordable gaming headsets I've tried to date.
Don't get me wrong, I've definitely tried better ones in the past but they're always substantially more expensive. Great audio quality and noise cancelation effects are not easily achieved with today's technology. For its price, I'm surprised at the lighting and modes that EasySMX provides.
With just the perfect blend of comfort and quality, this happens to be a treasure for gamers. All in all, we rate this awesome gaming headset at 4.5 out of 5.