Interested in purchasing one of Velocifire's mechanical keyboards but unsure about its quality? Check out my professional review of Velocifire's TKL 78 – a compact and great mechanical keyboard.
Understandably, given its low price, you might be hesitant or skeptical to purchase this keyboard.
But, after using it for a few weeks now, I'm quite confident that this keyboard will last you a long time. It's quite durable and what you would expect from any quality tenkeyless keyboard.
See below for my in-depth review and unboxing of the TKL78.
Build Quality – More Than Meets the Eye

Velocifire's TKL78 mechanical keyboard looks just like an ordinary mechanical keyboard from first glances.
Its ergonomic design makes it more reliable, and its size allows the user to bring it along while traveling. The mechanical keyboard has a unique layout with a smooth and slant delineation.
When it comes to its build, I can say that this keyboard is suitable for gamers and those who are looking for a smaller version of a mechanical keyboard. The TKL78 mechanical keyboard can fit in your hands as your press its crisp keys.
Every keypress will be more relaxed and more cogent since it has 78 keys – allowing for more space on your desk/setup.
This small mechanical keyboard offers a precisely solid edge with its sleek back and side. It presents a diverse typing experience with its plastic uppercase. The keys can stand up to 50 million keystrokes regardless of heavy use. At times, I also experience some palpable feedback. However, it is very minimal so that light typists won't have an issue with this.
The TKL78 mechanical keyboard also has a slope design which does not consist of a number pad. It is believed to be a 60% keyboard with arrows and function keys. Some, however, regard its unique style as a 75% keyboard due to the similarity of the number of plastic keys.
The 78 keys seem slightly shifted to some, but it looks just like a standard keyboard to many. One issue that I had was that the right shift key is a little too narrow – something you must consciously get used to.
The slender aluminum plate doesn't help much in controlling its stability. There are also no flip-out tabs at the bottom that people can use to adjust the heights. This means, well, you can't raise it.
Switches and Stabilizers – Better Than Expected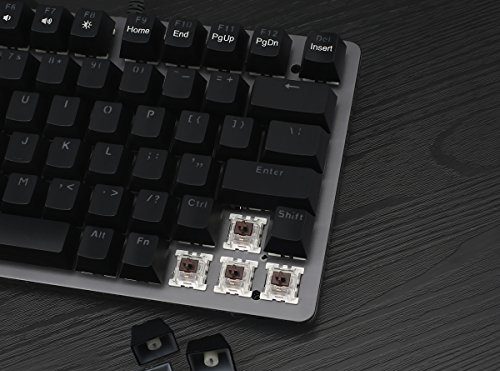 Velocifire TKL78 model is equipped with Outemu Brown Switches which bring a tangible ordeal to its users. Although its upper case is made of plastic, using it in the office cannot be much of a problem. The brown switches under the keys are just awesome! You can expect a slightly reticent typing background.
The reactiveness of the TKL78 mechanical keyboard is appreciable as it responds smoothly and accurately.
There are no dead switches, but they seem quite fancy if you're not fond of the switch color. The PCB-mounted brown switches offer a tactile experience with transparent feedback. It also has a light spring-like edge which is similar to the blue switches. The only difference is that brown switches provide a quieter "click" sound
The cherry-style stabilizer holds the keycaps as it allows you to hit the keys and keep it responsive. The standard size of a single key is 1U, while the Backspace, Shift, and Enter carry the size of 2U. Just like any other keyboards, the TKL78 mechanical keyboard has two Shift buttons, but the one on the right uses a 1U stabilizer. I find this troublesome if you are used to the average size of the Shift key on the right side of the keyboard. This stabilizer helps in making the swapping of keycaps easier.
Some users had some experiences where some cherry-style stabilizers work pretty well with other keyboards, while others do not. I'm not sure what's causing this discrepancy, but Velocifire did a flawless job with this.
Keycap Quality – Outemu, the Cherry MX Clones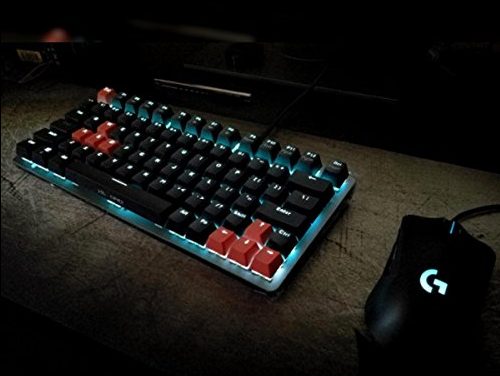 The Outemu Brown Switch has slick linearity that reduces the noise it produces as you type. They are the ideal alternative to Gateron or Cherry Browns which have a gratifying thump that creates a soft sound.
It got me a bit disgruntled with its rickety keycaps, though. You can say that the feebleness is a stumbling block for a more accurate and precise printing turnout.
If you're interested in reading more about Outemu switches, check out this thread here.
Aside from its ABS plastic keys, the keycaps were also designed with bi-color injection technology in a laser-engraved process to avoid easy fading.
The keyboard's function layer appears to be cramped with its Home, Page Up/Down, and Delete/Insert keys lined up along the layer.
TKL78 Mechanical Keyboard Features – Excellent for its Price
The LED-illuminated backlighting is lit! It comes in teal or dark blue only, and you are not allowed to change it.
However, you can turn it off or adjust the LED brightness in three to four distinct light modes.
I managed to fine-tune it from entirely off to dim, regular, and bright lighting. It's not that bad because the LED illumination and transition is smooth.
Velocifire designed the mechanical keyboard with a 500mA working current in DC 5V and USB 1.1 connectivity. The five-foot braided cord is TPE, but not detachable.
This mini keyboard has an anti-ghosting feature which could prevent you from keying in characters that you did not intend to press. It also has a Windows key lock feature to prevent the gamer from incessantly hitting it when in-game.
This keyboard works with Windows 7, 8, and 10, 2000, Vista, XP, Linux, IOS, and Android.
One of the characteristics I am looking for is its spill-proofing.
Its back tray looks classy and shiny, but it can be prone to scratch, dust, and fingerprints. However, the keycaps are made of robust and durable high-quality ABS materials with dust- and water-proof effect.
Labels and Branding – Average Design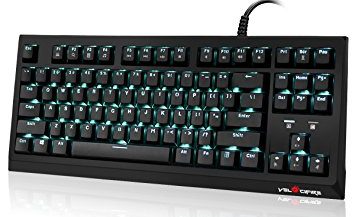 Just other Velocifire units, this model is decent and classy. It provides a different typing experience for any user.
Cherry-style brown switches with double-shot keys and anti-ghosting rollovers are particularly notable. But I cannot wait for Velocifire to do an overhaul of its keys to make it better.
If you're looking for simple design with LED backlighting, than this is the choice for you. However, if you're looking for RGB lighting and something a little more fancy, I recommend you check out our Tenkeyless list.
TKL78 Mechanical Keyboard – Editor's Opinion

If you have been searching for a portable keyboard with a compact design and affordable price, the TKL78 mechanical keyboard is an excellent choice!
Velocifire retained the remarkable features of its previous units with a few transparent distinctions. Some say it does not meet the enthusiasts' standards, unlike the Gram SE Spectrum. But it's a great keyboard, nevertheless.
Velocifire TKL78 provides a satisfying gaming and typing experience.
Its flimsy yet crisp keys offer a smooth transition and less noisy clicking sound. With excellent experiences personally and as seen on Amazon and Reddit, I can say with certainty that this keyboard is quite reliable and durable.
If you're interested in other Velocifire keyboards, check out our hands-on reviews of the VM01, VM30, and VM90.