Overview: EasySMX Gaming Headset Review
An efficient gaming headset beast
Excellent build quality
Great sound quality for gaming
Comes at a low price as per current writing
The Good

The Bad

The headband is quite bendable which makes it a good option if you stuff your headphones in your bag
It has LED lights which give it a nice gaming look
Although the build is completely plastic, it still feels fairly sturdy
The cable is stylish and durable
Comes with splitter cable for those who need separate mic and headphone chords

Would've been nice if it had some metal built into it
A separate cable USB cable for the LED lights seems unnecessary with too many chords
The sound quality is average (expected for the price)
The earcups are shallow which makes your ears feel pressed
There isn't much noise cancellation
Introduction to EasySMX Gaming Headset Review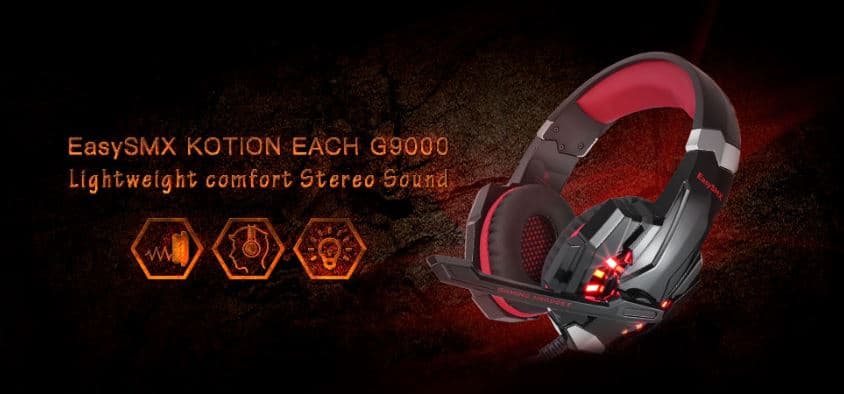 GoMK is expanding to new territories with this review of the EasySMX G9000 gaming headset. In this review, I'll unbox the G9000 and test it in gaming environments to let you know if its worthy of its price point (which is budget friendly).
Gaming is all about personalization these days. Everyone wants to exclude all sorts of disturbances to ensure complete yet efficient concentration on their competition.
One of many factors which contribute to keeping a gamer absolutely consumed in his games is the sound quality and consistency. Sometimes regular audio speakers reverberate throughout the room making it difficult to hear the exact locations or noises when gaming. This is why every single competitive PC player uses gaming headsets.
They're meant to block out noise, speak with a mic, and to hear the noises in the game with absolute precision. With games like PUBG, Fortnite, CSGO, it's no surprise that having headphones is essential for competitive play. The developers of the game have made the audio so specific that you can tell where an opponent is just by sound alone. That is, if you're audio is good enough to pick it up.
Take a look at the unboxing and full review below.
Unboxing: EasySMX Gaming Headset Review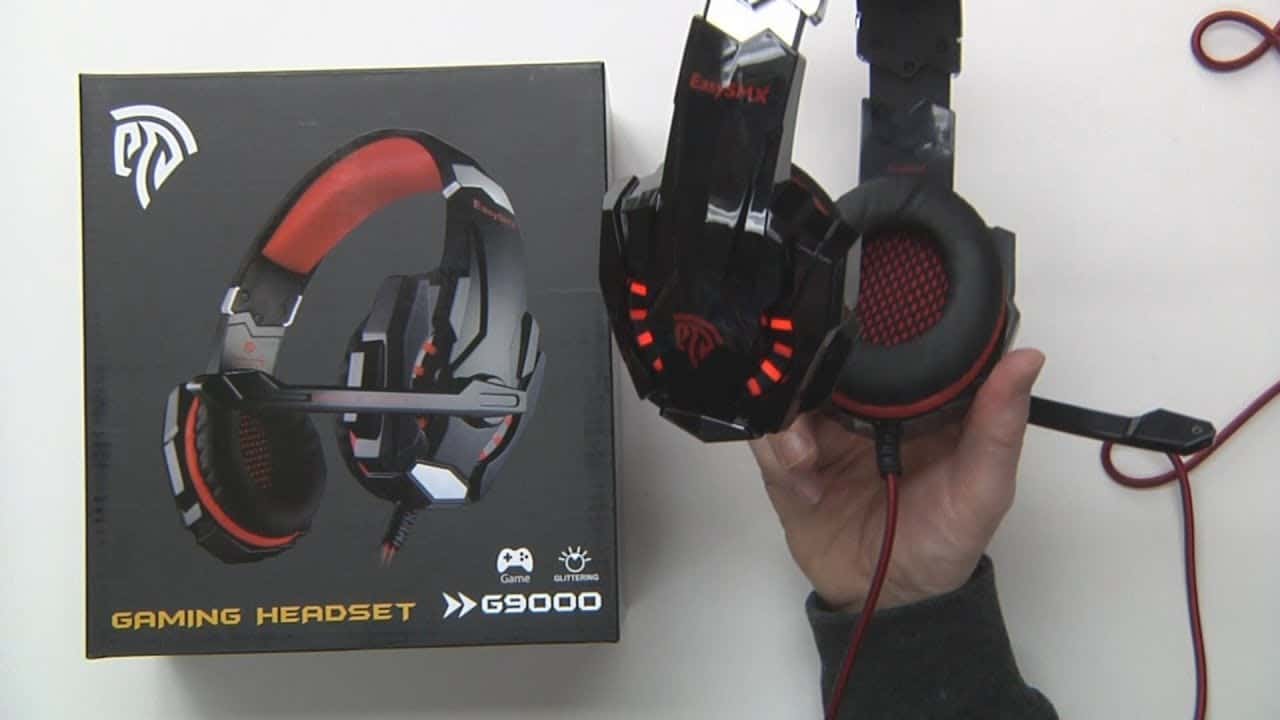 First off, EasySMX has given us a sample of their G9000 gaming headset to do an objective review. They've also let us test their famed gaming controller if you're interested in seeing their other gear.
The EasySMX G9000 gaming headset comes in a standard cardboard box.
The official EasySMX branding is labeled on the front with features mentioned on both front and back of the box. The complete box itself is a great impression. You will find the G9000 in a bubble wrap which is what I expect for its price point.
There is not an extensive guide or manual present in the manual. However, you still find the user manual and some extra cables which can be used for versatile connectivity.
When it comes to unboxing experience, I would give this gaming headset a 7 out of 10. Overall, the complete box includes
G1200 Stereo Gaming Headset,
Splitter Cable
User Manual
Though, this headset has a lot more to offer which we'll discuss in the coming headings.
Features & Specifications
Another thing gamers are more than enough conscious about the equipment they use is its specifications. They can compromise on the looks but specifications must be top notch as per the gaming trends. Good for us, because EasySMX G9000 has more to offer than I anticipated. Following are some basic specifications of the G9000
Driver diameter: 50mm
Impedance: 32Ω
Sensitivity: 105 ±3dB
Frequency: 20Hz -20KHz
Diameter:0 x 5.0mm
Sensitivity: -38 ±3dB
Directivity: Omnidirectional
Cable length:1m / 6.89ft
Operating current: O greater than 100mA
Headset interface:5mm 4-pole connector
Dimensions: 20 * 11 * 21.5cm / 7.9 * 4.3 * 8.5inch
Net weight: 303g / 10.7oz
One thing I liked about the EasySMX G9000 is its efficient design and built quality. The compact design, frequency range, impedance, and interface makes it stand out to other similar headsets.
Features
Let's take a look at the key features of the G9000 gaming beast
G9000 comes with a 3.5mm adapter making it usable for most devices. However, you must choose the way of audio output as 'all audio'. Otherwise, there will only be a voice call.
G9000 adopts high precision 50mm driver bring you vivid and HD sound field, sound clarity, sound shock, capable of various games.
LEDs are designed on the headphones and microphone,. It is one of the highly popular gaming trends these days a nice touch for its price
Fluffy cushion head-pad and ear-pad, as well as adjustable length hinges, guarantee hours of gaming comfort.
EasySMX provides an 18 Months warranty and a full 30-day money back guarantee for quality issues.
One of many things that I most liked about the EasySMX G9000 is its compatibility with almost every gaming device. You can either use it on PC or consoles. Furthermore, the efficient LEDs gives it an exceptional look in darker conditions.
Build Quality:
One can get a clear idea of the build quality by touching it and using it during gameplay.
The smoothness and sturdiness of the G9000 reveal an efficient build quality. It is primarily built of plastic with a matte plastic finish on the exterior and a shiny finish on the interior. There is a cushion on the headband which contributes in providing comfort.
The headset is very flexible from its headband which makes it rugged and it can be squirted into your congested bags quite easily. The earcups are soft and made with material that provides comfort in extensive gaming sessions.
Despite the material, the earcups are one of the biggest deal breakers for this headset. The earcups are extremely shallow. This is the reason why you feel like someone is pressing your earcups. The headset feels tight and provides a bit discomfort after prolonged use. Considering all the other features, I can definitely neglect this one downside of the G9000.
Although the earcups are shallow its audio quality is what you would expect. If you're gaming in a somewhat quiet place, the shallow cups shouldn't be a huge deal breaker. Besides, real noise canceling headphones like the Bose QCs cost a smooth $300+ easily.
Using it with PUBG, Fortnite, and CSGO:
I found that using it for games that require very accurate directional sound was decent. It was often quite precise but sometimes the sound could get a little bit muffled. After prolonged use, it was a tad uncomfortable but taking it off for a little bit fixed the problem easily.
For its price, I'd say the quality of the audio in gaming was actually pretty good. The LED lights, mic, and overall design are sleek and perfect for gaming setups.
Microphone Quality:
The microphone of the EasySMX G9000 is flexible to adjust as per your needs.
The microphone is situated way away from the mouth and can be adjusted by rotating it through 135 degrees. Now speaking of the quality of the microphone, it is fairly decent and comparable to the quality of microphones you find in headsets of this price range.
Now the major concern of an audiophile is the audio quality of a headset. This headset has 50 mm drivers and the frequency range lies in between 20Hz to 20,000Hz. The sound quality is similar to what you find in other headsets in this price range.
The sound is loud and clear with a good amount of bass and surrounds system. The headset also allows the user to adjust the volume using the inline control center.
Overall Thoughts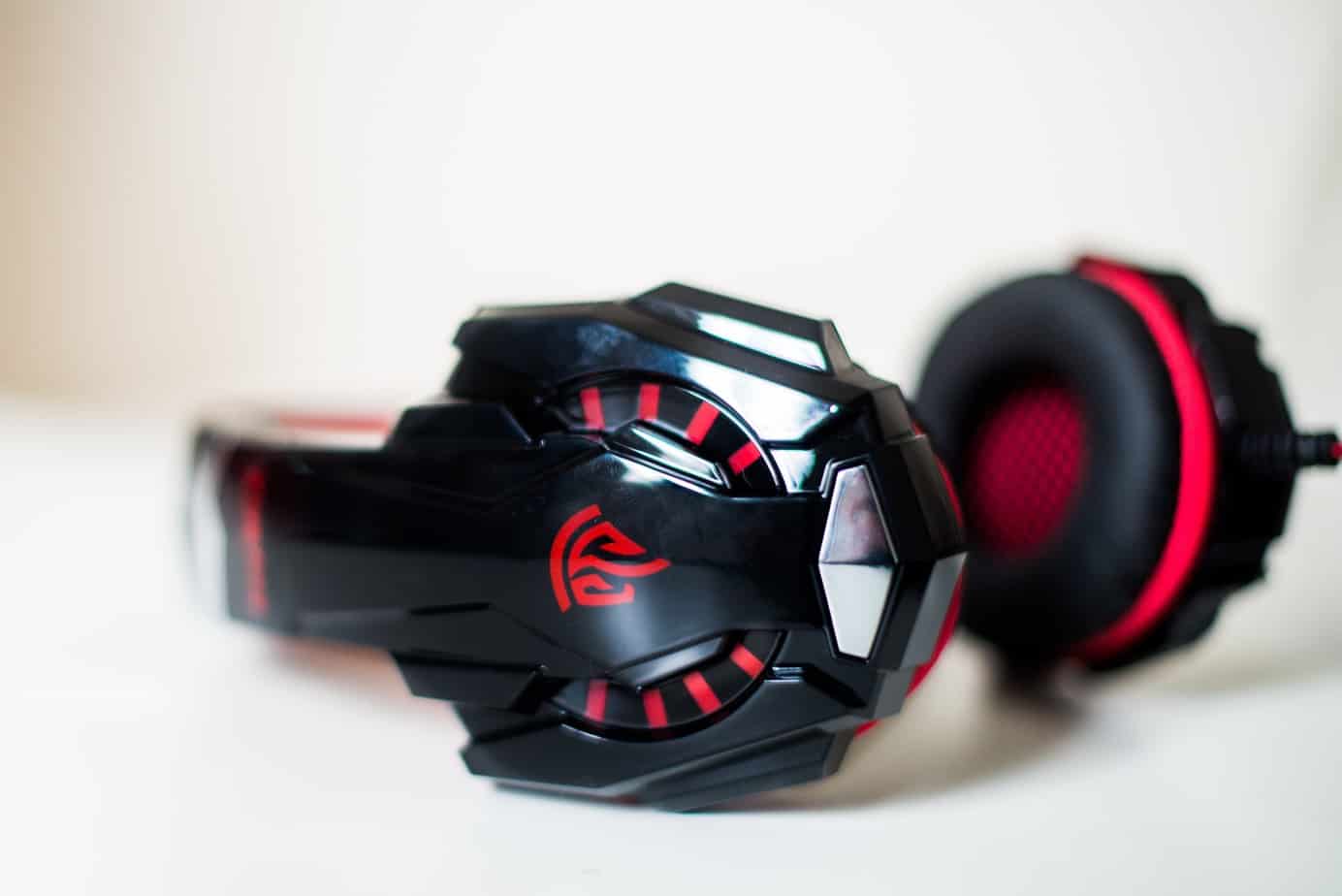 The G9000 is undoubtedly a very solid and durable headset. One of the major features contributing to its longevity and durability is the G9000's cable. The military graded cable is very strong and rugged which ensures that you don't lose the audio quality as the time passes. It is also a style statement by its look and feel.
It is compatible with devices like PS4, PC Smartphones from companies like Samsung, Apple, Huawei, LG, Xiaomi, Sony etc. However, for PS4, you have to tweak the audio settings to "all audio".
The EasySMX G9000 is priced at around $35, making it on the medium/normal side for most headsets with similar specs, features, and overall quality. The red/black design with LED lights are a really nice touch and in my opinion is competitive with other headsets in the market. After reading other reviews on Reddit and Amazon, the feedback was similar to what I got as well. For something to travel around with or for those on a budget, the EasySMX G9000 is a worthwhile purchase.