If you've ever browsed around the mechanical keyboard community, you've certainly run into some keyboards, unlike anything you've ever seen before.
The most shocking of which is likely the 60% keyboards – or "mini mechanical keyboards" as some newbies may call them. These are also known as tenkeyless or TKL keyboards for short. The is because these mechanical keyboards don't have a numpad. In this guide and list, I'll go through the best mini mechanical keyboards for everyday use. This list doesn't contain wireless mechanical keyboards. If you're looking for a wireless list – check out our article here.
A 60% keyboard has (as you guessed) 60% of the keys as a full-sized mechanical keyboard. Of the popular keyboard layouts that are widely available, it's the smallest.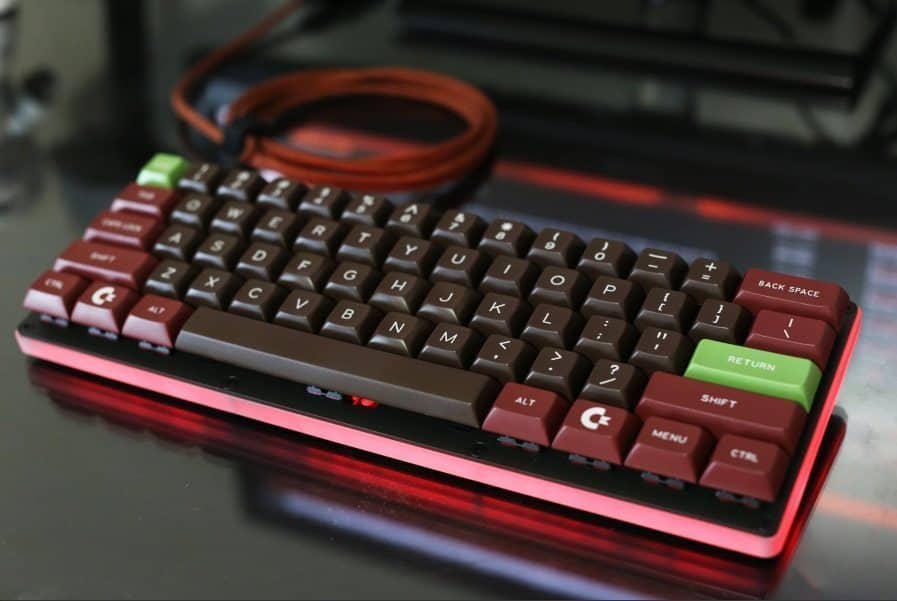 At this point, you might be interested in a 60% mechanical keyboard for the compact size, but what are the advantages of such a tiny keyboard?
Let's dive into them.
Advantages of Mini Mechanical Keyboards
The biggest advantage of using a 60% mechanical keyboard is going to vary depending on the user.
For some, the biggest advantage is the increased ergonomics that come with a shorter keyboard. Having your "mouse-hand" move less when shifting between keyboard and mouse keeps your body in a better, more ergonomic position.
It also saves you time and is more comfortable as you don't have to skim over the seldom-used navigation and numpad.
Other users may find the portability of a mini keyboard to be the biggest benefit. A 60% keyboard is easy to toss in a backpack and take with you to work, school, or in a backpack for vacation. Being able to have the same great typing experience regardless of where you're working from is a big reason mechanical keyboard enthusiasts love 60% keyboards.
One final reason many people give for preferring a mini mechanical keyboard is the space-savings on your desk. 60% keyboards give a very minimalist feel and look of not using more space than is necessary which is an aesthetic that some people love. Most mini keyboards come with a simple design that goes with its compact design.
Disadvantages of Mini Mechanical Keyboards
The biggest downside of a 60% mini keyboard is that you're forced to do the same functions you'd normally do on a keyboard with much fewer keys.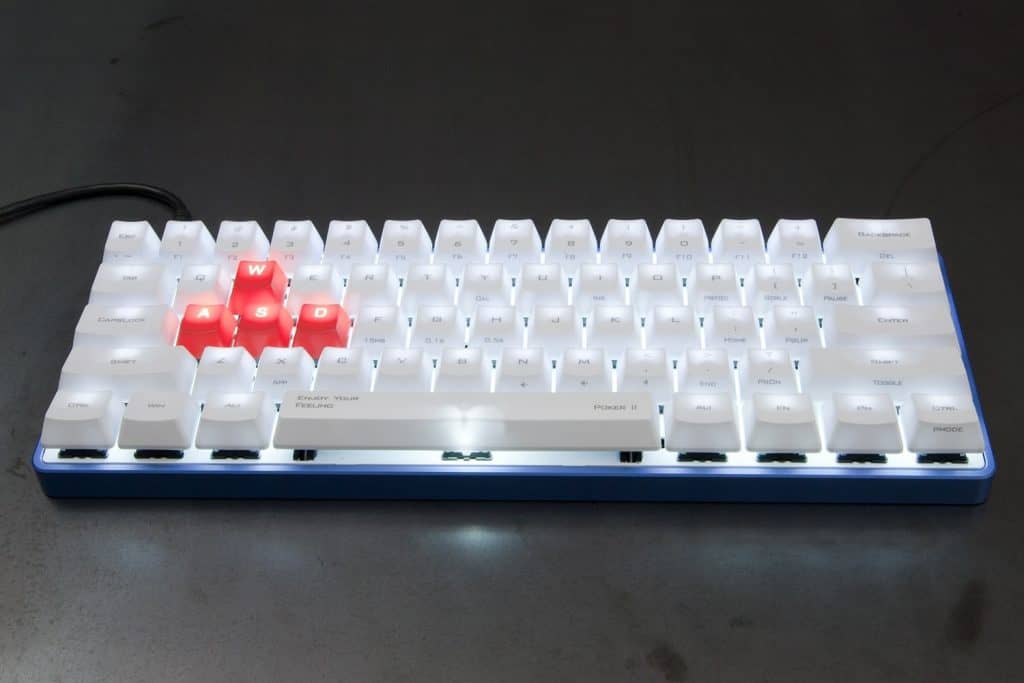 The way that a 60% keyboard makes up for the lack of keys is by offering programmable layers, hotkeys, and macros to speed up your workflow.
For example, since there are no arrow keys you would instead hold the Fn key and press some other keys to enact that functionality. The mini keyboard will come with a guide on how to use all of the hotkeys built into your keyboard, as well as how to program your own.
If you tend to use your numpad a lot for work (for example, accountants or financial analysts), then a 60% will likely be too much of a damper on your workflow. Here's a good guide to using programmable layers if you'd like more details about that process.
Our Best Mini Mechanical Keyboard List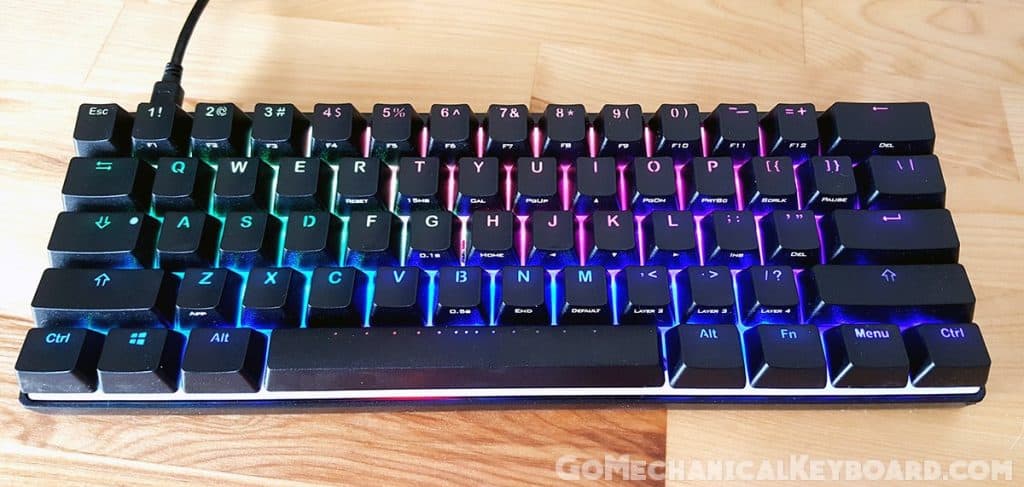 The Vortex Poker 3 is by far the most popular 60% mini mechanical keyboard on the market, and really one of the most popular mechanical keyboards among enthusiasts.
Their most recent model is the Poker RGB, which adds RGB backlighting for the first time.
The Poker 3 has 3 programmable layers for you to customize, and the best part is all your settings are saved within the keyboard itself. That means there's no software to install and you can take your computer to any device and have everything just how you left it.
We did an in-depth Poker 3 review if you're interested in learning more.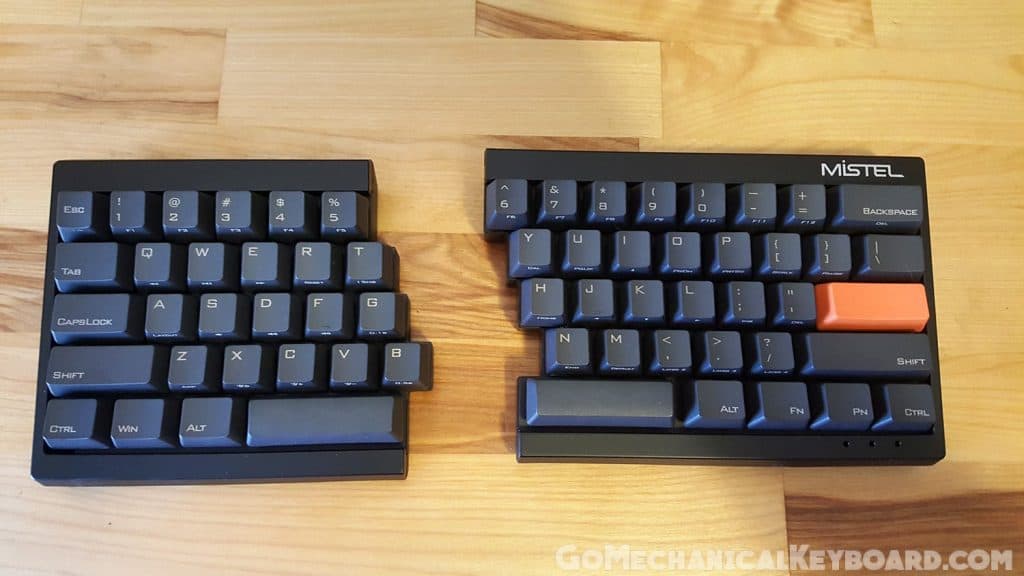 Here's another real head-turner of a 60% keyboard! The Mistel Barocco is an innovative mechanical keyboard that splits apart into two halves.
By breaking into two halves, the Barocco allows you to place the keyboard in a more comfortable and ergonomic position. The two halves must be tethered together with a USB cable which could be annoying to some users. This is a very interesting functionality that can be beneficial to a person looking for portability and space.
Here's our full thoughts on the mini Mistel Barocco.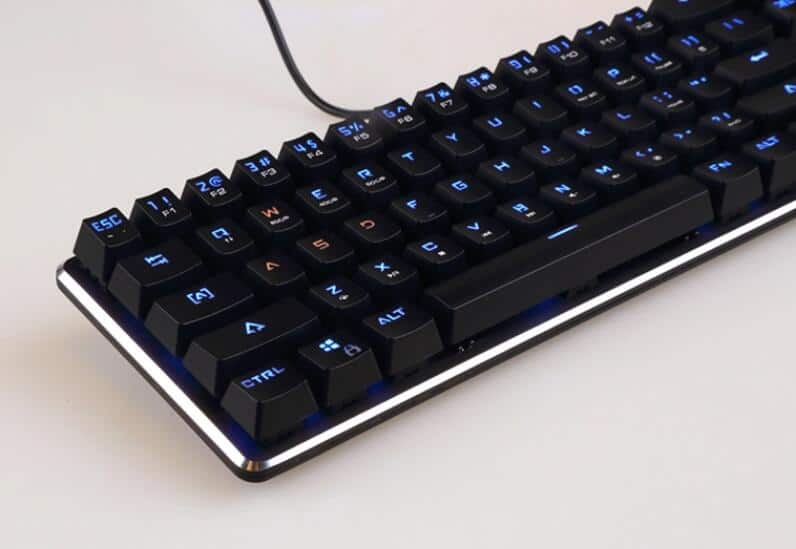 Rounding out our list is a good budget option for mini keyboards but it uses Outemu switches instead of Cherry MX.
This keyboard also has an extra 7 keys than most 60% keyboards. Having the arrow keys might be a big advantage for some people, and worth taking up a bit more extra space.
That concludes our list of the best mini mechanical keyboards. Having a mini keyboard comes with both pros and cons and really depends on your needs as a user. I find mini keyboards to be very popular amongst iPad and laptop users. Leave a comment below and let us know what you think.