The workload in college can be pretty demanding, but updating your setup might be just what you need to maximize productivity.
A mechanical keyboard can offer greater comfort and functionality than the keyboard on your laptop.
We have put together a list of five keyboards that will make those long hours spent writing essays or working on problem sets a little more enjoyable.
While the keyboards we chose have different features and styles, they are all relatively compact so they can fit on your cramped dorm room desk and be transported easily.
Let's go over our picks!
First up we have the Keychron K6, a 65% keyboard that has an awesome battery life, Bluetooth compatibility, and endless customization options.
When ordering the K6, you are presented with a few choices that have to do with the build, style, and functionality of the keyboard.
In terms of build, there is the option to get an all-plastic case or you can get it with an aluminum plate built-in. The aluminum plate makes the keyboard sturdier, but also a bit heavier. If you plan on packing up and carrying this keyboard in your backpack frequently, the lighter plastic version might suit you more.
You can get this keyboard with the hot-swap feature, which means the switch sockets are designed so you can change the switches easily. I heavily recommend opting for hot-swap because it will allow you to test out different switch types to find which feel you like best.
With the lighting, you have the choice between RGB and a simple white backlight. RGB lighting can be really fun and brighten up your workspace, but it definitely isn't needed. With the RGB there are 18+ lighting presets that you can cycle through, so there is something for everyone.
All of the options I just went through come at different price points, so you can pick and choose according to your budget and what features you will use most. I like the flexibility and the "build-your-own" feel it has. If you choose hot-swap, RGB, and the aluminum plate options, your total price will be higher.
The keycaps on the K6 are kind of a low point, but not any worse than what you'll find on most other budget keyboards. They are made of ABS plastic, which I found to be a little thin and cheap-feeling. PBT plastic is the premium keycap material, but it is more expensive. If you don't like the feel of ABS keycaps after some use, you can upgrade to a PBT set to replace them.
The most sought-after feature on the K6 is the Bluetooth 5.1. Many affordable keyboards lack this feature, so it is really great to see on the K6. It can connect up to 3 devices, allowing you to even switch between Mac and Windows devices seamlessly.
The battery life is also insane, making it so you will only need to charge a few times a month. The 4000 mAh battery is definitely a major plus of the K6.
The stabilizers on the K6 are pretty good, and they improved dramatically with a little bit of lube. For its price, I really have no complaints about the stabilizer quality.
There are tons of LK and Gateron switch options to choose from, with options for linear, clicky, or tactile switches.
Additionally, the K6 comes with 12 extra multimedia keys that allow you to optimize your keyboard layout.
I think the K6 would be an excellent keyboard for a college student because it lets you go cable-free and is compatible with a ton of different devices. The cost varies based on what features you choose, but even if you pick the most expensive options the price will be well below what competitors are at.
If the options we've given so far seem a little small for your liking, the Durgod k320 might be for you. This tenkeyless keyboard offers many Cherry MX switch options, a sleek two-tone design, and super smooth stabilizers all for under $100.
The K320 is built like a tank. The aluminum plate built-in allows zero flex, so you won't need to worry about it bending when you type.
One thing I dislike about the build is the location of the USB port, it is a little recessed. There is a cable management system though that helps with organization. If you use the cable included this won't cause any issues, but if you want to use a custom cable it might not fit.
I find the grey floating keycap design of the K320 to be attractive and professional looking. The keycaps are made of smooth PBT plastic (don't expect them to feel textured).
This keyboard does not have any backlighting, which I found to be a minor issue when trying to work in a dimly lit space. The darker keys kind of blend with the legends making them a little hard to see. There is an RGB option for the K320, but it will come at a higher price point.
The Cherry MX switches offered with this keyboard are: Black, Blue, Clear, Red, Silent Red, Silent Black, Speed Silver, and White.
The awesome stabilizers on the K320 combined with the always-great Cherry MX switches provide a super satisfying typing experience. Instead of pinging or high-pitched sounds, when pressing a key on the K320 you get a nice "thocc."
The K320 comes with two USB cables, ensuring that Mac users can easily get set up and using the keyboard. The two cables are USB-C to USB-A and USB-C to USB-C.
The Durgod Zeus Engine software compatible with this keyboard is helpful, but since I didn't get this board with RGB lighting I didn't find much use for it. If you want to change key functions or make any other changes, the software is easy to navigate.
I find the Durgod K320 to be truly a no-frills, reliable keyboard. If you don't need features like Bluetooth or hot-swap, the Durgod K320 will be perfect for all types of school work.
Royal Kludge RK68: The Budget Option For College Students
Up next we have the RK Royal Kludge 68, a 65% keyboard that brings Bluetooth and RGB lighting at a budget price.
The RK Royal Kludge 68 comes two colorways- black or white. This keyboard has a clean-looking aesthetic, and you can add color through the RGB lighting. There are tons of effects to choose from, so there will definitely be something for everyone.
While this keyboard has an all-plastic build, it is super sturdy. I do wish that there were kickstands so I could adjust the angle, but the angle the RK 86 sits at is sufficient for me.
Now onto the noteworthy wireless feature- you can connect up to 5 devices to the RK Royal Kludge 68. The battery life isn't fantastic, but you can get a good days worth of work in and then charge overnight.
The keycaps are made of doubleshot ABS plastic, which is expected with a keyboard at this price point. ABS keycaps will get shiny and attract grime easier than PBT keycaps, but they will still get the job done.
The switches on the RK Royal Kludge 68 are strangely TTC brand, which are much lesser well-known than Cherry MX, Gateron, and other popular brands. I found them to be decent and deliver a good typing feel, but again I have no clue how they will deliver with extended use.
It is pretty common for budget keyboards to have poor stabilizers, so it is always a relief to find an affordable keyboard that doesn't rattle. The RK Royal Kludge 68's stabilizers are pretty great, and I think they could get even better if lubed. Lubing the stabilizers definitely isn't needed though, I was impressed with how good they already were out of the box.
The RK Royal Kludge 68 is a great entry keyboard for a mechanical keyboard newbie to see what all of the hype is about. It delivers a good typing feel, Bluetooth, and you can play around with the RGB lighting effects- you definitely won't want to go back to your normal keyboard.
Next up we have the Ducky x Varmilo MIYA Pro, a keyboard that stands out for its stellar typing experience and vibrant colorways. Though this keyboard pricing starts at just over $100, I think it competes with keyboards well outside its price range.
The plastic build of this keyboard is surprisingly solid, with very little flex. The case is slightly angled as is, but if you want to make the keyboard sit higher there is a kickstand adjustment.
With tons of colorful options, it is hard for me to pick which MIYA Pro design I like most. The keyboards have interesting and creative themes that will make homework way more fun than normal. I suggest checking out the whole lineup of designs here.
The designs have different lighting setups, so the price may vary depending on if the backlight is a single color or RGB.
This keyboard also has a unique layout- the detached arrow keys are uncommon for a 65% board but I like the separation.
The textured PBT keycaps on this keyboard feel super nice and will last a long time with out wearing down or accumulating oils. The font of the legends will vary on the colorway you pick, but I find them all to be attractive and easy-to-read.
A bunch of Cherry MX switch options are offered with the MIYA Pro, so you have your pick of all the basics and then some. The types available are Blue, Black, Brown, Red, Silent Red, Clear, and Silver. Cherry MX switches always deliver quality and durability.
The stabilizers are excellent, right out of the box they feel buttery smooth. They are pre-lubed from the factory, so you won't need to put in any work to get a rattle-free typing experience. The stabilizers definitely a high point of the MIYA Pro.
The functionality of this keyboard is boosted by the powerful Ducky firmware. There are many options to change the keyboard mode or key functions, so even though this keyboard is compact you can program multiple layers. Additionally, the MIYA Pro makes switching between Mac and Windows products painless.
The Ducky x Varmilo MIYA Pro is a great option if you are looking for something to lighten up your desk space. The many design options give you the chance to get a keyboard that matches your aesthetic, whether you go for the Mac White or the Forest Fairy. If interested, you can find the Ducky x Varmilo MIYA Pro here for a good price.
If you are an engineering student by day and a gamer by night, the Varmilo VA87M will be able to keep up with both. This highly rated, multipurpose keyboard is really suitable for all users.
Similar to the MIYA Pro, the typing experience on the VA87M does not disappoint. Varmilo has truly figured out the secret to perfectly smooth stabilizers. You won't experience any shaking or rattling when typing on this keyboard.
The VA87M also has a wide range of design options, so you definitely can find something eye-catching and colorful or opt for a simpler colorway. I appreciate all of the choices Varmilo offers for their keyboards, it really allows you to find something that suits your personality.
With the many options, there are some price differences based on the lighting chosen for the design.
This keyboard is tenkeyless, which means there are more keys than the 65% keyboards we've seen on this list so far. The extra keys do make this keyboard larger, but it still seems pretty compact.
The keycaps on the VA87M are made of PBT plastic, so it will be ages before they wear down. On some of the models, I find that the low contrast between keycap color and legend reduces readability (this only occurs when the keycaps are in a dark color).
The many Cherry MX options are exciting to see, but beware that some of them may cost a little extra. The full offering is: Black, Brown, Red, Blue, Clear, Silent Red, Silent Black, and Silver.
One complaint I have with this keyboard is that it uses a Mini-USB, which is a little outdated at this point. Most keyboards now have USB-C ports, which are a little more functional. The Mini-USB doesn't affect the use of the VA87M though, so this is more of a matter of personal preference.
Overall, I think the Varmilo VA87M is perfect for college students who want to have the most comfortable typing/coding/gaming experience possible. The many options for Cherry MX switches and colorways truly lets you find the feel and look of your choice.
Conclusion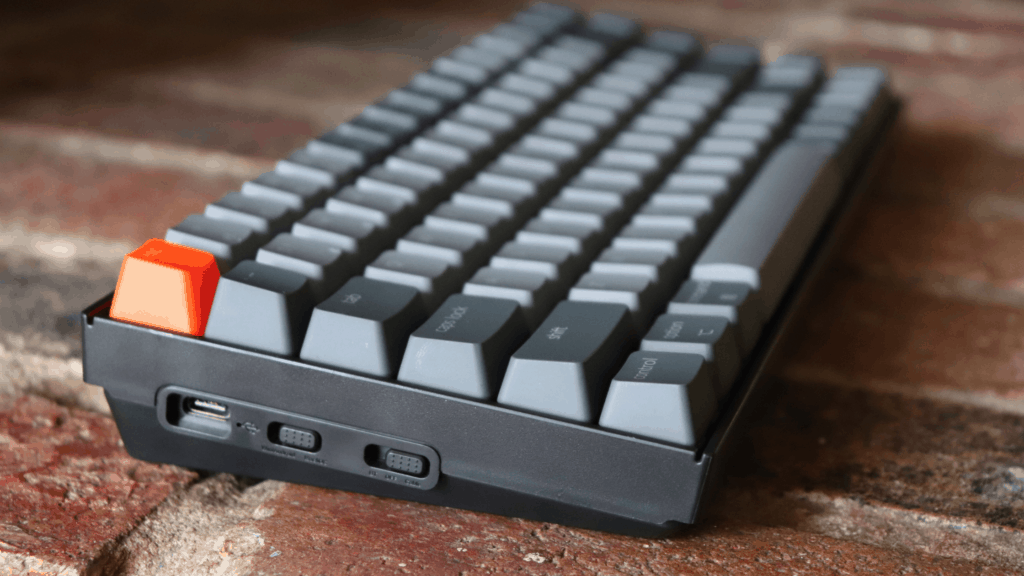 I hope this article was helpful for all the students out there who are looking to purchase a mechanical keyboard- all of the options I have provided are highly rated and are sure to turn you into a mechanical keyboard fan.
Schoolwork can get pretty boring and monotonous, so why not change it up with a more stylish and comfortable keyboard? Mechanical switches are also way more satisfying to use and can be suited to what activities you use your keyboard for most. For example, gamers tend to opt for linear switches while people who type a lot like tactile switches.
There are so many advantages to getting a mechanical keyboard, so I hope this article was a good starting point to navigate all of the options out there.
Thanks for reading!