You spend every working day of your at life at your keyboard, why not use a keyboard that feels great?
As someone who has reviewed dozens of keyboards, I'm here to give you a curated list of the very best picks.
We've spent the past few years testing keyboards in order to find the very best.
Here are our favorite mechanical keyboards for typing.
Best Mechanical Keyboards for Typing
1. Keychron K6 75% Mechanical Keyboard
Of all the mechanical keyboards that we've reviewed, the Keychron K6 stands out in a big way.
The Keychron K6 is highly recommended due to its versatility and beats out the rest of the keyboards on this list.
The versatility of the keyboard allows you to connect to three devices via Bluetooth and swap between them flawlessly.
You're able to cut the cord while being able to swap between your Windows, Mac, cell phone, and tablet all at the touch of a button.
No more awkwardly trying to connect to your PC that happens to be just outside the reach of the cable.
The versatility of the Keychron K6 also allows you to customize the switches to get the ideal feel for typing. If you enjoy a bumpy, loud, silent keystrokes, or anything between, the K6 has you covered.
If you get the keyboard and don't like the switches you picked out, no problem, you can swap them out with no soldering required.
Simply pull the old switches out and press the new ones back in, then you're good to go.
If you spend all day typing, the Keychron K6 can be molded into exactly what you need in a keyboard.
You'll want to sit at your keyboard all day just pressing buttons because it's so satisfying. Or maybe I'm just weird.
You can find the Keychron K6 on Amazon.
This unique mechanical keyboard from Cooler Master offers a unique compact keyboard, which is great for ergonomics that a typist likely craves.
It combines the command, directional keys, and the numpad so you keep the functionality you need but with a much smaller footprint.
It also comes with the much important Cherry MX Blue switches (also available in Brown, too).
We feel like these unique features make this our second top pick mechanical keyboard for typing.
For gaming or general typists who like nice ergonomic keyboards, this is one of the most popular keyboards and has great reviews (it's also a cheap buy!).
You can find it here.
We're a big fan of the ultimate CODE mechanical keyboards due to their minimalist design approach and design decisions like using a timeless font on the keys.
This full mechanical keyboard offers backlit keys and Cherry MX Brown switches. Popular among gamers and typists, CODE gives mechanical keyboards a nice experience and is well suited for heavy use.
This keyboard feels solid to the touch and will withstand years of banging on the keys.
Be sure to view our full length review of the CODE 104-key mechanical keyboard.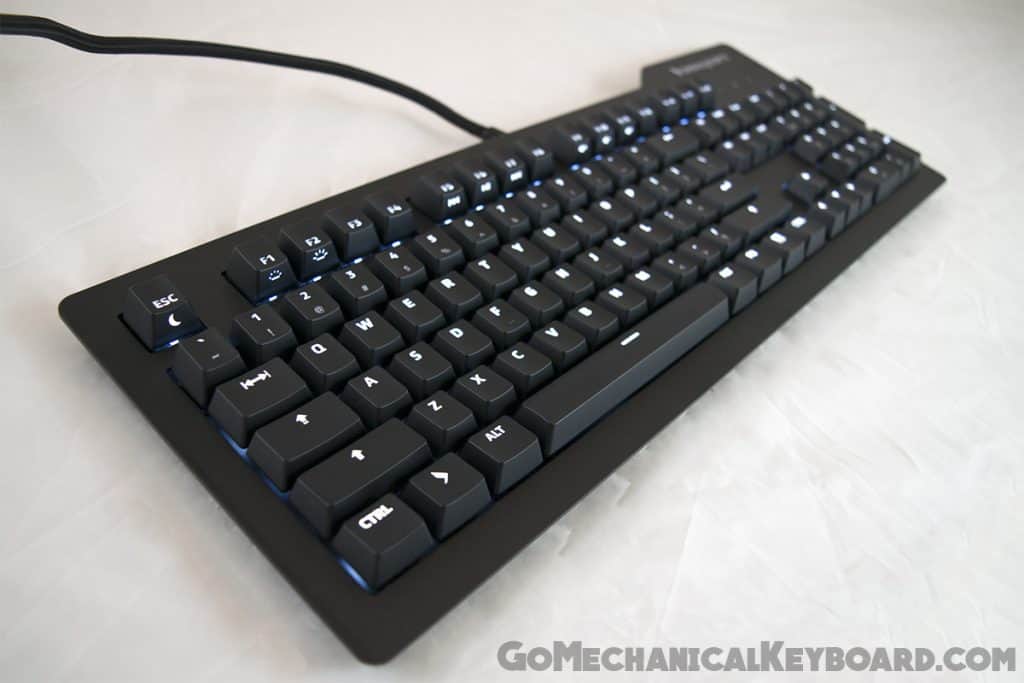 If you want a mechanical keyboard with all the bells and whistles, look no further.
This mechanical keyboard comes with Cherry MX Blue switches as well as an aluminum body and built-in USB 3.0 hub.
If you have to work with flash drives often, it's a god send to be able to quickly swap them in and out of your keyboard versus reaching around your computer to find the right slot (perfect for gaming).
You can find the Das Keyboard 4 Professional on Amazon.
You can check out the video below of me typing 95WPM on my Das Keyboard 4 Pro with Blue switches, and read our full Das Keyboard 4 review as well.
Best Mechanical Switches for Typing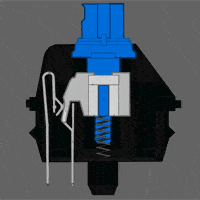 When it comes to typing, the type of mechanical switches can make a big difference. The main component to a great typing keyboard is the tactile feedback the keys give you. That's why Cherry MX Blue switches are the most preferred switches for typing.
They have a nice physical "bump" you can feel when the keys activate, allowing your body to be certain that the key has been registered. The actuation force is strong enough that you won't mistakenly activate the keys while skimming over them, but not too strong that it will fatigue your fingers.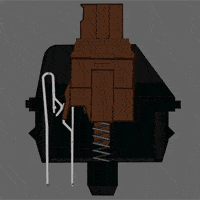 The next best switch for typing is the Cherry MX Brown switches. These have similar feedback to the Blues but take less pressure to activate. The Browns are also don't make a clicky sound from the switch being pressed, so they'll be a bit quieter than the Blues.
If you'd like to quickly find a great keyboard with Brown or Blue switches, check out our chart to compare the best mechanical keyboards. Otherwise, check out our guide below for suggestions on the best mechanical keyboards for typing.
You can also check out our guides on the best programming mechanical keyboards or best wireless mechanical keyboards to buy for reviews.
Conclusion
That finishes up our roundup of the best mechanical keyboards for typing!
We hope you found the right mechanical keyboard for you, be sure to let us know if there are other keyboards you prefer! You don't have to be gaming just to get mechanical keyboards. The type of keyboards a person has depends on their needs.
If you're looking for a mechanical keyboard for Mac we have a great guide on that as well.