Having your glasses on while wearing a headset can get pretty uncomfortable, but fortunately, there are options available that specifically avoid this unfortunate predicament.
You shouldn't need to make the tradeoff of head pain for a decent audio experience if you wear glasses.
Luckily, not all headsets out there will smush your glasses frame into your head, so today we are going over five headsets designed to give glasses wearers some relief.
Whether they feature a special channel for a glasses frame or simply an adjustable design, our picks are tried and true favorites among glasses wearers.
Let's get into the list!
1. HyperX Cloud II: Best All-Around Pick for Glasses
Starting off our list we have the HyperX Cloud II, a favorite in the gaming community for its reliable build and immersive listening experience at a budget price.
This headset has a unique look, with aluminum forks holding the ear cups in place. This design allows for a lot of flexibility when it comes to wearing glasses and adjusting the fit. You should be able to wear any pair of glasses without issue.
If you want some color on your headset, there is a colorway of the Cloud II with red accents that definitely gives off a "gamer" vibe. There is also a simpler Gunmetal colorway has charcoal accents.
The Cloud II may also be the most comfortable headset you will ever wear, as it has large, plush ear cups that surround your whole ear. If you are used to wearing normal headphones that tend to hurt your ears after wearing them for a while, the memory foam on the Cloud II will be a nice change.
Audio comes through this headset clearly and detailed, making this headset awesome for gaming. If you use PC or Mac, the 7.1 surround sound feature on this headset will level up your gaming experience by heightening sounds like footsteps and gun shots.
This headset can be connected to other consoles and will work well, but the surround sound will not be present.
The large microphone on this headset is decent and produces recordings relatively free of background noise. It is also detachable, so you can easily transition from gaming mode to listening to music by removing the mic.
I wish the cable on this headset was a little longer, because as a wired headset you won't have the option cordless. This is one of the few limitations of this headset, but as a budget headset, I can accept the minor shortcomings.
If you are looking for a headset that's under $100, highly-rated, and suitable for glasses wearers, I definitely recommend looking into the HyperX Cloud II. To check the current price of this headset and get more details, you can find the HyperX Cloud II on Amazon..
2. Razer BlackShark V2 Pro Wireless: Best Headset For Glasses to Stay Cool
Next up we have the best-selling Razer BlackShark V2 Pro Wireless, a premium headset designed to have a looser fit to accommodate glasses wearers. This headset comes in at a higher price point, but its all-around performance justifies the price tag.
Let's start off by talking about the fit of this headset. Most glasses wearers find tight-fitting headsets to cause discomfort when their glasses get smushed into their head. I find the V2 Pro Wireless to present an ideal fit that isn't too snug but also still comfortably conforms to your ears.
There is memory foam on the head band and ear cups coated with faux leather, but you don't need to worry about your ears heating up during use. The ear cups are made with cooling gel cushions that work to minimize heat buildup.
On the left ear cup you will find a conveniently located volume wheel and other controls.
If you have used the previous iterations of the BlackShark, you may find the V2 Pro Wireless to be a little heavier. The battery that allows this headset to go wireless adds some weight, but doesn't make it heavy enough to cause any issues.
To go wireless, all you need to do is insert the included USB dongle into your PC and connect the headset. There are few headsets that have full compatibility with all gaming consoles and the BlackShark is designed for PC users. If you want to use this headset with XBOX or PS4 it will likely still work, but possibly not with the quality and all the features as with PC.
The battery life on the BlackShark V2 Pro Wireless is around 24 hours, which is on the higher end for gaming headsets. I'm the kind of person who likes to charge my headset right after use, but its nice to know I can get multiple sessions in if I forget to charge it.
This headset has 7.1 surround sound, which is valuable when gaming because it increases situational awareness. At this price point I expect an exceptional audio quality, and the V2 Pro Wireless delivers.
Through the companion Razer Synapse software, you can easily fine-tune the listening experience to your preferences.
The microphone on this headset produces clear recordings without issue. The mic is also detachable, which is a nice feature for when you want to listen to music or watch a movie without the mic in the way.
If you are willing to spend a little more, the Razer BlackShark V2 Pro Wireless is a fantastic headset option that will work with glasses. To get more information on this headset and check the price, you can find it on Amazon for a good price.
3. SteelSeries Arctis Pro: Best High-End Headset for Glasses
Next up we have the SteelSeries Arctis Pro, another premium headset that utilizes unique materials to achieve a signature feel and audio experience.
Aesthetically, the Arctis Pro has a sleek and professional look that distinguishes it from other gaming headsets. You can purchase this headset in either white or black colorways, and I personally think the black is the most attractive.
This headset has a distinctive head band in that it uses ski mask material to achieve a comfortable yet snug fit. The head band is reinforced with steel for stability, and the adjustable fit allows you to accommodate glasses (although the design isn't tailored designed to do so).
The fit of SteelSeries Arctis headsets is unlike any other headset, and this unique-ness extends to the ear cups as well. The ear cups have airweave cushions, which are made with an athletic material to make sure it doesn't get stuffy or hot while you wear the Arctis Pro. This material is like the Nike dri-fit of ear cushion materials.
The sound quality on the Arctis Pro is superb, giving you clear and distinct sounds to work with while gaming.
A cool feature of the Arctis Pro is the LED band that goes around the ear cups, and you can change the color to fit your mood. This is definitely not a necessary component as you won't even see the lights while you wear this headset, but it is still a fun feature.
The mic on the Arctis Pro works well, and the retractable design is optimal for preserving the mic quality.
The Arctis Pro is available in a wireless or wired version, the wireless costing more. If you opt for the wireless version, a USB dongle is included to connect to your console.
The Arctis Pro Wireless has an impressive 24-hour battery life, so you can get in a lot of use without having to charge. Even more conveniently, you receive two batteries so you can charge one while the other is in use for endless power.
The SteelSeries Arctic Pro is definitely for someone who wants a premium headset, but it is worth the high price given the special materials and advanced features. If you want to check out this headset, you can find it on Amazon for a good price.
4. Razer Kraken 7.1 V2: Best Surround Sound Headset for Glasses
Another headset we find worthy of recommendation is the Razer Kraken 7.1 V2. This powerhouse of a headset doesn't compromise on comfort or audio experience and is even built with glasses wearers in mind with an indented eyewear channel.
The fit of this headset may be pretty snug out of the box, but most users find that it expands as you wear it to better fit your head shape.
The Kraken 7.1 V2 appears to be pretty bulky and burdensome, but it is surprisingly light. With large memory foam ear cups and a padded head band, this headset feels really nice to wear.
Many headsets fail to accommodate eyewear, so it is thoughtful that Razer included the eyewear channels into their design. The hidden channels prevent your glasses from getting smushed into your head and causing discomfort.
The Razer Kraken provides an impressive audio experience. Whether you are using this headset for work, gaming, or listening to music, the quality will be there. In games where every sound makes a difference, the 7.1 surround sound of this headset ensures you don't miss a thing.
If you use this headset with a PC it is noise-cancelling, which only serves to elevate the listening experience by tuning out your surroundings.
A limitation with the Razer Kraken 7.1 V2 is the lack of control you have with the headset itself. There aren't buttons or a scroll wheel to control the volume or other functions, it all must be done through software. This doesn't present a huge issue, but I wish there was the convenience of turning up/down the volume from the headset itself.
The retractable mic on this headset is pretty standard, so not amazing but also not bad. The microphone pales in comparison to the stellar audio quality of the Razer Kraken, but at this price point, I don't expect every component to be top-notch.
Another low point on this headset is the cord, which feels a little cheap. I know some people have experienced cord breakage after awhile of using this headset, so that is definitely one factor you will want to keep in mind with the Razer Kraken 7.1 V2.
The Razer Kraken 7.1 V2 is a great option for glasses-wearers looking for an affordable headset that has a high-performing audio system. If you would like check out this headset, you can find it on Amazon here.
5. Turtle Beach Stealth 600 Wireless: Best Console Headset for Glasses
To finish out this list we have the Turtle Beach Stealth 600 Wireless, an affordable wireless headset that maximizes quality and is specially designed to fit glasses.
A lot of people are drawn to the Turtle Beach Stealth 600 Wireless because it comes in two versions, each suited to either XBOX or PS4 (each version comes in 2 colors). As mentioned earlier in this article, headsets often have varying performance across different consoles, so it is convenient to be able to pick the model that matches your gaming preference.
Read the full review of the Stealth 600, if you are interested.
This headset definitely takes on the stereotypical "gaming" look with bright accents the shape of the build, so just keep that in mind if you are looking for something for just music and movies.
The ear cups are made with comfortable mesh cushions, and there is a hidden section that is slotted to relieve pressure where glasses would rest. This prevents your glasses frame from pushing into your head, which is what happens with most headsets.
The audio on this headset is top-notch, and there are a few presets that allow you to tweak the sound (such as adding more Bass). Turtle Beach boasts that this headset has "Superhuman Hearing", which allows you to hear minute details in games to give you an advantage.
The mic on the 600 Wireless is excellent, and there are scroll wheels to adjust the mic volume. It is helpful that what is said in the mic is relayed inside the headphones, so you don't need to yell to know what you are saying. The mic can also be flipped up out of the way, and it mutes when you do this.
As a wireless headset, you can use the 600 cordless by plugging the USB dongle into your console. The battery life is decent, you can get around 15 hours of use in between charges.
The Turtle Beach Stealth 600 Wireless is a popular choice among XBOX and PS4 gamers because it gives you everything you would want in a headset at an accessible price. It's not common for a headset to have an excellent mic, audio quality, comfort, and wireless feature. You won't want to miss out on this headset, so if you are interested in the Turtle Beach Stealth 600 Wireless you can find it for a great price.
Conclusion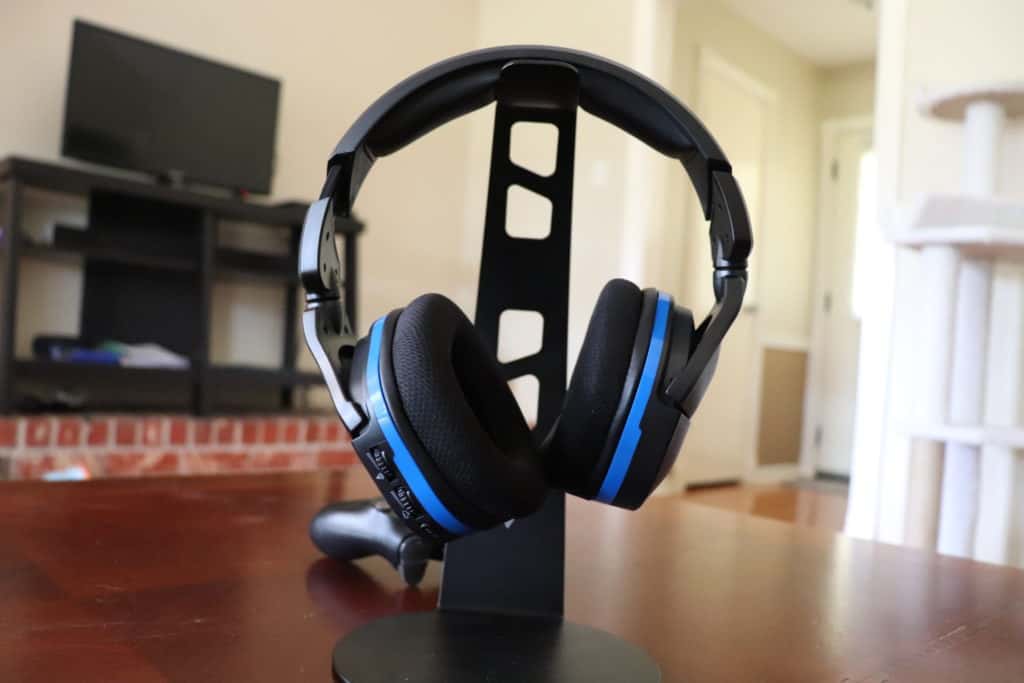 If you wear glasses, you shouldn't have to compromise your comfort or vision to game at the highest level.
A headset with high-quality audio can vastly improve your gaming experience, but not all headsets are suitable for glasses wearers.
In this article, we presented five awesome headsets that are notable for being glasses-friendly, so any of them would be a great pick if you are looking to get rid of that head pain from your current headset, or even if you are a first-time headset buyer.
All of the choices mentioned have different designs, prices, and features, so hopefully, we gave you enough information to continue the search process for a headset that accommodates glasses or you feel confident purchasing one of the options we gave.
Thanks for reading!