Comparison Table of Best Topre Keyboards
A Guide to Topre Switches
Topre switches are an electrostatic capacitive non-contact keyboard switch, which has been around since the 80s. Some people don't consider Topre to be a true mechanical switch, but more of a hybrid of a mechanical switch and a rubber-dome switch. You can see in the diagram below, both a spring and a rubber dome are used in the design.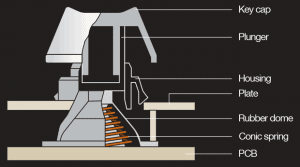 Most of the resistance of the Topre switch comes from the rubber dome, however, Topre rubber domes are built to much higher quality and standard than your standard rubber membrane keyboard.
Topre is the biggest competitor to Cherry MX style mechanical switches, but have a decided disadvantage in that the keyboards that use them are so expensive! While prices have been dropping, many keyboards that use Topre switches are still over $200. If that breaks your bank, take a look at some alternatives.
Ultimately, whether or not a Topre keyboard is worth the money for you to spend on it will come down to your personal preference. It's hard to say if Topre is right for you without trying one out yourself.
Below is a video where you can get a feel for the difference in the sound of a mechanical switch vs Topre. Topre switches have a much deeper sound and are generally quieter.
Why Get Topre Keyboards?
Some people like the feel and quiet sound of Topre switches. Another reason one would want a Topre keyboard is the fact that Topre switches are more rare and costly. Mechanical keyboard enthusiasts like having keyboards that are unique and one-of-a-kind. Lastly, the preference for switches is the most important thing. If you're typing or gaming for long amounts of time, you'll want a keyboard that feels the most comfortable. Due to its high price and uncommon nature, Topre keyboards are sometimes considered a premium keyboard (though this is debatable).
With all that background covered, let's jump into the review of the best Topre keyboards!
What to Look For – Our Criteria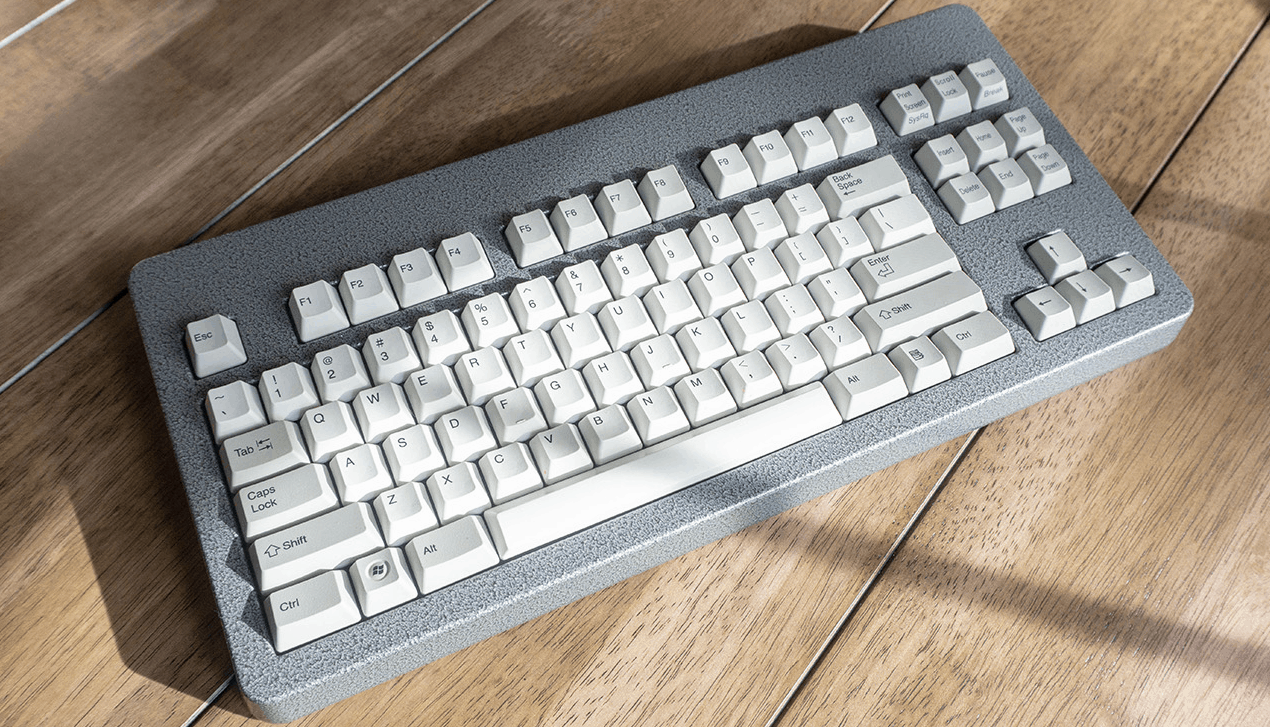 Keys and Switches
What usually will set the quality of a good keyboard apart is the intricate mechanism that works underneath each and every key of the board. These are called switches.
Switches make or break the keyboard as it basically is the feel and the sound of every typing experience. A happy medium exists between those two switches, being the Topre switches. Any Topre keyboard needs Topre Switches. They are famous for their unique feel and sound.
Size
Keyboards can be diverse in size, mostly differing in the number of keys that the keyboard contains. The most common ones are the full-size, the TKL or Tenkeyless, and 60%. Each type has its own specialty and use.
Full-size keyboards are generally known as the standard keyboard, containing 104 to 108 keys. Tenkeyless keyboards, also known as 80% and 87% keyboards are full-size boards without the number pad attached. The third is a 60% keyboard, which is the most compact type.
Ergonomics
Typists and gamers alike are not injury-proof. There is a lot that can go wrong between nonstop coding and intense gaming. Two examples of these would be strains and wrist injuries. It's always better to buy a good ergonomic keyboard for better comfort and lesser trips to the hospital. From wrist rests to elevation adjusters, keyboard manufacturers keep your health in mind, so you just have to know where to look.
Connectivity
To be able to carry and use a keyboard anywhere without the use of a cable is always a nice touch. But is it really the best for your lifestyle? Deciding between the two and figuring out the importance of each and how they adhere to your workflow can be crucial. For example, a wired keyboard may cause clutter and instability, while a Bluetooth keyboard can cause you the inconvenience of charging and sometimes lag.
Purpose
Keyboards are made with a specific type of consumer in mind and those consumers can vary much. They can be for gamers, programmers, typists, accountants, the list is endless. For example, a gaming keyboard would have bright backlighting and extra macro keys for specific gameplay functions. However, this may not be important for other users. Knowing what is useful for you and isn't can save you a lot of money and give you the efficiency that you need when using the keyboard.
Best Topre Keyboards
The Realforce 104UB is made directly by the Topre company and is also available in a white version. One interesting thing about the Realforce keyboards is the switches have different stiffness depending on where they are on the keyboard. Keys towards the center of the keyboard are stiffer, and keys towards the outside where primarily your pinky will do the typing are much lighter. This is an interesting characteristic that I've only seen with Realforce.
This makes for a more ergonomic typing experience that some will enjoy, but others may find annoying. Those that love it swear it's the best typing keyboard they've ever tried, so if it sounds interesting it's worth a shot.
| | |
| --- | --- |
| PROS | CONS |
| Ergonomic | Lack of features |
| Decent in Gaming | Expensive |
| Great typing experience | Bland Design |
| Good Build Quality | |
The Happy Hacking Keyboard (or just HHKB) is a very popular, ultra-compact mechanical keyboard in the 60% form factor. For such a small keyboard, it may be hard for many people to stomach the high price tag.
The HHKB has a built-in USB 2.0 hub with 2 ports and a unique layout. For example, there's no Caps Lock key, you must access that by holding down a function key and pressing Tab. Here's how PFU describes the HHKB layout –
We eliminated dedicated CAPS LOCK, Windows key and numerical key pad. About function keys, we overlaid them on numerical keys. Some other keys such as PageUp, PageDown, Home are also overlaid on some keys on the right half of the keyboard. To generate these key codes, please keep holding "Fn" key located right below RETURN key and press appropriate keys.

This model has 65 keys because of addition of arrow keys and Fn key at left side of keyboard.
So clearly you'll want to spend some time thinking about if such a compact layout will work best for you or not. Many people who prefer this keyboard are actually computer programmers.
| | |
| --- | --- |
| PROS | CONS |
| Small and portable | Expensive |
| Durable | Lack of Arrow Keys |
| Good build quality | Different Layout |
| Topre switches | |
The Topre Keyboard Realforce RGB by Seasonic is a topre gaming keyboard equipped with features focused on improving gaming performance and comfort. Boasting unparalleled customization with an Actuation Point Changer feature, a patented switch design, and an incredible RGB Backlighting, the Realforce RGB is a premium choice for Topre gamers and enthusiasts.
| | |
| --- | --- |
| PROS | CONS |
| Great for typing and gaming | Bland design |
| Great build quality | Expensive |
| Customization | |
| Ergonomic form | |
The Leopold FC660C 65% keyboard is another excellent keyboard equipped with Topre switches and PBT keycaps. It lives up to its name of having a great and sturdy build, being small in size with only 66 keys, a great fingerprint-resistant plastic case, and comes with both blank and printed keycaps.
| | |
| --- | --- |
| PROS | CONS |
| Great build quality | Not programmable |
| Topre Switches | Unconventional key sizes |
| Compact and Portable | Plastic casing |
| | Expensive |
The Realforce R2 PFU Limited Edition is produced by PFU Limited, which is a well-known manufacturer from Japan of premium Topre keyboards. This specifically sets itself apart with a great ergonomic form, and a highly responsive 45g keystroke, which is perfect for typing. It promises lesser typos and a greater typing experience.
| | |
| --- | --- |
| PROS | CONS |
| Highly Responsive | Divisive Layout |
| Topre Switches | Very Expensive |
| Compact and Portable | |
| Ergonomic Form | |
Conclusion
Topre keyboards are generally regarded as premium keyboards as they are all very expensive.
However, the one that proves and surpasses expectations that is set by its price is the Leopold FC660C. This keyboard is a great representative of Topre keyboards. The Leopold FC660C's standard layout and design makes it easy to use and convenient.
The price of it isn't too heavy as well, for a premium Topre keyboard. For a higher price point, the Happy Hacking Keyboard Professional 2 is a niche in the community and is beloved by many. They all serve the promise of good Topre keyboards that let you experience the unique feel and sound.
Other options
The Topre keyboards that we reviewed above are what we consider the overall best Topre keyboards.
If you're hesitant to purchase Topre keyboards due to their price, it's reasonable. Check out the Amazon reviews for some extra info or confidence in your purchase.
If you don't see anything that interests you, due to price or style, check out our list of the best mechanical keyboards. We cover pretty much everything except Topre because it's so expensive.