Looking for the best tenkeyless mechanical keyboards?
Think about this – how often do you really use the numpad on your mechanical keyboard?
Unless you work with spreadsheets and numbers, you likely don't need that extra space. Welcome to tenkeyless (TKL) mechanical keyboards. In this article, I'll go over the absolute best TKL keyboards, what they are, and whether or not you should buy one for yourself.
This is true especially for gaming enthusiasts – gamers hardly ever need to use the numpad. In fact, I find that numpads are only essential for the office. Other than that, the numpad on mechanical keyboards are pretty much untouched.
Comparison Table: Best TKL Mechanical Keyboards
Keyboard
Switches
Backlit Keys
Features
Price
Cherry MX
✓
– Detachable USB
– Extra Red WASD keys
– Lighting modes
$
Cherry MX
✓
– Macro and lighting programmable
– Aluminum chassis
$
Razer Linear Optical
✓
– Metal construction
– Programmable keys
– Inter-device color synch
$$
Outemu
✓
– Backlit with Red LED
– Embedded steel plate
– gaming mode
– NKRO enabled
$
Outemu
✓
– Splash-proof design
– PBT and aluminum build
– low price
$
Tenkeyless mechanical keyboards are a great form factor for anyone who can survive without a numpad.
The extra space on your desk will be greatly appreciated, and it also allows your body to type and move the mouse with less side-to-side arm movement, increasing your ergonomics. If you still aren't quite sure what you need, check out our starting page before moving on. In this guide, we'll talk about why you would want a tenkeyless keyboard and some of the best tenkeyless keyboards out there.
See below for more details on each of the tenkeyless keyboards in our comparison list.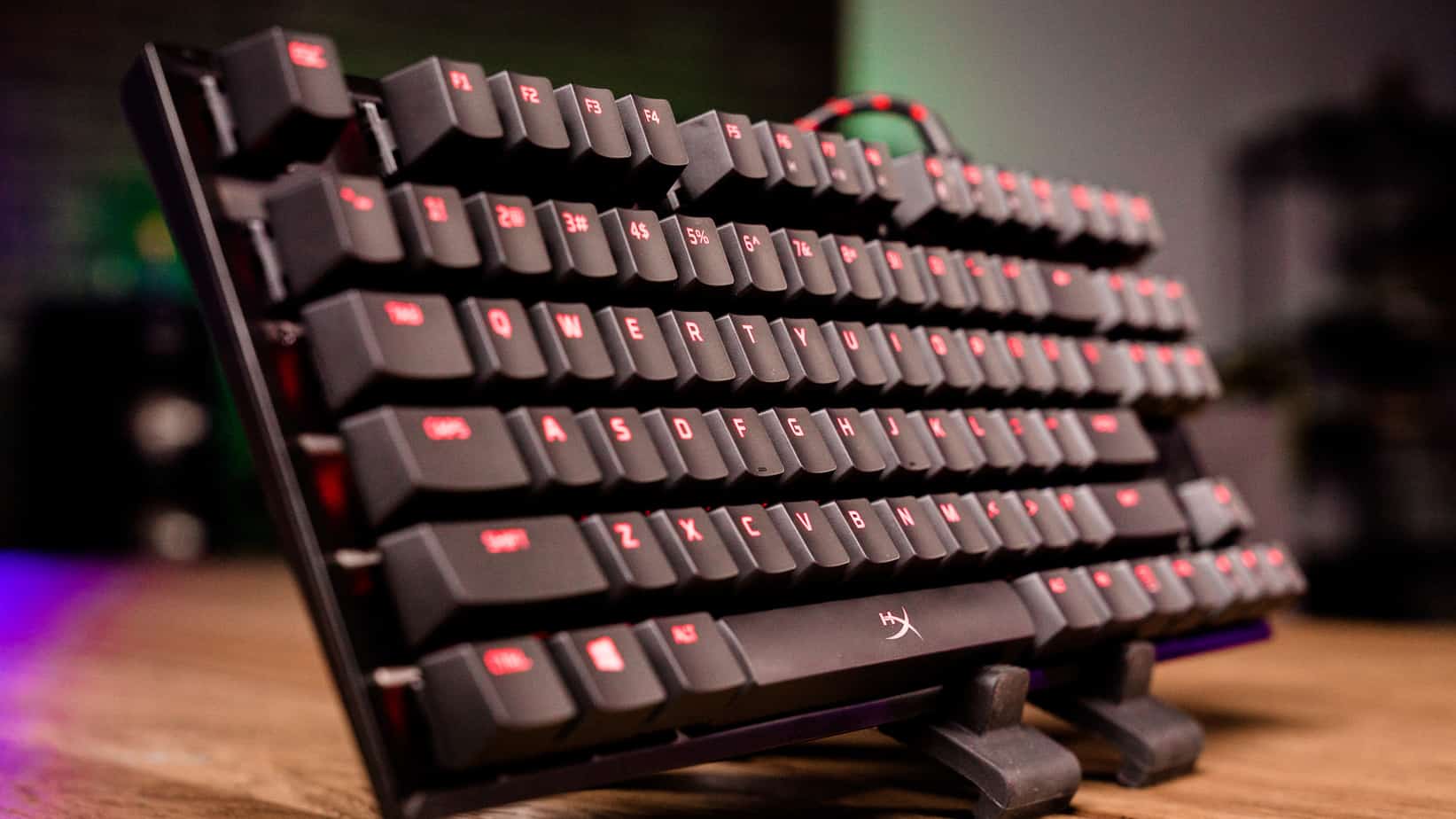 This gaming mechanical keyboard is difficult to look past. It ticks right about every box for the best gaming keyboards and is hence, worth a try.
This simple mechanical gaming keyboard makes the most of Hyper X's regular TKL layout. However, it doesn't deny professional gamers and amateurs features they look out for in gaming keyboards. Connection to other devices is done with the use of a USB 2.0 cable. The cable is covered in a red and black weave which makes it very durable.
One of its greatest pros is the adoption of the clackety blues, tactile browns and soft reds typical of cherry MX keys. The HyperX product does away with customizable software and chooses to assign only a few options to the function keys by default.
It also has a very good performance and works brilliantly with heavy games like Witcher 3: Blood and Wine or Starcraft: Remastered.
Want to see our full hands-on review of this keyboard? Check it out here.
| | |
| --- | --- |
| PROS | CONS |
| | Key-caps look really cheap |
| | |
| Simple and streamlined design | |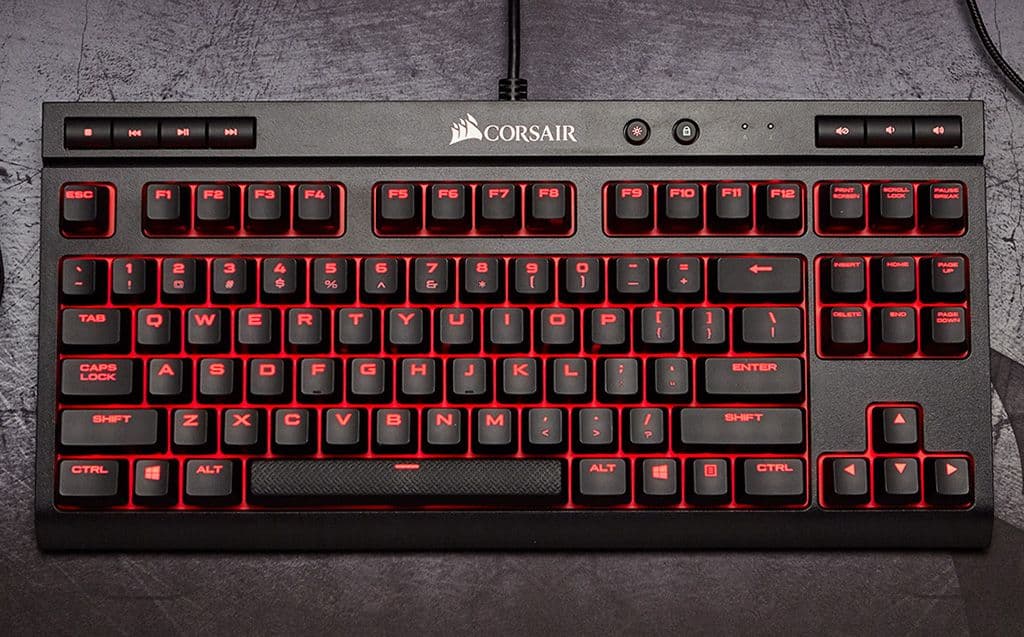 Needless to say, Corsair as a reputation for excellent quality and gamer-centric mechanical keyboards.
The Corsair K63 is one of two variants – wired and wireless.
However, it is the wireless form that piques our interest the most. It has a tasteful bezel at the top that provides enough room for dedicated media controls. Its design is simple and straightforward, yet, very stylish. It also comes with powerful blue backlighting like many others on this list.
Though wireless, there are no issues with connection or input delays. This stable connection is helped by a 2.4GHz frequency that ensures seamless and top performance. Its wireless setup makes it compact and really portable for use even on the go. With the backlighting turned off, this gaming keyboard can last an impressive 75 hours. It also comes with the admirable cherry MX Keys.
| | |
| --- | --- |
| PROS | CONS |
| Strong wireless connection | Unnecessary palm rest clips |
| | |
| | |
Razer Huntsman Tournament Edition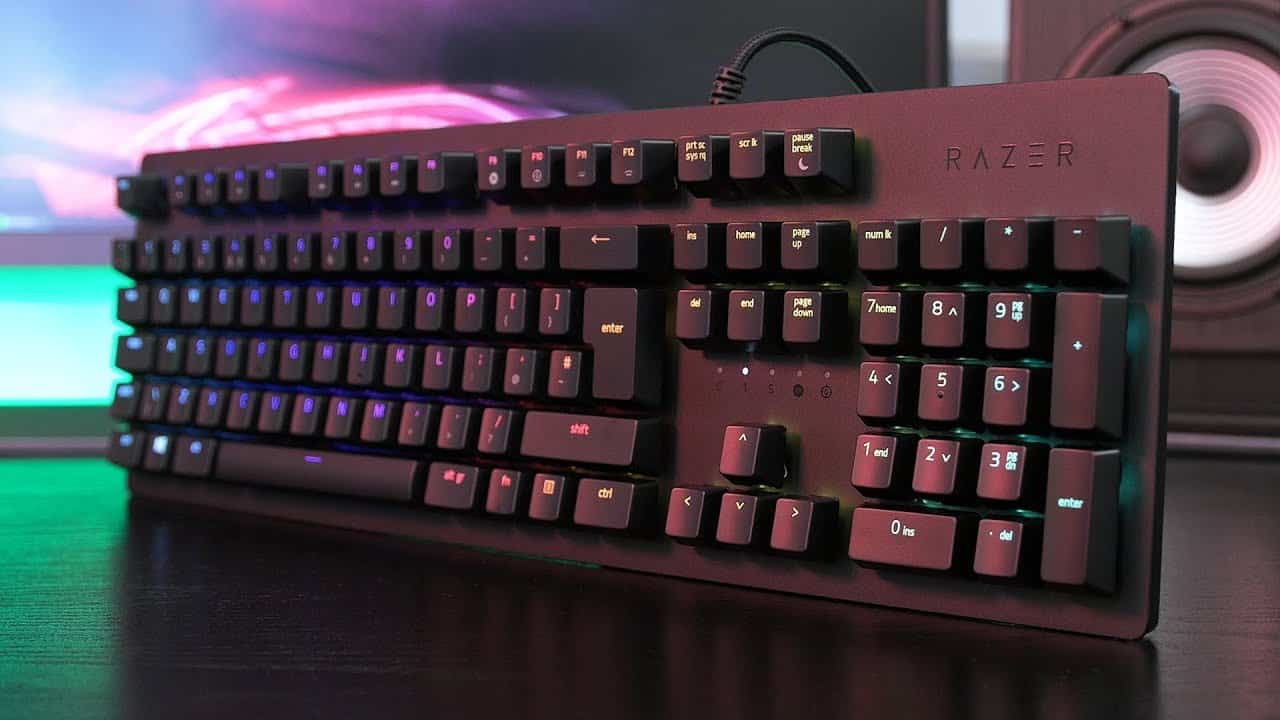 At $130, the Razer Huntsman Tournament Edition might seem a little too pricey. However, it is worth that figure and perhaps, even more.
Designed in a compact sports-oriented format, this gaming keyboard has the fastest key actuation. Packed in a portable frame (5.5 x 14.3 x 1.4 inches) is the fastest and most reliable keyboard on the block. Its immaculate design strips off unnecessary features and doubles up on performance. Though wired, the user does not have to fidget about his cables jostling around when on the move. This is because the cable can be removed when not needed.
Just as it is with numerous other Razer products, it comes with RGB lighting. It is appealing to the average user as well as to gamers with its minimalist design. It is also highly customizable. As earlier highlighted, performance is one of its biggest strengths. With less moving parts, this keyboard promises durability. In other words, it is excellent for E-sport gamers who can be very hard on their hardware.
Tecware Phantom 87
If you are in search of a gaming keyboard with high performance, yet, cheap price, the Tecware Phantom 87 is your best call.
A perfect entry-level mechanical keyboard with not only a great price but comes fully loaded with the essentials.
It has a fantastic RGB comprising of 18 different LED modes. Its floating keys make the RGB display even livelier. In addition, entrapped dust can be easily cleaned off. Its USB 2.0 cable is covered with a nylon-braid that makes it durable and able to withstand rigorous use.
With a 1000Hz frequency polling rate, this product from Tecware is easily one of the fastest keyboards out there. It also promises a smooth gaming experience with no lags whatsoever.
Redragon K552 KUMARA LED Backlit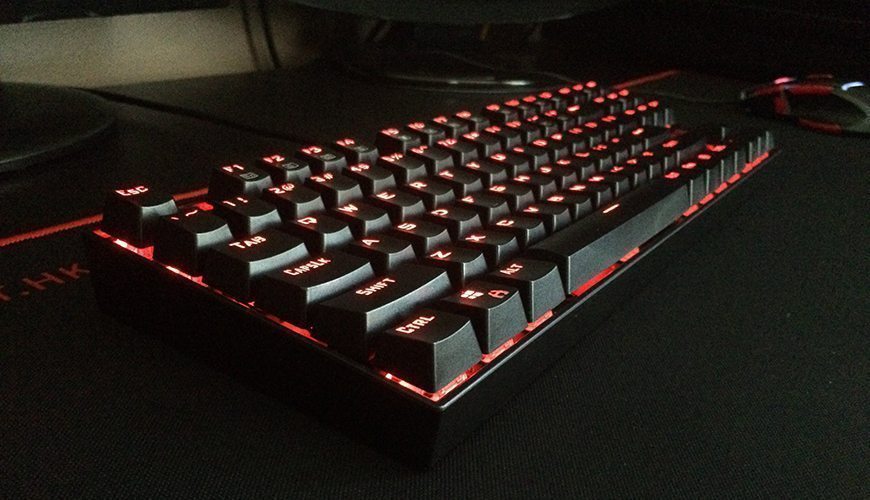 With more than 1,000 positive Amazon reviews, the Redragon is deserving of this list. Here are some of it's best features:
12 Multimedia keys
Splash-proof design
Metal and ABS construction
Budget-friendly/low price
With most of the TKL keyboards on this list at more than $100, it's nice to have one that's less than $40!
If you're just looking for a TKL to kick around in, the K552 is likely your number one choice. For die-hard mechanical keyboard fans out there who use a numpad, this one is a nice budget-friendly choice that wouldn't kill you if it got damaged. On the other hand, if you want this TKL keyboard to be your main one, I would consider one of the higher cost alternatives. Often, higher costs are associated with better features and higher qualities. This is especially true for our TKL list.
The only issue noted by most users is that the keyboard is heavy, it only has red backlighting, and it doesn't have macro keys. But then again, what do you expect for such a low price?
Benefits of Compact Tenkeyless Mechanical Keyboards
Right-handed mousing is much more comfortable. You no longer need to glide your hand an extra 4-5 inches over the numpad, so it's quicker to switch back and forth (speed matters for gaming!).
Increased ergonomics. For the same reason as the previous bullet point, you can more naturally align your shoulder with your mouse since it's closer to the center of your body.
The keyboard doesn't require as much space on your desk. More room for everything else!
Tenkeyless keyboards allow for lower weight and extra compactness, which is great for those who travel a lot.
Drawbacks of Compact Tenkeyless Keyboards
No numpad! Some games may require one for certain hotkeys. Also if you work with numbers a lot, you're going to sorely miss it.
Entering non-standard characters (º, ¿, Ü, etc.) becomes more difficult or impossible (not a huge drawback for gaming).
Take a day of typing without using your numpad if you're on the fence. Stick a sticky note over it to make sure you don't relapse, and consider if you'd miss it or not.
If you're still unsure about getting a TKL keyboard, you can rest assured that you can actually buy the numerical keypad separately, check out our review of one here. This should help alleviate any major concerns you may have about purchasing a tenkeyless mechanical keyboard and can definitely add convenience if you travel a lot or really like a mechanical board on our list.
Now that you've had some time to consider if a tenkeyless mechanical keyboard is right for you, we'll continue with some suggestions.
If the keyboards below don't catch your attention, head over to our list of the best mechanical keyboards for a few more tenkeyless options. If you still need more choices, we have one last article that you can look through which talks about other forms of mechanical compact keyboards (non-TKL). Without further adieu, here is our list of the best tenkeyless mechanical keyboards you can get right now.
Conclusions
Gaming enthusiasts or not, there is always a tradeoff between size and convenience but with tenkeyless keyboards, you can get a good compromise between both.
Is a Tenkeyless mechanical keyboard for you? If you don't use the numpad often, then yes it is. It saves space, weight, and adds a more compact design. Alternatively, if you travel a lot or bring your keyboard to work every day, the TKL can be worth your consideration.
In this guide, I covered what we think are the best mechanical tenkeyless keyboards to date. And of course, you can always purchase a numpad afterward if you really end up needing it. This can actually be a better solution – if the numpad is standalone you can leave it at home if you're out and about. Check out our review of the Velocifire wireless numpad – a perfect companion for a TKL keyboard.
Best of all, some of these mechanical keyboards are pretty cheap considering that they're not the standard size.
Looking for smaller form factors? Check out our best 65% list or our best 75% list.