Pros & Cons of EasySMX V18 Gaming Mouse
Features:
Available on Amazon for a super cheap price.
On-the-fly DPI setting buttons
Dedicated Sniper Button, auto DPI
Good Grip and Adjustable Weight
9 Keys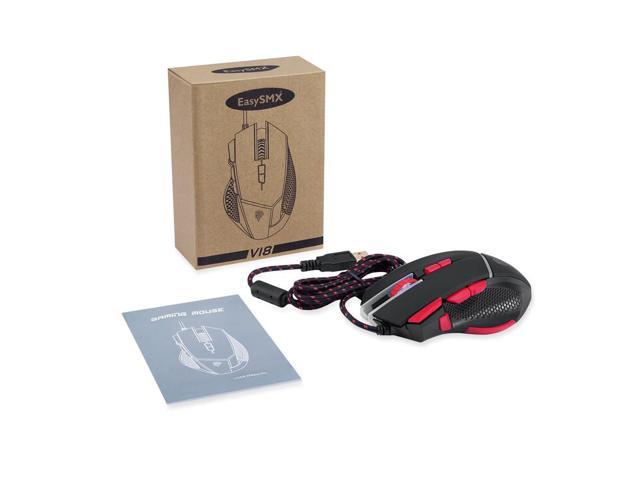 | | |
| --- | --- |
| The Good | The Bad |
| DPI switch tools are useful in adjusting the mouse's speed and accuracy | |
| Adjustable weight makes the mouse comfy | |
| Dedicated Sniper Button ensures kill-shots | |
| 4/9 Re-programmable buttons are present  (with the setup driver) | |
Every gamer, anywhere in the world, knows the importance of having a good mouse in competitive gaming.
Thus, competing for the need, I recently tested the EasySMX V18 Gaming Mouse. The mouse was sent as a sample by the company EasySMX and I used it as my daily driver for about 2 weeks.
See my full review below to get the best illustration of my experience with the mouse!
Introduction & Unboxing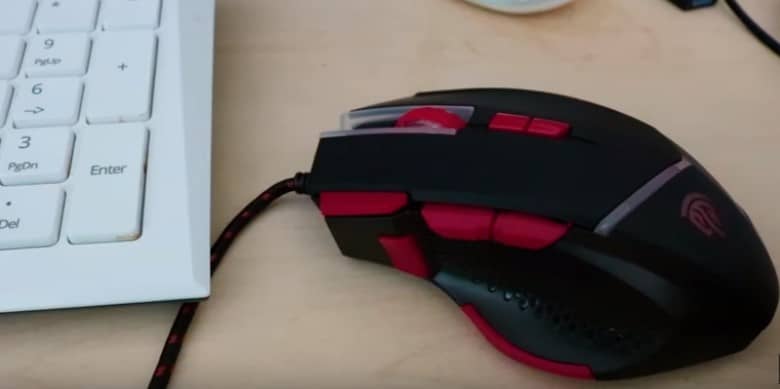 The EasySMX V18 Gaming Mouse is excellent in terms of both budget and features.
The price tag of around $10 makes it a very good option, especially for those who are looking for a budget mouse and some good features.
I've found this mouse especially handy when you are looking at a competitive gaming environment or like Player Unknown's Battlegrounds (PUBG) or Call Of Duty, etc. The use of its extra programmable buttons is a must-have for any gaming mouse.
Because of this dedicated sniper button, the reaction time and control is highly favored to the user using a stable DPI and perfectly balanced gaming mouse.
Unboxing: The melodrama that has you captivated!
It came in a simple cardboard box with the branding from EasySMX and a front-view picture of the mouse itself (Brown-Black).
Behind the box, a couple of words about the product's specifications were printed.
So, no colorful and shiny boxes, no fancy makeup! Just a plain, classic, and dope look.
I opened the box and after opening it, I could see the mouse was rolled and protected in styrofoam to save it from external pressure and potential damage.
The wire, however, was not in any sort of protection and was only rolled and placed beside the mouse in the box.
Considering that the wire was a braided USB cable, I did not see an issue in that.
First Impressions: Nice!
I was not thinking much about the mouse when I got the sample to review, but I was really amazed to see its specifications on the back of the box.
Actually, I wondered how such a thing could exist at just $10!
Then, after I had used it for about 2 weeks as my daily driver, both in gaming and work, I found that this mouse had no issues whatsoever.
I believe that the mouse is definitely a great choice for budget-gamers.
It does not cost too much and not only looks good but works great as well. So, it might be an all-in-one pack for sure.
The first impressions of the mouse, after using it, were outstanding. The mouse performed well in every aspect. To make the picture more clear, I'd give it a solid 7.5/10 for first impressions.
But it can't be perfect…!
If those are the words that popped in your mind, then you are right, the mouse is good but not perfect.
Today, we live in the age of RGB – the current fashion in the gaming industry. While gaming rigs are showed off with RGB, they can also add more to the vibe of your gaming rig and make it look more attractive.
Moreover, you can rest assured that RGB provides you with a million customization options for your mental satisfaction.
Unfortunately, the only flaw I found in this "nearly perfect" mouse is that it does not support RGB light effects which are the most common feature of gaming mouses and mechanical keyboards these days.
That being said, this is completely expected at this price range and I would've been surprised if it had RGB.
Personally, I think that having RGB is an unignorable demand for any modern-day gamer. But if I had to compromise on a good mouse only because it did not have RGB, I honestly would.
This is a mindset but not a requirement, some people like RGB and some don't and it's perfectly fine in both.
The mouse though it does not support RGB, has its own red-colored light system that can be set according to your desires using the software that comes with the mouse or can be downloaded online here.
Lastly, I did come across some comments noting that the mouse broke after a small drop, so beware of its delicacy.
Specifications & Working of EasySMX V18 Gaming Mouse
The specs of this gaming mouse and its price tag are impressive. They include somethings not even some higher-priced mouses have.
The mouse includes an adjustable weight that can be set to your desire with the weights that come enclosed in the box. You can find a compartment with weight-holders at the bottom of the mouse.
The easy to set DPI switch is also a key feature.
This not only improves the control and movement but also results in better aiming.
The mouse does not have built-in memory but it is plug and play. So, it will be easy to operate.
The mouse includes some very good lighting effects and has a DPI range of 400 – 4000. That is more than enough to achieve accuracy in competitive gaming environments as well as home usage.
The Legend of Buttons!
There are nine buttons in total out of which four are re-programmable. So, you can set your own shortcuts and commands which I found a useful feature as an advanced computer user.
It can also be very handy for streamers and pro-gamers who are looking for shortcut buttons to quickly switch between screens or weapons.
A dedicated sniper button which can assist in aiming and shooting in first-person shooter games (FPS games) like Halo, Call Of Duty, Counter-Strike, PUBG, Apex Legends or Fortnite. The button can also be used to set the DPI of the mouse to 500 by-default (changeable in settings).
While we are at it, I want to mention the mouse's adjustable weight which is very beneficial for users who tend to switch between heavier or lighter mouses while gaming for added accuracy.
I am used to heavy mouse operations, so, it was a bit of a process for me to adjust to the weight of the mouse whilst gaming.
A solid 8.7/10 for performance, looks, and build.
EasySMX V18 – The Final Report!
Basically, judging from how low the mouse costs, I am very satisfied with its performance, in both gaming and work use. The light effects of the mouse are also good.
It really outworks and over-satisfies its price which I consider a good thing. Because not a lot of manufacturers give out mouses loaded with basic and advanced features in this price range.
I am very confident that whoever buys this gaming mouse won't be disappointed (it's only $10).
Therefore, I recommend the EasySMX V18 Gaming Mouse to anyone interested in having a feature-loaded mouse at a low cost.
Let me know how well this mouse performed for you or if you found something worth sharing with the people.
Happy Gaming!