Pros and Cons
It is priced around $40.00 
Sleek matte grey design
Limited availability
| | |
| --- | --- |
| THE GOOD | THE BAD |
| | Only sells in a few online stores |
| Plug & play – easy to use | Omnidirectional sound could be louder |
| Good audio and mic quality |   |
| Detachable mic is convenient |   |
Unfortunately, the headset is only available on Amazon UK but you can purchase directly from their site from the buttons above.
Looking for a sleek and cost-effective gaming headset?
The "Metal Gun" H2002D by HAVIT could be a decent choice.
Just the other week, we reviewed HAVIT's RGB desk-wide mousepad, and now we're going to review their newest gaming headset.
Although I'm not a fan of their product names (such as H2002D), HAVIT always provides acceptable prices and loads their gaming products with as many features as possible – like their HV-MS794 gaming mouse.
Regardless of the number of features a headset has, there are three main things that are essential when considering them – audio quality, comfort, and design.
Specs and Features – It Has the Essentials
Matte metallic and black color scheme
Rotatable and detachable mic
53mm audio driver
Memory foam earmuffs
Adjustable headband
Cable length – 1.7m
3.5mm AUX – compatible with basically everything
Frequency Response: 20 Hz to 20khz
Return policy – 30 day no reason return and a 1-year warranty.
In terms of the features of HAVIT's latest gaming headset – they've covered their bases.
In any great gaming headset, I obviously expect a mic, good audio, long cable length, and compatibility with all devices. The H2002D has all the aforementioned features.
Detachable mic – a super convenient feature that some headsets don't have. It can be a nuisance to have it dangling in your face when you just want to use the headset for a non-multiplayer game.
The 1.7m cable length – should be sufficient for anyone's needs – especially when most gaming controllers now have an AUX in the controller itself. And if the length is an issue, this is nothing an AUX extender cant fix.
Adjustable headbands are a must. Headbands on this particular set are easy to use and I've had no issues with them thus far. Another essential aspect of the headband is how tight they are. In fact, the comfort quality of headsets is almost always due to the headband tightness and quality of the ear pads (we'll talk more about this below).
53mm audio driver – if you're unfamiliar with audiophile vernacular, you're probably wondering if "53mm" is a good size for headsets. In my opinion, 53mm is good but not amazing. I've seen 53 mm audio drivers on quite a few of the headsets I've reviewed, and they definitely do a good job. Sames goes with its frequency and sensitivity.
Note that the higher the size of the audio driver usually indicates a better quality
There are many other factors that contribute to audio quality (sensitivity, frequency response, etc.)
If you're interested in learning more about audio quality factors, check out this great guide by Audio Technica here.
Unboxing HAVIT's H2002D Gaming Headset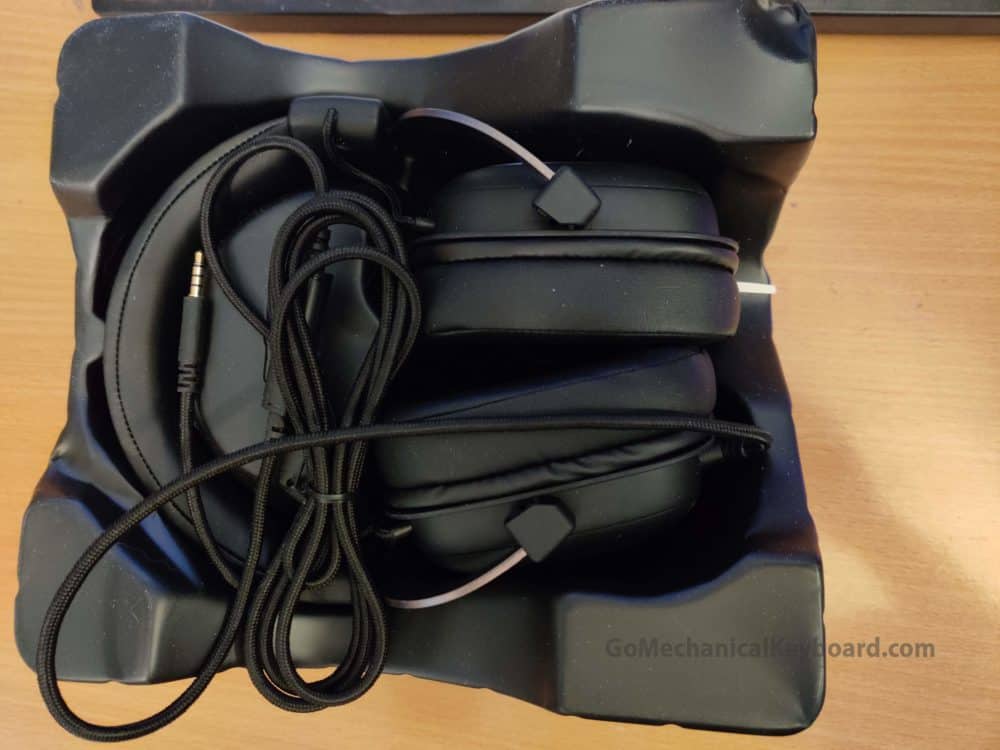 What came inside the box:
The gaming headset
Mic/Audio splitter
Removable mic
Audio cable
The headset came in a nice black colored box with HAVIT's logo and typical things you would see in most product boxes – features, specs, etc.
The headset fits snugly into the box and was not deformed in any way. It was contained in this plastic mold that encased the headset and cables, which is common among most headsets I've reviewed.
The unboxing experience was nice and as expected.
Overall Quality – Audio, Comfort, and Design

The overall quality the headsets are great and I've had no issues with them since my two weeks of testing. Note that I only tested the headsets for gaming and not so much music since that is what these headphones were designed for.
Audio Quality – good but not great
The audio quality when playing games is relatively good – I could not find any noticeable issues and there weren't any static or off-tune sounds. However, my only issue with the audio quality is that the omnidirectional when playing games such as Fortnite was not the clearest.
Omnidirectional sound is important in pro gaming as it helps you determine where other players are relative to you. With this headset, there was some omnidirectional sound but it wasn't as crisp as I would've liked.
Comfort – better than expected!
As a casual gamer, comfort is the most important aspect of any gaming headset. Of course, audio and design are important but if I'm playing for a few hours straight I don't want my ears to feel like they've been crushed.
With many headsets out there, the band on the headsets are too tight and often require you to take it off every hour or so to let your ears rest. However, if the ear pads and bands are of high quality, it is likely that you'll be able to use the headsets for longer periods of time. Moreover, if the ear pads are good, they'll feel comfy and less bothersome when gaming.
Overall, I really liked the ear pads and the tightness of the headset; I wore them for two hours before I felt the need to give my ears a rest (of course, you should be resting more frequently than that). The earpads seemed decent quality and they made the headset feel barely noticeable.
Design – functional and sleek (but a bit on the big side)
The design of any headset is important – not only for aesthetics but also for functionality. If you're going to be gaming intensely for a few hours, you'll want a headset that is properly designed such that every aspect of the headset can be controlled with ease.
HAVIT's gaming headset fares well in this regard – the mic is easy to maneuver and all essential controls are attached to the chord on the headset. 
The color scheme looks sleek and the rectangular earpads add to its sleek design. Overall, I really like the aesthetics of the headset, though the rectangular earpads also make the headset look a little bit too chunky.
Conclusion – A Great Gaming Headset for Casuals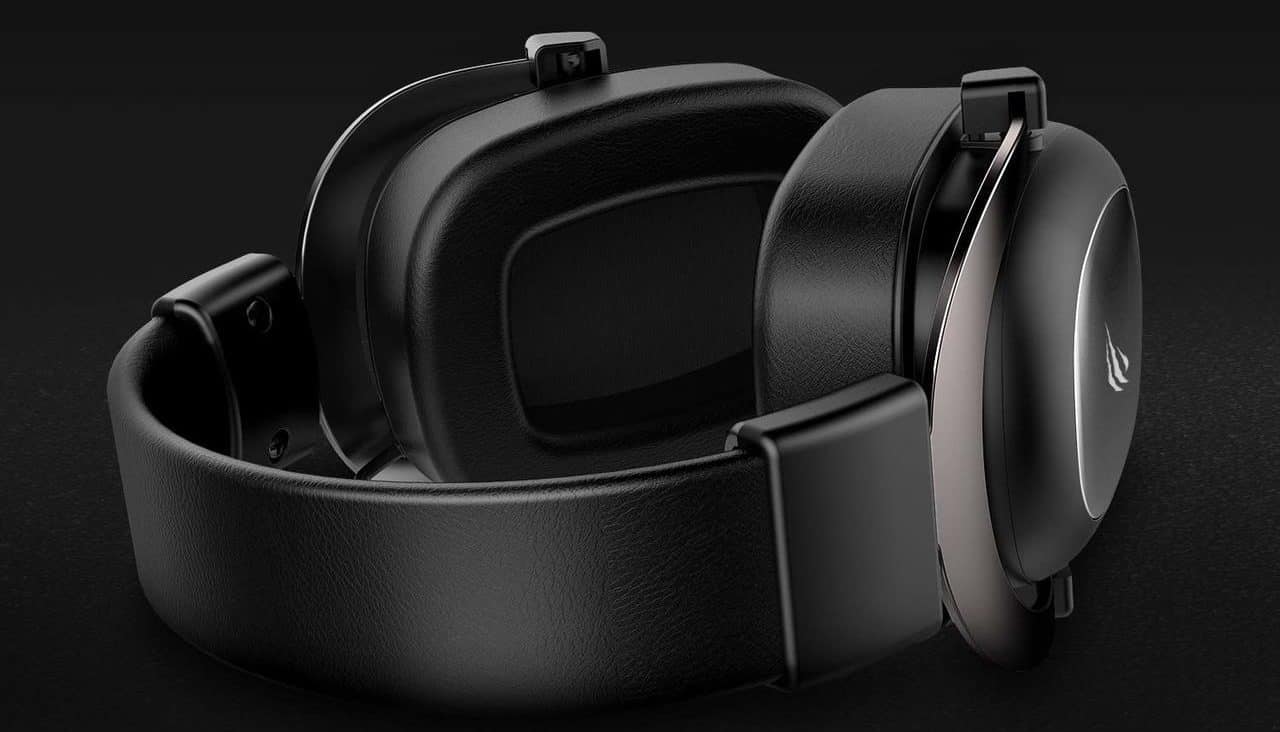 As the header says – this headset by HAVIT is great for casual gamers. If you're a pro gamer, you might want something specific to omnidirectional sound. Even then, the omnidirectional sound is only important for FPS type games where you need to know where the enemy is.
For the rest of us out there, the HAVIT gaming headset will do the job well. It provides good audio, comfort, and somewhat unique design.
With a price of $39.99 USD, the headsets are not expensive at all and are worth a shot if you're just looking for something cost-effect but with decent quality.