Pros & Cons of Corsair Dark Core Pro
Here it is – our full review of the Corsair Dark Core Pro RGB gaming mouse!
Features of Corsair's Dark Core Pro,
Available on Amazon for an affordable price
Supports Wired and Wireless modes
Functioning Qi Wireless Charging Option
RGB Lighting

| | |
| --- | --- |
| The Good | The Bad |
| USB-C and Qi Wireless Charging | |
| 9 Zone-dynamic RGB lights | |
| | |
| | |
Read Also: Best Vertical Mouses of 2020.
A perfect gaming mouse has been needed since the start of competitive gaming and multiplayer.
Nowadays, it doesn't matter if we dive into battle with a sniper or as a heavy gunner; we constantly need robust hardware.
So, Corsair sent me their latest addition to the gaming arsenal – Dark Core RGB Pro.
I tested this gaming mouse for more than two weeks – see below to learn more about my experience.
First Impressions and Features – 8.5/10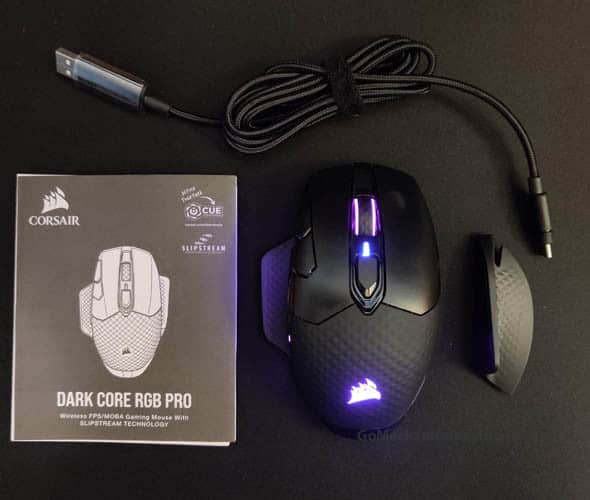 First off, the mouse has quite a few goodies but I'm concerned if they satisfy its price.
At first glance, the mouse is sleek and its size almost pertains to a hybrid that is in between claw and palm style that was quite comfortable for my average-sized hands. The lighting isn't a nuisance and the functionality out of the box is adequate.
The software takes some getting used to but with enough time I can see it being a fun tool for hardcore customization enthusiasts.
GRIP and DESIGN
The Corsair Dark Core RGB Pro features a Carbon Fiber-ish body with 8 functioning buttons. The design also helps in gripping the mouse but it isn't as efficient.
The design of the mouse is super comfortable and I found it to be not too large or too small for gaming
The side compartment allows a safe storage place for the USB while in transit but I never found myself using the side attachment all that much
LIGHTING
There are a total of nine zone-dynamic lights that can be set to different color patterns individually using the Corsair iCUE software. It also includes a few indicator lights that can be used to identify the battery status or DPI settings of the mouse.
The reason they become exceptionally important is that they are the sole indicators of the mouse's status. (Assuming you don't have time to close your game and check the battery percentage from the software every now and then).
BUTTONS
There is a total of eight buttons that can be used in this mouse and reprogrammed using iCUE software.
The buttons are made on top of the premium Omron switches that ensure durability and excellent user experience.
CONNECTIVITY
The mouse has three modes of connectivity including Hyper-fast, sub-1ms 2.4GHz SLIPSTREAM CORSAIR WIRELESS connectivity, Bluetooth 4.2 + LE and wired connectivity with USB 2.0 Type-A to PC and USB-C to mouse for charging.
The mouse has the highest polling rate of 2000Hz which is comparatively high in the market. However, the mouse comes set at 1000Hz polling rate by default.
In wired mode, the mouse works almost perfectly with zero response delays thanks to the higher polling rate and an accurate sensor
However, in wireless modes, the mouse suffers from latencies ranging from 1ms to 6ms
While this is still in the normal range, it definitely affects your gaming performance in competitive environments.
OPTICS and DPI
The mouse features a state-of-the-art PIXART optical sensor that can support up to 18000 DPI settings. The DPI setting is interchangeable using both the software and dedicated DPI buttons.
The new optical sensor is very efficient and provides good battery life.
ADDITIONALLY…
Also, I found the side-attachments quite useful, especially if your hands don't grip well on the mouse. However, it could increase the weight of an already hefty mouse even when it is not wired.
Although it makes the mouse more stable but considering you could spend hours gaming with this mouse or working, your hands will get tired for sure.
Moreover, this mouse supports the Qi Wireless charge. This means you can charge your mouse wirelessly on any Qi-supported Wireless charger; including mouse pads and charging stands. The mouse can also be charged in wired mode using the USB-C which is fast enough as well.
So, kudos to that!
Unboxing Experience – 9/10
[su_image_carousel source="media: 9128,9126,9137,9133″ slides_style="minimal" crop="16:10″ link="image" speed="fast"]
The mouse comes in a branded box that has all the details listed on the back with the front featuring the mouse's image. One the right side, the slogan of Dark Core RGB Pro; " WIN WITHOUT WIRES " can be read.
Inside the box, the mouse with each of its side-attachments as well as the connection wire can be found. To summarize, you get the following items in the box,
Wireless Dongle × 1
USB-C to USB-A Connection Cable × 1
Dark Core RGB Pro × 1
Side Attachment × 1
User Manuals × 2
The mouse was very well packed and I really liked the design of its box so a solid 9/10 rating for the unboxing.
Tests and Performances – 8.5/10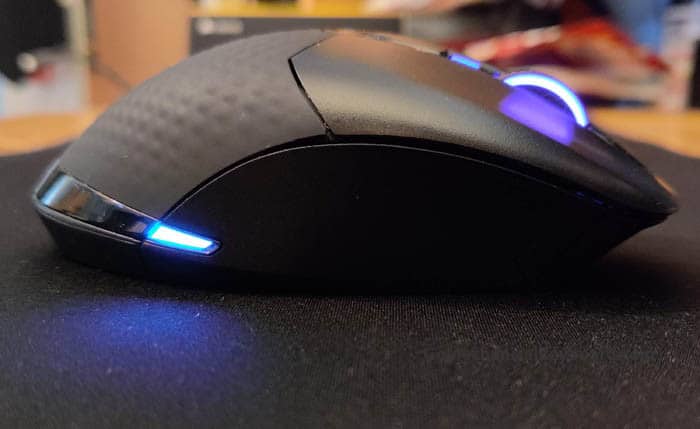 I tested the mouse in both home and office environments. As expected, the mouse was very smooth and accurate in its simplest form in my office. However, for some demanding and complex situations like gaming, I had to go through a long and complex process of customizing as well as setting.
The iCUE software from Corsair is fairly easy to use but needs detailed understanding beforehand. This becomes essentially more complex for first-time users. However, to counter this problem, Corsair has included two manuals and a step-by-step guide for help and troubleshooting in these situations.
It must also be noted that some of the features do not work until they are set using the software including some of the buttons.
Corsair has included onboard memory for this mouse, so, you can edit and customize your RGB profiles without having to worry to lose them.
DPI, as well as the polling rate, significantly affects the battery life of the mouse – in the wireless mode so you'll have to careful with that as well.
Also, there is a hidden compartment on the right side of the mouse (you'll see it once you take the side panel off). This is used to store the Bluetooth Dongle and make the mouse more portable.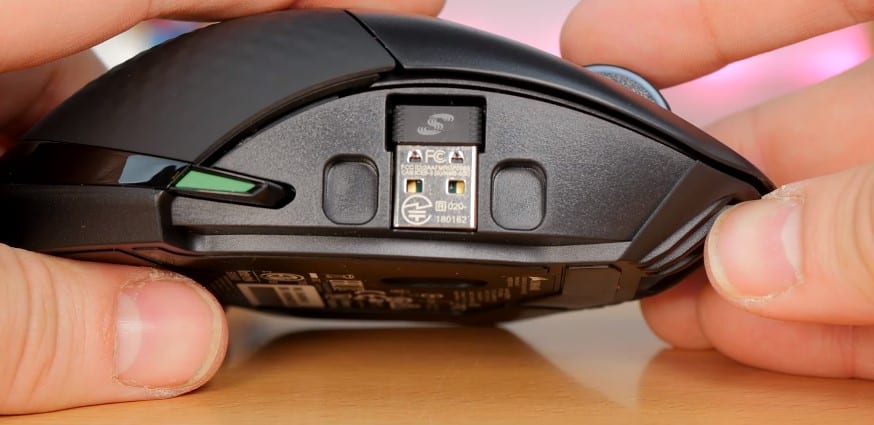 The mouse performed excellently in all the gaming and performance tests. I tested the gaming metrics of PUBG, Call of Duty: Modern Warfare, APEX LEGENDS as well as Ghost Recon, the sniping and gunning mechanics synced perfectly with the mouse, and overall I was pleased with the battery life, lasting most of a day without having to recharge.
The lighting on the mouse can communicate battery life and mode to you but it takes some time to get used to it.
You'll have to get used to the weight of the mouse as it is heavier than most of the gaming mouse out there. Also, it helps greatly in aiming with a sniper… However, you need to be careful when using ASSAULT or HEAVY GUNNER classes as they require a lot of wrist movements.
Verdict: An Excellent Choice
I think that there are a lot of close options like Razer that has been a close rival to Corsair in every aspect.
For example, the Razer Basilisk V2 software is more powerful and allows for more customization. There is a difference in their weights which impacts your gaming experience. Also, the on-board memory is greater in Razer's Basilisk V2.
However, there are other things before making that decision and they are game-changing. First off, Corsair is a premium brand and it has a lot of influence over the market and second, they use premium and robust hardware which makes it more of a choice for gamers as they prefer getting something durable and long-lasting.
Likewise, if I start on this debate you'll probably end up confusing yourself just like I did several years ago.
Long story short, you should get a hold of this mouse if you want a durable and robust piece of hardware added to your gaming table.
You can find the Corsair Dark Core Pro on Amazon for an affordable price.
Let me know down on the comments how well this mouse served you 🙂
Happy Gaming!!!