Today we're going to a take a look at the best 75% mechanical keyboards and compare them based on features, price, and quality. Let's get started: Best 75% Mechanical Keyboards
Our Favorite Picks – 75% Keyboards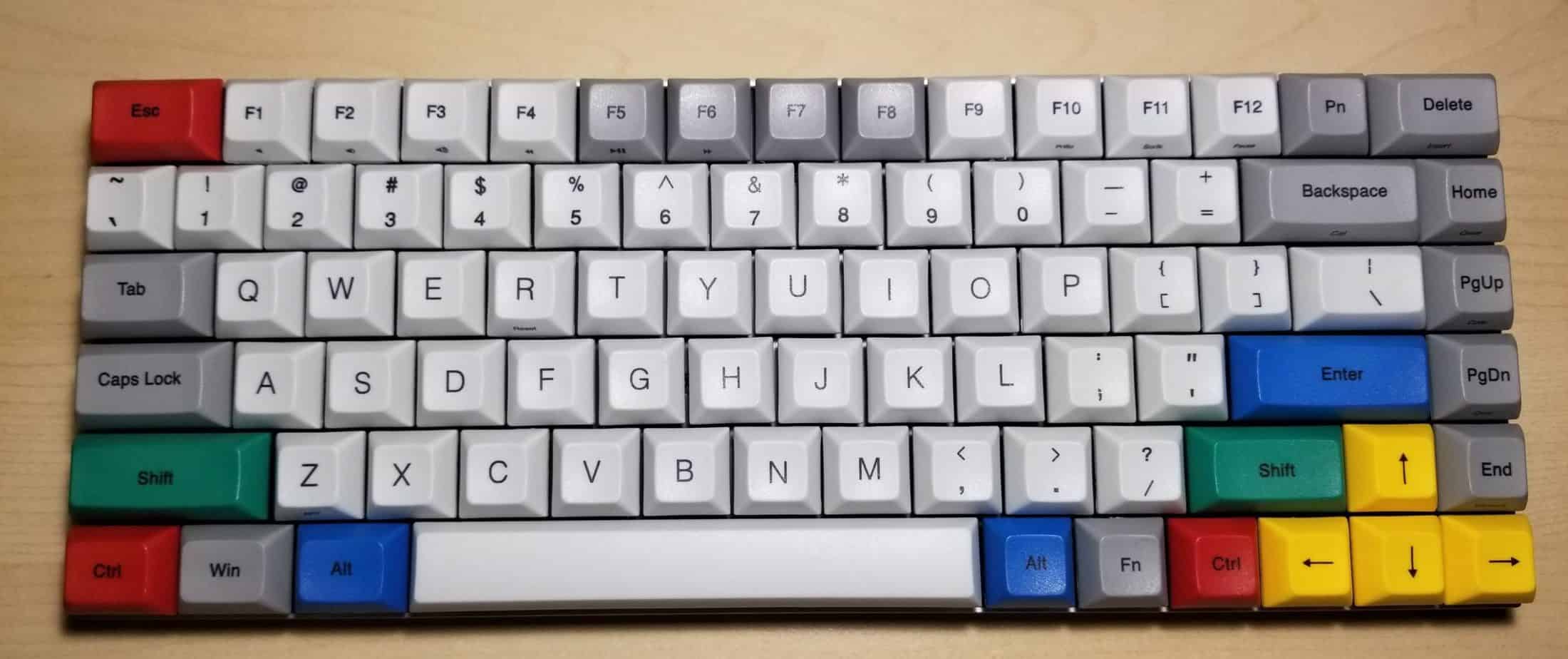 Vortexgear Race 3 is an all functional tenkeyless board in a compact, sleek package that comes with gorgeous exteriors. It is meant for gamers who need dedicated arrow and F keys. Vortex Race 3 is a neutral ground that allows you to have more space and whilst maintaining the standard layout.
Moreover, you will love it for its small footprint as the keys are very small, and they got rid of some function keys, fitting 83 keys in such a compact space. Don't worry; it does not feel crowded. The body frame is made of aluminum, which makes it sturdy and stable. You can check out the best switches for gaming here.
Race 3 features three programmable layers allowing gamers to build custom profiles. It also works amazingly to make macros, with each key meant to handle up to 32 keystrokes with timed delays.
PROS

CONS

Comes with different sets of RGB modifier keys
Thick PBT Plastic keycaps
Aluminum frame
Three programmable layers
No rattling

Delete and Escape keys are difficult to be replaced
Somewhat pricey
Summary – The combination of amazing build-quality and functional features make this mechanical keyboard a perfect choice for those who do not want to compromise on the functionality of a full standard keyboard. If going to a 60% keyboard seems like a big jump, 75% keyboard from Vortex can be a great deal for you because of its compact design. Check it out here on Amazon for more information.
The Drevo Excalibur is a stylistic, compactly designed mechanical keyboard that comes with all the features of a standard tenkeyless keyboard, but rather arranged in much appealing arrangement.
The arrow and navigation keys are at the bottom right corner and right side of the board, respectively. There is no gap between the number-keys and F keys, which saves space and makes them more accessible.
The keycaps are well made and backlit and are come with a textured surface, which makes them less slippery. The removable micro USB cable is something useful included in the package. However, it would be better if the company could offer a USB-C too.
PROS

CONS

White backlight with lighting effects
Amazing design and attractive exterior
Cherry MX switches

A little loud
Oddly shaped keys (difficult replacement)
Summary – Drevo Excalibur is a great choice for gamers or typists who want to try out a compact 75% mechanical keyboard. The keyboard has all the sensible components. Although it comes with some compromises, these are not enough to make it any less unworthy of the consideration. Also, considering the price, this is a well designed mechanical keyboard that can go a long way.
The Ajazz AK33 Geek RGB mechanical keyboard comes with a sophisticated aluminum exterior that reflects the RGB backlighting pretty decently. The construction seems well-built even for such a low budget. Since it is only 310x120x37 millimeters in size, it feels compact and portable.
There are only 82 keys modified to some extent. However, this also means that keys can feel a bit shrunk to fit in a small space. This should not be a great issue gamer, but for writers, it can feel a bit weird to type on than a standard full keyboard structure.
You will love the RGB backlighting that shines through the keyboard and give it nice and clear readability. Installation is swift; you need to only plug the keyboard to start your work. You won't need any extra software for installation. However, Ajazz provides software that allows you to modify the lighting, macros, and polling rate.
PROS

CONS

Affordable
Durable aluminum frame
RGB Backlighting
Variety of switch types are available
Easy to plug in and play

Non-standard key layout
Buggy software
Summary – Overall, it is a budget-friendly, compact keyboard with most of the keys in the right place. The lighting features make it attractive and useful, even in darker environments. Nevertheless, some of the shortcomings can be ignored depending on your preferences and considering all the features you are getting at such a price.
Keycool Hero 84 2020 Edition – Excellent Price
Keycool Hero 84 key keyboard is another mid-range product that comes with 84 accessible keys with almost all the functions of a full-fledged keyboard on a smaller footprint. In addition, it is available in three cherry MX switches color variants of black, brown, and grey.
The keyboard is compatible with Windows and is integrated with dedicated multimedia control. Gamers will specifically love the game mode that turns off the Windows key for you to have complete control during gaming. Consequently, you instantly start with the keyboard by just plugging it into the right ports.
However, there seem to be some compromises on the durability as the body is plastic made, and the base is not that stable. Likewise, the caps lock button does not indicate LED on/off. If you are already used to matte finish keys, you will find it comfortable.
PROS

CONS

Reasonable price
Elegant and Sleek
Cherry MX switches with 3 color variants
Detachable USB-C Cable

No LED light for caps lock
Issues with receiving the wrong color from the manufacturer
Summary – This keyboard is suitable for writers and especially gamers. Of course, the build quality may not be outstanding, but it's definitely good enough to be considered for a mid-range budget keyboard. Moreover, you will love all the F1-F12 keys arranged on the top, giving you easy access to all the functions. Also, if you like your keys to be quiet, this should definitely be on the list.
Keychron K2 is a high quality 75% mechanical keyboard with the amazing build quality. It is more on the heavier side, which makes it quite durable and resistant to accidental impacts. Moreover, you can easily change the keycaps because even the keycap remover is included in the package with some extra keycaps.
Besides, it has 84 keys, which means you won't have a num pad. However, it should not be a deal-breaker if you don't have much use of a num pad.
Keychron K2 is a portable device as it comes with an internal battery. You can pair Keychron K2 with iPhone or iPad when you are on the go. Both USB-A and USB-C ports are available on the keyboard. In addition, the keys are quite responsive and feel smooth on hand.
The six-degree angle is achievable by flipping the base on the back, which provides for a smoother typing experience.
PROS

CONS

Well-built and durable body
Beautiful White LED lighting
72 hours of continuous battery usage
Bluetooth connectivity
Portable
USB-A and USB-C connectors

Some keys sound a bit too loud
Akko 3084 – Stylish Mechanical Keyboard with Multiple Color Options
The Akko 3084 is a 75% mechanical keyboard that is available with Cherry MX switches in either MX Red, MX Blue, or MX Brown to allow you to pick from. Whether you like clicky, linear, or tactile, the Akko 3084 does not limit your choices.
The 3084 also has different colorways that you can pick from, ranging from a pink sakura blossom keycap theme, the ocean theme, the dark navy horizon theme, or the simple minimalist 9009 theme. There is something to pick for anybody. And the layout is very simple to change keycaps if none of these fit your style. The only things to look out for is the small right shift keycap and then the overall height of the right column.
This Akko mechanical keyboard has PBT keycaps that are oil-resistant and feel good after years and years of typing and gaming. The legends are dye sublimated, which means they don't rub off easily because the dye is within the plastic itself.
Alongside this, the Akko 3084 has a detachable USB-C connector. This allows you to choose your own USB-C cable if you want to, whether it be a coiled cable or a light-up RGB cable. This also makes the keyboard easy to pack without having to worry about kinking any wires within your bag.
Another feature this keyboard has is that although it already has an incline for comfortable typing and gaming, it also comes with 2 dual-angle adjustable kickstands to further customize the angle to your liking.
The keyboard has secondary media features in the function row and Windows lock to prevent you from exiting your current window either in game or working.
Overall, the Akko 3084 is a great pick if you want something that is versatile, won't break the bank, has a high-quality build and a variety of switches and keycaps. However, it doesn't have backlight or RGB features. If you do a lot of gaming/typing on the dark, this may be difficult on this keyboard.
Niz Plum 84 – Electrocapacitive Switches
The Niz Plum is a unique mechanical keyboard because it uses electrocapacitive switches. These are Topre clones and use rubber domes for the silent pillowy feeling while also having springs inside them for more resemblance with mechanical switches.
These switches are tactile with a nice bump. They are also lightweight to press and if you enjoy the feeling of rubber dome keyboards, these are a great option to try out.
The Niz Plum comes with two-toned keycaps with off-white and light gray. The legends are dye subbed and won't wear off over time. The PBT keycaps are also oil-resistant.
The switches are very lightweight at 35g, but inside the box, you also get additional springs if 35g is too light.
The keyboard connects via a USB-C cable. However, it also has Bluetooth, although many reviews complain that the Bluetooth is unreliable and may not work properly with your computer.
The Bluetooth is 4.0, and other features include NKRO to register all of your key presses and 1 year warranty from Epomaker.
Overall, the Niz Plum may not be for everybody because it feels more like a rubber dome keyboard than a mechanical keyboard. However, it is a good balance in between. The keyboard is soft and feels like a pillow or even clouds to type on. This keyboard is also a nice entryway into electrocapacitive switches since Topre keyboards tend to be more than double the price of this keyboard.
Qisan 82 – Lightweight and Budget-Friendly Option
The Qisan 82-key is an affordable mechanical keyboard that is available with Gateron brown switches in either black or white.
Gateron brown switches can be comparable to Cherry MX brown switches, but they are extremely smooth feeling and affordable as well. It's a tactile switch, which makes it good for both typing and gaming.
The Qisan keyboard also comes with three DIP switches on the back. These allow you to switch the keys to better fit with your style.
The DIP switches do the following:
Swap Ctrl and Capslock
Swap Windows key with Left Alt
Swap Windows key with FN key
A benefit that this keyboard has that some of the others don't is that it has backlight. The backlight is only available in blue, but there are 9 different effects that you can cycle through and pick from such as cycling, breathing, wave, rainfall, reactive, etc.
The keycaps are ABS-plastic and doubleshot to allow the light to shine through. The legends will never wear off because they are another layer of plastic rather than a layer of ink.
The sublegends display the different secondary functions you can do such as change the lighting effect, access media controls, increase/decrease the keyboard brightness, and more.
The keycaps feature a floating style design, which does show off the switches underneath the keycaps. To some, this can look a bit tacky. But to others, it's actually pretty cool.
Overall, the Qisan 82 is a fan favorite with a bunch of cool features at its price range. Many people love their Qisan 82 and are really impressed by its longevity and build quality.
The E-Element Z-88 is a very affordable 75% mechanical keyboard. The switches available are blue, red, and brown. At this pricing, I suspect that they are Oetemu switches, which also accounts for why they are water resistant as well.
Oetemu switches may often be related to being budget-friendly, but they are not bad switches. With their box design, they are extremely smooth, and the tactility on the browns and blues are quite nice.
This keyboard also comes in 5 different colors: black, blue, gold, pink, and white. It comes with the usual features of mechanical keyboards such as NKRO and anti-ghosting to register each one of your clicks without forgetting one.
The keycaps are ABS doubleshot and allow the backlight to shine through. The E-Element Z88 comes with 10 different RGB backlight effects, so you can find something that works with your setup.
Alongside this, it has media functions in the function row along other things such as Windows lock to prevent you exiting your game during intense moments of button-mashing.
Some downsides is that the cable is nondetachable. The keycaps can accumulate oils and grime over periods of extensive use.
Many people who have used this keyboard love it, and think that it is an excellent value. Others have bought this keyboard to change out the keycaps for something better and more attractive. After that, it looks like an entirely different board.
The Velocifire 78-Key Compact Mechanical Keyboard is a a great deal. It offers Oetemu brown switches, which are water-resistant to any spills of water or juice, and a nice tactile bump to tell you exactly when to lift up your finger when typing or gaming.
These switches are great for both gaming and typing. It's great for gamers, programmers, editors, and people who are working from home looking for a better typing experience.
The switches can be noisy though, so it's not recommended to take these into the office. The Velocifire has NKRO and 100% anti-ghosting.
Alongside this, the keyboard comes with blue backlighting and different effects you can cycle through. This is convenient for playing games or working late into the night.
Some downsides is that the keycaps are made of ABS doubleshot plastic. This is great because it lets light through, but over long periods of use, the keycaps will start to get shiny.
The other downside is that the keycap has a nondetachable cable. It's not portable and if the cable dies, that's pretty much it for the keyboard.
Despite these downsides, there are so many positive reviews from people who have used the board. It is affordable, high-quality, and enjoyable to type and play games on. With new keycaps, it can rival other keyboards on this list.
What are 75% mechanical keyboards?
Implied by its name, these keyboards are basically 75% of the size of a fully equipped regular-sized keyboard. By their very nature, some of the keys that are in traditional keyboards might be missing.
The point is to have only essential keys that most typists need
For gamers, 75% keyboards are popular due to their sleek minimalistic style and compact form fact
They come with around 84 keys including dedicated arrow keys, function keys, and few control keys
Benefits of having a 75% keyboard
75% mechanical keyboards are best suitable for people who want to have an option of additional keys that a tenkeyless (TKL) board offers while also providing more space on your desk due to its compact design.
Moreover, the main benefits of having a 75% keyboard are to save space and to remove redundant keys that you never end up using.
Features to consider:
Further, while there are numerous options available even in the 75% mechanical keyboards, some features can help you filter your options. Some of these options are –
Backlighting or standard
Media keys or Macro keys
Integrated USB ports or audio ports
wireless or wired
Customized or company made
Layout – The most commonly known layouts are ISO and ANSI.
Countries like America, Canada, and some regions of Europe prefer the ANSI layout. While in other regions prefer ISO. The selection depends on the language you use in your country. As a result, there will be a slight difference in the size of the keys. However, some manufacturers don't follow any of these rules.
Price – The more features you want on the keyboard, the more will be the cost. Including features such as backlighting can significantly increase the cost of the keyboard. Mechanical keyboards above $150 dollars are higher-end, while anything below that comes under mid and lower ranges.
Conclusion
Smaller form factors of mechanical keyboards are being more and more popular due to their compact size. This is especially the case with gamers where the numpad is non-essential. Not only will it add the extra space but also the convenience and a sleek minimalistic look to your PC build.
Being 75% percent, you will need to make some compromises. Nevertheless, for gamers who don't need all keys, but still want to have some functional keys intact, these mechanical keyboards are definitely worth considering.
Looking for a smaller form factor? Check out our best 65% list here.