In this hands-on review and unboxing, we have the CODE 61-Key mechanical keyboard – a new offering from WASD Keyboards, and their first 60% keyboard. This keyboard is actually a collaboration with Vortex, a Taiwanese company that makes the popular POK3R keyboard. WASD has taken the POK3R and simply put their own label on it, for the most part, to call it the CODE 61-Key. For the most part, this is an excellent mechanical keyboard that can be extremely useful for programmers or everyday typists.
The only difference between the two is the CODE 61-Key will be available with Cherry MX Green switches, whereas the POK3R is not.
CODE 61-Key Unboxing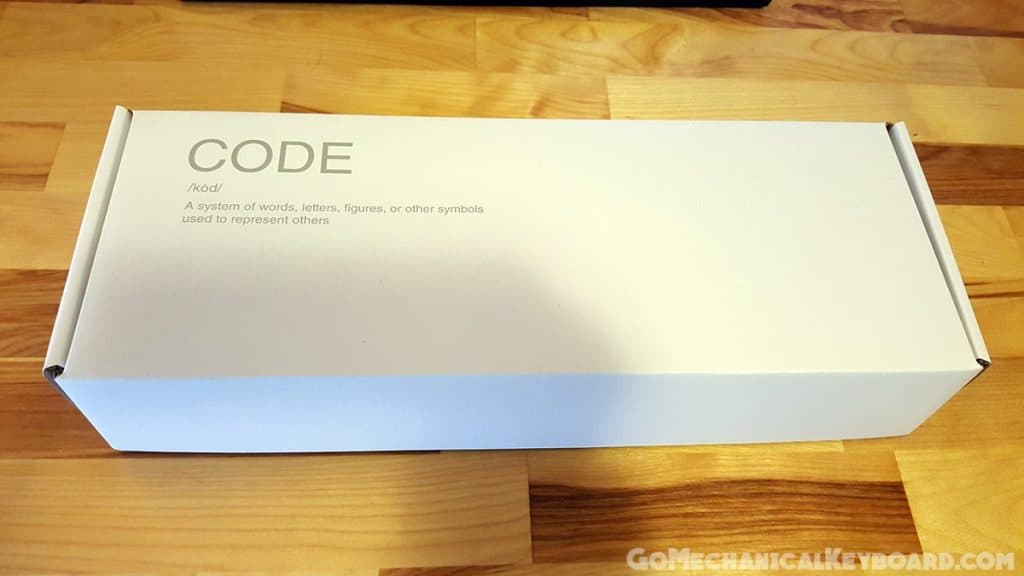 The CODE 61-Key comes in a tiny box that looks like it could maybe fit a pair of ballet slippers, not a mechanical keyboard. As with all CODE products, minimalism is key.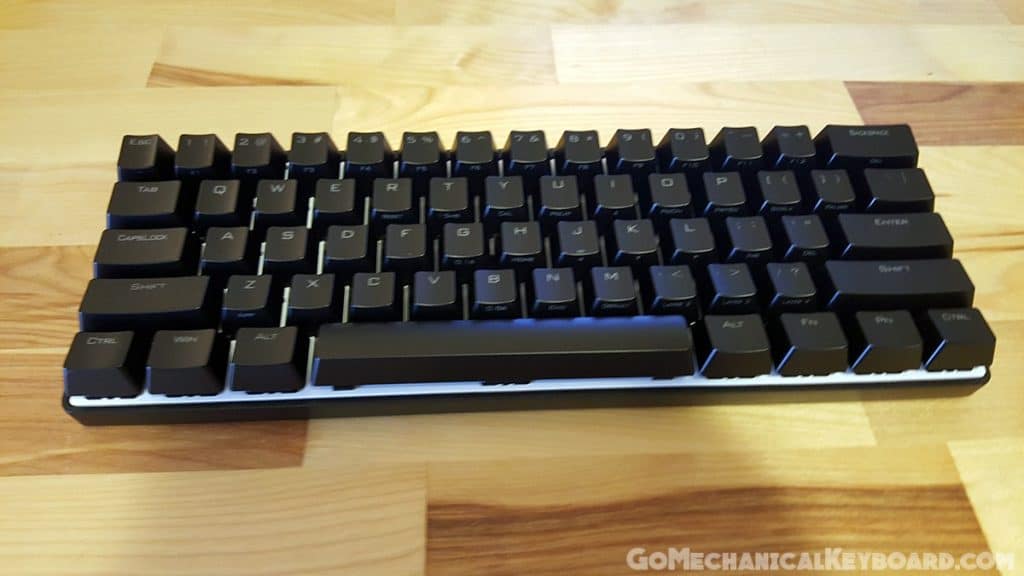 Here it is! This keyboard is a 60% layout and included is one keycap puller and a USB cable. No instruction booklet is included, you'll have to find that online.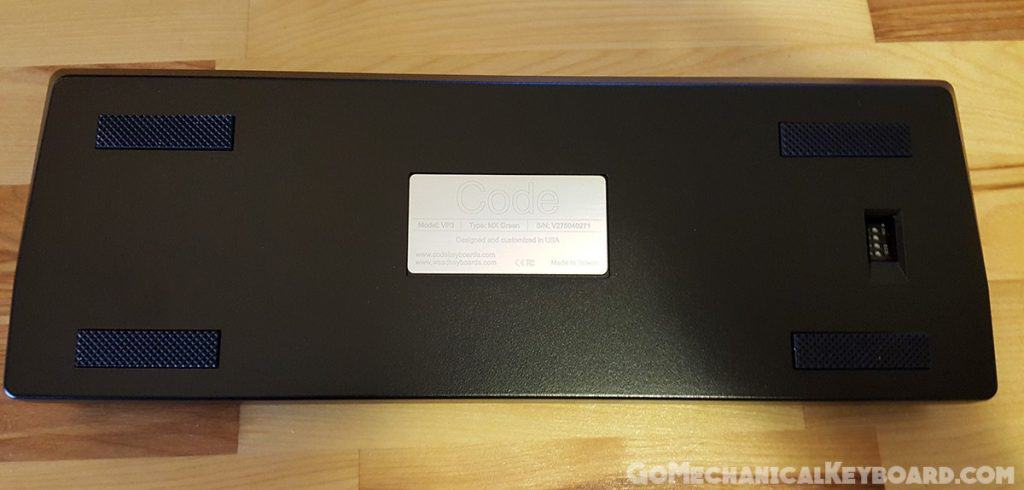 Here's a look at the CODE 61-Key from the bottom. The rubber pads are nicely textured, and you'll notice a recessed panel of DIP switches. These switches can be used to change the layout of the keyboard between Qwerty, Dvorak, and Colemak at the firmware level which means you don't need to change any settings on your OS.
This would be extremely useful to anyone who uses a Dvorak or Colemak, and takes their keyboard with them between multiple machines or computers that aren't their own. Since the change is happening at the firmware level, it doesn't matter if your computer has the ability to support alternative layouts or not.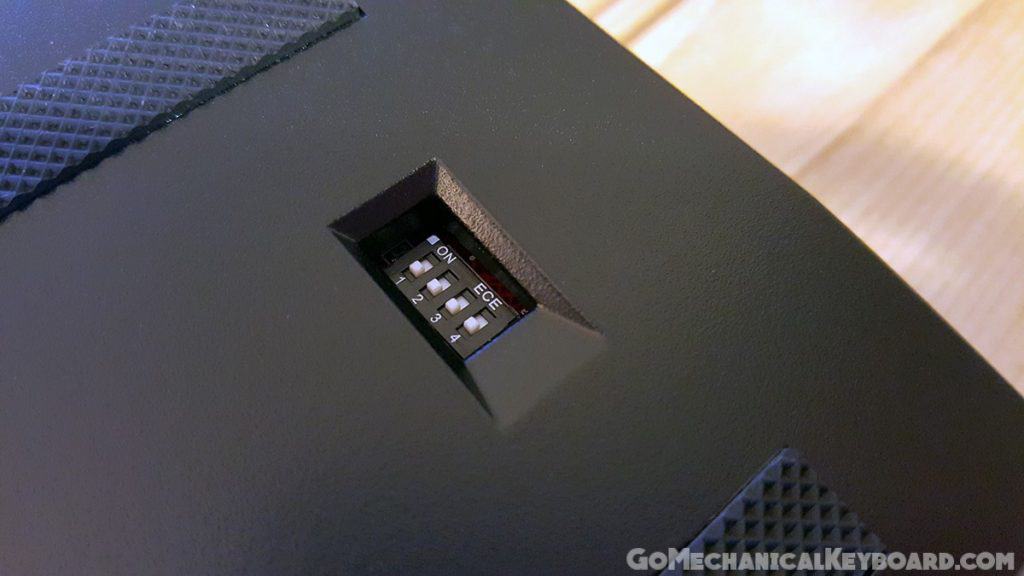 Here's a closer look at the 4 DIP switches. One other option that can be changed – flipping the 3rd switch up will change the Caps Lock key to function as the Fn key. This is a major selling feature of this keyboard, and one I imagine most every person who buys this keyboard will want to take advantage of. I'll get more into how this will help with programming your keyboard later.
The USB cable attaches on the left side of the keyboard behind the escape key. It would be a lot nicer to have the USB cable plug-in on the bottom of the keyboard and be routable out the side. This would make the keyboard even more compact because as-is you can't push it up flush against a laptop or other device, because the cable is in the way.
Also a little annoying is this keyboard uses a different USB connector type than the WASD Custom keyboards. It would be really cool to swap these keyboards without having to change cables, but sadly that's not possible. I'm sure if WASD manufactured this keyboard themselves, they could accommodate some of these changes.
A final note on the cable – it's about a foot shorter than typical keyboard cables at just 5 feet long, which is a problem for people with standing desks or extensive cable management. You can always pick up a longer generic USB cable, or even a shorter one if you want to reduce unneeded clutter.
60% Layout vs Tenkeyless Layout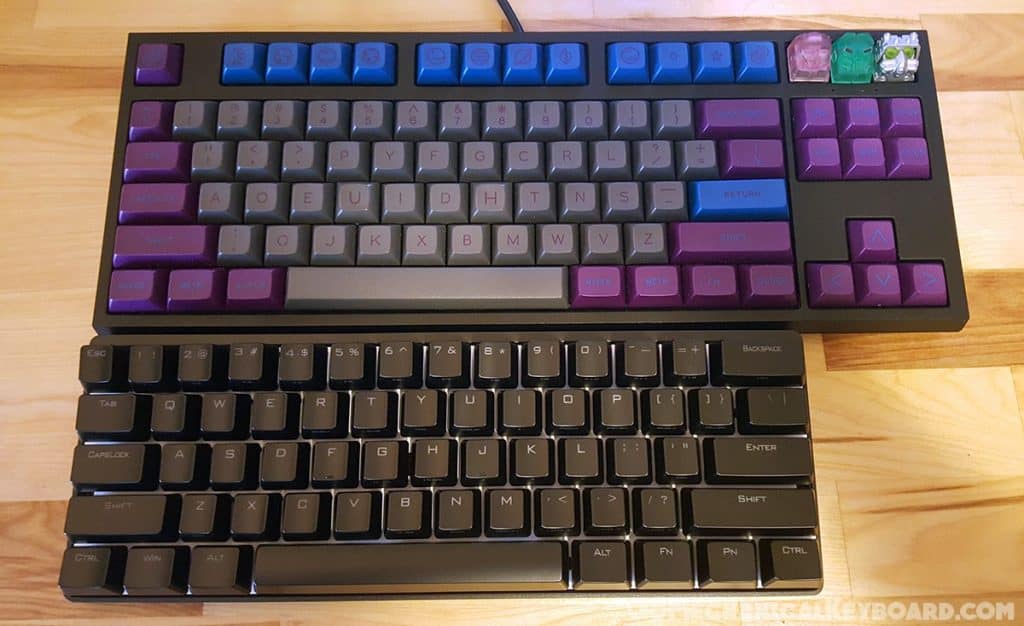 Here's a size comparison of the CODE 61-key versus the WASD Custom v2 87-key. It certainly makes a tenkeyless seem bulky in comparison.
CODE 61-Key Switches and Keys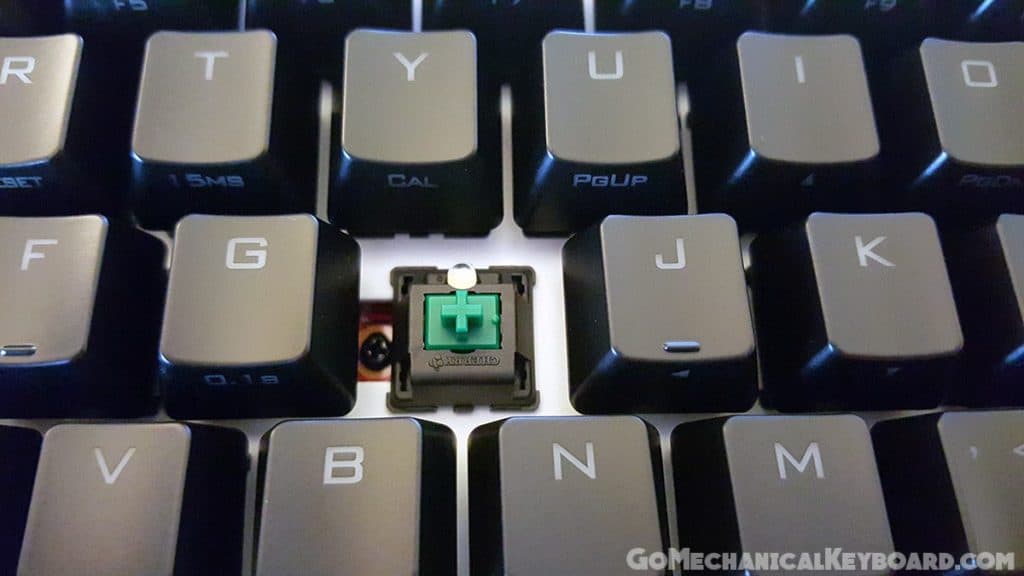 The CODE 61-Key mechanical keyboard is available in 4 different Cherry MX switch types – Green, Clear, Brown, and Blue. The keyboard we're reviewing has Green switches.
The biggest the selling features of this keyboard are the compact size and programmable layers. You can see on the front-face of the keys the different hotkeys that make up for the lack of keys. You access these by holding down the Fn key, and pressing the key. So Holding Fn and pressing K will be the same as pressing the down arrow on a regular keyboard.
Here's a full chart of the hotkeys on the default layer of this keyboard that comes from the online guide –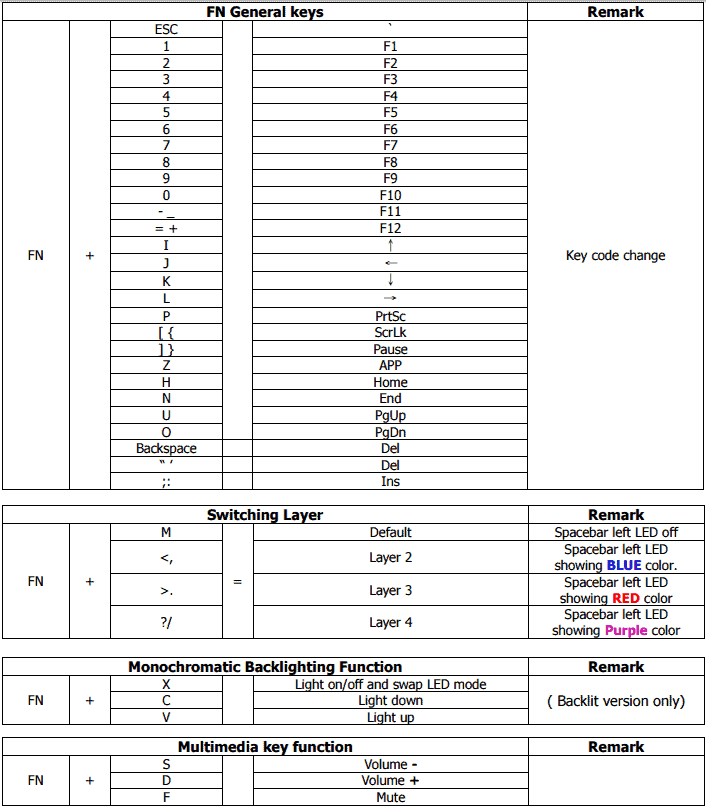 There's one big drawback to having so many hotkeys – if you're into customizing your keyboard with custom keycaps, you're going to have to give up the hotkey indicators on your keycaps. Unless you're willing to memorize all of these shortcuts or blindly try different keys until you get the right combination, changing out your keycaps is a no-go.
You can see on the M, <, >, and ? keys the option to switch between 4 different layers. The Default layer is not programmable, but the other 3 are. There's a Red/Blue LED on the spacebar that will indicate which layer you're on.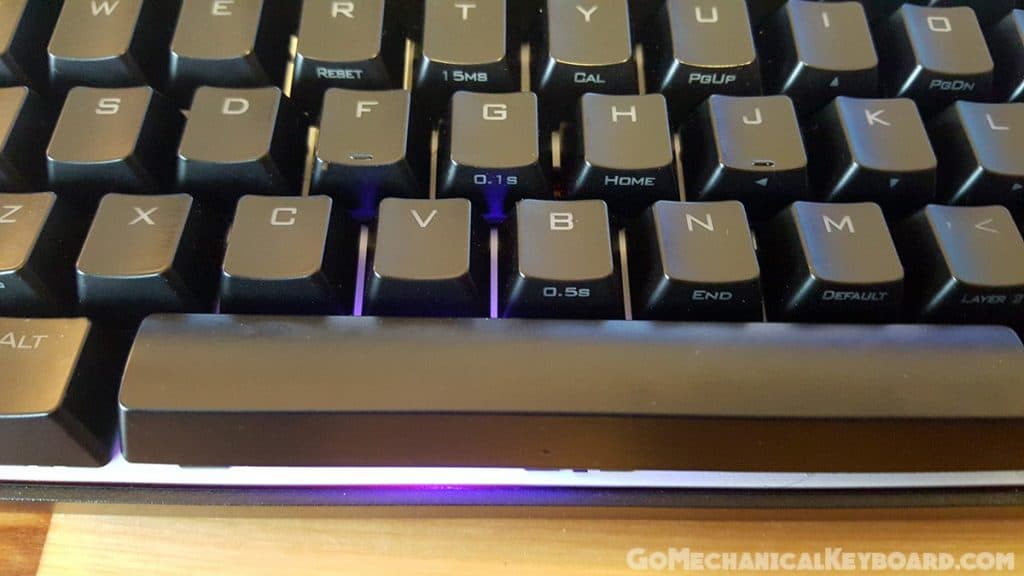 LED off – default layer.
LED Blue – Layer 2
LED Red – Layer 3
LED Purple – Layer 4
On your programmable layers, you can change the functionality of Fn + nearly any key on the keyboard. For example, on one layer I have Fn+C as copy, Fn+V as paste, Fn+X as cut. I changed Fn + W, A, S, D to act as the arrow keys. I also set Fn+Esc to launch Photoshop.
In order to easily use these hotkeys with just the left hand so the right hand doesn't need to leave the mouse, you can enable DIP switch 4 and your Caps Lock key will act as a Fn key.
There are nearly endless possibilities to what you can do to save you time. You can save up to 32 keystrokes per key.
[section label="Backlighting" anchor="Backlighting"]
CODE 61-Key Backlighting
The CODE 61-Key has 4 different backlighting modes. Off, Static-on (adjustable brightness levels), Pulsing, and Responsive (keys light up on touch then fade out). Check out the YouTube video to view all the backlighting modes.
CODE 61-Key Mechanical Keyboard Overall Verdict
The CODE 61-Key mechanical keyboard is a potential game-changer for people looking to get the most productivity out of their keyboard.
The multiple programmable layers take away the pain of dropping the extra keys to the point where it's really not an issue at all.
This is an awesome keyboard that we'd highly recommend for anyone looking to take the plunge into a 60% layout, or for anyone looking to automate portions of their day with a programmable keyboard.