In this review, I'll take an in-depth look at the notorious Deck 82 mechanical keyboard. This unique compact gaming mechanical keyboard is perfect for those that like a more light-weight or portable mechanical board that still has the nice features of a hardcore gaming keyboard. I've used Deck mechanical keyboards before and can say that they have a pro build and sleek feel to them. See below for our hands on review of the Deck 82 mechanical keyboard.
Deck 82 Keyboard Feature Overview
Cherry MX Black Switches
Blue LED Backlighting
Sublimated characters on keycaps can't wear off
Diamond plate bottom pan
75% keyboard form factor
Easy to modify
The Deck 82 mechanical keyboard is a unique compact keyboard made by Deck Keyboards, a US company. As you'll notice below, the Deck 82 keyboard has an interesting design and really nice blue backlit LED lighting.
Deck 82 Unboxing
The Deck 82 mechanical keyboard comes in a pretty plain box, which I'm actually a fan of as it's less hassle to open. The phrase "You've got a big Deck" is on the box which I found a bit strange and out of place.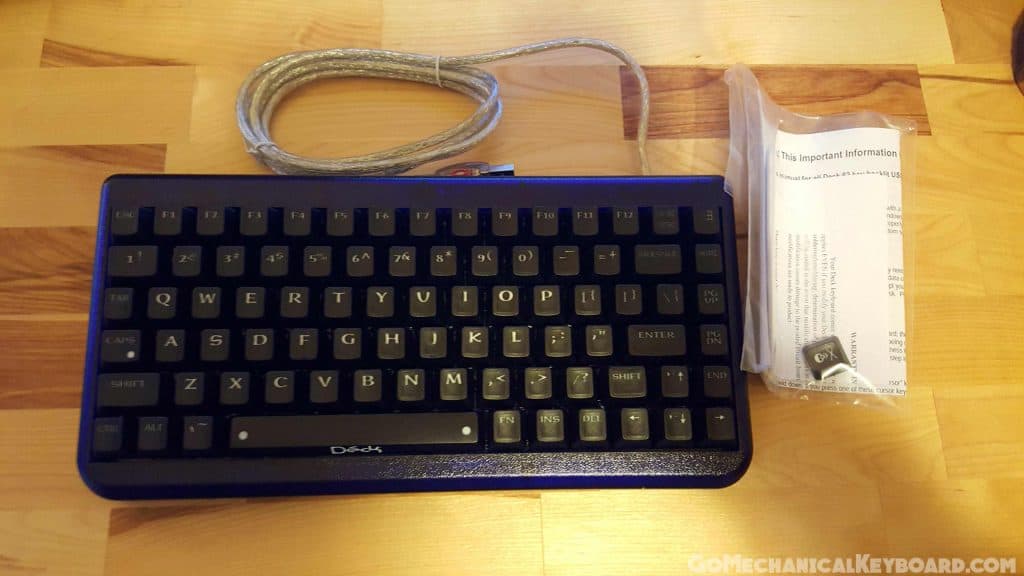 Here's all the contents of the package – one Deck 82 keyboard, warranty/purchase information, and a cool skull and crossbones keycap.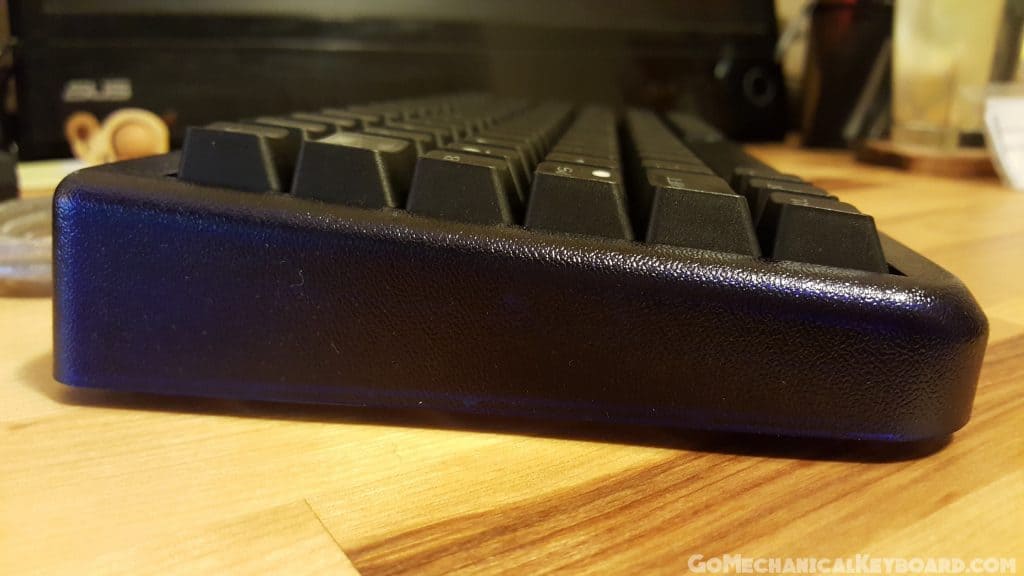 This keyboard sits a bit higher than other keyboards, so you may want to adjust your desk or chair just a bit. From the side, you can see the pitch of the rows as well as the texture of the case.
The case is a clear, blue plastic with quite a bit of texture. Overall it's a very light mechanical keyboard.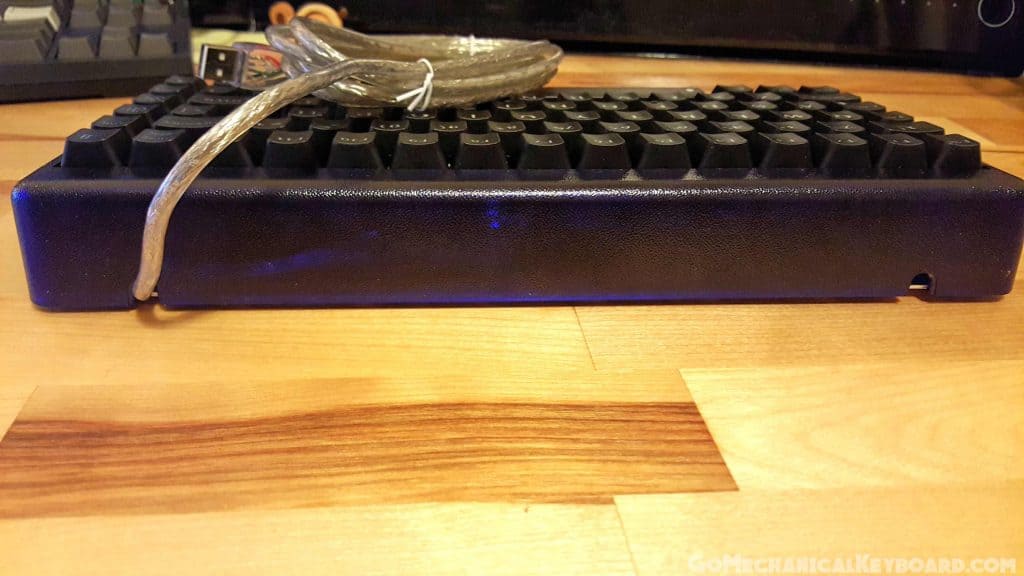 From the back, you can see that the USB cable can come out of one hole on either side. You'll need to unscrew the back plate in order to do so, but it's not much work.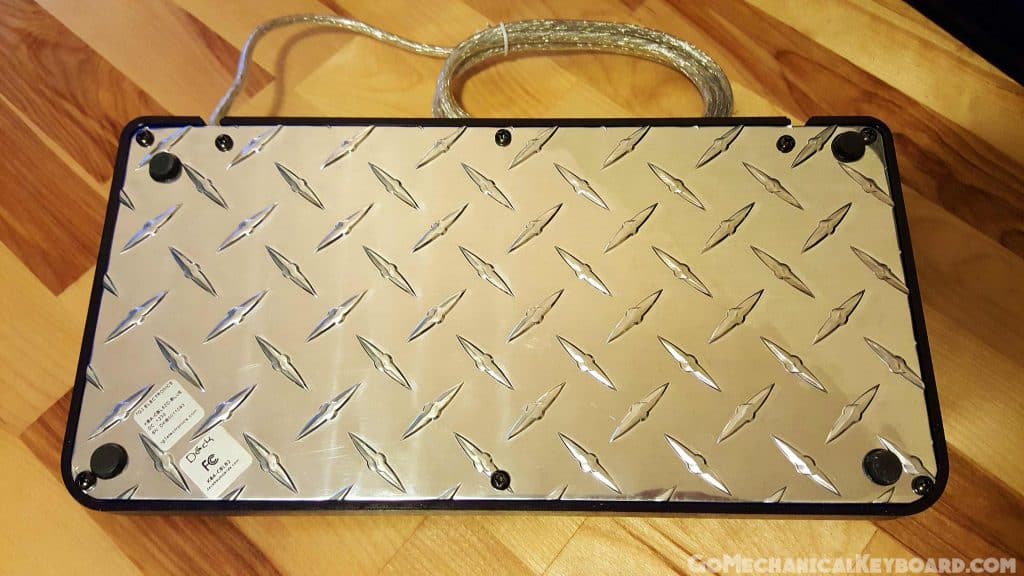 On the bottom of the keyboard, you can see the diamond plate panel secured by 8 screws, and 4 rubber pads are on the plate to prevent slippage.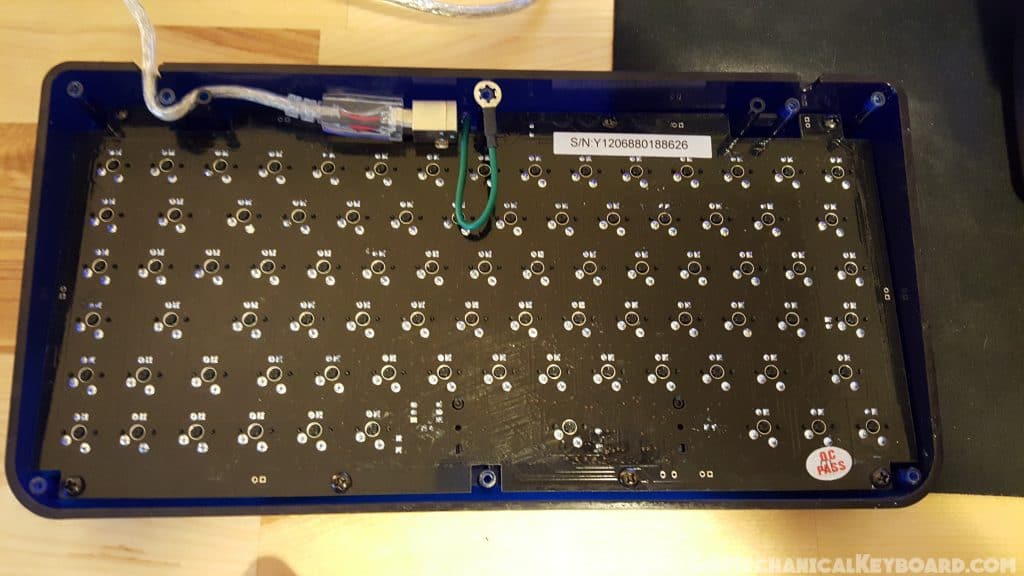 Here's the inside of the keyboard with the bottom pan removed. Here you can see that you can re-thread the USB cable out the opposite side if you wanted to.
Deck 82 Switches and Keys
Now let's review the Deck 82 switches. The Deck 82 comes with Cherry MX Black switches, which are linear like Cherry MX Reds, but with a higher actuation force. I prefer the Cherry MX Blacks in terms of how they feel when compared to Reds. I think the added resistance is nice, but I can type faster on Reds.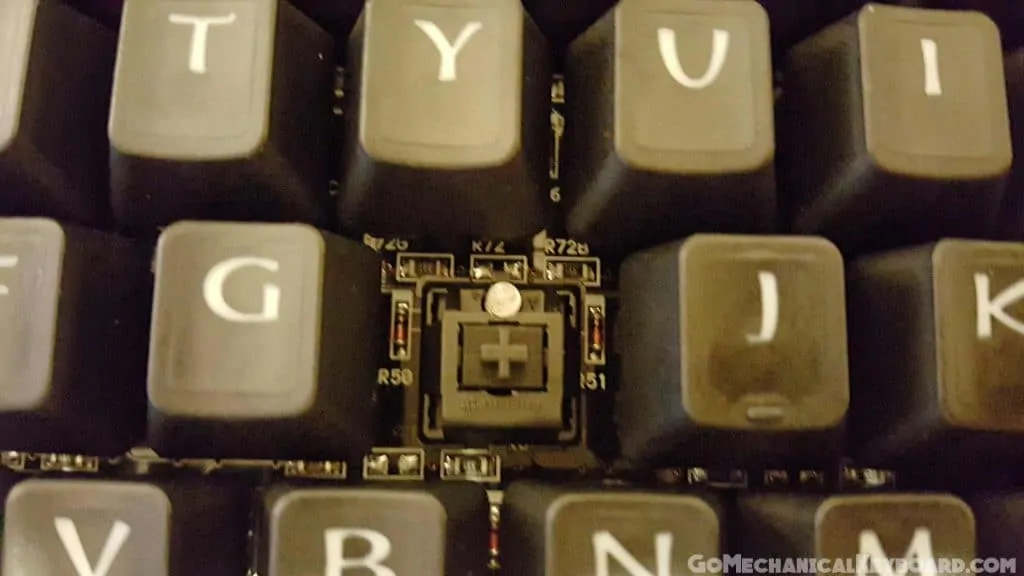 The Cherry MX switches on the Deck 82 are PCB mounted, which means this keyboard will be easier to modify, but it won't feel as sturdy as plate-mounted keyboards. The LED's are top-mounted on the switch.
One cool thing about the keyboard being PCB mounted is that you can see the circuit board between the gaps in the keys, which looks really cool with the backlights on!
Something you may notice in these images is that the keys almost look aged or smudges, but that's actually how they came and has this ice look to them. The Deck 82 definitely has a nice ice asethetic that I've never seen before.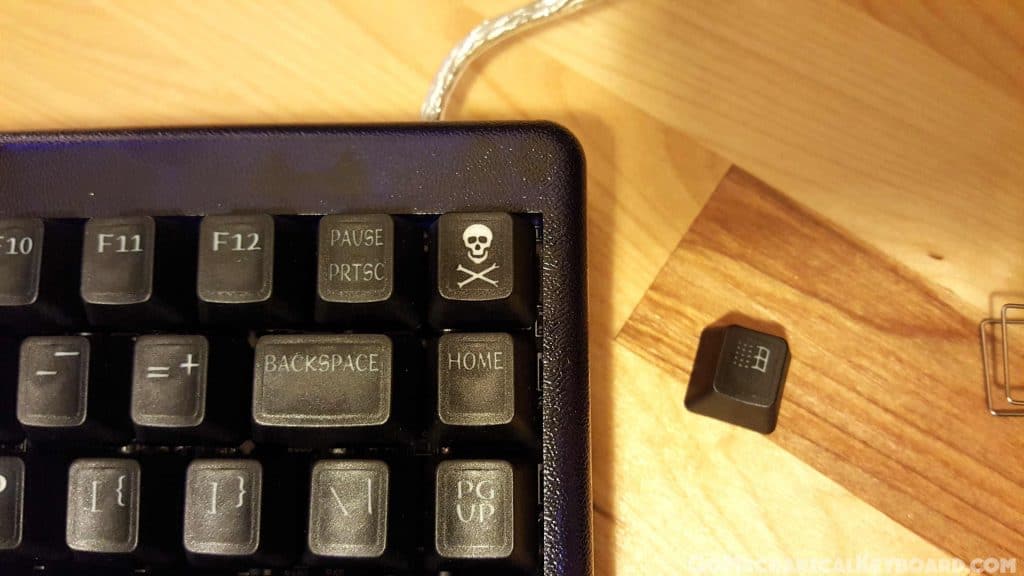 I swapped the Skull keycap for the Windows key, both pictured above.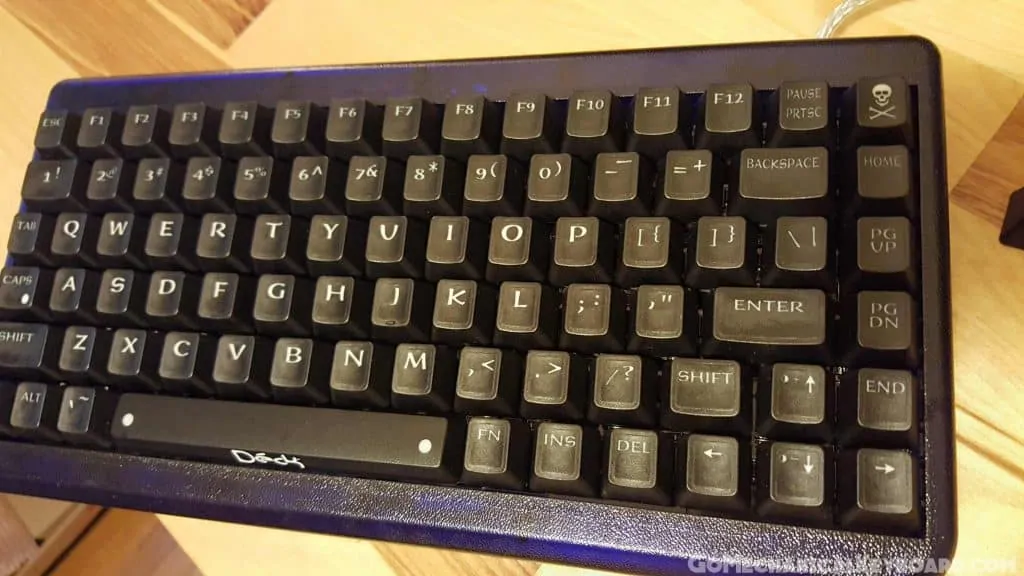 Finally, here's a closer shot of the keys from an angle so you can see what I mean about the aged feel to the keycaps.
Deck 82 Backlighting
The Deck 82 mechanical keyboard has 8 different levels of brightness to the LEDs, from Off to 7. You can change the brightness setting by pressing the Fn key and the up or down arrows to adjust the setting one step at a time, or you pressing the Fn key and 0-7 to jump immediately to that brightness level.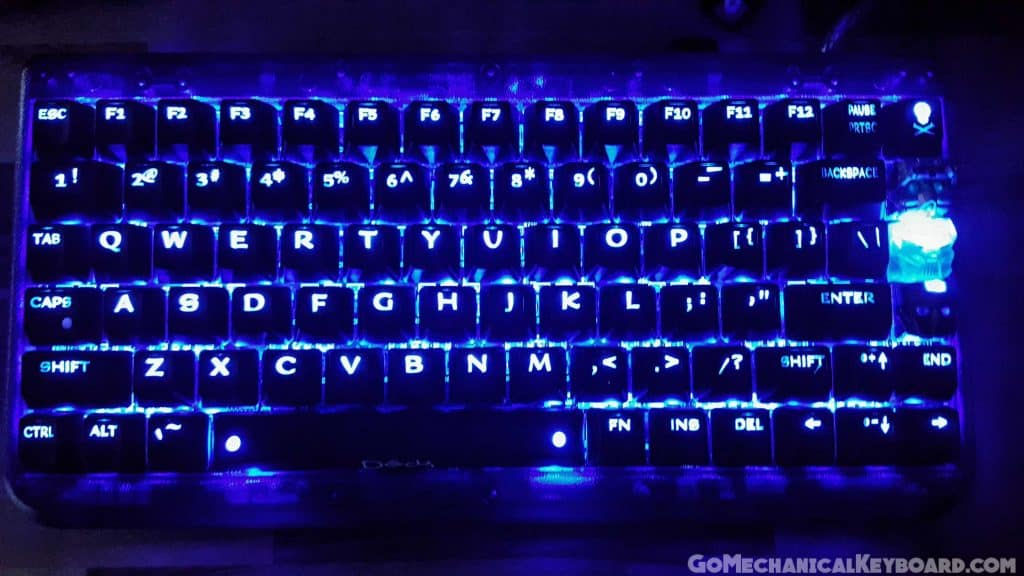 The above image shows off the lights at max brightness. You can also get a good feel for the Deck 82 mechanical keyboard layout and key sizes here, as well as the key font.
In these photos, I have some artisan keycaps on the right side to give you a feel for how they light up with these top-mounted LED lights.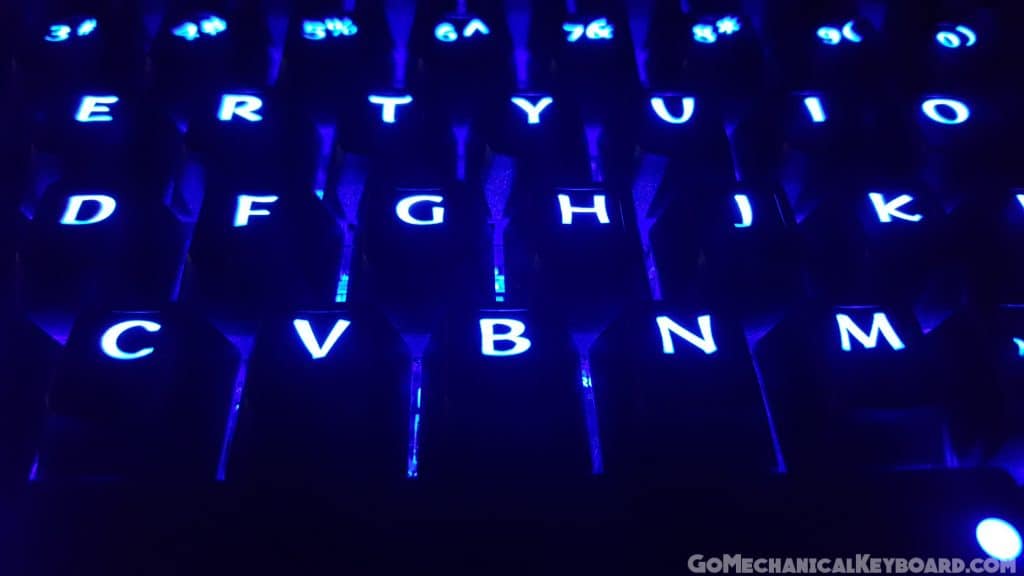 Here's a close-up of the keys while backlit. The bursts of white coming from between some of the keys is actually the PCB which illuminates nicely.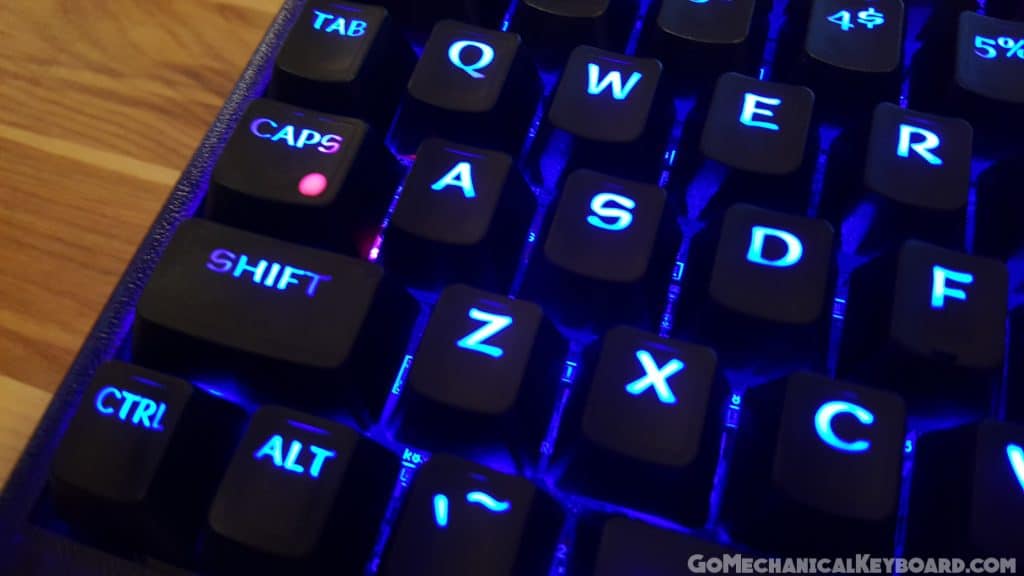 The Caps Lock indicator light is built into the Caps Lock key itself, which is a smart way to save space. There's no Scroll Lock or Num Lock on this keyboard.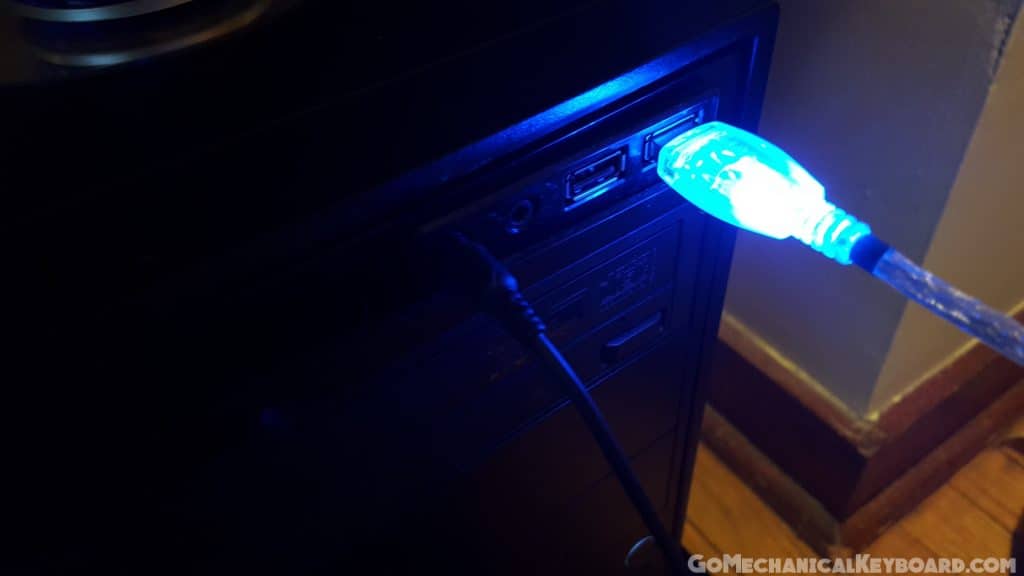 Also worth noting, the USB plug has a blue LED built into it. As you can tell, Deck has looked at every detail on this TKL mechanical keyboard. I had a lot of fun testing it out and can say that this would be an excellent fit for everyday typing or gaming.
Deck 82 Layout and Form Factor
The 75% form factor is somewhat rare, so it's important to take a look at this keyboard's layout (placement of the keys) as well as the form factor (size of keyboard and how many keys). It really all comes down to personal preference. You'll notice on this keyboard there is no right Ctrl or Alt, which could be a detriment to some people.
One other thing to note about this keyboard's form factor, you won't be able to replace all the keycaps with most keycap sets because there are so many non-standard key sizes on this mechanical keyboard.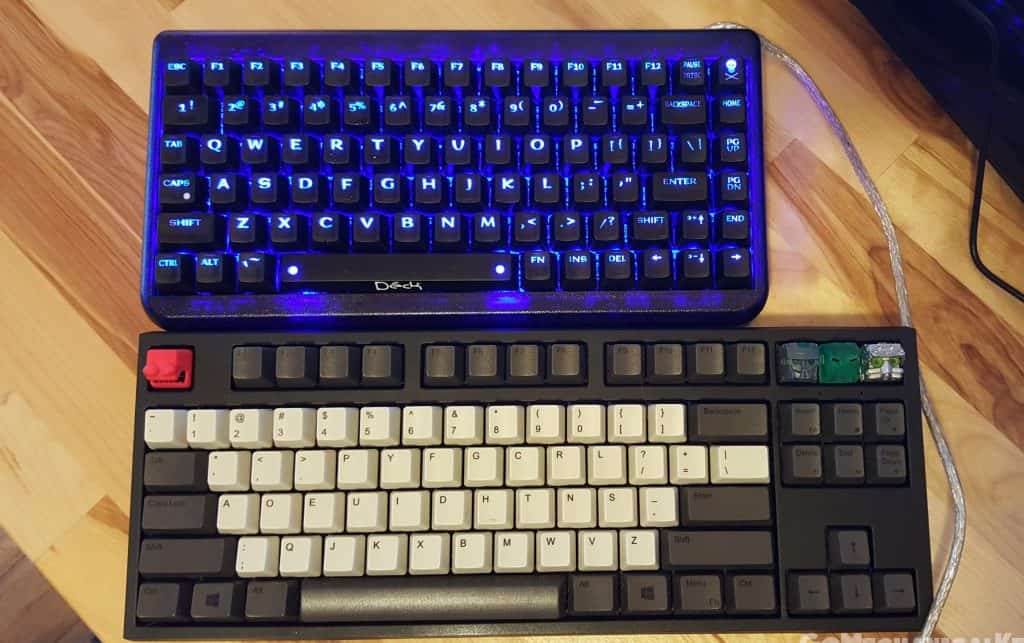 Here's a comparison of the Deck 82 to a WASD 87-Key Custom, which has a tenkeyless form factor. The Deck 82 mechanical keyboard is just a tiny bit wider but substantially shorter.
Deck 82 Overall Verdict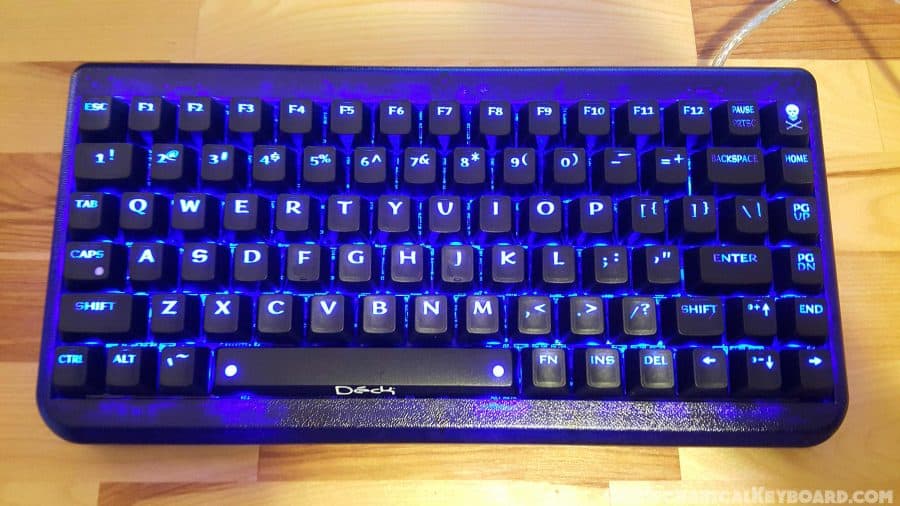 The Deck 82 mechanical keyboard is very interesting and unique. Whether or not you should buy this keyboard will come down to your specific needs and desires. Unlike other TKL mechanical keyboards that I've tried before, this one has a gaming type aesthetic while maintaining a simplistic look.
If you want a keyboard you can easily modify, find the 60% keyboard layout to be too limiting, and don't mind not replacing out all the keys with a new set of keycaps, this is a great keyboard to pick up. Also, I really like the unique design of the Deck 82 keyboard. Also, the backlighting on this keyboard looks really nice.
If you're uncertain about the Deck 82 mechanical keyboard, checkout the Amazon reviews (link below). That's it for this review – leave a comment below if you've got a chance to test this mechanical keyboard out. If you're looking for mechanical keyboards geared towards programmers, check out our article here for reviews of the best mechanical keyboards for programmers.