As a gaming enthusiast myself, I was excite when Fnatic announced a gaming mechanical keyboard (smart move). I had to get my hands on the Fnatic Gear Rush to test it out for you guys! Check out my unboxing, review, and video demo of the Fnatic Gear Rush below.
Cherry MX mechanical switches.
Red LED backlighting.
5 Macro Profiles.
Two USB ports.
Fnatic is a popular Esports team with international recognition, perhaps best known for their 5 European League of Legends LCS championships. They've just recently announced their new Fnatic Gear line of products, of which the Fnatic Gear Rush is their first mechanical keyboard.
Being an Esports company, of course, their products are going to be focused towards gamers, and the Fnatic Rush is an excellent gaming mechanical keyboard that we got our hands on to review.
The Unboxing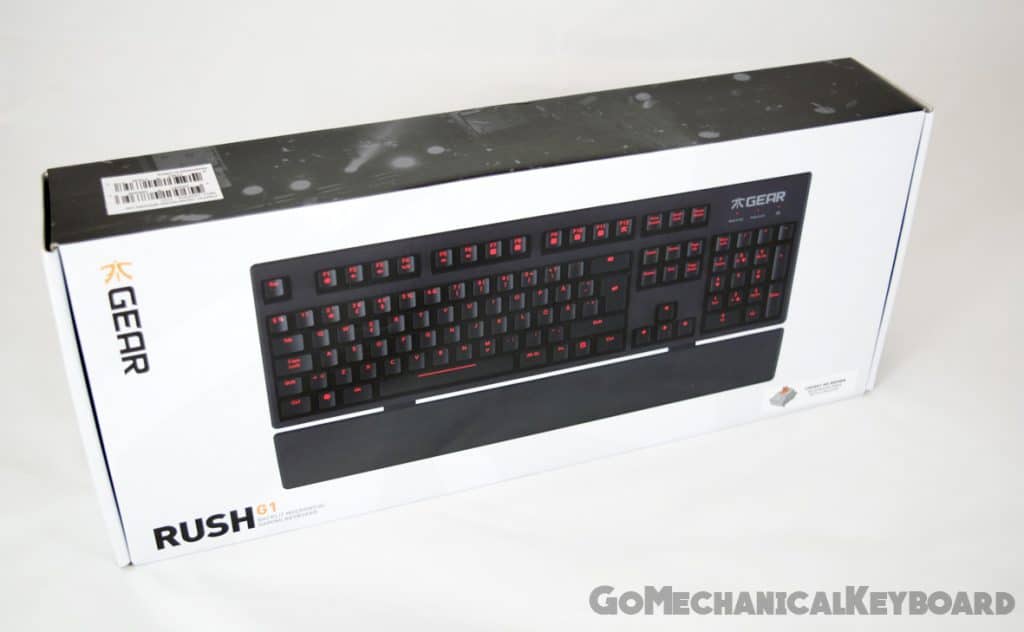 The Rush is a full-sized keyboard that comes in clean-looking packaging. One thing we appreciate is that the switch type is clearly marked in the bottom-right corner on the front of it. Many companies hide the switch type in small print on the side of the box as if it isn't important!
This mechanical keyboard also comes with a detachable wrist rest and keycap puller – standard features for any great mechanical keyboard.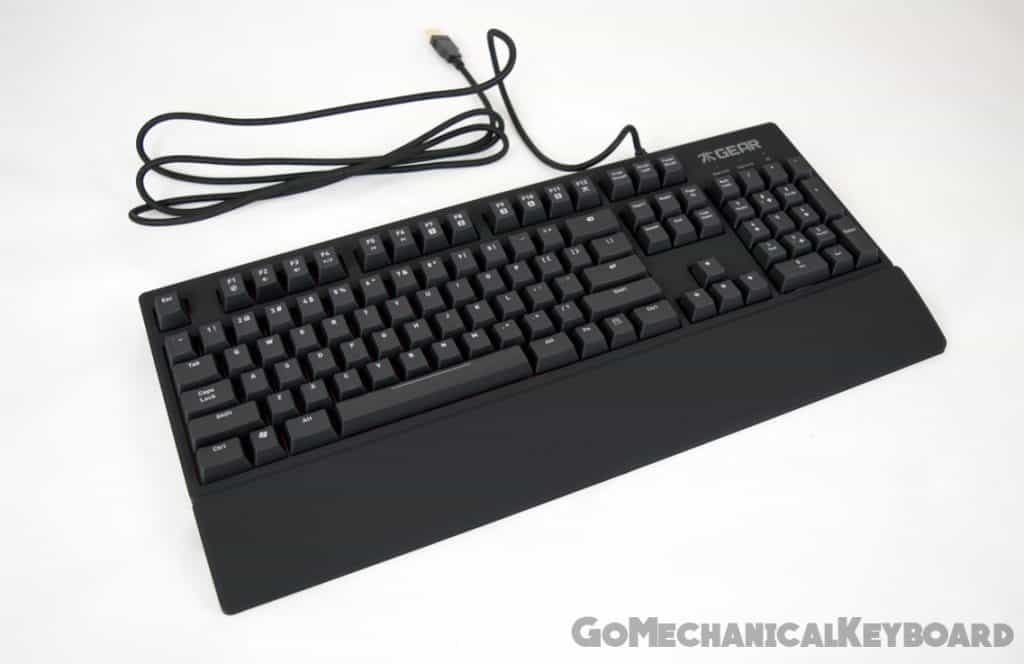 Out of the box, the Fnatic Gear Rush made a strong impression on us with the super-clean overall look and feel. There are no unnecessary lights or design elements to steal your attention. Fnatic has taken a serious approach to make a gaming keyboard designed for performance, rather than designed to scream "look at me, I'm a gamer" like so many others do. Its minimalistic design is refreshing and definitely has a gamer pro feel to it.
The USB cable is non-detachable, but has a braided cable and requires only a single USB plug to function both the keyboard and the USB 2.0 hub, seen below.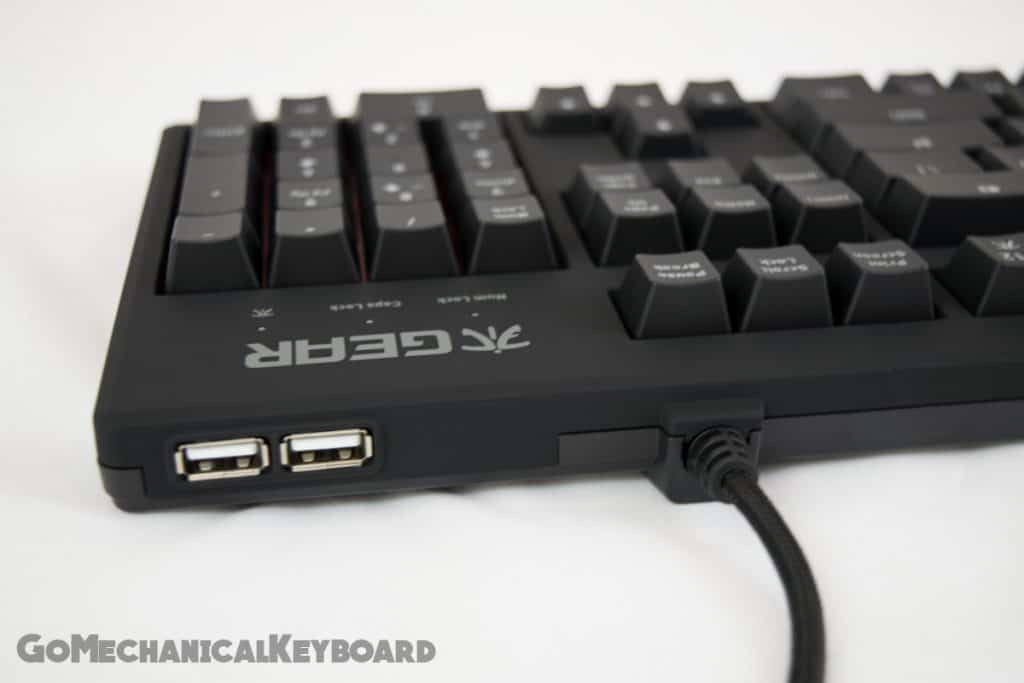 As you can somewhat see in the photo above, this keyboard features a red backplate which gives a pop of color between the keys when you're looking down from above. In combination with the red LED backlights, the keyboard has a nice, even red glow in the darkness which we will show later.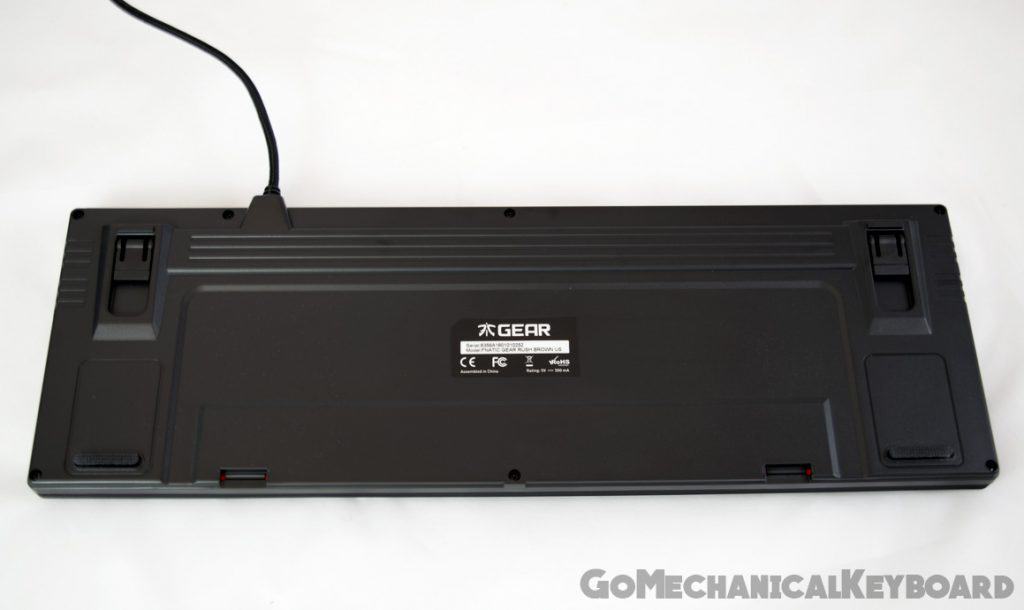 On the bottom side of the keyboard, you can see 4 rubber pads to help keep the keyboard from slipping, two flip-out feet to adjust the angle of the keyboard, and two small slots where you use clips to attach the wrist rest.
Switches and Keys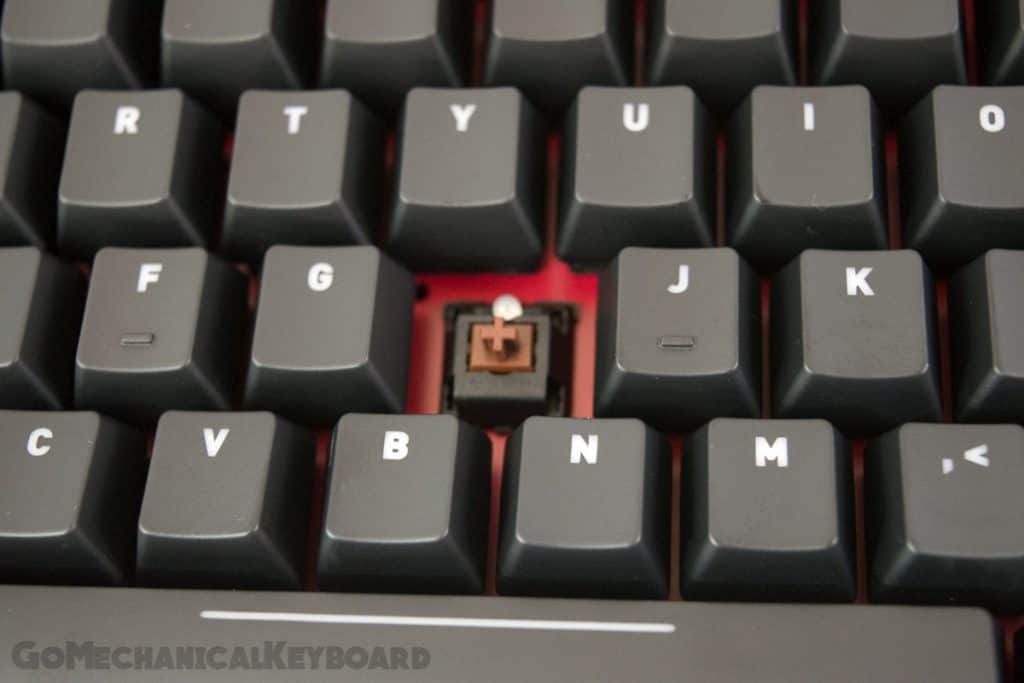 The Rush will be available in three different Cherry MX varieties – Red, Blue, and Brown. Our review unit has Cherry MX Brown switches. I personally like the brown switches with the Fnatic Gear Rush as the more silent sound goes with its aesthetics. On the tops of the switches, you can see the LED for the red backlighting.
The keycaps are Doubleshot ABS plastic and have a slightly matte finish. They show fingerprints easily but feel great.
We really love the font used for the legends on the keycaps. The letters are nice and bold. The spacebar has LED backlighting and the Enter and Backspace keys have icons rather than text.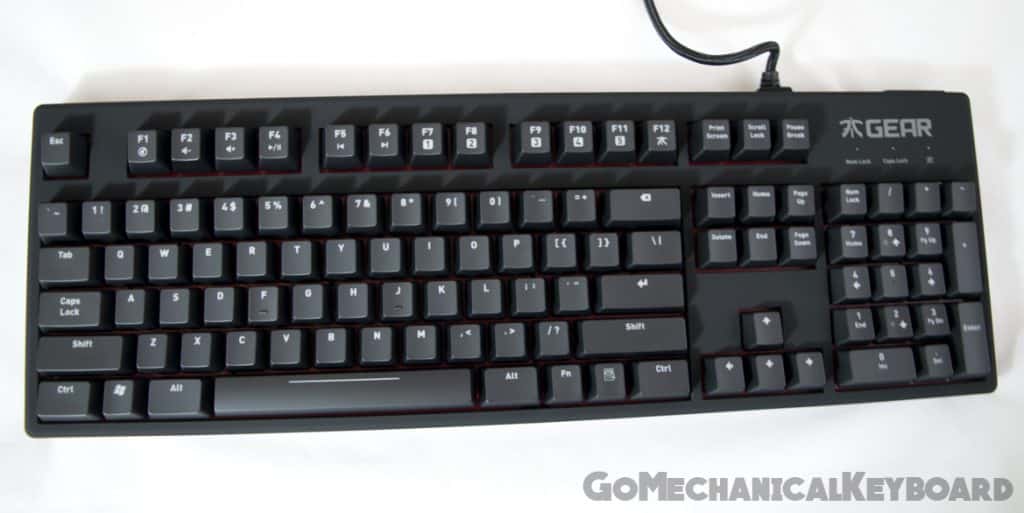 One thing you'll notice about this mechanical keyboard is it has a non-standard bottom row. If you like to replace stock keycaps with aftermarket varieties, then you'll have a hard time finding a set that will match the Fnatic bottom row which could be a turn-off for some buyers.
This bottom row was designed with gaming in mind. The Ctrl and Alt keys, which are heavily used in just about all competitive video games, are larger on this keyboard. The "in between" keys such as the Windows, Menu, and Fn keys, are usually something that you never want to hit while gaming, so it makes sense that Fnatic made them smaller.
This keyboard also has a "Fnatic Gear", which other companies just call "Windows Lock" mode. Pressing Fn + F12 will disable the Windows key on the keyboard so that if you accidentally press it it won't minimize your game. There's a Fnatic Gear Rush status LED above the numpad, but no "Scroll Lock" indicator light. Scroll Lock does still work, though.
In the typing test below you can hear this keyboard is action –
If you're interested in taking advantage of the macro capabilities of this keyboard, you'll need to install the Rush drivers. Using the Fnatic Gear Software, you can assign 10 different macro keys on each of the 5 profiles. The interface is simple and straightforward to use which you can see below.

Backlighting
The Rush's backlights are one color – red. They can be turned all the way off, or adjusted between three levels of brightness using the Fn key and the 8 and 2 keys on the numpad. Press Fn + 8 while the keyboard is at max brightness will send it into "Pulsing" mode, which has the lights gently fade it and out of max brightness. The pulse speed is not adjustable.
If there's a weak spot on this keyboard, it's that the backlighting on keys that have two lines of text (such as the Caps Lock key above) aren't lit evenly. Overall it's a minor thing, but something you may notice.
Fnatic Gear Rush Mechanical Keyboard – Overall Verdict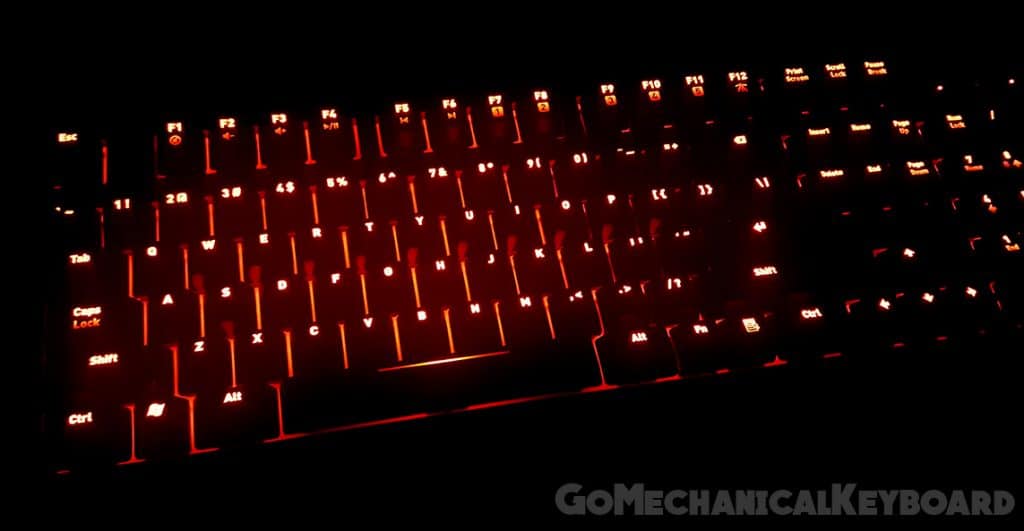 All things considered, the Fnatic Gear Rush is one of our top choices for a gaming mechanical keyboard. It has everything that a serious gamer wants – Cherry MX Switches, backlighting, macro capabilities, detachable wristrest, and a built-in USB hub. Everything that's necessary for gaming and nothing distracting or superfluous.
Its clear the Fnatic is making a name for themselves in the gaming community and this mechanical keyboard is one step further. With all of the capabilities of a great mechanical keyboard, the Fnatic Gear Rush is a worthy buy in my opinion! Let me know what you guys think in the comments below.