The Keychron K8 is a tenkeyless mechanical keyboard with many features that all of the keyboards in the Keychron lineup have: Mac/Windows compatibility, Bluetooth capabilities, RGB lighting, Gateron mechanical switches, possible hot-swappable feature depending on the version you pick, and aluminum bezels for increased productivity.
We received a K8 with RGB lighting, aluminum bezels, and Gateron brown switches recently, and here is the thorough review to help you out if you're interested in purchasing it.
Should You Buy the Keychron K8?
The Keychron K8 is a great option as a beginner budget hot-swappable mechanical keyboard for people who want an extremely portable keyboard with wireless capabilities, Windows/Mac compatibility, and RGB lights.
The keyboard itself has a lot of features. It also has an extremely large battery at 4000mAh, which Keychron claims will last 70 hours, depending on your usage.
It is designed for people who want to use a mechanical keyboard, but they don't see themselves using a number pad often. For Bluetooth mechanical keyboards that are compatible with Mac and have the Mac function row, the Keychron keyboards are some of the few keyboards that have that feature set.
Unboxing the Keychron K8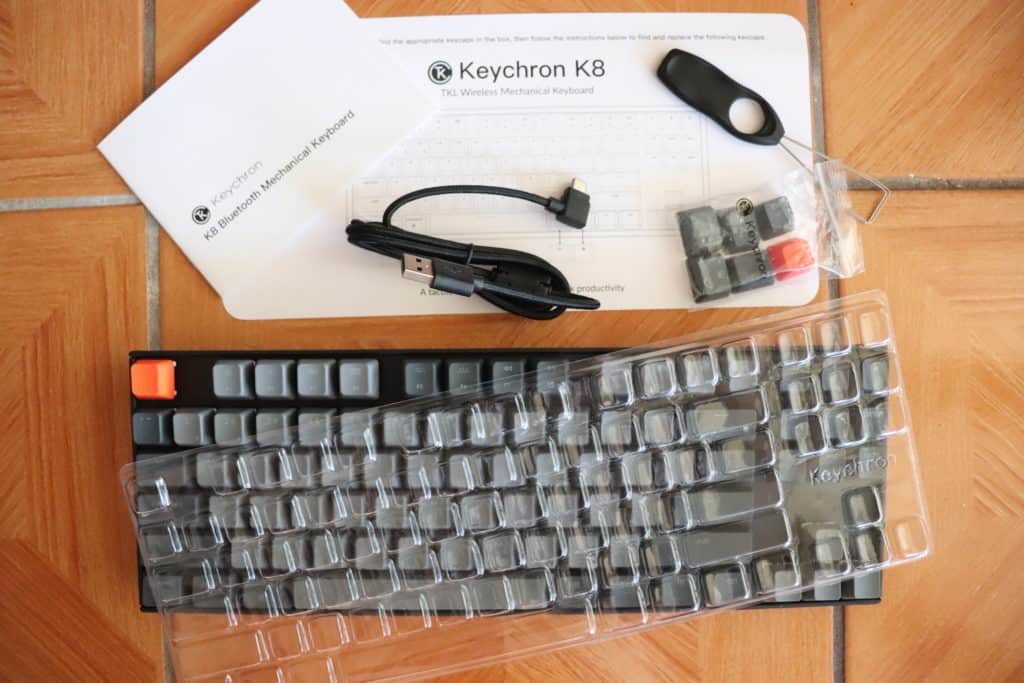 Inside the box, you get the keyboard itself, which is encased in a plastic sleeve. The keyboard also has a dust cover made of recyclable plastic. Many people do not actually use this as a dust cover, but if you do want to protect your keyboard from hair and dust when it's not in use, this cover is made specifically for the K8.
Inside, you also get a wire keycap puller. This makes it easy and convenient to change out the keycaps. By default, the Mac keys are on the bottom modifiers. It comes with Windows keycaps to switch those keys out.
If you ordered the hot-swappable version, it would also come with a small switch puller made of metal. The version that I ordered is not hot-swappable, but from previous experience with the Keychron K6, it is a small metal switch puller.
There is also a black braided USB-C cable that can be used to charge the keyboard or connect to your PC/laptop to use in wired mode. The end of the cable is a right-angle connector (the side that connects to the keyboard). If your computer is far away from your keyboard, this cable may be too short for you.
Aside from that, it also comes with a quickstart guide and a complete manual for extra information such as key combinations, lighting effects, etc.
Keychron K8 Features
Build Quality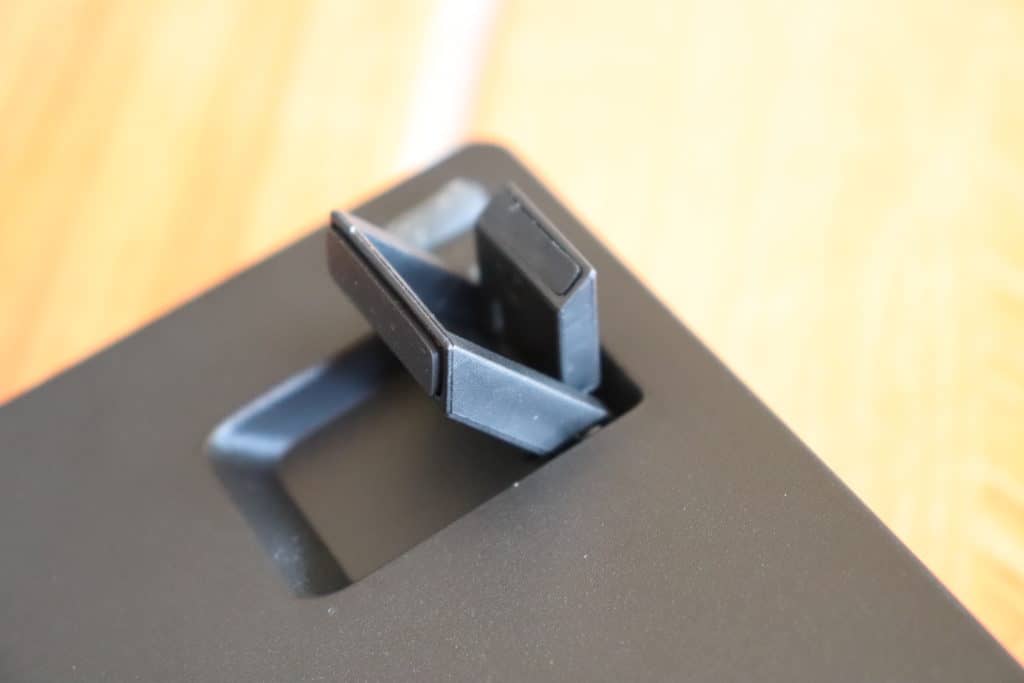 The build quality of this keyboard is pretty sturdy and nice. The case is plastic on the bottom. The aluminum option adds on aluminum bezels with 2 screws on each side. These screws can be taken off, and then the aluminum bezels can slide right off.
Despite that being very little aluminum, it actually keeps the frame of the keyboard from flexing at all. The top plate, where the switches are mounted onto, is also made of aluminum.
The back of the case has two dual-angle adjustable kickstands to change the angle of the keyboard for your comfort and convenience.
There are also five rubber feet at the bottom to prevent any sliding at all.
There are many complaints from reviewers saying that the height of the keyboard may be too high. The keyboard does have a natural inclination rather than being flat (Keychron does have that reputation of having flat angled keyboards, but not anymore! They updated their K2 recently as well, and the updated K4 frame is on the way).
Layout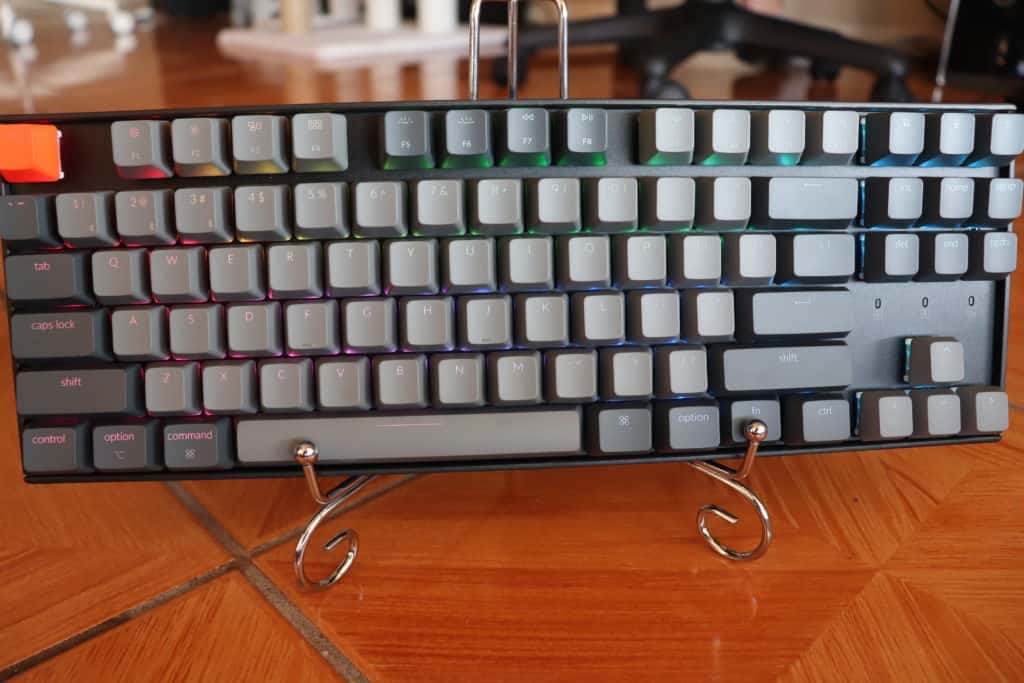 The Keychron K8 is a tenkeyless mechanical keyboard. That means that it does not have a number pad, but it does have the arrow cluster, navigational keys, and the function row on top.
Having a TKL layout lets you have more space on the right side of the desk for more room for your mouse to move. It also looks a lot nicer when your desk isn't too cluttered.
The keyboard has secondary media keys on the top row. They are listed below:
F1: Brightness up
F2: Brightness down
F3: Mission control
F4: Launchpad
F5: Decrease keyboard brightness
F6: Increase keyboard brightness
F7: Previous track
F8: Pause/ Play
F9: Next track
F10: Mute
F11: Volume down
F12: Volume up
On a Mac, these keys can be accessed without pressing the FN key. On Windows, you need to press FN and then the key for the function that you want.
This keyboard does not come with gaming mode, and it does not have the option to disable Alt+Tab, Alt+F4, Windows, etc. So you can accidentally exit your game if you're button mashing too much.
Having these media keys is super convenient, especially if you're a Mac user and are used to these functions. This keyboard makes it super easy to increase/decrease brightness and change up the media functions if you're listening to music while gaming.
Some downsides… Instead of having the usual, Pause, Scroll Lock, Print Screen, the top right keys are Screenshot (which is basically Print Screen), Assistant (to open up Cortana or Siri), and the Lighting key (to change between all the lighting effects).
Keycaps: They're alright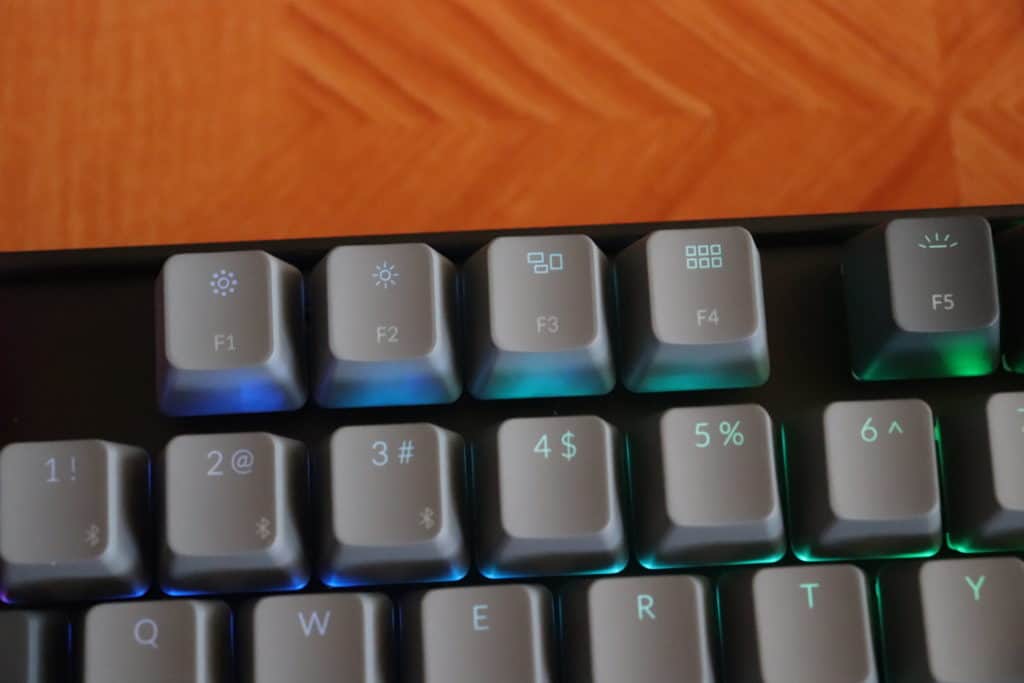 The keycaps on the K8 are extremely thin. They are two-toned ABS double-shot keycaps with extra orange keycaps for the Escape key and the Light key.
After long periods of typing on these keycaps, it does attract oils and grime. The legends are doubleshot though, so they will never rub off.
The legends are very clean. However, they can be a bit small compared to other fonts I've seen.
The layout is completely standard tenkeyless, so replacing the keycaps will be no problem if you're interested in switching to a nicer ABS plastic or PBT keycap set. With changing the keycaps, you do lose the function row sub-legends that are in the stock keycaps.
Stabilizers: Pre-lubed
The stabilizers under the larger keys (left and right shift, space, enter, and backspace) are pre-lubed from the factory on the wires. They are quite smooth and nice. This is a great extra step that Keychron takes to ensure their stabilizers sound smooth and have less rattle.
On one of our K8 models, the spacebar does have a bit of stickiness to it. However, on the Gateron blue version we have, that is nowhere to be found, and every key is smooth. It may just be a factory error. To fix this, however, I probably will have to desolder the switch there and take out the stabilizers entirely to fix it.
However, if your keyboard doesn't come with problems, the stabilizers are some of the best on stock keyboards that I've used.
Switches: Gateron Mechanical, Optical, and Hot-swappable
The K8 comes with different switch choices. First you get to pick between optical and mechanical.
The mechanical switches are Gateron-branded: red, blue, or brown. Red is linear, blue is clicky, and brown is tactile. To see a full guide on Gateron switches, read this awesome resource that we found. The mechanical option also has a hot-swappable option that you can pick as well for an increased price.
Being hot-swappable is super convenient, especially if you are wanting to experiment with different switches to find the perfect one for your needs. You can switch between switches (haha) without having to desolder and solder. The hot-swappable sockets on the K8 are 5-pin and therefore are compatible with almost all other MX style switches.
The optical switches are made by Keychron (with LK). Currently these are available in red, blue, and brown as well. Keychron does plan on releasing three more models later this year.
Optical switches are hotswappable with other optical switches. These are not compatible with mechanical switches such as Cherry MX, Kailh, Gateron, ZealPC, etc.
Connectivity: Bluetooth and Wired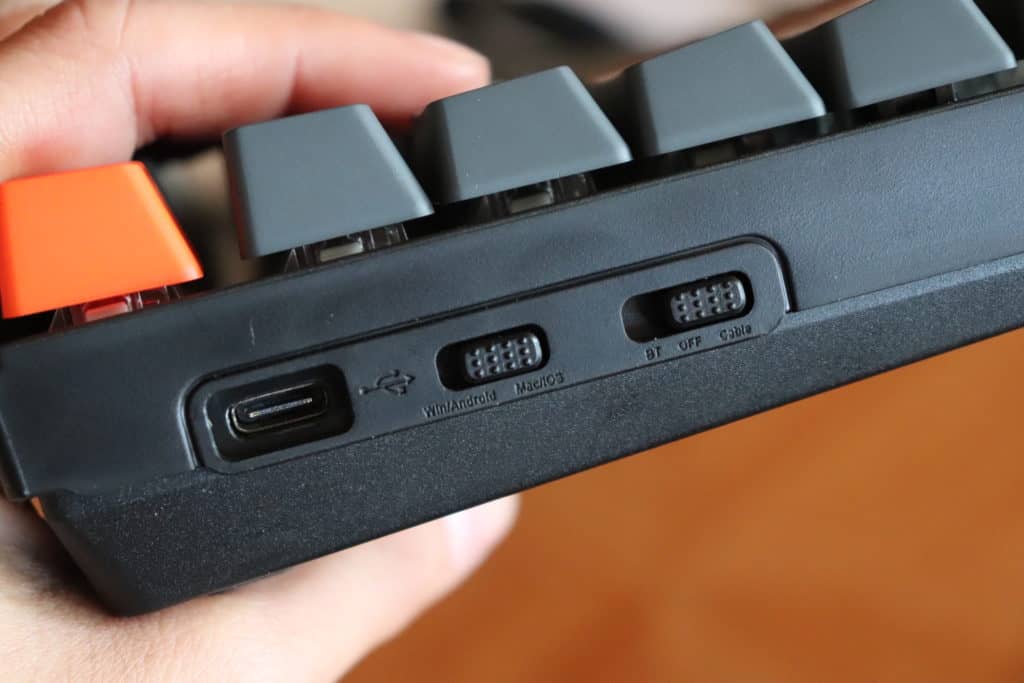 The K8 can connect via a wired connection with USB-C cable or a wireless connection with Bluetooth 5.1
It can connect up to 3 devices and switch between them quickly and easily via different key combinations on the keyboard (FN+1/2/3).
Switching between connectivities is super easy. On the side of the keyboard are two different toggle switches. One switches between compatibility with OS, and the other switches between BT/Off/Wired mode.
To connect to BT, simply toggle it to BT mode. Hold FN+1/2/3, and then connect that way. The K8 does have auto sleep mode after periods of non-use to save battery, but it connects really quickly after attempting to wake it up by pressing a key.
To connect it via wire, simply connect the USB-C wire into the board and toggle the switch to Wired mode.
Although the BT is updated and quite fast, it is still noticeable when gaming in quick situations where speed and reaction times matter. For that, plugging it in wired mode is recommended and necessary to win.
The battery on the K8 is 4000mAh, which is claimed to last up to 70 hours. Keychron has some of the biggest batteries in the world of mechanical keyboards.
Compatibility with OS: Mac and Windows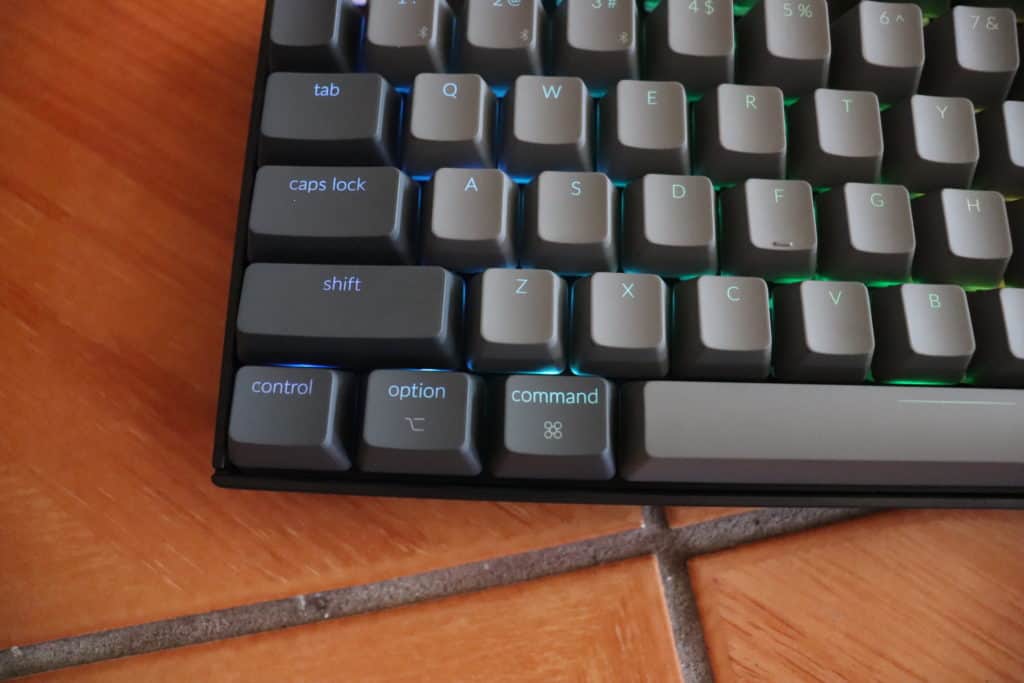 One of Keychron's best features and appeal is that they make keyboards specifically made for Mac.
The entire function row matches exactly of those on Apply keyboards and Macbooks. It is super convenient and easy.
The screenshot button activates the selective screenshot on Mac. The assistant button (which looks like a microphone) opens up Siri/Cortana depending on your OS.
It even comes with specific keycaps for Mac (Command and Option), keys that you won't be able to find anywhere else (especially those that are backlit).
Software
Keychron does have have its own software for any of its keyboards. Currently, if you want to remap your keys, you have to use outside software such as SharpKeys for Windows and Karabiner for Mac.
Fortunately for us, these softwares are super easy to use. One downside is that it is impossible to map the lighting key which is the far top right key on the board.
RGB Lighting
There are 15+ RGB effects to cycle through on the keyboard. These effects can easily be cycled through using the Light button.
Simpy press it to cycle through the effects. To cycle through the static colors, simply hold FN+ right arrow to do so, once you're in the static color effect.
The keyboard will remember the effect you pick on startup after you shut down your PC. However, there is no software to edit per-key lighting on the K8.
Additional Features
Additionally, it has 100% anti-ghosting and N-key rollover, which is commonly seen with all mechanical keyboards.
This has been said before, but there is a hot-swappable option if you choose it. That enables you to switch between different mechanical switches very easily without desoldering and soldering. Choose Cherry, ZealPC, Kailh, Gateron, Novelkeys, whatever you desire. The 5-pin hot-swappable sockets let you pretty much change to anything. Keep in mind mechanical hot-swap sockets are not compatible with optical switches.
Extremely Popular on Kickstarter
The overall feedback from the community has been very positive. However, some people do complain about the height of the keyboard. It may be worth recommending you purchase a wrist rest to go along with the K8.
On Kickstarter, the K8 raised almost $720,000 with over 6,800 backers. This is a well-backed keyboard with plenty of love and support.
If you're interested in seeing an in-depth review by a popular mechanical keyboard YouTuber, click here.
Alternatives to the Keychron K8
The K8 is a popular tenkeyless layout that is feature-packed. Not very many keyboards can compete with the K8 and still be at the price point that it is at. We can look at other compact keyboards, although they may not have all of the same features.
Here are the three alternatives we will look at:

HyperX Alloy Origins Core
Keychron K6
Velocifire TKL02WS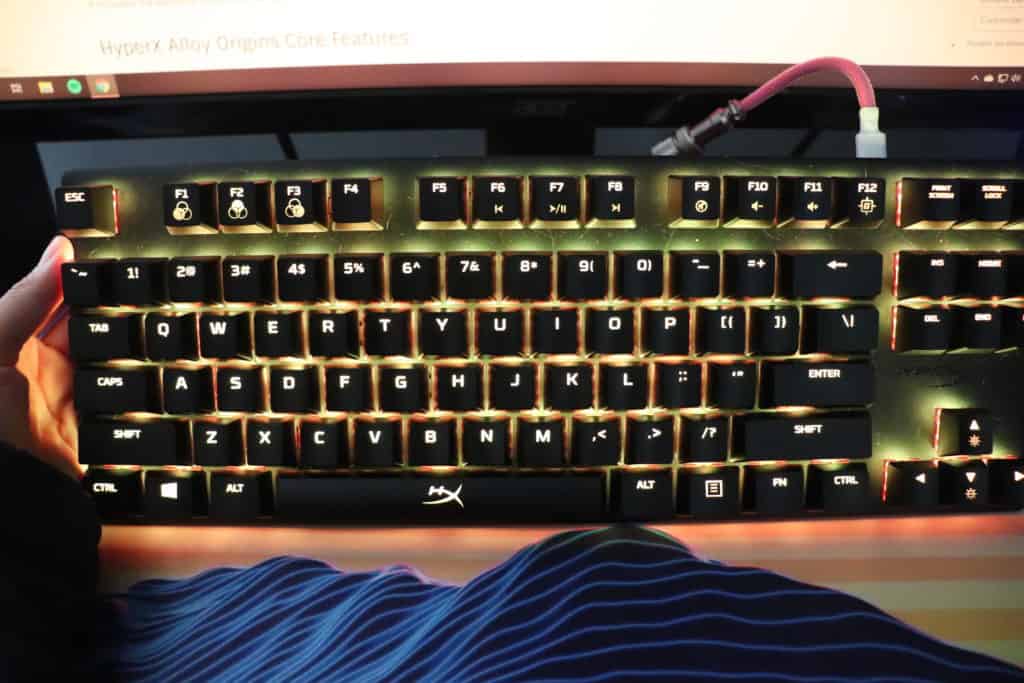 The HyperX AOC is a TKL mechanical keyboard that has RGB lighting with dedicated software to edit each key and remap them as needed. It also has software that lets you program each key. Our in-depth review of this keyboard can be found here.
It has floating keycaps with a full aluminum build for the frame. This is an amazing value for a mechanical keyboard of this build at under $100.
The HyperX AOC, however, does not have Bluetooth or wireless features and must be connected via a wire. It also does NOT have compatibility with Mac, especially since the software is only compatible with Windows 8+.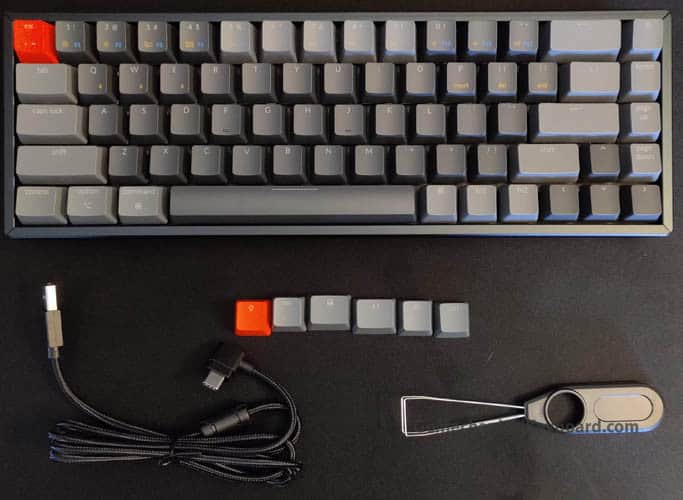 The Keychron K6 is another keyboard within the Keychron lineup.
It pretty much has all of the features the K8 does, except it is a little smaller, as a 65% keyboard.
It takes the TKL layout, cuts off the function row, some of the nav keys, and then smushes everything together. The right shift is smaller. It only has Home, PgUp, and PgDn. However, with Sharpkeys or Karabiner, it is easy to remap these keys to Del, Home, and End if you use those more often.
It has a hot-swap feature, RGB lighting, aluminum bezels, Bluetooth 5.1, an inclined frame, and all of that. The overall height is lower than the K8 and the portability is extremely high.
If you do not need the function row or nav keys or a large right shift, the K6 may be one to look at. It is super portable, very nice on the wrists with the lower height, and cost-effective as well.
The Velocifire TKL02WS is a very budget-friendly option for people who want a tenkeyless mechanical keyboard with wireless capabilities that is compatible with Mac. This keyboard does not have Bluetooth, but it does connect wirelessly through a 2.4GHz dongle. This makes it really convenient to connect to devices that do not have Bluetooth built-in. But it can't connect to phones and tablets.
This keyboard uses Content switches, which are a Cherry MX/Gateron clone that is more affordable for companies to use. The Velocifire TKL02WS is available with Content Brown switches, which is a tactile switch that gives you that feedback while typing and gaming.
The TKL02WS also connects via a wired connection as well.
Conclusion
In conclusion, the Keychron K8 is an amazing mechanical keyboard for people who want a standard layout that is easy to swap keycaps with to whatever you want, people who want the arrow cluster and navigational keys to be separate, want Bluetooth 5.1, want Mac and Windows compatibility, and want hot-swappable switches.
It is definitely a feature-packed mechanical keyboard, and the price is very affordable at just under $100.
Currently, the keyboard is available for pre-order, but it will come to Amazon soon to be an in-stock item.
Check the product out here or in the link below.