The HyperX Alloy Origins Core (AOC) mechanical keyboard is a compact tenkeyless mechanical keyboard that is packed full of amazing features for gamers, including RGB lights, programmable macros via dedicated software, a compact layout allowing more mouse movement, and super smooth linear switches that do not distract during intense gaming moments.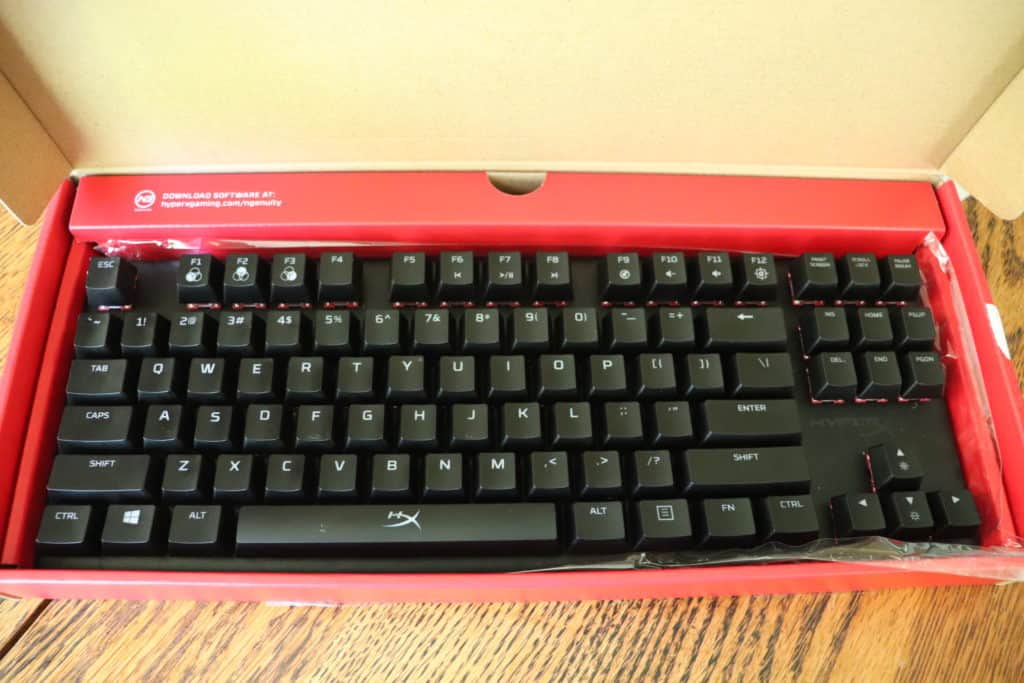 Should You Buy the HyperX Alloy Origins Core?
The HyperX Alloy Origins Core is for gamers who are looking for an extremely smooth switch, whether it be linear or tactile, for that performance upgrade from your current keyboard to a durable and performance-oriented mechanical keyboard.
It has a tenkeyless design and is not meant for people who need a number pad to complete every day tasks or in-game actions. It has a bunch of features that are not standard in mechanical keyboards within its price range that we'll discuss below in great detail.
Unboxing the HyperX Alloy Origins Core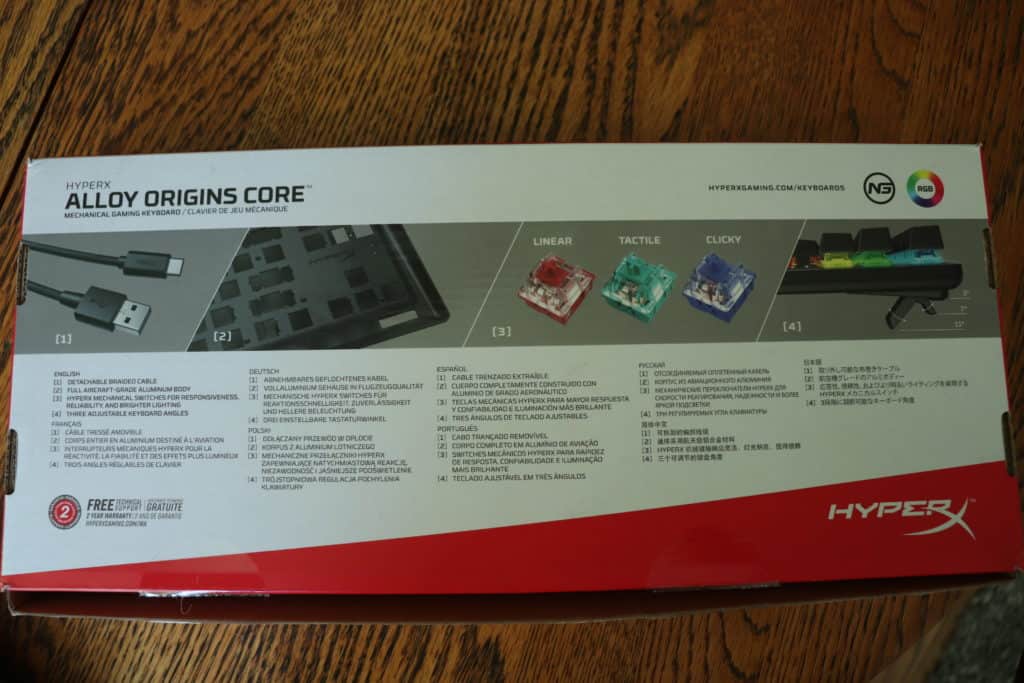 The unboxing of this mechanical keyboard is very simple and straight forward.
You get the keyboard itself wrapped in cellophane. You also get the braided USB-C cable in a separate pocket of the box.
It includes the warranty card and a manual on how to use it.
HyperX Alloy Origins Core Features
Build Quality
The build quality of this keyboard is probably one of the most impressive things about it, other than the mechanical switches.
The entire body of the keyboard is aircraft-grade aluminum in a matte black color. It is very sturdy and has no flex at all when in use even with strong and heavy keypresses.
The back of the frame has two kickstands that allow two different angles for convenience and comfort depending on how steep you want your keyboard to be when you are using it.
There are also four long rubber pads at the bottom to prevent slippage on your desk during those intense situations.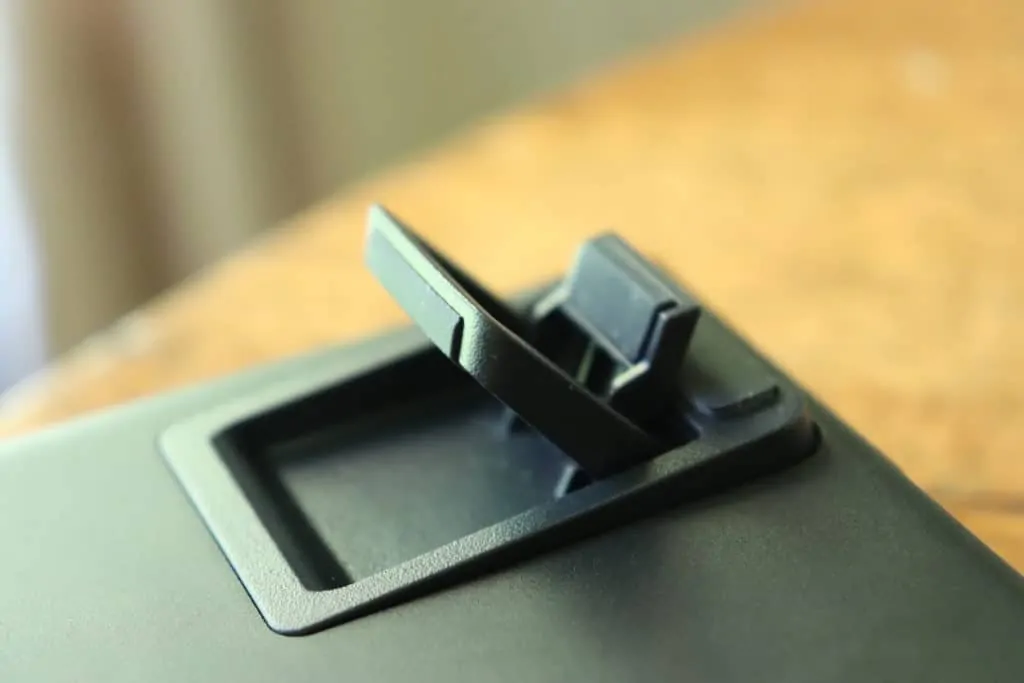 Layout
The layout of the AOC is a tenkeyless design. This is great for FPS, MOBA, and MMORPG gamers (and others) who are looking to provide more room for their mouse arm to move.
Having more space on your desk means that it's much more comfortable for your mouse arm to aim and precisely orient your character in-game.
The keyboard has secondary media keys on the top function row. The functions are listed below:
F1: Switch profile 1
F2: Switch profile 2
F3: Switch profile 3
F6: Previous track
F7: Pause/Play
F8: Next track
F9: Mute
F10: Volume down
F11: Volume up
F12: Gaming mode
These functions can be accessed via holding down FN and then pressing the respective key for the function that you want.
Gaming mode disables the Windows key from being activated and exiting you out of your game if you accidentally press on it. This key is editable within the HyperX Ngenuity software to do other things as well.
Having secondary media keys available like this makes it very convenient to change the volume or mute it depending on what's happening, if someone wants to talk to you in your room, or if you're listening to music and want it to change.
Keycaps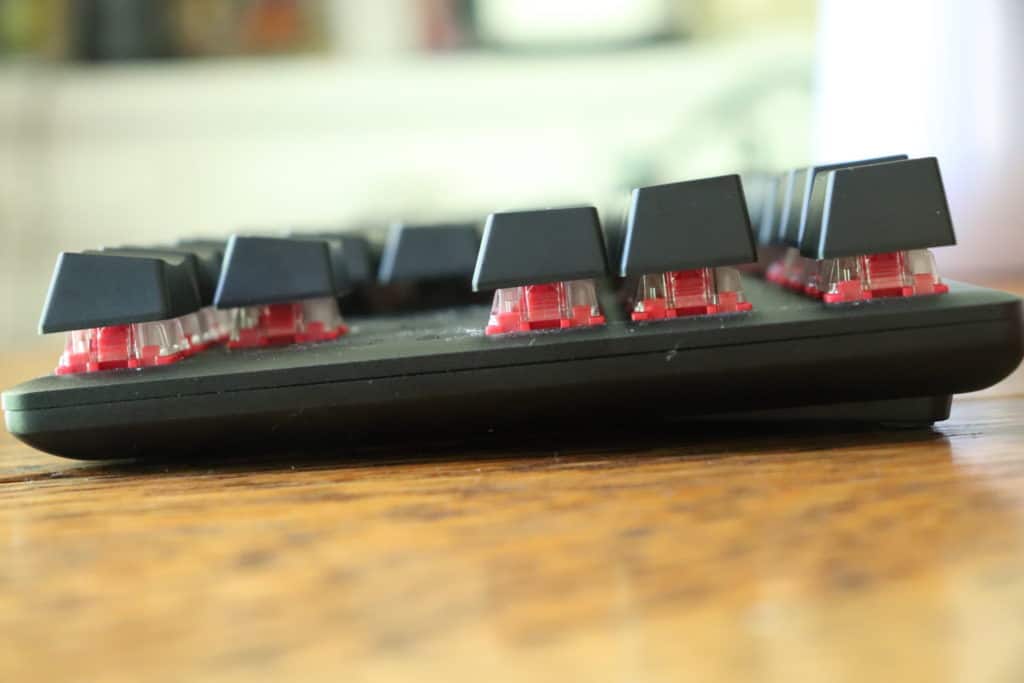 The keycaps on the AOC are made of ABS-plastic. They have doubleshot shine through legends, which means the letters and symbols will never rub off even after extensive and prolonged periods of use over years and years.
The font is very clean and has no separated legends. The RGB lights shine through brightly and with high contrast, so you don't have to worry about not being able to see your keys at night.
The AOC has a completely standard tenkleyess layout, so changing out keycaps is super easy without problems of sizing. HyperX even has their own PBT keycap replacement set, which we reviewed here.
Stabilizers
The stabilizers are the mechanisms under the big keys that stabilize them, preventing them from bowing, making too much noise, or shaking when you're using them. The stabilizers are under the keys of: left shift, right shift, space, enter, and backspace.
The stabilizers on the AOC are not too bad at all. It's not significantly louder than the rest of the keyboard, and it also doesn't move around when in use.
When gaming, your most often used stabilizers will probably be the space key for doing things like jumping. On this keyboard, it may have some rattly noises with hard presses, but overall, nothing to be worried or concerned about.
The performance is top notch.
Switches
The AOC comes with two options for switches, HyperX Reds and HyperX Aquas.
These are both proprietary HyperX switches. They differ from Cherry MX switches in many ways. Cherry MX switches are some of the more common and standard switches within the gaming community.
Compared to Cherry switches, the HyperX switches are faster, with lower actuation and total distances than their Cherry MX counterparts.
HyperX Red Switches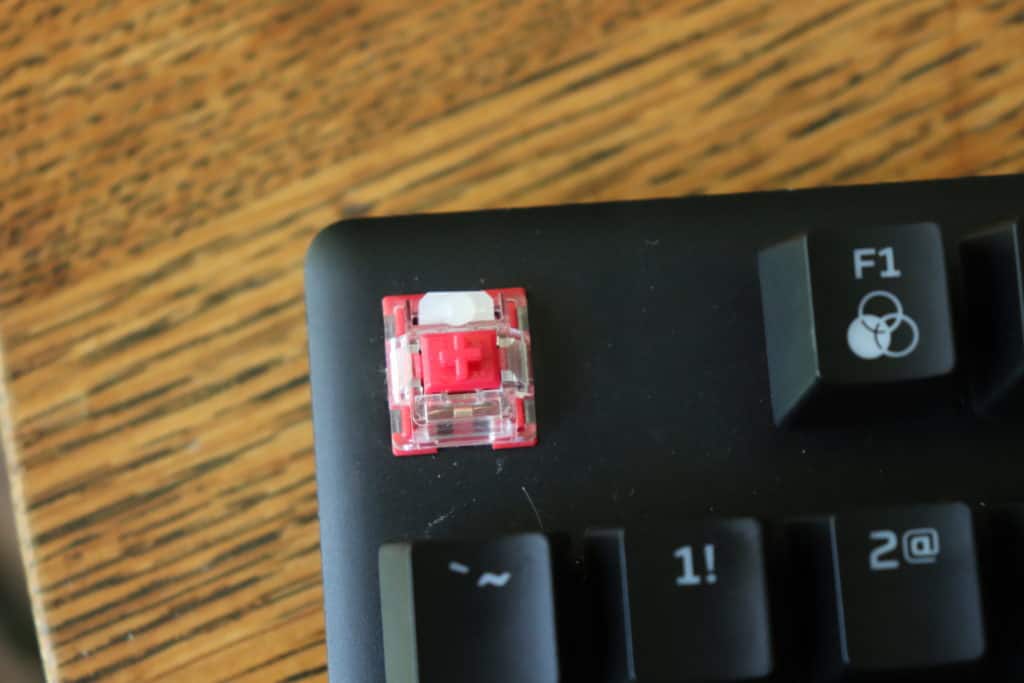 The HyperX Red switches are linear switches and have no tactile bump with each keypress. These can be compared to Cherry MX Reds.
They operate at 45g of force, actuate at 1.8mm with a total distance of 3.8mm.
These switches are extremely smooth, with no resistance or friction being felt within the switches themselves. The spring force is perfect for gaming, but not allowing too many misclicks or mistakes.
HyperX Aqua Switches
The HyperX Aqua switches are tactile switches. They are relatively quiet with no click, but they do provide a tactile bump for those of you that plan to do some more typing with your board as well as gaming.
The aquas can be compared to Cherry MX Brown switches. Their tactile bumps are about the same, very soft and not too note-worthy. This is good because it'll distract less when gaming.
The stats are the same as the reds. They have a spring force of 45g, actuation point at 1.8mm, and a total distance of 3.8mm.
Both switches are tested to have a lifespan of 80 million keystrokes.
Connectivity
The HyperX AOC connects via a USB-C port on the right top corner of the keyboard.
It has a recessed hole that fits the braided cable that comes with it perfectly.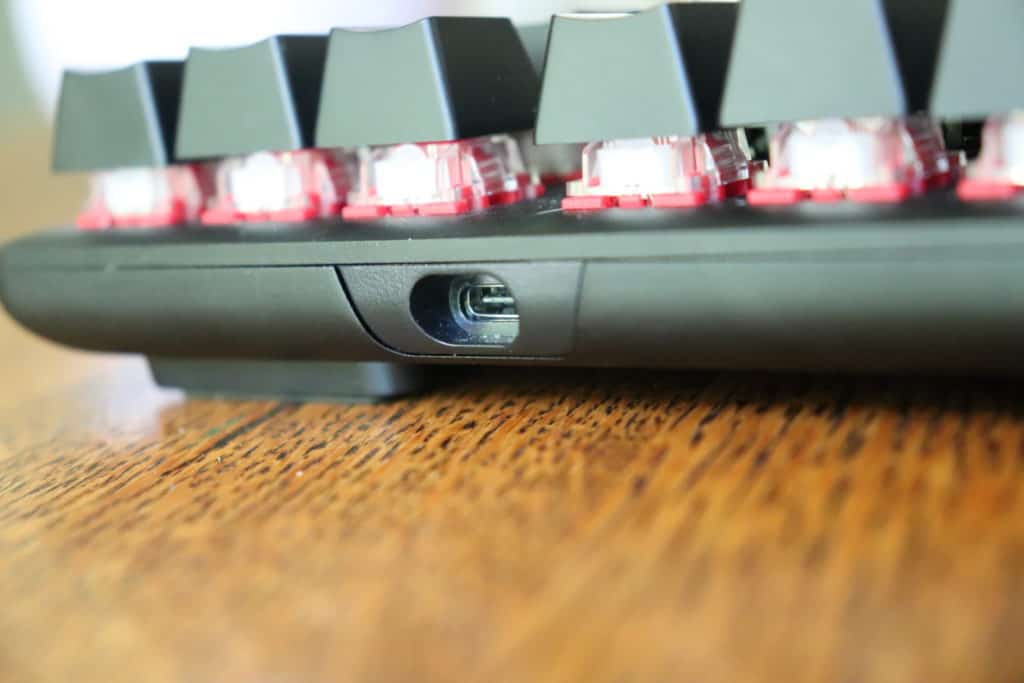 Compatibility with OS
This keyboard is only compatible with Windows. However, you may use it for Mac. The downside with using it for Mac is that you have no access to the software or the secondary media functions.
The compatibility on their website states that it is compatible with Windows 10, 8, and 7.
Software
The HyperX AOC uses their software called Ngenuity. It is currently in Beta mode and can only be downloaded through the Windows store for free.
There have been some issues with the software with every update. Some people find it difficult to find the sync profile button or save profile to put their custom RGB profile onto their keyboard's onboard memory.
When we tested the software, it detected the AOC right away.
The software itself is quite intuitive and easy to use. It is possible to edit custom RGB effects and lighting schemes as well as create and record macros for each key if needed.
Gaming mode can be edited through a small button on the top right, as well as ways to modify the brightness level and change between presets.
In the most recent update, the Save to Keyboard function is easier to find and access.
The keyboard itself can store up to 3 on-board profiles, with easy switching with FN+ F1/F2/F3 for each profile. Once the profile is saved, it is possible to close down the software or disconnect your keyboard and bring it to another computer.
RGB Lighting
The lighting of this keyboard is extremely bright. Each switch has exposed LEDs underneath due to the clear housing of the switches.
However, with each switch (linear or aqua), you can see the color of the switch as a small outline. This may mess up with your colorway, but with certain designs, it looks very cool overall.
The lighting bounces off of the aluminum frame and shines even brighter in dim lit environments.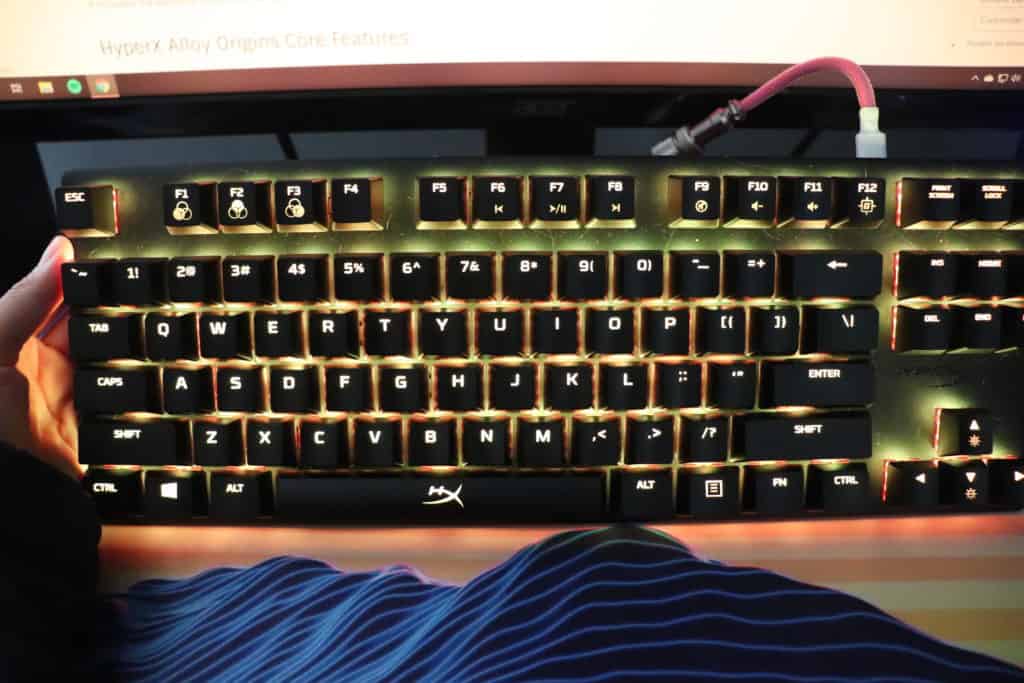 Additional Features
The keyboard has 100% anti-ghosting and N-key rollover. These features are common among mechanical keyboards and allow you to press as many buttons as you want, and your PC will still register each keypress rather than skipping them.
Countless Positive Reviews
Although at first glance, this keyboard is really simple and straightforward, it does its job really well. And that job is to help you perform and feel better in-game while using your keyboard.
It is accurate, fast, durable, and looks really good. Perform in style without worrying about your keyboard registering a wrong press.
The overall response from the community has been positive with this keyboard, especially at its price under $100.
However, there have been several complaints with the software and difficult with syncing the on-board memory with the software.
Alternatives to the HyperX Alloy Origins Core
There are other tenkeyless (TKL) mechanical keyboards out there that are made specifically for gaming as well. These are the:
Steelseries Apex 7 TKL
Razer Huntsman TE
Corsair K65 RGB
The Steelseries Apex 7 TKL is slightly more expensive than the HyperX AOC. They are both the same TKL layout, offer nice RGB lighting schemes, and have super smooth linear switch options.
The Steelseries Apex 7 TKL has dedicated media keys and an OLED screen on the top right to change RGB effects and record macros all within the keyboard itself without having to use software.
It needs two USB slots to work because it has USB-passthrough. It is not possible to detach the cable from the Apex 7 TKL.
Alongside this, it also comes with a smooth matte black wrist rest that is magnetic.
This keyboard is for those who need USB passthrough to connect their headset or controller to conveniently. However, it is a little more expensive than the HyperX AOC.
The Razer Huntsman TE is very similar to the HyperX AOC. The Huntsman TE is slightly more expensive as well.
Razer uses its proprietary optical switches within the Huntsman TE, and they claim they are the fastest switches on the market that uses optical laser technology to actuate.
This keyboard has no onboard memory for RGB effects, and it must have Razer Synapse open all the time or else it defaults to the spectrum cycling effect.
The LEDs only shine through the upper side of each switch, and the RGB is not as bright as the HyperX AOC.
The Razer Huntsman TE does excel with its PBT keycaps, that are designed to be more durable and oil-resistant. However, the AOC alos has a completely standard layout, so changing out keycaps isn't difficult at all.
The Corsair K65 RGB is slightly more expensive than the HyperX AOC as well. It comes with Cherry MX Red switches, and has a detachable wrist rest.
This keyboard does not have a detachable cable, but does have USB-passthrough.
The K65 has dedicated media keys on the forehead of the keyboard. It also comes with ABS keycaps that are prone to finger oils. This keyboard comes with customized keycaps to improve the feel of the gaming keys.
The spacebar is quite loud, along with the other stabilizers, but for gaming, this isn't a big deal.
If you need the dedicated media keys, this one would be a good option to look at.
Conclusion
The HyperX Alloy Origins Core is a very affordable and high-quality tenkeyless mechanical keyboard designed for gamers.
It has a ton of nice features that will really upgrade your setup and performance. It may not have things like dedicated media keys or USB-passthrough, but this makes the design sleek and clean overall. It won't take too much space on your desk, alloying more space for your mouse arm.
The AOC is a full aluminum build that you may not find anywhere else at this price range. The switches are ultra-smooth and perform nicely in FPS games.