Looking for a hands-on review of the Keychron K6?
Lucky for you, the company graciously gave us a K6 to review and it did not disappoint!
Equipped with the latest designs and technology in the market, Keychron K6 Mechanical Keyboard brings gaming to a whole new level.
The Pros and Cons of Keychron K6
| | |
| --- | --- |
| The Good | The Bad |
| | ABS keycaps are thin and have a low-contrast effect |
| Mac-compatible keycaps and an easy Mac/Windows switch | |
| Eye-catching RGB backlight | |
If you are looking for keyboards that exude sleek style and sophisticated ergonomics, then look no further. Come along with us as we discover the mind-blowing features that make Keychron K6 a treat for the pockets and the gaming experience.
Read Also: Best 65% Mechanical Keyboards of All Time
Keychron K6 Pudding Specifications


During the arrival of the package, the first thing that we duly noted was its packaging and size. Smaller compared to the previous model, Keychron K2, Keychron K6 was very light. Weighing up to 1.93 pounds and a dimension of 12.3" wide x 4.8" high x 1.5" thick, it was more portable and compact.
With a keyboard that is even smaller than a Tenkeyless (which is normally 80%), Keychron's use of space is productive.
Once opened, we were delighted with its sturdy aluminum frame and mesmerizing RGB backlight. On its sides was where the USB ports were found along with the Bluetooth mode button for wireless connections.
We were also amazed to discover its 4000mAh battery capacity that can withstand constant use for up to 72 hours with the RGB lighting and Bluetooth mode! I used this baby up for eight hours daily for nine days of gaming and I never had to charge it!
Keychron K6 Features

Lighting
I am a big fan of RGB lighting. This is debatable for some enthusiasts who think it is distracting.
Well for RGB lighting lovers like me who prefer extra pizzazz, K6 delivers. You can pick a kaleidoscopic RGB or a subtle white backlight glow. You may also pick the minimalistic "Apple store" white light option.
Now even though K6 is not programmable or customizable, its RGB lighting covers a selection of 18 different effects that cater to everyone's gaming fantasy.
Inputs
Keychron puts your comfort above all things, by giving you a keyboard that is compatible with various devices.
It also utilizes the latest USB-C, the gold standard of current cables! The connection is fine with minor latency here and there, but I am quite irritated by the left-side location of the inputs. Since I am used to having my computer on my right side, the wires can get tangled.
Moreover, most keyboard inputs should be in the back middle of the keyboard so that it can be reached regardless of where your PC is located and to provide minimal distraction from touching your hand.
Accessories
Prioritizing its multi-connectivity feature, Keychron already offers you a standard USB cable. This is compatible with your personable computer and android devices.
If you want to change routes and switch between keycaps, things will be easier for you too. Keychron also provides a keycap puller.
Mac Compatibility
Now as a busy bee myself, I find it terribly stressful to switch between my Mac and Windows PC to access various files. With that in mind, I did not have to worry again with Keychron K6!
Besides its wireless connectivity, it has a switch on the left-hand side that allowed easy toggling. Moreover, it was my first encounter with a keyboard that also came with a Mac Multimedia keys layout.
The switch on the left side of the keyboard allows you to toggle between "Mac" and "Windows" mode. All it does it switch the windows and alt key to the standard Mac control and option keys. Simple yet effective.
Build Quality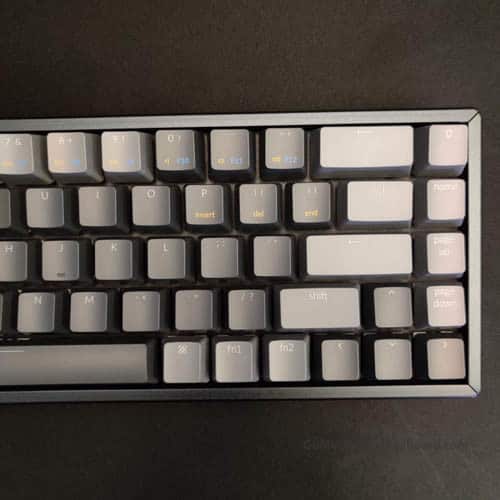 Created to last and withstand any hardcore gamer, Keychron opts to use plastic ABS keycaps for K6. It also uses an aluminum base, which is light and tough at the same time.
The ABS material is the go-to material for double shot molding due to its versatility. It has a 4000mAh capacity that makes it the one to beat. Without any backlight glow, it can stay on for a week.
Switches and Keycaps

Switches- Gateron
Switches are the soul of a keyboard. It gives it the feel and provides comfort for the user. Personally, I prefer Gateron than Cherry MX switches because it is more affordable and delivers the same quality. I might get a lot of hate for saying that but each person will have their own preferences.
For me, a mix of quality and price is what I'm ultimately looking for.
To know the perfect fit, we hopped between the Gateron Red Switch, Gateron Blue Switch, and Gateron Brown Switch. All delivered well, but they have different strengths.
Gateron Red has a linear operation style and 45g operating force. Blue RGB has a clicky-feel and 60g operation force. While RGB Brown has a tactile operation style, which made the keys feel more durable.
Keycaps-ABS
Upon the field testing of K6, I was impressed by how it used ABS plastic on the caps. Even with its affordable price, it did not skip on the quality it delivered. Also known as "Acrylonitrile Butadiene Styrene", it was able to maintain a light and shiny exterior compared to the matte finish of PBT.
K6 also printed keycap fonts that were small and crisp, giving the keyboard a minimalistic and work-friendly feel.
Keychron K6 – Form Factor & Ergonomics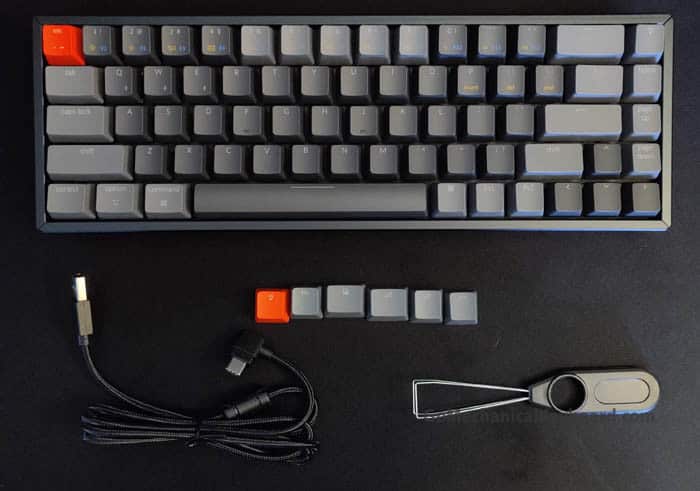 Compared to the last edition of the Keychron K2 mechanical keyboard, K6 has been downsized with a 65% layout. It still has the same multifunctional keys, but it lacks the standard number pad and top row set of characters. However, the "fn1" and "fn2" hotkeys work with the number buttons on the keyboard.
I prefer this layout because of its practicality even if it takes time to get used to it. Its added feature of height-adjustable feet also makes this version more user-friendly for typing.
There are two options for the stand underneath, one that gives a smaller incline and another one that gives a higher incline – it is a very smart and convenient design!
Keychron K6 Review: Unboxing Process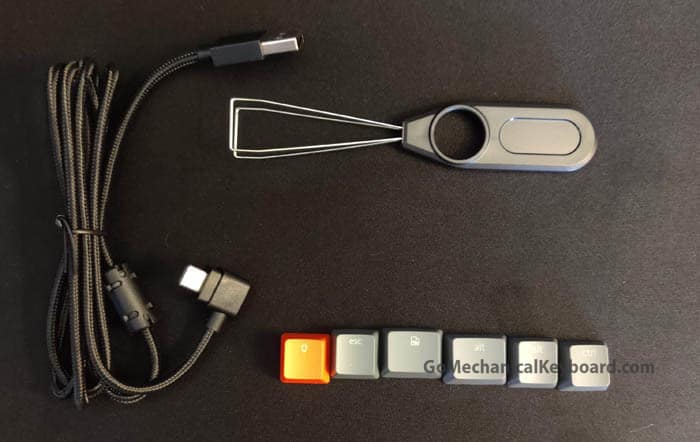 I have done a lot of unboxing before, but I must say this was the best experience I've had so far! The top of the box removes in an airtight fashion like most high-end smartphones. It was also wrapped in a clean and professional-feeling bag, which was surrounded by black foam. Overall, the box itself had an excellent design – not too flashy and just the right amount of information.
Conclusion and Rating
After all, has been said, I would recommend the use of the Keychron K6!
It fuses a durable design with a sophisticated style. It utilizes materials such as ABS keycaps and an aluminum base, which make it light and durable. Not to mention the RGB lighting and wireless connectivity – this keyboard is for the hall of fame.
For more information and to check this product out on Amazon, see if here for an affordable price.