Pros & Cons of Dierya DK61 Pro
Dierya DK61 Pro has the following features:
Available on Amazon for a good price.
Wireless – Bluetooth 5.1 Connectivity
USB 3.0 Wired Mode
RGB Lighting Effects
60% (61 Keys) Compact Keyboard
Read Also: Best 60% Mechanical Keyboards
No matter if you are people with pets, people with children, and likewise – the gaming people, all you want is a keyboard that could deal with anything between coffee spills to the sweat dripping off your nose.
Well, here it is, a great keyboard with a weird name – The DIERYA DK61 PRO that has waterproof circuits and a gaming spec sheet to boast around.
Dierya sent me their flagship keyboard DK61 Pro around two weeks ago and I have used it as my daily driver since then.
Here is my final review after all of the rigorous testing where I look at the design, performance, and functionality.
First Impressions and Features – 8.5/10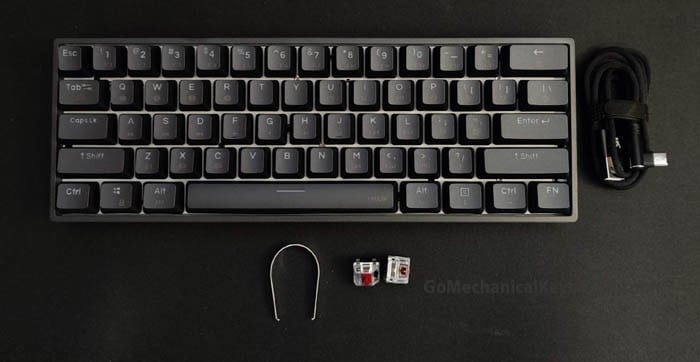 I have to admit it, from the moment I took the DK61 Pro out from the box to this moment (when I'm writing this review with this keyboard), the keyboard has met all my requirements and satisfied me pretty well. So, a solid 9/10 for the first impressions.
The reason for that rating is because of the value it offers at under $60.
I did not expect it to be that much of a FLAGSHIP because of its price point, but there is a great set of features that this keyboard offers – including a much faster typing experience through an optimized and compact layout.
You can find the DK61 on Amazon for a competitive price and check out all of the different layout options and pricing.
Moving forward, let's unveil the set of features that Dierya brings to the table with its DK61 Pro.
DESIGN
Ahhh, It's Ergonomic, or is it?
DK61 Pro has a compact design and it has only 61 keys (slightly smaller than a tenkeyless form factor). While separate arrow keys are non-existent, the layout of this thing is well-focused and it helps you in typing and in-game movements really well.
Getting used to the FN "shortcut" version of the arrows takes some getting used to but is well worth the effort.
The easy reach of my fingers was convenient and there is nothing to complain about the design of DK61 Pro (If you can live without the arrow keys).
Likewise to the arrow keys, there are no dedicated "page up" and "page down" keys but instead required a combination of the FN key and the "L" and ">" buttons on the keyboard.
This is how most compact 60% keyboards work these days and once one gets the muscle memory built up, it is just as fast as a regular-sized keyboard'
Then again, it is just a preference and I usually like a fully loaded keyboard maybe that's why I find it worth mentioning to some likeminded people.
However, compact keyboards rarely include those keys therefore, their absence shouldn't bother you as long as you are used to compact layouts.
As for the setting point of view, the designers of DK61 probably forgot to give it proper feet. The whole keyboard basically lies flat on your table with a little angle that is not adjustable and doesn't really help your wrists.
To summarize, here are some major highlights of its design
Compact 61-Key Layout
Flat-faced
Clean and Sleek
While this setting makes DK61 Pro a perfect choice for fast typing, it can make it difficult for your wrists to function properly at the same time (as they will be locked in a straight posture).
Not to mention that the company claims it to be perfectly ergonomic
To end this section, the material of DK61 Pro feels considerably better and premium to touch.
LIGHTS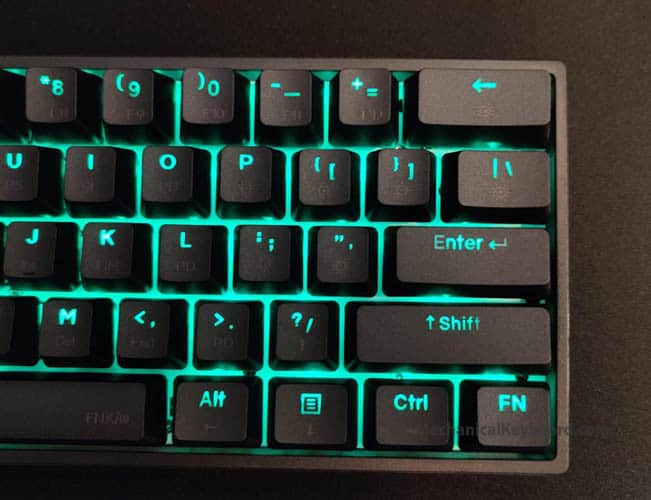 The one thing I liked the most about this particular keyboard is its RGB lighting system. These lights are aesthetically good looking and even the simplest of RGB settings turn out pretty well.
Additionally, the keycaps allow ample light to pass through which makes it even more attractive when breathing or stimulated light effects are used.
They are utterly customizable using the software that can be downloaded directly from this link.
CONNECTION
Luckily, the keyboard supports both wired and wireless connection modes.
The wired mode has its own perks,
Zero Latency
Faster Response
Anti-ghosting
USB (C) 3.0
Wireless Mode
The wireless mode, however, lags a bit despite having Bluetooth 5.1 as its backbone.
DK61 suffers greatly in competitive gaming environments while you are using the wireless mode. The latencies and response rates lag well beyond 4-12 ms and in a competitive environment, that's just too much for some people like myself.
BATTERY LIFE of Dierya DK61 Pro
Dierya has included a 1900mA built-in battery in DK 61 Pro and it is the standard lithium battery.
Like all lithium batteries, you can expect this one to have degraded performance over time.
However, with wireless mode, the battery can last you a full day of normal usage very easily. If you are gaming, the 24-hour backup falls to just 6-8 hours.
(Please note that battery performance may depend on usage, environmental temperature, charging patterns, etcetera)
KEYS AND SWITCHES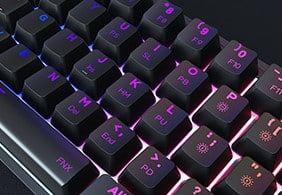 The keys are made of the premium Double Shot PBS material which means that they will not smudge even in the long run.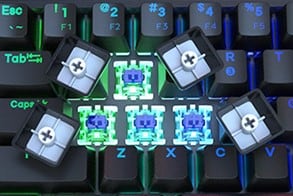 Instead of mechanical switches, DK61 Pro features optical switches that are more durable and faster than mechanical switches. They also enable the keyboard's water resistance.
WATERPROOFING in Dierya DK61 Pro
As far as the waterproofing is concerned, the keyboard comes with an official IPX4 water resistance rating. This means that the circuitry inside the keyboard can handle normal spills pretty well.
Unboxing Experience – 7/10
Whilst I was unboxing the keyboard, I was actually expecting more of a detailed box.
Unlike many other manufacturers like Bloody or Razer who focus on the appearances of their boxes, I found that Dierya doesn't really go that far on this road.
I liked that the foam encasing surrounded every part that the keyboard came with, ensuring a tight fit likely reduces any potential risk for damage.
Here are the box contents,
DK61 Pro Keyboard x 1
Pull Key Tool x 1
Pull Switch Tool x 1
Removable "L" Shape Type-C Cable x 1
User Manual x 1
Additional different color switch x 2
The only thing out of the ordinary with the accessories is the additional color switches. Though most may find this useless, it could be interesting to have as a beginner who hasn't had the chance to use other switch types.
Tests and Performances of Dierya DK 61 – 8/10 or 7 maybe?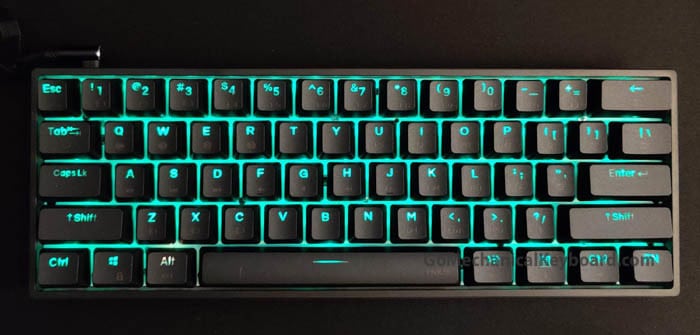 The keyboard is very good for typing, I'll give it that.
Although there is less customizability to the posture or the angle of this keyboard, the limited amount of time before your wrists start to hurt is not going to be filled with typos thanks to its facing design and good quality switches.
As for the tests, I tested it in my office environment, and it performed almost perfectly on both wired and wireless modes. Nothing worth mentioning here.
However, whilst I was gaming competitively, I noticed a considerable lag in the movements while I was using the keyboard wirelessly. You will not see the difference until you play the same with the wired mode. Anyway, you can get latencies ranging from 4-12 ms in multiplayer games like PUBG and Call of Duty: Warzone.
Whether or not it matters is up to you, most non-competitive players may not notice.
For singleplayer games, the lag is still there. The latest Bluetooth 5.1 is somehow not enough to make up the mark.
Again, the hardware is there but it needs to be well optimized.
As for the wired mode, there's nothing to complain there.
Verdict: It's about that budget!
Finally, I'd say that if $60 is really your budget and you are looking for good hardware, you should buy Dierya DK61 Pro.
It's a very decorated peripheral for gaming and has some flagship aspects that make it more of a budget choice for many people.
Special optical switches and the set of features make DK61 Pro a good choice single-handedly.
Looking for other budget mechanical keyboards? Check out our under $50 list
You can find the DK61 on Amazon for a competitive price and check out all of the different layout options and pricing.
Let me know what you thought about this keyboard OR how well it performed for you?
Happy Gaming!