Pros & Cons of Roccat Kain 120
Before we move forward, you should know that Kain 120 comes in Black, and the 122 is White, no other differences apart from color.
These are the highlighted features of Roccat Kain 120/122 AIMO in a glimpse,
| | |
| --- | --- |
| The Good | The Bad |
| | |
| | |
| | |
| | |
Read Also: Best Gaming Mouse and Keyboard Combos under $50
Having the perfect gaming mouse not only gives you an edge over other gamers but also increases your overall gaming experience.
In fact, gaming mice have become an inevitable need for modern-day gamers.
Recently, Roccat sent me their premium gaming mouse, "Kain 120 AIMO".
I tested and used the mouse for more than two weeks and here are my final words about it.
First Impressions and Features – 8.5/10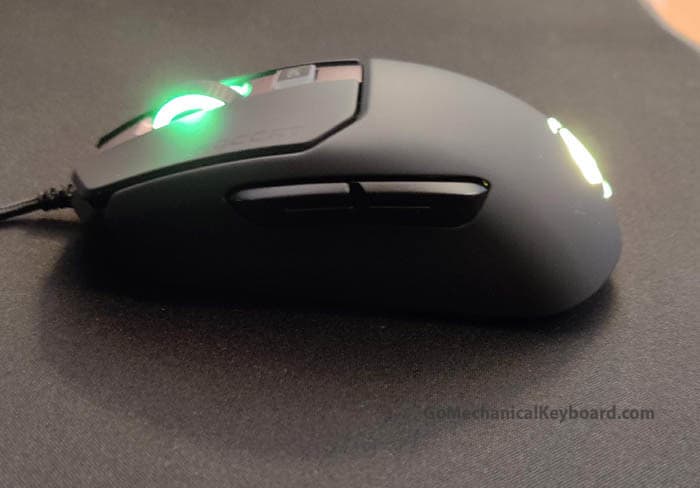 To be honest, I was not impressed by Kain 120 design as it was a bit simplistic but that can also be a pro if you're looking for something minimalistic.
All in all, the first looks of the mouse are not breath-taking but they are not deal-breaking either.
If you are the type of person who likes smooth finishes and simple designs that can accommodate RGB lights, then Roccat Kain 120 is for you.
You can find the Roccat Kain 120 on Amazon for an affordable price.
DESIGN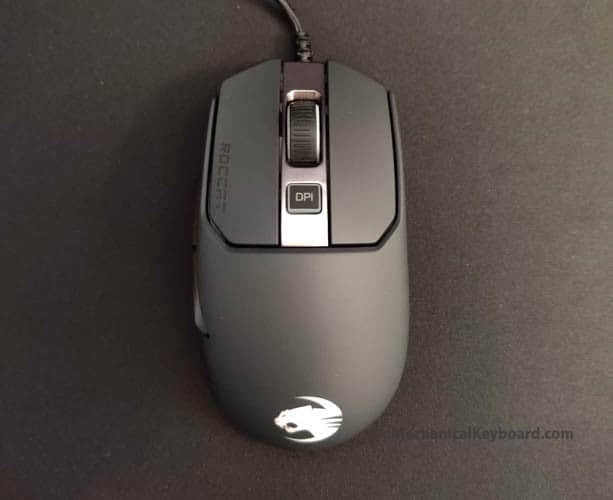 Roccat has included an "Ergonomic Design" in Kain 120 that really helps your wrists especially if you have been using the mouse for extended time periods.
The overall theme of the mouse is kept black with the scroll button and logo (in the rear of the mouse) having RGB lights.
The size of this mouse is perfect for all types of people and I have to say that it is pretty well crafted.
Button reach and scroll buttons are also a cool breeze, no problems there as well. Also, the mouse is not ambidextrous so you can only use it with the right hand.
To summarize, the best features in Kain 120's design:
Ergonomically designed
The black theme is perfect for RGB
Smooth surface is dust resistant
Buttons are within normal reach
LIGHTS
The mouse has two spots that have RGB lighting:
You should not expect much when it comes to lights on Kain 120. No streamlined or zig-zag lights and no fancy RGB strips have been included in this mouse.
There are a total of three RGB zones that are controllable by the "Swarm" software.
Roccat's Swarm software can be downloaded directly from this link.
BUTTONS
There are eight buttons in total on Kain 120 but only two of which are programmable to use with MACROs.
There aren't any special combinations or MACRO buttons on Kain 120 but there is a couple included on the right side of the mouse that can be reprogrammed using Roccat's software.
The area where Kain 120 beats its competition is the Titan Click – which is a highly responsive and illusive switch beneath the right and left click buttons.
Titan Click Technology uses a special type of switch that enhances the click feedback, therefore, you will feel a more clicky and satisfying experience.
There is also a standard DPI switch on top of the mouse that helps you change the DPI settings easily.
OPTICAL SENSOR and DPI
This mouse can support DPI levels up to 16000.
Although, the 16000 setting on Kain 120 is a lot relative to other gaming mice. This is because of the more accurate and sensitive ROCCAT® Owl-Eye optical sensor that the mouse uses for active tracking.
Additionally, 16000 DPI settings will make the cursor go crazy sensitive and it will become uncontrollable for normal people. That is why the DPI is set to 3200 by default.
However, I must say that the optical sensor does a fairly good job and is very accurate. You might need to get used to the responsiveness of this thing but it is certainly a mouse to experience.
CONNECTION
There is only one option for connecting Kain 120 with your computer and that is powered with a USB 2.0 port.
I feel they could've added a detachable cable that could significantly increase the mouse's portability and also the risk of damaging the cable.
Unboxing Roccat Kain 120 – 8/10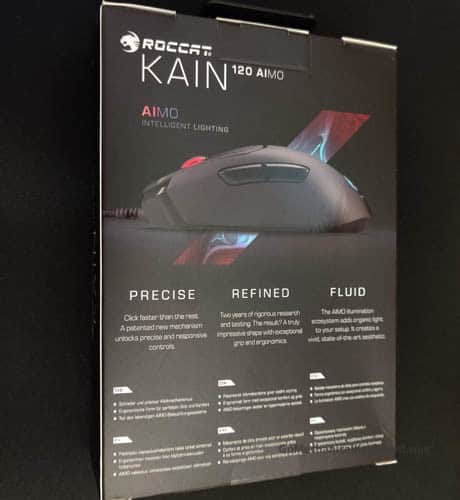 Kain 120 comes in a branded box with a picture of the mouse upfront. There are detailed and highlighted features in the back with another side-view of the mouse.
On the side, physical mouse features are present like the weight of the mouse, DPI, and the number of clicks you can have in its lifespan.
Overall, the box has a seemly design all over and it looks very charming. Inside the box, the mouse was packed in a regular, transparent plastic wrapping with the user manual at the back.
The box has the following couple of things to get this section summed-up,
User Manual × 1
Roccat Kain 120 × 1
Overall, I would say that the unboxing was neither breathtaking nor disappointing. So, I will just leave it with an 8/10.
Tests and Performances of Roccat Kain 120 – 8.5/10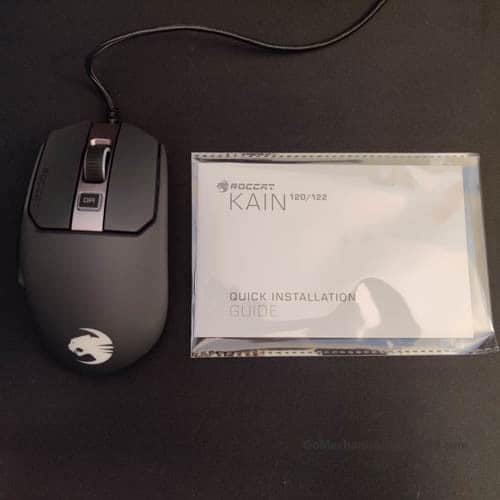 For what I have tested, Kain 120 worked very well for normal day to day usage. It is adequately responsive, has good sensitivity, and it does not lag. So, a 10/10 for office environments.
Now, since the mouse weight is almost 89 grams, it is significantly lightweight and easy to handle. This makes it more suitable to be used at low sensitivities for gaming action like sniping.
As far as accuracy is concerned, the mouse does a fairly better job than most gaming mice as it has a very precise sensor. The mouse also fits very well in the hand which makes it even better for close encounters with enemies.
In short, the mouse did an excellent job and I'm well over satisfied at this point as I'm pointing to this line with this mouse.
Additionally, I'd like to mention the responsiveness of this mouse. The mouse has a Titan Click technology that is basically the backbone of its whole operation chart.
This switch allows Kain 120 to have such a high level of responsiveness and in competitive environments with my buddies, I found that it gave me an advantage of more than 10ms over my buddies.
To further test this, I compared it to my daily driver, the Corsair's Dark Core Pro, and I found that it had a little over 9ms faster response time.
So, despite the fact that I do not like its lights, I'm going to consider switching to Kain 120 while I'm jumping to battle next time.
Verdict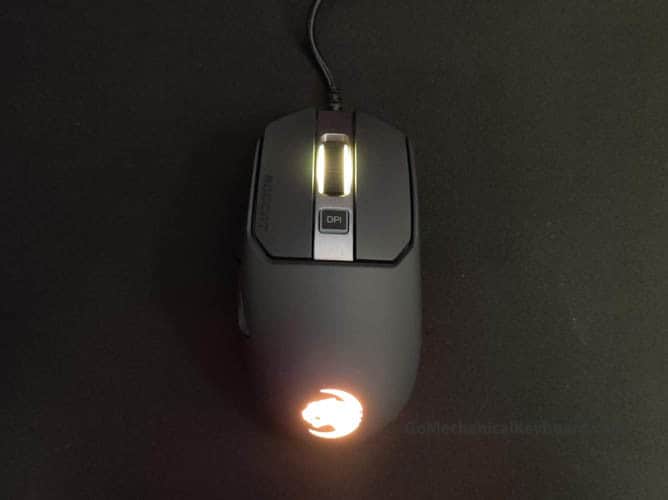 Well, the mouse is built on actual gaming needs, and although I do not value RGB that much, I feel that Roccat could have added a bit of aesthetics here and there in its flagship.
Above all, the mouse has a decent spec sheet and performs very well even in the toughest gaming environments. The build quality is nice and the user experience is even better. The mouse is also very well balanced and the weight is just perfect for heavy gunning and sniping alike.
To end this, I'd say that Kain 120 is a beast you should buy if you have the budget and want something reliable with a minimalistic design.
Anyway, let me know down in the comments what you think and how well this mouse worked for you.
If you have any suggestions or something to add, let us know and we'll credit you in our reviews.
You can find the Roccat Kain 120 on Amazon for a competitive price, coming in several different models and variations to fit your needs.
Until the next one, Happy Gaming!